The 1999 DVD box set of Nightmare on Elm Street, to this day, is one of the best box sets ever released. Correct me if I'm wrong, but I'm pretty sure this was the very first truly complete horror box sets ever released on DVD (perhaps ever in any form?), certainly well before the Friday and Halloween box sets.
I also remember there being a promo for a giveaway or contest that coincided with the release. Does anyone remember what the prize was or even know if someone (and who) won the thing?
There's a mention about it here in this FAQ (more here and a great visual walkthrough here) for the Nightmare Series: Encyclopedia bonus disc/game.
THE NIGHTMARE SERIES ENCYCLOPEDIA
———————————

** DVD-ROM TRIVIA GAME **

These are the correct codes to enter in, in order to play the final game.

1 = 1984-1-nancy-Z
2 = 1985-2-jesse-R
3 = 1987-3-neil-A
4 = 1988-4-alice-I
5 = 1989-5-amanda-K
6 = 1991-6-maggie-C
7 = 1994-7-wes-I

I think it's obviously how the codes were created. The first part is the
year in which that movie was released. The second part is the film's
number in relation to the entire series. The third part is the name of a
main character from that film. The last part is simply a letter. I have
no idea what the significance of the letter is. Perhaps if you take all
the letters (Z-R-A-I-K-C-I) and unscramble them, you'll get a word. If
anyone knows, please let me know.

Anyway, if you win the final game, you are given this URL to go to:

http://www.nightmareonelmstreet.com/dreamworld/win8/enter.htm

In case the contest ends or the page is taken down, besides the entry
form, this is what is/was written on the page:

"Congratulations! You made it through all of the Dream World games,
entered the codes correctly, and became a Master of Dream World! Now, fill
out the entry form below for the chance to win fabulous prizes from New
Line Cinema. Full contest rules are in the DVD box set, but remember you
can only enter once! Any subsequent entries after the first will be
disqualified (And, we'll send the Freddy snake from NOES 3 to your house,
so be careful!)."
http://www.nightmareonelmstreet.com/dreamworld/win8/enter.htm is of course long-gone. In fact, http://www.nightmareonelmstreet.com/ was just re-purposed for promoting the remake. I wasn't able to pull up anything useful on https://archive.org/ if anyone happened to have saved that web page? I'd love to see it.
UPDATE — I did, however, find an old archive of the main site, dating all the way back to October 9th, 1999. Unlikely the secret page would have been found by crawlers in order to be indexed and archived though.
So, I've already bought the new Blu-ray box set, but I can't decide whether to let the old one go. As far as I can tell, all the special features have been ported over, but the old box set has the cool interactive puzzle game, these cool 3D glasses, booklet, and the box art is fantastic, especially the art for the bonus disc. I basically consider it a collectable, although it goes for only $25 brand spanking new, so it really only has sentimental value.
I did my best to research this piece of art, which I'll call "Hellywood", but it's not signed and I couldn't even find so much as more than a line or two about it online and a few low-res pics of it. Does anyone know who the artist is?
Since there was no decent pictures of it to be found anywhere, I've scanned it in high resolution to give everyone a chance to see it and to have for archival purposes, especially if I sell my box set. Download the full, 1200dpi high-res scan here.
UPDATE — I've also been able to track down our ol' friend Freddy in the form of the togglethis avatar, designed by Gwenda Kaczor back in '99, who was nice enough to exchange a few emails with me. I was also able to get the interactive desktop stuff working a bit, by popping in the old encyclopedia disc and digging around the files some.
For me, it's like a geeky little lost treasure. Even though digital files don't degrade over time, there's still remnants of a yesteryear in the way filenames are and ancient, deprecated code and the like. I couldn't get all the files to load, but with 15 years past, that's to be expected. I couldn't find the scripts that are supposedly on there either.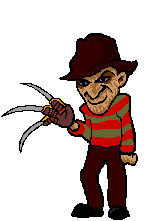 If anyone has any information for some of the questions I've posed throughout this article, please let me know in the comments below. Thank you.
Support Halloween Love
If an item was discussed in this article that you intend on buying or renting, you can help support Halloween Love and its writers by purchasing through our links:
(Not seeing any relevant products? Start your search on Amazon through us.)