This year marks the 10th anniversary of many things us horror fans love, including films like The Devil's Rejects, The Descent, Wolf Creek and Hostel. 2015 also saw the release of a short film called Rubber Johnny, and though you may not remember it or know it by name, I'm willing to bet you've seen it – and subsequently experienced nightmares because of it.
Originally hitting the net on June 20th, 2005, Rubber Johnny is a six-minute short film directed by Chris Cunningham, centered on a highly deformed, wheelchair-bound teenager who's locked in a basement with his pet Chihuahua. With glowing eyes, the two are bathed in infrared night vision for the entirety of the short, which unexpectedly turns into the most disturbing dance video you're likely to ever see.
Rubber Johnny was originally conceived as a 30-second TV spot for an album electronic musician Aphex Twin was releasing at the time, though Cunningham ended up liking it so much that he decided to expand the commercial into its own short film. Named after a British slang term for the word condom, the title character (played by Cunningham) was inspired by the way ravers appear to morph as they dance, the experimental short film turning that imagery into a bonafide slice of pure nightmare-fuel.
For those who have no idea what I'm talking about, or just want to revisit one of the most bizarre films ever made, you can check out Rubber Johnny below. I encourage you to do so, before you continue reading this post. Just don't blame me if you can't sleep tonight, because of it!
In the years following the release of Rubber Johnny, a handful of horror movies seemed to have drawn direct inspiration from the short film, and that's mostly what I want to talk about here on Halloween Love today. So let's jump ahead to six months after the short hit the net, when Rubber Johnny was given a Hollywood makeover…
On January 6th of 2006, the ninth episode of anthology series Masters of Horror premiered on Showtime, which was directed by William Malone (House on Haunted Hill, FeardotCom). Titled Fair-Haired Child, the hour-long episode was about a young girl who was kidnapped and locked in a basement with strange boy. His name? Johnny, of course.
Though Johnny starts off the film as a seemingly-ordinary young boy, he eventually transforms into a hideous monster, looking very much like Rubber Johnny. As we come to find out, Johnny died on his 15th birthday and his parents made a deal with a demon to bring him back, requiring 12 human sacrifices to permanently restore him to his normal, human self.
I'm not sure if Rubber Johnny has ever been directly credited for inspiring Fair-Haired Child, though it doesn't take a rocket scientist to determine that the Masters of Horror episode is an unofficial expansion on the concept presented in Cunningham's 2005 short. Especially given the fact that the episode came along just six months after the release of the short, the inspiration is simply undeniable.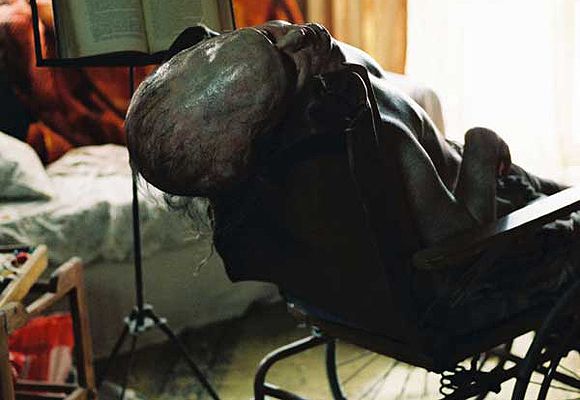 The exceptional remake of The Hills Have Eyes followed in March of 2006, directed by French filmmaker Alexandre Aja. Designed by the KNB EFX Group, the remake featured all new mutants that looked quite different than the ones seen in Wes Craven's original film, including one particularly memorable member of the family known as 'Big Brain.'
As his nickname suggests, Big Brain does indeed have a pretty large brain – so large, in fact, that the weight of it pulls his head back. It's precisely the same condition that ole Rubber Johnny appears to have, and like Rubber Johnny, Big Brain also permanently resides in a wheelchair. Dressed only in a pair of shorts, the character is again a direct visual reference to Rubber Johnny – whether anyone wants to admit it or not.
And finally, the 2007 Spanish horror film [REC] also appears to have drawn considerable inspiration from Rubber Johnny. There are very few horror movie moments more genuinely terrifying than the appearance of the Medeiros girl at the end of the film, an impossibly thin creature that was human and yet so very inhuman.
Much like Rubber Johnny, the scene was shot in infrared night vision, the green light making the humanoid creature's eyes glow bright. The whole scene plays out like a segment from the short film, and the Medeiros girl is similarly locked away from the rest of society – though she's in the attic, rather than the basement.
Rubber Johnny never seems to get any credit for inspiring these movies and movie moments, but if you're asking me, it's pretty clear that the strange, hydrocephalic boy did just that. So on your 10th birthday, Rubber Johnny, we salute you and give you the credit you deserve.
Thanks for the nightmares, you creepy little bastard.
Support Halloween Love
If an item was discussed in this article that you intend on buying or renting, you can help support Halloween Love and its writers by purchasing through our links:
(Not seeing any relevant products? Start your search on Amazon through us.)