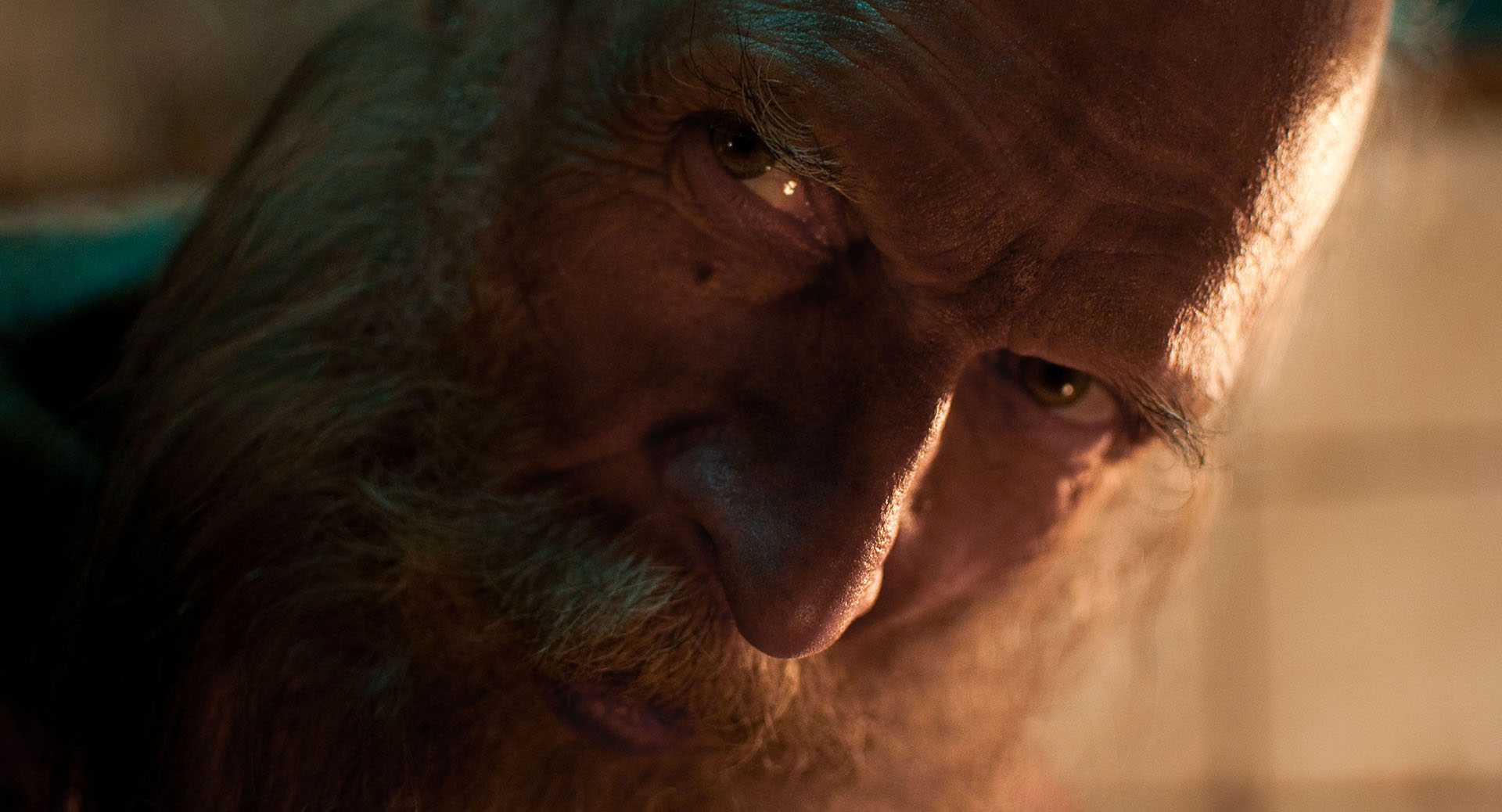 Released earlier this month, Michael Dougherty's Krampus became a surprise hit at the box office, and I think it's safe to say the film's success can be chalked up to both positive reviews and the fact that the titular character is currently more popular than ever. Dougherty's movie quite literally came along at the perfect time, and it is to date the biggest horror movie to explore the ancient Alpine mythology.
As many have pointed out, Krampus isn't the first Krampus horror movie, as it was beaten to the punch by 2013 independent film Krampus: The Christmas Devil. Another film titled Krampus: The Reckoning came out just a few weeks prior to Dougherty's, and was likely slapped together for the sole purpose of beating it to theaters. But none of the aforementioned films were actually the first of their kind.
Written and directed by Jalmari Helander, and released in December of 2010, the Finnish film Rare Exports: A Christmas Tale – based on a series of previously released short films – is the only movie that can stake the claim of being the first to center on the Krampus legend. Not only is it the first film to actually depict the mythical horned monster, but if you're asking me, it's also the very best to do so.
Rare Exports begins 24 days before Christmas, and we're introduced to an explorer whose team has located something peculiar nestled inside of a mountain. They plan on unearthing whatever it is before Christmas, and when they do, all hell starts breaking loose in the mountain village where young Pietari and his father live. Reindeer are slaughtered and household appliances stolen, and Pietari has a theory.
Given the proximity to Christmas, Pietari deduces that the team has found Santa Claus in the mountain, and he becomes terrified at the thought when he reads that Santa isn't quite the benevolent being he thought he was. Pietari peruses a history book that explains the origin story of "Santa," and the images depict a horned, Devil-like creature who kidnaps and kills naughty kids – tearing them limb from limb.
Indeed the village's children soon go missing, though Pietari is saved by a wolf trap his father had set on their property. Captured in the trap one night is an impossibly thin man who looks like Santa Claus, and Pietari – the only character in the film who has any idea what's going on – presumes that the man is the cargo unearthed by the team. We soon realize, however, that he's just the beginning of their troubles.
Stored in a large hangar is the real bounty: a massive, horned monster encased in a huge block of ice. As it turns out, the bearded man is one of the many who serve the monster trapped in the ice, and in addition to stealing the village's children, they've also stolen radiators in an attempt to melt the ice and set the creature free. They are merely the elves, and their master, of course, is none other than Krampus.
The name Krampus is never actually mentioned in Rare Exports – the monster is referred to simply as Santa Claus – but there's no mistaking the similarities to the Alpine legend. And though Krampus spends the entirety of the film trapped in that block of ice, which is eventually exploded before it ever has the chance to fully melt, the giant horns sticking out of the icy prison leave no question as to who he is.
No, we don't really get to see much of Krampus in Rare Exports, but it's clearly a film built around that mythology. And Helander has a whole lot of fun playing around with the story, turning Krampus into, in so many words, the original Santa Claus. As the film explains, the evil Claus was lured out onto the ice centuries prior and entombed by the locals, allowing Christmas to be a happy time from that point on.
In a brilliant little twist at the end of Rare Exports, Krampus' creepy elves cease to be evil when their master is blown into thousands of pieces, and the villagers then train them to spread holiday cheer. In the final moments, we see that they're selling the inhuman beings to different countries and shipping them out in wooden crates, presumably to be used by the buyers as jolly department store Santas.
Its status as the first true Krampus movie aside, Rare Exports: A Christmas Tale is easily the most imaginative and original Christmas horror film of them all, tapping into that Amblin vibe five years before Michael Dougherty got around to doing so. Like Dougherty's film – which I absolutely love, by the way – Helander's is bursting with creativity, and it's perhaps a better movie due to its strong emotional core.
While it's a horror movie on the surface, and indeed the various (totally nude) Santas are some of the creepiest you'll ever see, Rare Exports works just as well as a heartwarming coming-of-age story about a young boy who just wants his father to be proud of him. Pietari, whose mother passed away some time prior, is constantly looking for his heartbroken dad's approval, and he earns it when he saves the day.
Both rich with '80s-style, family-friendly sensibilities, Rare Exports: A Christmas Tale and Michael Dougherty's Krampus take very different approaches to the same subject matter, turning what is ultimately a horrifying legend into incredibly fun films loaded with imagination, heart, and no shortage of genuine Christmas spirit. The two movies make for one hell of a holiday horror double feature.
One of them just happens to have a whole lot more old man penis, is all.
Support Halloween Love
If an item was discussed in this article that you intend on buying or renting, you can help support Halloween Love and its writers by purchasing through our links:
(Not seeing any relevant products? Start your search on Amazon through us.)
The following two tabs change content below.
If you don't get enough of me here on Halloween Love, you can also find me on Dread Central, iHorror and Shock Till You Drop. Contact me via john@halloweenlove.com.
Latest posts by John Squires (see all)