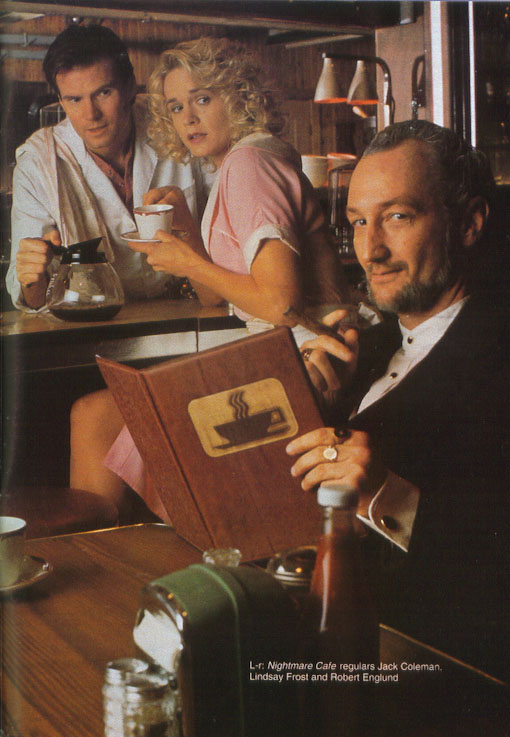 Today here on Halloween Love, we continue our ongoing celebration of the 30th anniversary of Freddy Krueger's birth by stepping a tad bit outside of the box, to look back on a short-lived television series that can in many ways be considered a spin-off of the Nightmare on Elm Street franchise. A spin-off in spirit, at the very least.
As we discussed a few weeks back, an Elm Street-inspired reality series called Real Nightmares was filmed and set to air back in 2005, before CBS pulled the plug entirely, citing too many similarities between it and NBC's mega-popular show Fear Factor. It was Krueger's second attempt to make an impact on the small screen, which began in the late 80s, with the series Freddy's Nightmares.
Sandwiched in between those two shows was Nightmare Cafe, which re-united the team of Wes Craven and Robert Englund, a couple years prior to their reunion on New Nightmare – and one year after Freddy was "killed," in Freddy's Dead: The Final Nightmare.
Created and produced by Wes Craven, and initially described as a cross between Cheers and The Twilight Zone, Nightmare Cafe was originally conceived as a horror-themed anthology series, comprised of weekly standalone tales that were to be book-ended by recurring characters. Much like A Nightmare on Elm Street, the idea of the series was to blur the lines of reality, and also like Elm Street, it was inspired by a real experience in Craven's life.
When he was 18-years-old, Craven was stricken with a rare disease, similar to polio, which left him paralyzed for three months. He was in college studying to be a Navy pilot at the time and though he initially saw the disease as a horrible thing, he later realized it was a blessing, giving him a chance to reevaluate his life and do something different with it.
By the time Nightmare Cafe found its way in front of cameras, the original idea was re-tooled to have a more uplifting tone, focusing on those ideas of fate, redemption and second chances, rather than the pure horror that Craven typically specializes in.
The oddball series centered on the titular Nightmare Cafe, an otherworldly establishment that is run by a character named Blackie, played by Freddy Krueger himself, Robert Englund. Englund also served as the Rod Serling for the show, so to speak, introducing the weekly stories.
The basic gist was that the Nightmare Cafe could materialize in any location around the world, serving as a gateway for people to either correct past wrongs in their life or pay for sins they've committed. A conduit to change the past and affect the future, if you will.
In the pilot episode, we met the characters Frank Nolan and Fay Peronivic, who both die and are subsequently drawn to the mystical Nightmare Cafe. It is they who tie the whole series together, spending their afterlife in the cafe, and helping new characters either turn their lives around or face their worst nightmares, in subsequent episodes of the show.
Six hour-long episodes of Nightmare Cafe aired on NBC from January through April of 1992, with Craven himself directing the final one. Unfortunately, the ratings just weren't very good, which forced NBC to hammer a big ole nail into the coffin of the show. Much like Freddy's Nightmares, Nightmare Cafe has still never been officially released onto DVD, though episodes do pop up from time to time on Syfy and the Chiller channel.
Thanks to the power of the internet, all six episodes of Nightmare Cafe are available for instant streaming over on YouTube, with each of them being broken up into nine individual parts. We'll get you started with the first part of the pilot episode below and you can head over to MrNoahBennet's YouTube channel to continue your journey through the magical doorways of the Nightmare Cafe.
It's a fun show worth checking out, and we encourage you to do so!
Support Halloween Love
If an item was discussed in this article that you intend on buying or renting, you can help support Halloween Love and its writers by purchasing through our links:
(Not seeing any relevant products? Start your search on Amazon through us.)