What is your favorite horror movie that you feel is underrated, and not nearly as appreciated as it by all means should be?
This is a question I found myself pondering back in September of 2012, when a project called Hidden Horror 101 came to my attention. Aaron Christensen was the man behind the project, which was essentially billed as a follow-up to a book he released back in 2007 called Horror 101: The A-List of Horror Films and Monster Movies. Aaron is a veteran writer in the horror community, currently contributing to HorrorHound Magazine and running his own blog, and a mutual friend of ours put us in touch, when Aaron began patrolling the waters for writers to contribute to Hidden Horror 101 – 101 of them, to be exact.
Since my writing had never been published in a book, and since a few titles immediately sprang to mind, I knew it was something I had to take part in. And so I dropped Aaron an e-mail, and soon thereafter was tasked with coming up with a small list of films that I'd be interested in writing about. What Aaron was looking for were essays about 101 different movies, from 101 different writers, and I quickly shot him a list of the movies I felt I could write at least 2,000 words about.
Silent Night, Deadly Night 5: The Toy Maker, Blood Creek, Eden Lake, Castle Freak and Splinter were all on the list I sent over, but it was the 1983 sequel to the most iconic horror film of all time that Aaron decided he wanted me to tackle. I'm of course referring to Psycho 2, and I was absolutely thrilled to get the chance to spread the good word about such a highly underrated sequel.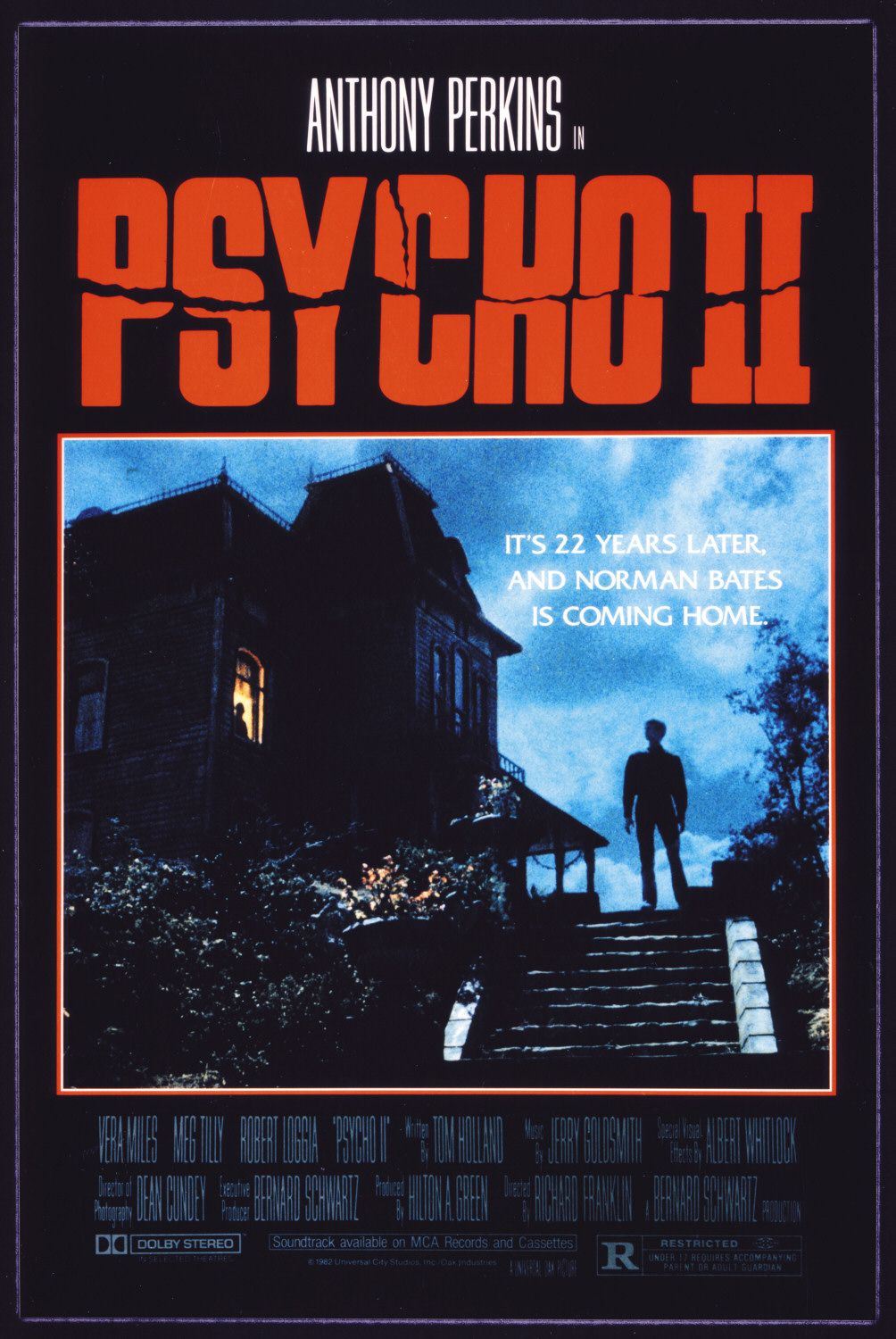 Truth be told, it wasn't until April of last year that I even saw Psycho 2 for the first time, thanks to a week-long series of posts called 'Sequels I've Never Seen' that I did on my personal blog Freddy in Space – which closed up shop earlier this year, but lives on as a Facebook page.
Now where was I, before I made that cheap plug?
Oh right. Psycho 2. The reason I went 26 years of my life before ever watching Psycho 2 was quite frankly because I never even considered the fact that it could be good, and nobody ever bothered to tell me otherwise. For years I looked down upon the film as just another pointless attempt to cash in on a successful horror flick, and so I just plain never bothered to watch it. And that right there is why the movie is so underrated, and so unappreciated; it's not that horror fans that have seen it don't love it, it's just that far too many horror fans have written it off sight unseen, much the same way I did for so many years.
Once I actually bothered to watch it, I was delighted to discover that Psycho 2 was one hell of a sequel, and has in fact become one of my personal favorite horror sequels of all time. Writer Tom Holland's script is absolutely incredible, and I still to this day find myself so impressed by how everyone involved was able to make such a quality sequel to such a classic movie – no small task, to say the least.
Cut to the present day. After revisiting the film several times, pecking away at my keyboard for many hours, editing and re-editing my essay and then doing a whole lot of waiting, I'm happy to report that the book Hidden Horror 101: A Celebration of 101 Underrated and Overlooked Fright Flicks is at long last available to order over on Amazon. Featuring a foreword by Maniac & Maniac Cop director William Lustig, the book is packed with over 300 pages of essays from some of the biggest names in the online horror community, and it includes love letters to films like Halloween 3, Pieces, Society and Dark Night of the Scarecrow.
Described by Fangoria as "A wild, insightful and esoteric melange of macabre movie musings," and by Bloody Disgusting as a book that's "custom-built for horror fans who think they've seen it all," Hidden Horror 101 can be purchased through Amazon for $17.05, and I can think of no better post-holiday gift to yourself than the gift of a whole lot of incredible new additions to your movie watching bucket list – I'm allowed to say this, since I only contributed one small piece to the puzzle!
To learn more about the films featured and the writers whose musings fill out the pages, be sure to "like" the Hidden Horror 101 Facebook page.
Again I ask; What is your favorite horror flick that you feel is underrated? Comment below and let us know!
Support Halloween Love
If an item was discussed in this article that you intend on buying or renting, you can help support Halloween Love and its writers by purchasing through our links:
(Not seeing any relevant products? Start your search on Amazon through us.)