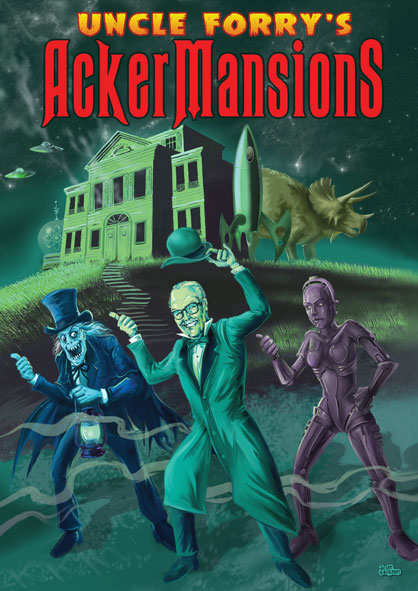 A die-hard life-long horror and science-fiction buff, the late Forrest J. "Forry" Ackerman was in many ways the kind of fan that every person who writes about genre movies – myself included – aspires to be.
Starting the iconic magazine Famous Monsters of Filmland in the late 1950s, Ackerman became a leading voice in the community, and one of the most well-known fans in the history of genre fandom. Hell, it was Ackerman who coined the term 'sci-fi,' which of course became the go-to classification for the sorts of movies that he loved.
Aside from Famous Monsters of Filmland and the many other writing outlets he contributed to, Ackerman was known for his 'AckerMansion,' which contained one of the world's most massive collections of movie and science fiction memorabilia.
From the 1950s up until his death in 2008, Ackerman opened up his homes to the public, allowing fellow fans the chance to hang out with his incredible collection, which included original props from the 1933 version of King Kong, over 30,000 books and even Bela Lugosi's Dracula cape and ring.
Now, thanks to November Fire's documentary Uncle Forry's AckerMansions, Ackerman's homes are once again being opened up to the public, for virtual tours. The 70-minute documentary was just released a few weeks back and it serves as an account of Ackerman's life and career, with a strong focus on the collection that left so many jaws on the floor.
Comprised entirely of archival footage, Uncle Forry's AckerMansions takes you through the three homes that Ackerman occupied in his adult life, oftentimes with him narrating over the never-before-seen images and video snippets. The documentary is filled out with a few vintage interviews from Bob Wilkins' Creature Features TV show, wherein Forry tells stories about the likes of Bela 'Dracula' Lugosi and Boris 'Frankenstein' Karloff.
I must admit that I'm a bit too young to have been directly impacted by Forrest Ackerman, which is one of the big reasons why I'm glad this documentary exists. Though I've been aware of Ackerman for many years now, I've never really known all that much about him, or seen his collection, and so, for me, it was a real treat to see all the stuff that November Fire compiled together for this short but sweet story of one of the most enthusiastic genre fans that ever lived.
As a writer in the horror community for the past seven years, I've unfortunately been exposed to the dark side of fandom, and it seems to me that most fans nowadays are more interested in hating on things they dislike, than they are celebrating things that they do like. On a daily basis I tend to read more negative viewpoints about the genre than I do positive ones, and it saddens me to see that horror fans tend to be filled with more hate for horror movies than anyone else in the world. Ironic, isn't it?
Not that there aren't things to dislike about the current state of the genre, because there certainly are, but it was quite refreshing to spend the past 70-minutes with the late Forrest Ackerman, whose enthusiasm and deep love for horror and sci-fi movies was both inspiring and infectious. Forry was the kind of fan that we should all strive to be, not just because of the fact that he made a career out of being a fan, but because he truly embodied what it means to be a fan, in every sense of the word.
As Ackerman's headstone so eloquently states, 'Sci-fi was my high,' which pretty much perfectly sums up his entire life. He quite literally lived and breathed the movies he loved, right up until the day he died, and all of us fans could learn a thing or two from the passion he exuded from every pore. Being a fan means loving and supporting the things you're a fan of, and nobody did that better than Uncle Forry.
From what I've heard, Ackerman's collection was auctioned off in the wake of his passing, and so I'm very happy that his AckerMansions were documented in their heyday, and the footage put together for this documentary. There's not much fancy going on here in terms of presentation, but it's a nice little time capsule of Ackerman's life, and a smile-inducing insight into a brand of fandom that the internet age has largely done away with.
Included on the disc is a two-minute bonus feature containing images of the house seen in the original House on Haunted Hill, which Ackerman's third and final AckerMansion was situated directly in front of.
Uncle Forry's AckerMansions can be purchased exclusively over on November Fire's website, where it's selling for a mere $15.
Remember, horror fans; spread love, not hate!
Support Halloween Love
If an item was discussed in this article that you intend on buying or renting, you can help support Halloween Love and its writers by purchasing through our links:
(Not seeing any relevant products? Start your search on Amazon through us.)