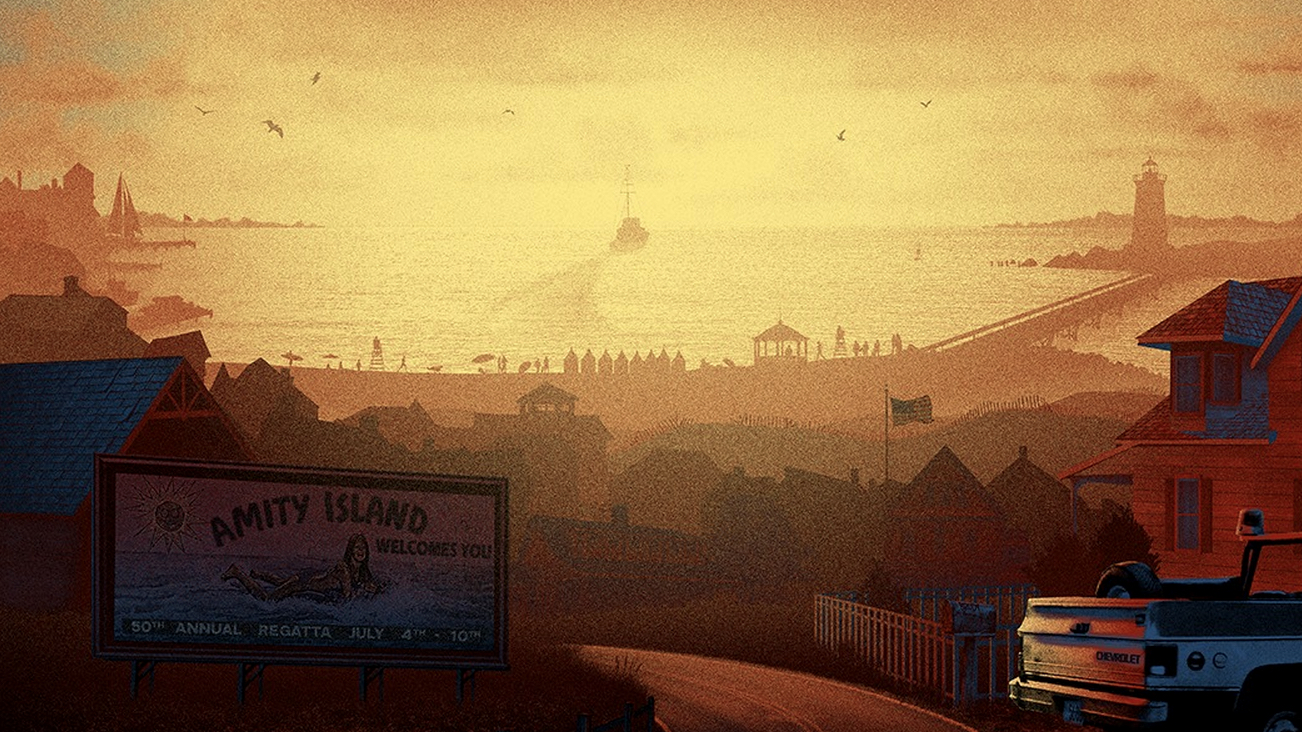 The year was 1975 and one most perfectly crafted movies I have ever had the pleasure of watching was unleashed on the big screen. Here we are forty years later and I'm going to be paying tribute to Jaws across multiple articles in the months leading up to the anniversary. This film, possibly more than any other, is responsible for igniting my passion for cinema as a child. It's timeless perfection and never ceases to entertain and amaze me.

A few weeks ago I posted an interview with one of my favorite alternative movie poster artists working out there right now – Kevin M. Wilson aka Ape Meets Girl.
Kevin's work is all about atmosphere, lighting, tone, and just making the hairs on the back of your neck tingle. It's vivid and rich colors, enhancing perfect silhouettes. I just LOVE what he does (as you can probably tell).
Toward the end of that interview I asked Kevin the following question:
"Finally, are there any movies that you are desperate to illustrate but haven't had the chance yet? And what does the immediate future hold for you regarding your art?"
He replied …
"The one film I kept returning to over and over again was Jaws. I threw out so many ideas for that. It's been done a lot, and it's been done well, as you guys showed recently. I figured if I couldn't think of something fresh and original, then I shouldn't do it."
"Then I was recently approached about doing a commission for Jaws, and my heart sunk. But together the commissioner and I came up with an idea which we both agreed was new, and looked at the film from an original perspective. That piece is finished now and it has far surpassed any of those original concepts that I ditched. I'm sure you'll see it very soon and I hope you enjoy it as much as I did creating it!"

I was instantly intrigued. I've been a MASSIVE Jaws fan and collector of Jaws memorabilia my entire life, and I'm also hugely passionate when it comes to pop culture art and alternative movie posters. Jaws has been the subject of more art projects than most and I've seen them all! There are some fantastic pieces to be found but original concepts were maybe starting to be hard to come by, as Kevin alluded to. Some fresh blood and ideas needed to be added to the water, and with 2015 being the 40th anniversary of Spielberg's masterpiece – what better time to do it!
Last night we finally discovered what Kevin's collaboration had created, and yes, it was worth the wait and my own personal anticipation was hugely justified. Two pieces that completely soak up every drop of atmospheric brilliance to found within the movie.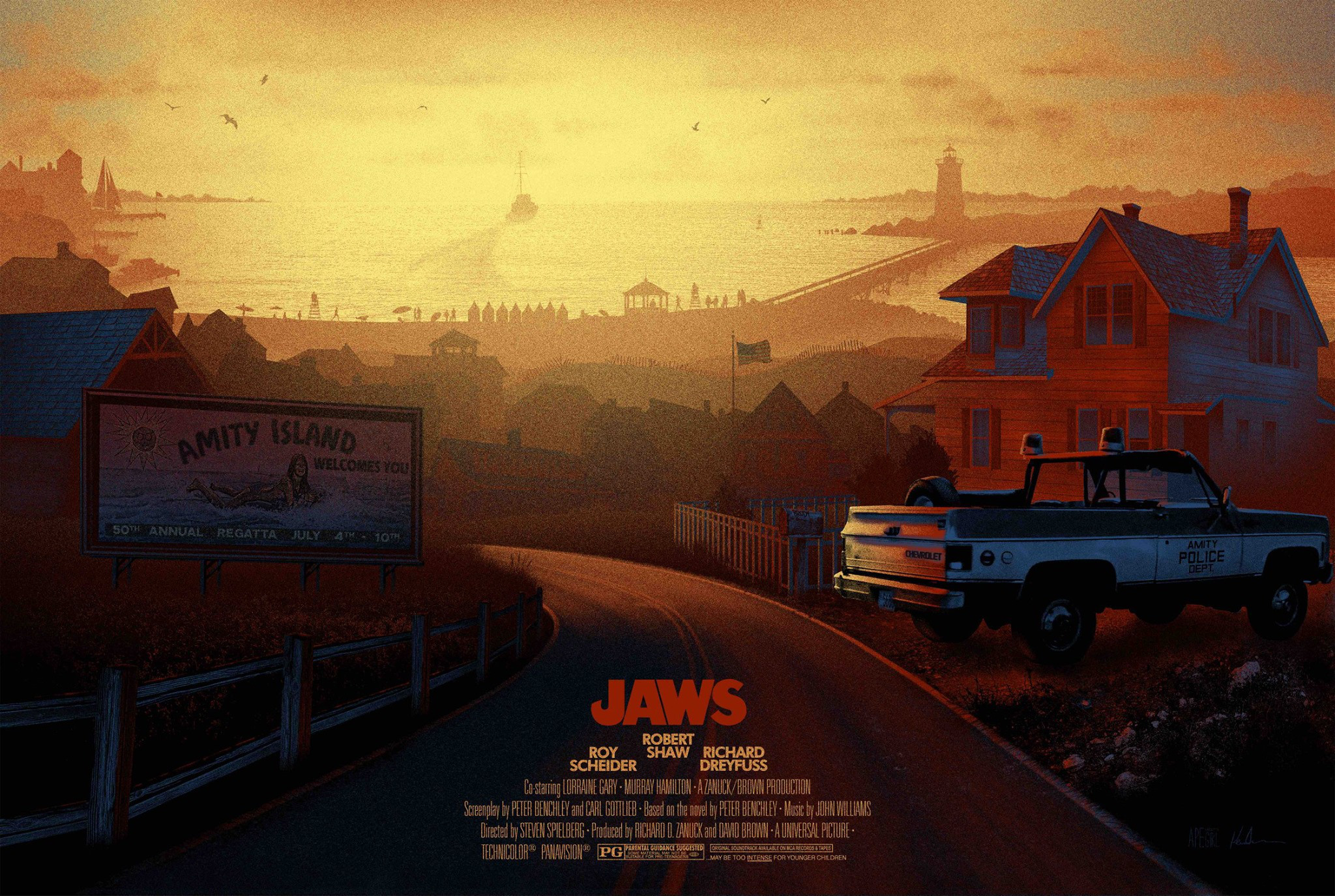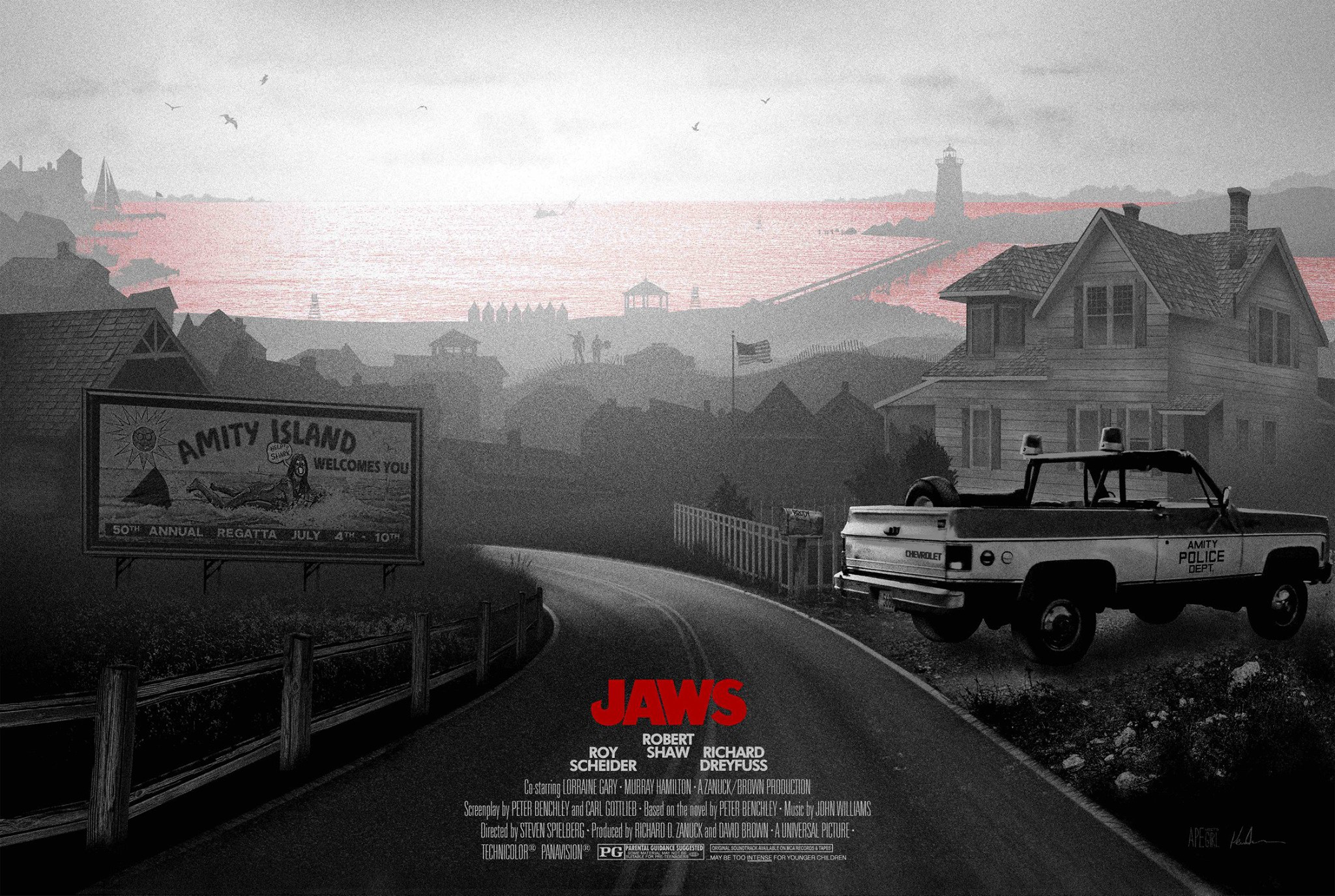 The first is just Spielberg on paper!! The hazy, early evening summer sunlight, the ocean stretching toward the horizon – pure magic. It's Amity full of life, before the shadow of the shark fell over the island.
The second variant piece "Beach Closed" is Amity after the shark has made its presence felt. The coastline is deserted, the Orca can be seen slowly sinking, and it just feels like life itself has been drained from the landscape. Only the blood red ocean retains any color, creating a striking final image. Individually they are incredible posters. As a pair – they are a unique creation, and worthy of all the praise they are already getting.

Here is a quote from the gentleman who commissioned the posters, which gives a little more insight into what they were hoping to achieve …
"I think you'll all agree Kevin has knocked these out of the park (or sea) to show a very different side of Amity that has yet been seen in print form. The key focus was the town of Amity and to reference the sign in a way that it welcomes you into the town before and after the shark attack. The prints are full of film references and easter eggs from the reservoir that Police Chief Brody sends his son to play in, to his house (and letter box), the broken fence to the detail on the beach and buoy in the sea and not forgetting the sign. There may also be an appearance from Jaws himself in one form or another for those who are eagle eyed … there's more than one shark reference."
"I hope you all like it as much as myself and Kevin do, he's a huge fan of Jaws and I think it's safe to say it shows!"
It really does show. Ultimately, what Kevin has achieved here is exactly what he wanted to aim for when he answered my question a few weeks ago … "an original perspective" … A new approach, a different point of view. The truly great alternative posters expand the world these movies created. Jaws is 40 years old, we know it's about a shark and we know what a shark looks like. These prints are trying to capture the magic of the movie as a whole – and they succeeded, completely.
Support Halloween Love
If an item was discussed in this article that you intend on buying or renting, you can help support Halloween Love and its writers by purchasing through our links:
(Not seeing any relevant products? Start your search on Amazon through us.)