In my continued desire and curiosity to understand the changes the horror community is going through right now, including our own site here, I wanted to talk to someone else who had created a horror website, to see how their experiences related to my own. With the recent news of Dread Central joining Patreon, something we're also giving a try, I thought this might be a good opportunity to interview Dread's creator, Steve "Uncle Creepy" Barton.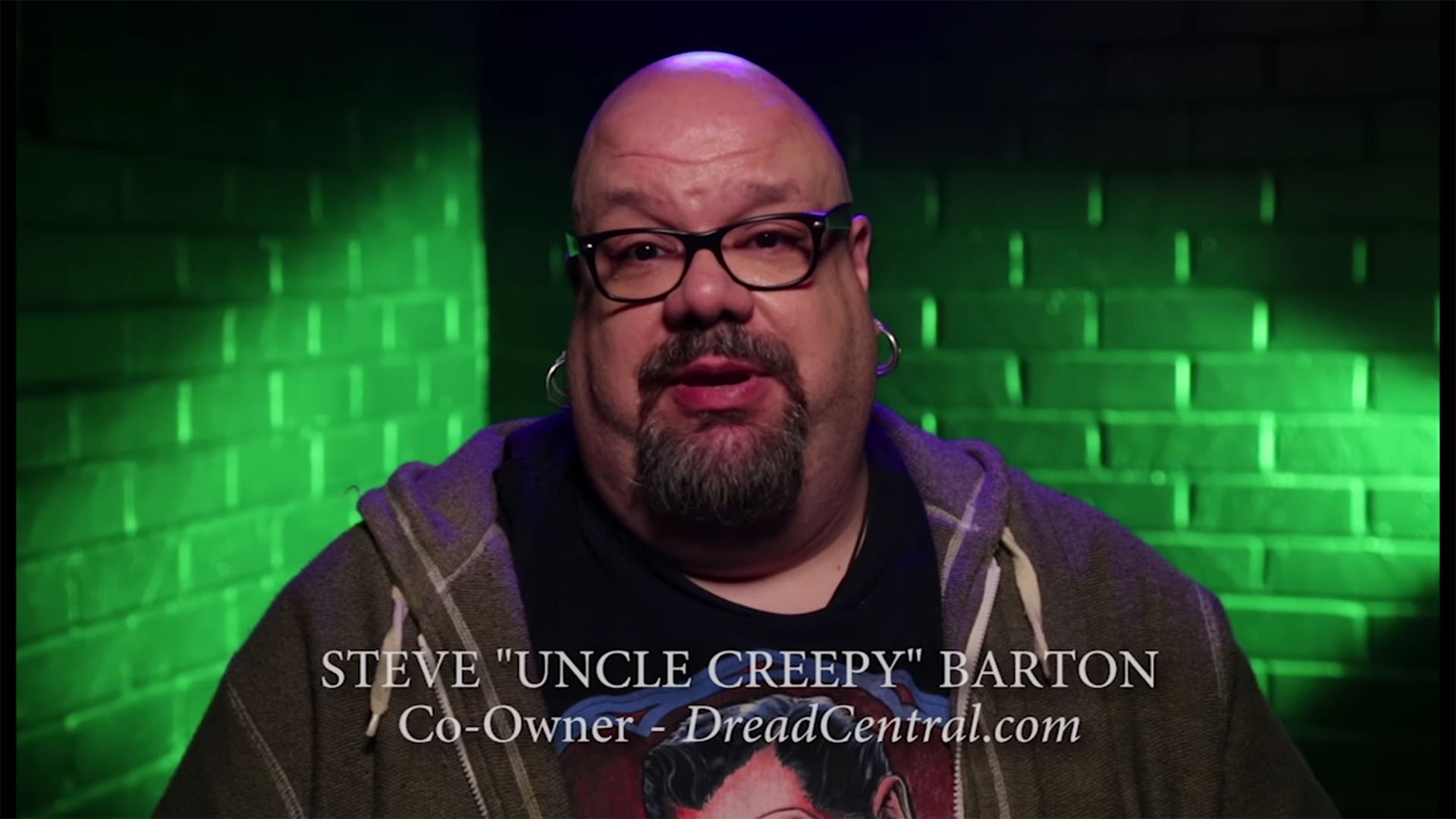 HL: Let's start with what led to the beginning of Dread Central in 2006. I read that you entered the "Hollywood system" so to speak at a young age and have had various gigs on movies on and off again over the years. It looks like you worked on a few horror projects before the launch of Dread Central and had already gained the nickname "Uncle Creepy."
In 2006, you were brought on as a writer for the website of an upcoming horror channel. After things fell through on that project, you decided to give it a go anyway by starting your own horror site. Obviously you're a horror fan, but otherwise, why were you initially brought into this horror channel project? Had you written horror articles previous to that point or was it just your connection with the industry?
SB: Tony Timpone gave me my start working for Fangoria as their message board moderator. I took the screen name Uncle Creepy as an homage to my favorite comic growing up, Creepy. It was a free gig, but who cares, right? I'm working with Fangoria! Nothing else mattered! I was with them for many years and that's where I met my partner in Dread Central, Jon Condit. Tony then introduced us to a couple of executives who were working on something called The Horror Channel.
For years there were false starts, etc, and there were a myriad of reasons behind each one of them. Along the way though, Dread Central began as the news area of HorrorChannel.com. I was eventually fired from there for let's just say "special reasons" but what they didn't anticipate was that when I was canned the entire staff I worked with would resign the very same day. It was an incredible feeling to have and see that kind of loyalty.
We had this amazing team all ready to go and decided to stake out on our own. That was the birth of DreadCentral.com
---
HL: Did anything from that project survive and eventually evolve into any horror channels we now know today? Why did the project fail?
SB: The website is still around I think, but honestly I've no idea what they're doing as I have a tendency to only look forward and worry about my own backyard. As for why they failed, that's more of a question for them.
---
HL: When you left the project to start Dread Central, was co-founder Jon Condit an original founder with you on day 1?
SB: Yes, we've been rolling together for over a decade from pretty much the very start.
---
HL: What was the original drive for starting Dread Central? Was it just for fun, an outlet to allow you to write about the things you loved, or was it always intended to be a commercial endeavor from the beginning?
SB: It's still not a commercial endeavor really. No one owns us. No one has ever owned us. As for the drive… it's all of the above. We love horror movies and the genre as a whole. For the sake of absolute transparency, for the past 10 years I've been making less than 20k a year just to keep DC going. Believe me when I tell you, there's not much to make doing this but I'm doing what I love and that's what matters.
Our success isn't conveyed monetarily but we have a lot of heart and try desperately to do things for the right reasons even when the wrong ones are so much more profitable… not to mention easier. It's through hard work and honesty that we've grown into what we've become, and we're one of the biggest genre sites out there. One of the most well respected ones. We did that on our own steam and with the fans behind us. I couldn't be more proud of being around this long.
---
HL: At the time of this interview, I count a whopping 69,351 articles on Dread Central. Nice work! We only broke the 1,000 mark on HL a little while back haha. Shark, meet fish. Of all the pieces you've written over the years, are there any that particularly stand out as pieces that you're proud of or had a lot of fun writing?
SB: I ran a piece on what scares your favorite celebs out there. What REALLY scares them. That was so much fun. Probably the most I've ever had writing. Though I was honored… completely honored to help fans and industry folk alike to express their feelings regarding the passing of Wes Craven. There was so much heart in that piece. So much emotion. I wish it was for a cheery subject, but life often isn't wrapped in a neat package with a pretty bow. That piece was as real and raw as it gets.
---
HL: Did you do any writing previous to Dread Central?
SB: I never wrote a single thing until well into my late twenties, early 30s.
---
HL: When reading the #SaveDreadCentral announcement, I noticed that you handled an angry commenter very well with a very professional, mature, and cool demeanor, which I greatly respect. I too, like anyone that ever creates anything in the public eye, have had to learn how to deal with criticism and rude, sometimes even crazy people. Learn not to take it personally, not to name-call in return or really match their attitude on any level, and probably the most important lesson, when not to even respond at all if there's no value in it. Did you find that you were always able to keep a cool head, or was it something you had to learn over time?
SB: Any comment, whether it be negative or positive comes from a place of passion. I cannot fault someone for being passionate, even when I disagree with them. They're very much allowed to say anything that they want, as am I. But sometimes you find yourself pissing in the wind, ya know? No one's gonna make anyone else see some great proverbial light, so why be angry? Only YOU can choose to be angry about anything.
---
HL: I notice that you don't share any stats on the Dread Central advertising page. We can of course see how many Likes and Followers you have, but would you mind sharing a break-down of some other stats, monthly unique visitors, how many advertisers you acquire a month on average, monthly revenue, etc.? Also, in the last decade, what year would you say was your best overall? Is the income from Dread Central enough to fully support you, or do you still have a day job or other entrepreneurial endeavors to help pay the bills?
SB: You can verify any of the above numbers through going to services like Alexa or simply going to Facebook, Twitter, or YouTube to see how many subscribers we have. Traffic-wise we do really well worldwide. As for whether or not DC has ever sustained me, no. I worked a retail job while doing DC for many years. Even that did little to supplement my income. Debi, my wife, has been with me through thick and thin. Even though we've never made much together, with her, we make enough just to get by. She's been wonderful and has allowed me to chase my dream of actually doing this without suffering for it. But suffering builds character. It builds humility. I'm no stranger to any of that. I'd rather die a pauper with integrity than a rich douchebag with no soul.
---
HL: When did the trend in declining profits begin that led to needing to evolve with getting support from readers via a service like Patreon? Before it got to that point, how much would you estimate you've personally poured into the project out-of-pocket or did that debt come in the form of business loans? Would you mind sharing how much debt the company is in? And without X amount raised monthly, does that really spell the end? In other words, if from this very moment, revenue disappeared completely, never to return, would you retire the business, sell it, or just devolve to an older state where it's just you or you and a friend writing for the fun of it, for the passion of it?
SB: Things were bad in 2016 right from the start. We never took out a loan but did put a lot of company expenses on a credit card. I'm not comfortable sharing the amount of debt we're in publicly but it is there. That hangs over our head every day and it's bleeding us dry. The Patreon thing is going well but there's a lot more to do. To run DC as is costs about 7k a month. If the money ran out I couldn't keep the site up. If a miracle doesn't happen soon we'll be shutting our doors. That's just the long and short of it.
---
HL: If for whatever reason, it was to all go away tomorrow, what's next? I see on your IMDb page that you've produced some interesting projects. Any aspirations of writing or directing a feature-length film?
SB: Everyone has those aspirations. I don't know, really. I have to take this time of crisis day by day. There's no time to look ahead right now. I'd be lying if I said I wasn't terrified.
---
HL: Whatever it is that I missed asking that will help horror fans better understand what's going on with the horror community as a whole these days, from horror sites, social media, conventions, filmmaking, etc., please take this opportunity to help shed some light on the subject with any other points of interest worth mentioning.
SB: Honestly, you covered it man. We live in an ever changing world and it's either adapt and move on or fold. For us right now what we do is completely in the hands of the fans.
---
HL: On a lighter note, we'll now move on to a few less depressing questions to close out the interview. What are your fondest childhood memories of Halloween?
SB: All of them. I learned right and wrong from watching George Romero movies. This? This is no act. This is me. Horror is in my blood. It's a part of who I am. I cherish each second I spend celebrating the genre one way or another.
---
HL: Any upcoming projects that you're excited about that we can give a shoutout for?
SB: Like I said, no time to look ahead. Instead I'd like to shout out every single person who has donated thus far, and every single person who will. Everyone who's shared the link… Thank you, thank you, thank you. Much love.
---
HL: At HL, we love getting weird. Anything bizarre, random, or off-topic you'd like to share?
SB: Hit me back when my head's on straight! I specialize in weird.
---
Thank you for your time Steve!
How to reach out to Steve:
Official Website / Facebook / Twitter
Other links of interest about Steve:
Support Halloween Love
If an item was discussed in this article that you intend on buying or renting, you can help support Halloween Love and its writers by purchasing through our links:
(Not seeing any relevant products? Start your search on Amazon through us.)