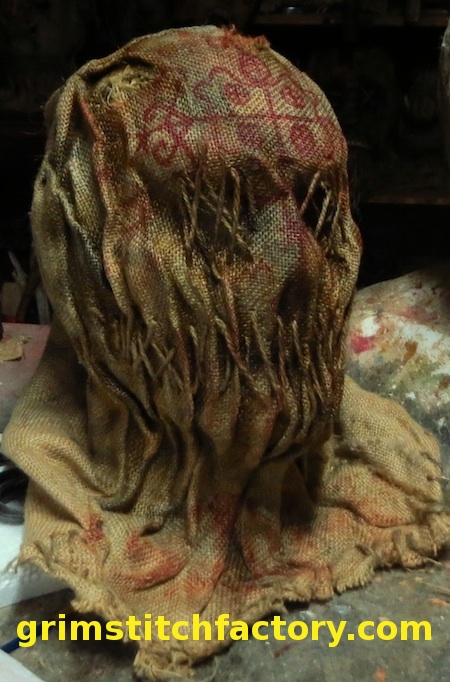 As movies like 1988's Scarecrows (coming soon from Scream Factory!), Dark Night of the Scarecrow and even Batman Begins have proven, there's something insanely cool – and totally badass – about scarecrows.
Of course, it's the gnarly burlap masks that define the look of scarecrows, and there's nobody out there who's nailing that look better than artist Cameron Scholes.
A longtime makeup-FX artist and prop builder, Scholes launched Grim Stitch Factory a couple years back, with the intention of bringing to the market scarecrow masks that are quite unlike any others available to us fans of the mad and macabre.
You see, it's not rubber that Scholes' scarecrow masks are made out of but rather real burlap – stitched, pulled and sewn together using old-school traditional techniques.
"It's burlap, twine, pliers and needles," Scholes describes on Grim Stitch's website. "And since farmers never used air brushes, neither do I. We don't make replicas of scarecrow masks by using molds, latex or silicone. We make real scarecrow masks, the way they were meant to be."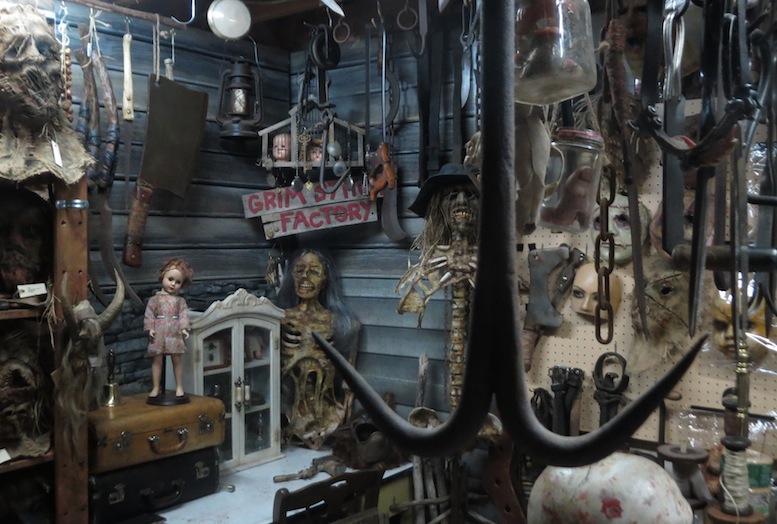 One look inside Scholes' titular factory is all it takes to realize he's living up to that promise, as his workspace quite frankly looks like the kind of place you'd expect Leatherface to spend his time in – in fact, he actually does make masks from real skin, but more on that in a minute!
From paintbrushes sticking out of rusted old cans to jars filled with buttons, vintage scissors lining his desk to creepy masks and dangerous-looking weapons lining the walls, Scholes is one artist who's truly immersed in his work, and each of his unique creations reflects that dedication to preserving the relatively lost art form of the scarecrow.
In an effort to learn more about Scholes, and his process, I caught up with him for an exclusive chat, which you'll only find here on Halloween Love. So if you dig Grim Stitch Factory's masks as much as I do, read on for an insight into the mind of the man who painstakingly handcrafts them!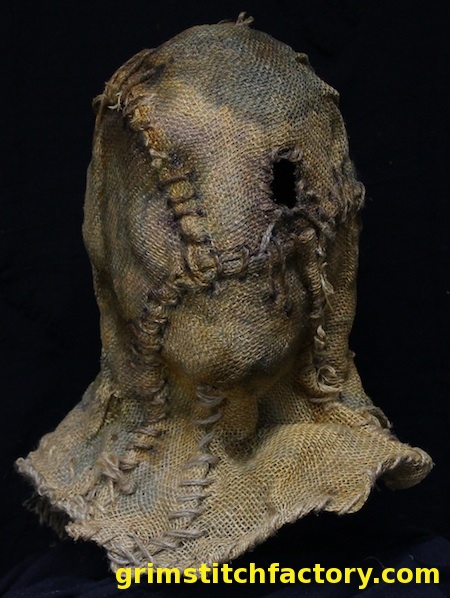 HALLOWEEN LOVE: Take us back to the beginning. What inspired you to start Grim Stitch Factory, and what is it about scarecrows that you're so drawn to?
CAMERON SCHOLES: I started the Grim Stitch Factory because when I began making scarecrow masks nobody was making the kind I wanted; old-school authentic all-burlap scarecrow masks like those right out of a cornfield. And by authentic, I mean scarecrow masks that aren't made of latex or silicone.
What draws me to scarecrows is the same thing that draws most; a scarecrow is the quintessential North American boogeyman and the only one that has foundations in reality and who wasn't dreamed up first as a film character.
Sure you have your Jasons and your Freddys, but scarecrows? They are the, really out there, really exist, real deal.
HL: What separates your company from others is that your masks are made with authentic old-school materials and techniques. Tell us a little bit about the process of making one of your scarecrow masks.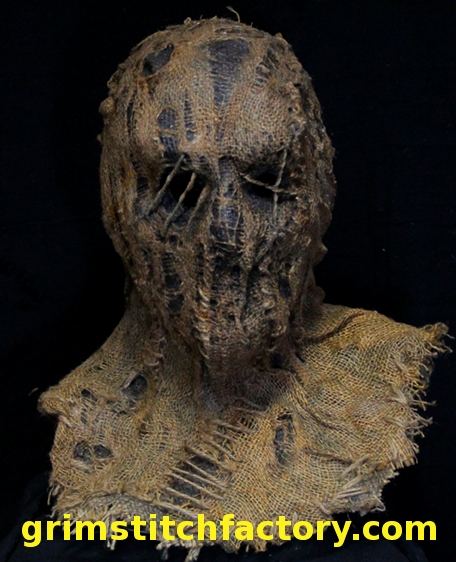 CAMERON: One of the most important aspects of the process is using quality types of burlap. I have many different kinds of burlap that I use, varying in weave density and thickness and texture. The softer burlap I get from a furniture maker is the burlap I use to line the inside of each mask as it's surprisingly comfortable, which is one of the first things that delights customers when they wear the masks.
Construction wise, all my masks are stitched in multiple layers over a selection of specially made head casts I have made. Any alterations, such as bigger chins, cheek bones, brows, etc are all built up with polyester padding.
What gets tricky sometimes is actually the stitching. I use a special carpet or upholstery needle and pliers, because sometimes the mask padding is so densely packed it's impossible to drive a basic needle, even a big one, through it with just your fingers. That upholstery needle is probably more important in the making of my masks than the burlap.
The painting and antiquing work is what I enjoy the most. Each mask is hand & brush painted – no air brushing – using various Illustrator palettes, the same used in the special FX industry.
HL: One of the cool things about Grim Stitch Factory is that you only make original character masks, rather than replicas of existing ones. How do you come up with the designs for your masks?
CAMERON: I have only a mental image when I start. Contrary to what some artists do, I do not make pre-production sketches with pencil or computer drawing software programs. I have only a vague idea in my head of "the look" and then I run with it and let creativity and imagination chart the course.
By not ironing out an image from the beginning, I'm not tied to a design. When you do that, sometimes road blocks in the production of the mask can really hinder your creativity because you may be psychologically tied to a preconceived design you put on paper or computer.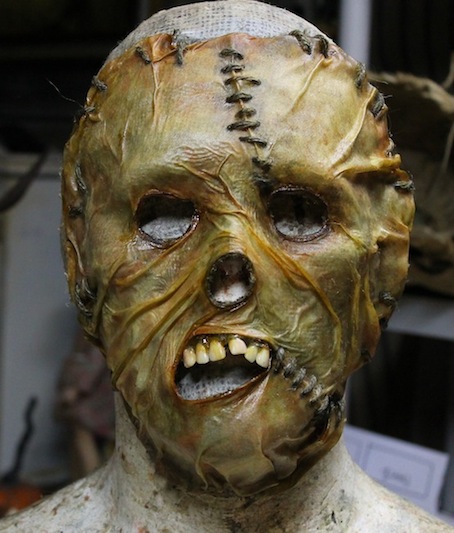 HL: Perhaps the most interesting product you offer is the 'skin mask,' made from actual goat skin. May I ask where you get goat skin, and what it's like working with it?
CAMERON: I get the goat skin from a hide manufacturer. Working with the skin, which is the same skin used to make lamps, drums, etc, takes some getting use to. Laying it down over round surfaces and in the crevasses that are the landscape of the human face takes practice and patience. But the results are worth it. There's nothing quite like owning a stitched up human face skin mask made from real skin.
I should make one, leave it on a country road near a farm, and see if whoever finds it, calls the police. LOL.
HL: Not surprisingly, several filmmakers have reached out to you to design masks for their horror films. Can you tell us a bit about some of those past/upcoming projects?
CAMERON: I did make a pair of masks for Mr. Jones (2013), but in the end the filmmakers decided to go with something else. I've always wished I had been given more information, direction, and a few sketches based on the script so I could have given them something that exactly nailed their needs. But these things happen.
My most recent work is in a UK film called The Redwood Massacre, and another mask in a US film called Wicked Ones which I believe is in post. Another called Malevolent is still in the pre-production stages, but I have already designed their mask for teaser posters.
HL: I'm going to go out on a limb here and say you've probably gotten some pretty strange commission requests. Would I be correct in saying that, and have you ever turned down a request that was just too weird?
CAMERON: Never. And by that I mean, nothing strange, perverse, or outlandish has ever been requested. Horror fans I find, beyond the cinematic blood and gore, generally aren't that.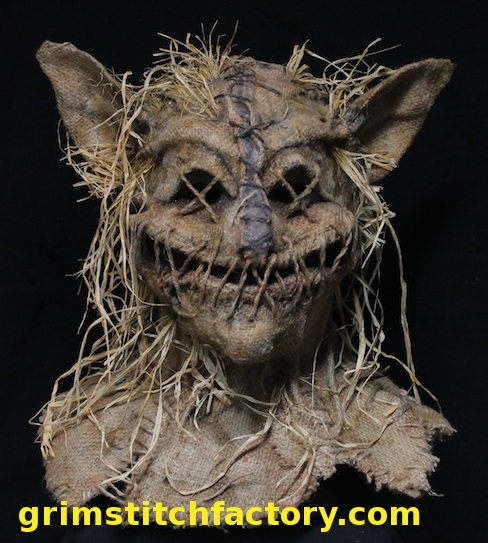 HL: You're obviously a man who appreciates scarecrows. So can you tell us a few of your favorite scarecow-themed horror flicks?
CAMERON: I liked some of the prop scarecrows in William Wesley's film, Scarecrows (1988), then there's Dark Night of the Scarecrow (1981) and the unique scarecrows in the After Dark horror series entry HUSK (2011). But if we're talking pure character, then Disney's Dr Syn, Alias The Scarecrow (1963) definitely tops the list. What a great mask and costume.
HL: As far as the future is concerned, do you have any ideas for new types of products you'd like to someday make and offer up to your customers?
Cameron: I've sold antiques (rustic knives, weird farm tools etc) and prop weapon re-paints before on my site, but when you work alone there is only so much that you can offer before you risk loosing your specialty. And now with real skin masks, I don't have a lot of time to do much else unfortunately.
---
To see more of Cameron Scholes' incredible masks, head over to the Grim Stitch Factory website, and "like" Grim Stitch Factory on Facebook. He also takes custom commissions, so if you've got something in mind that he doesn't offer up, don't hesitate to drop him an e-mail!
Support Halloween Love
If an item was discussed in this article that you intend on buying or renting, you can help support Halloween Love and its writers by purchasing through our links:
(Not seeing any relevant products? Start your search on Amazon through us.)