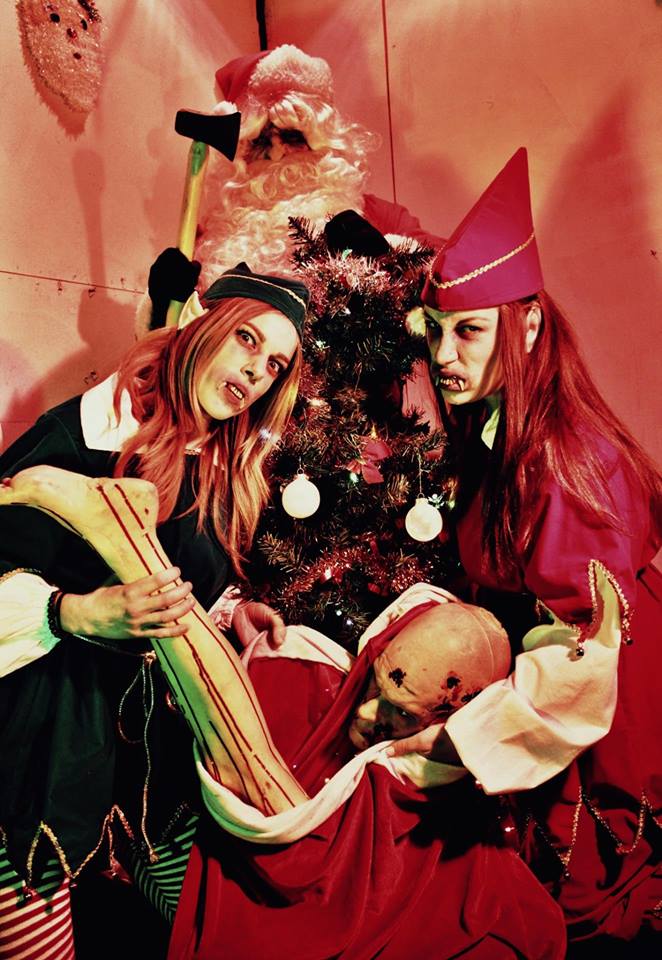 There are few things I love more than the fusion of Christmas and horror, as there's just something about the happiest time of the year crossing over to the dark side that is endlessly appealing to me. Movies have been doing it for decades now, to the point that 'Christmas horror' has become a bonafide sub-genre.
Where does that sub-genre go from here? Well, given the proximity of the Christmas season to the Halloween season, I suppose it was inevitable that the two would eventually bleed into one another, and indeed that has begun happening across the country. In an inspired effort to turn one month of profits into two, haunted attractions are starting to embrace Christmas, and it's kind of a beautiful thing.
This past weekend I popped my proverbial cherry and crossed a goal off my bucket list, attending Long Island, NY's first ever holiday haunt. Titled 'A Very Scary X-Mas,' the attraction was put together by the folks behind Chamber of Horrors NY, which has become one of the most talked about Halloween haunts in my area – and 'talked about' is an understatement, when it comes to this particular event.
Not surprisingly, the idea of a Christmas-themed haunted attraction didn't sit well with many parents in the area, their outrage echoing the parental reaction to Silent Night, Deadly Night's theatrical release, three decades prior. Not only was a commercial for the haunt (below) banned from local broadcast but so too were many passionate e-mails written, urging the organizers to keep horror out of the holiday season.
As we learned from Silent Night, Deadly Night, all press is good press, and the controversial nature of this haunt did little more than make it a hot topic of discussion for every news outlet in the area. The line inside the building this past Friday night was a reflection of all that press, and the fact that a news van was parked outside signaled that Chamber of Horrors had a hit on their hands.
After waiting on line and being terrorized by a little girl dressed as an evil elf, my wife and I were ushered into the haunt, where a chainsaw-wielding Santa was waiting. Sitting in a chair, and set against a festive backdrop, this creepy Santa was there to take photos with all who paid to get in, a stroke of creative inspiration that kicked things off on a very fun note.
Inside, it was clear that the attraction was merely the Halloween haunt with some decorations and appropriately costumed actors thrown into the mix, though that's really all it needed to be. Characters like Old Man Winter and a particularly frightening evil snowman filled out the dark corridors, along with a living Christmas tree and a handful of killer Santas – one of whom sent chills up my spine by insisting that we forgot to leave him milk and cookies.
To publicly offer up any criticisms about this most unique of events is something that feels quite unnecessary, as doing so would be overlooking the fact that it provided us with the opportunity to attend a haunted attraction in December. That alone is a thrill enough, and it's that continuation of the Halloween season that makes me so happy about the budding existence of Christmas haunts.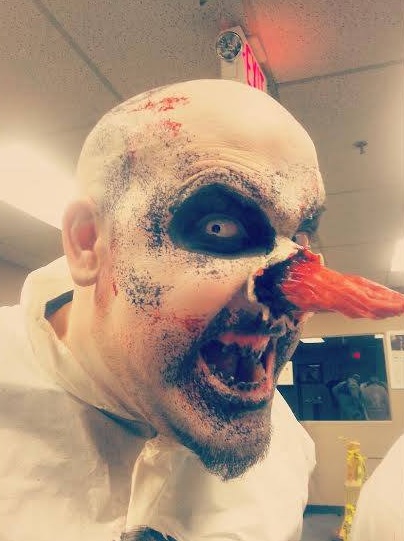 Plus, I totally got to step inside my very own Christmas horror movie, which is kind of a dream come true. So my eternal thanks for that, Chamber of Horrors.
For so many years, haunted attractions were exclusive to October, and though that is admittedly what makes them special, the fact is that it's fun to be scared all year round. It's for this reason that I am fully in support of haunt organizers milking other holidays for all they're worth, as it's both a smart business move and one that benefits us fans as much as it benefits their bank accounts.
As for the controversy surrounding Christmas-themed haunts, it's such a non-issue that it's hard to even understand why anyone would care. Like movies that similarly depict Santa in a negative light, nobody is forcing anyone to take part that doesn't want to, nor are children being ushered through the haunt against their will. So get over it. There's much more evil shit going in the world, so choose your outrage wisely.
For those who live in the Long Island area, you can learn more about 'A Very Scary X-Mas' over on the Chamber of Horrors website and Facebook page. This coming Friday and Saturday night are the last nights it'll be around, so try to pencil it into your schedule.
All others can head over to the website Fright Props, where you'll find a full listing of all the holiday haunts taking place this year, across the country.
Easter. Thanksgiving. Valentine's Day. The possibilities for haunted houses are endless. I encourage you to support the ones that stick around, so this trend of holiday expansion will continue. Because life is just a little bit better for horror fans in October, and there's no reason those thrills and chills should be exclusive to those 30 days.
Viva la haunted houses!
Support Halloween Love
If an item was discussed in this article that you intend on buying or renting, you can help support Halloween Love and its writers by purchasing through our links:
(Not seeing any relevant products? Start your search on Amazon through us.)