Each and every Halloween season is marked by all sorts of goodies for us humanoids to enjoy, from festive new horror movies to spooky television specials, awesome decorations to killer costumes. And then there's all the wacky food and drink products that line store shelves, which seem to grow in popularity with each passing year – thanks in no small part to the ever-expanding fan club for all things pumpkin spice.
Halloween edibles are experiencing a golden age right now, and recent offerings like candy corn Oreos, the return of lost monster cereals Fruit Brute and Yummy Mummy, and limited edition Ghostbusters donuts from Krispy Kreme serve as delicious reflections of that. But if an apex was ever to be reached, it's pretty damn clear from where I'm sitting that 2015 will go down in history as the year where that happened.
Why, you ask? Two words. HALLOWEEN. WHOPPER.
Available now, Burger King's Halloween Whopper is quite the imposing beast, outfitted with a pitch black bun that screams several things, including 'Halloween,' 'what the fuck?,' and 'oh wow, that's really disturbing.' Baked into that bun is A.1. Steak Sauce – thus the alternate name H.A.1.LOWEEN WHOPPER – and stacked on the meat patty are the usual suspects: cheese, tomatoes, onions, pickles, lettuce, and mayo.
Black buns are nothing new in the world of fast food, as Burger King recently rolled out a similar burger over in Japan, but the Halloween Whopper is to date the first ever mass-produced hamburger that directly appeases the evil spirits of All Hallows' Eve. And it's a smart move on the part of Burger King, as the attention-grabbing burgers effectively steal the holiday away from longtime champion McDonald's.
Mickey D's never dared to dye their burger buns a sinister shade of Halloween black, but they did firmly establish themselves as THE fast food chain of the holiday with their equally beloved McNugget Buddies and trick or treat pails. For many children of the 80s and 90s, myself included, Halloween was almost defined by those seasonal offerings, and the same can this year be said for the Halloween Whopper.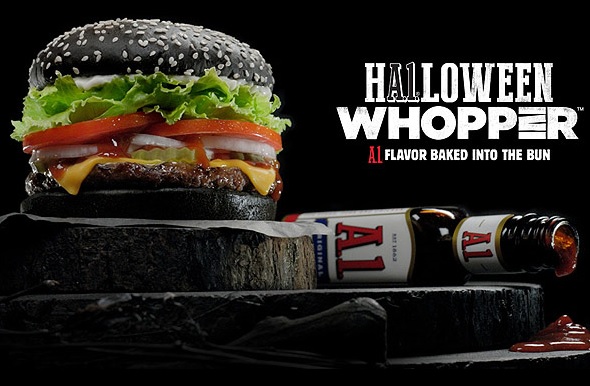 Like a kid on, well, Halloween, I made the 15-minute trip to my local Burger King this past Saturday night, 29-years-old but no less excited about something really silly. As I approached the counter and meekly inquired about the legendary Halloween Whopper, I was almost sure that my inquiry was going to be met with a puzzled look, as this is just one of those things that seems too good weird to be true.
But the Halloween Whopper is real, and moments later I was sitting in my car, peeling away the mummy-inspired wrapper, and staring at a unnatural looking monstrosity that I was somewhat afraid to bite into. I'd seen countless photos, but nothing can really prepare you for coming face-to-face with that black bun – shiny from being handled by the grease-laden fingers of employees likely unamused and underpaid.
As far as taste is concerned, I admittedly didn't experience the full brunt of the Halloween Whopper's fury, as I'm a vegetarian and therefore had to special order the beast with a veggie patty. Yes, Burger King does indeed have veggie burgers, and the fine folks at the Riverhead, NY store were happy to oblige my request – though they did make the baffling judgment call to include strips of bacon on my VEGGIE BURGER.
The meat version doesn't even come with bacon. So. Yea.
In any event, the taste of the Halloween Whopper is honestly a non-issue. The appeal here is the visual aesthetic, as there's very little that separates it from your standard issue Whopper in the taste department. My taste buds didn't detect even the slightest hint of A.1. sauce in the bun, and the burger was so loaded with actual A.1. sauce that I'm not sure why they even felt the need to go that extra mile.
One could argue that the buns are black BECAUSE of the fact that A.1. sauce is baked directly into them, but the reality of the situation is that a dye of unknown origin was used to achieve that look. Some have speculated that it's squid ink, while others are sure it's a mystery ingredient that's likely to give us all cancer by the time Halloween 2020 comes around – that sentient goo from Creepshow 2, perhaps?
Whatever the case may be, one thing is for certain…
YOU WILL SHIT GREEN AFTER EATING THE HALLOWEEN WHOPPER.
Not to delve too deep into the specifics of my bowel movements, but it took just 20 hours for the Halloween Whopper to work its magic and unleash the full power of its oddball charm into my toilet. I had accepted the fact, going in, that green poop was part of the experience, and I admit to being somewhat excited when I looked into the bowl and saw something that otherwise would've been cause for concern.
It's two days later and I'm still pooping green. We'll leave it at that.
When I posted a picture of the Halloween Whopper on Instagram, several people tried to talk me off the proverbial ledge. They wondered why I dared to eat such an unhealthy creation, and warned me that I would have to contend with green diarrhea for several days afterward. "Bring it on," I bravely replied, armed with the understanding that this was something special – something well worth all the nasty side effects.
Indeed I will never forget the Halloween season wherein I ate a black-bunned burger and shit a horrifying shade of green. And if it's not those strange experiences that make life worth living, then I'm really not sure what any of us are doing on this planet. So I encourage you to get out there and take the plunge. It's not just a meal but rather a Halloween rite of passage, as well as a memory you're guaranteed to hold onto forever.
One day, we'll look back fondly on the grotesque Halloween Whopper. So enjoy it while it's here, my friends.
Support Halloween Love
If an item was discussed in this article that you intend on buying or renting, you can help support Halloween Love and its writers by purchasing through our links:
(Not seeing any relevant products? Start your search on Amazon through us.)