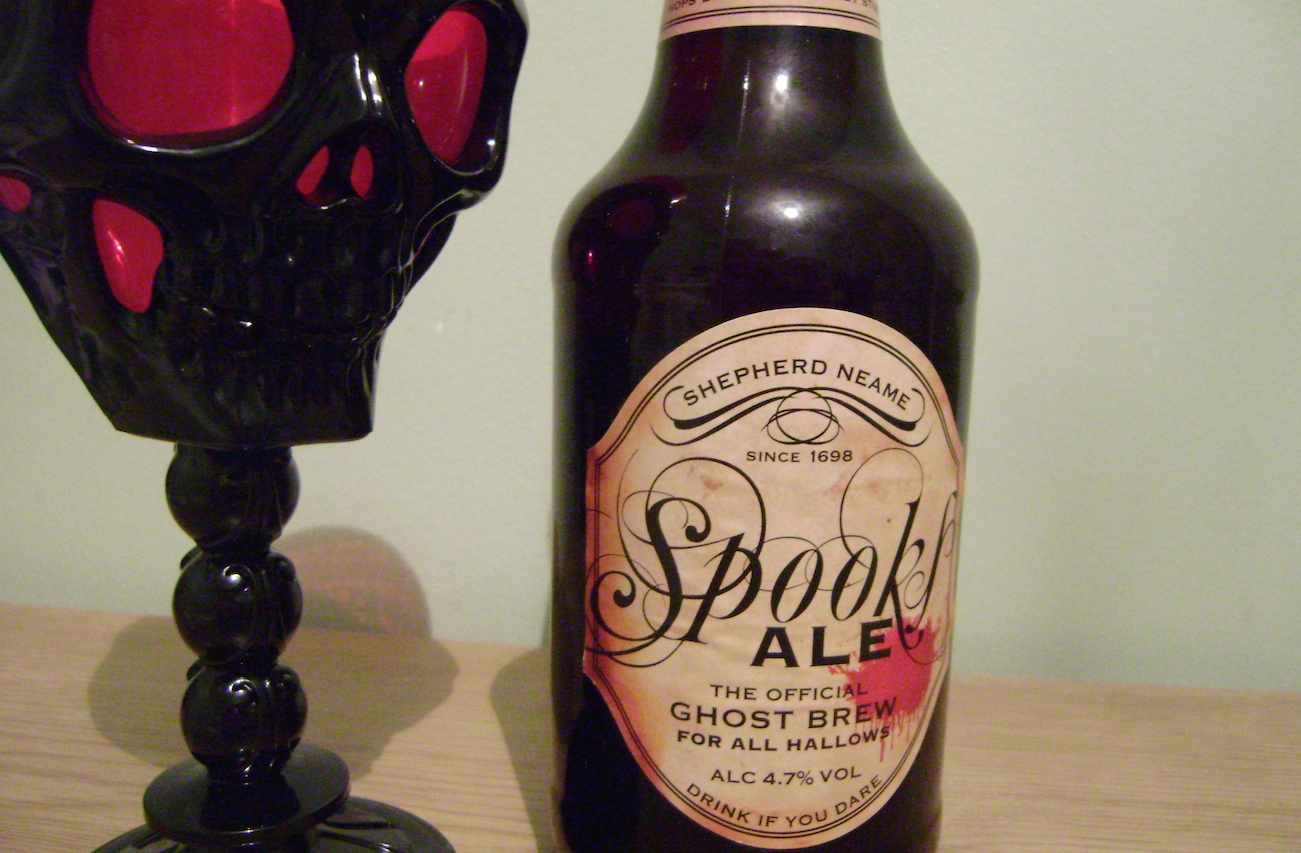 Right, first of all I want to admit I'm not much of a drinker … I like a drink in social situations and especially at Christmas (Mmmmm I'm looking at you Port!!), but generally I don't drink much at all. Months can go by without a single drop of alcohol passing my lips but today I was presented with an item that simply had to be investigated thoroughly, and to do that I had to drink it!
The item in question was a bottle of ale that was spotted by my girlfriend while we wandered the isles of our local supermarket buying groceries, it goes by the name 'Spooks Ale' … is brewed by Shepherd Neame, and claims to be "THE OFFICIAL GHOST BREW FOR ALL HALLOWS". A big statement to make, and I felt it was my duty to see if this beverage had the taste, smell and visual appeal to match its confident claim.
First of all, here is a little more information from the makers website that gives you an idea of what we are dealing with …
"Gall of Shepherd, Slip of Neame. Silver'd in the Kents Moon Dream. Double, Double Boil & Bubble, Hops Brown & Barley Stubble"

Spooks Ale is a devilishly great beer with a biscuity palate derived from blending three roasted barley malts in the mash.

This is contrasted with the citrusy hoppy bitterness from a fruity hop which is added four times during the brewing process.

Available throughout October, also in bottle, it offers protection against ghouls to anyone who drinks it (honest!)
They certainly weren't kidding about the smell, it's very pleasant. The citrus hints hit you right away, pushing through the dominant biscuity smell to caress your nose with a subtle blast of fruity freshness. It also smells very much like a spirit (pun intended), reminding me of rum slightly.
The color is deep and dark which is pleasing to the eye. The back of the bottle claims it is "Dark Ruby", and there are traces of red to be seen in certain lights but to me it mostly looked intensely golden brown. As you can see I have poured some into a Scooby-Doo & Shaggy glass (What? It's seasonal!), to allow you to get a better look at this.
I needed to 'butch up' the whole process slightly, as the Scooby glass was starting to make me feel a LOT less manly … so I ended up drinking the rest of the bottle in just my underwear using my recently purchased 'Halloween skull goblet' … because, let's face it, to drink the official ghost brew for Halloween you MUST be pouring it into something that's genuinely awesome!
It went down very nicely, left a comfortable taste in the mouth and at 4.7% vol, it had a tiny kick of alcohol but left me feeling like I wanted more, not bloated at all.
My verdict? Very nice indeed. The bottle looks great with its aged and weathered labels featuring splashes of blood … and the drink itself is warming, tasty and just 'feels' autumnal. Two thumbs up from me.
Because it's a gimmick drink I expected something that tasted ok at best, but this goes way beyond the call of duty and ended up being a drink I would consider consuming at any time of year. My dad also praised it, and he drinks … BOY, does he drink, so that's high praise indeed!
My girlfriend also wanted me to inform you that the skull goblet makes an excellent Halloween candle holder. The glowing red through the skull is very atmospheric in a dark room and means such a kick ass item can be displayed at all times. OR, you can throw the candle out of the window and drink more beer!
Until next time it's cheers from me and stay safe. x
Support Halloween Love
If an item was discussed in this article that you intend on buying or renting, you can help support Halloween Love and its writers by purchasing through our links:
(Not seeing any relevant products? Start your search on Amazon through us.)