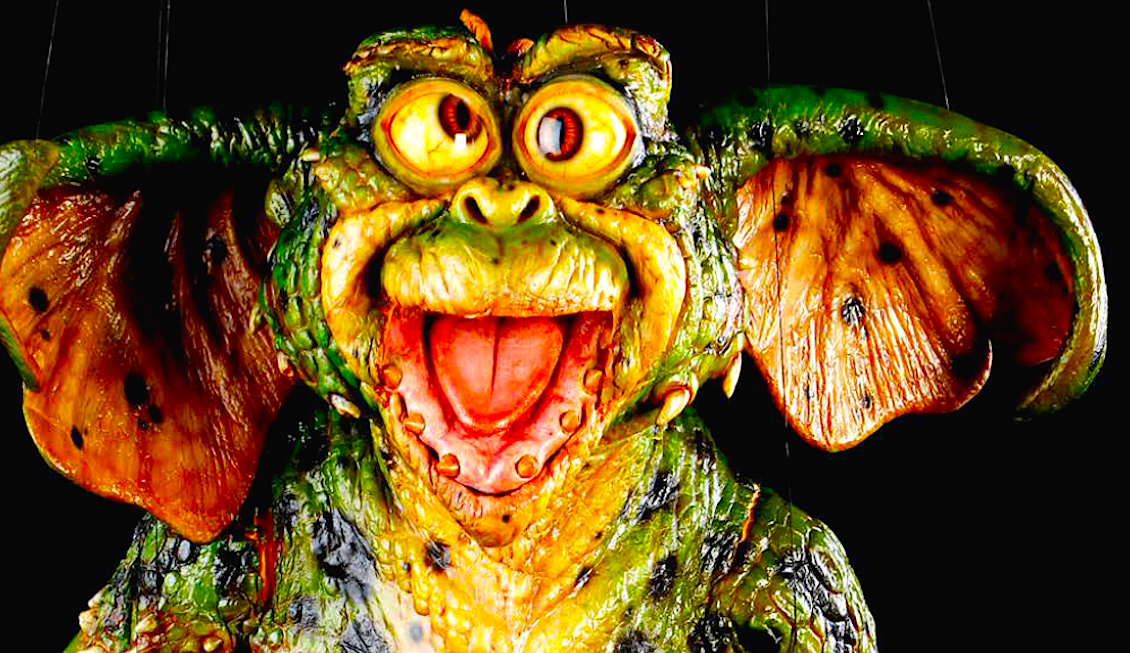 It's 2am, you're wide awake despite feeling tired ALL day long, and no matter what you do your damn eyes will just not stay shut! We've all been there right?
When this happens I normally sit in the dark and do some good old fashioned web surfing. All social media is closed down and I just jump from one site to the next looking for my favorite things in the world … Movie memorabilia and collectables.
This generally involves torturing myself by heading over to places like ebay and scrolling through page after page of things I want, but cannot afford OR cannot justify buying (Damn you gas and electricity!!). And when I want to look at some REALLY cool stuff I pay a visit to the Prop Store auction website.
The great thing about browsing through the Prop Store is that you get to see pictures of genuine items, models, puppets, costumes, weapons and MUCH more from so many classic and popular movies. Most are sold at auction while others are made available at fixed prices. Sure, the stuff is desirable, but I personally don't get that "I WANT IT" vibe because deep down I know they are totally beyond the limits of my wallet and bank account, plus stuff like this would ideally be on display for everyone to look at and enjoy. To me the site is almost an online visual museum of movie magic, a glimpse at some mind-blowing practical effects and highly skilled model making.
Last year I posted an article on Halloween Love when the Prop Store brought the bed used in The Shining to auction. This time it's make-up effects legend Rick Baker, who has handed over some incredible pieces to the Prop Store which will be auctioned off with no reserve prices today, May 29th in L.A.
We all love horror, so we all know what Baker and his team are capable of. To see some of his beautiful work up close in this way really is a rare treat. Join me now as I take a look at the items that caught my eye the most.
Gizmo Puppet Joystick.

I know it's just a joystick, but this was actually used to control an animatronic version of Gizmo on the set of Gremlins 2! That is seriously awesome to me! I'm a sucker for the more subtle collectables and items such as this. Little pieces of movie making history that the skilled effects teams would use to bring life to these amazing creatures. The estimate is $100 – $200, I'd pay that all day long.
I wonder – If the winning bidder gets home, slips a couple of batteries into the box, and starts wiggling the stick, will a model of Gizmo stored deep within one of Rick Baker's workshops start to twitch?!
Samara Corpse Puppet.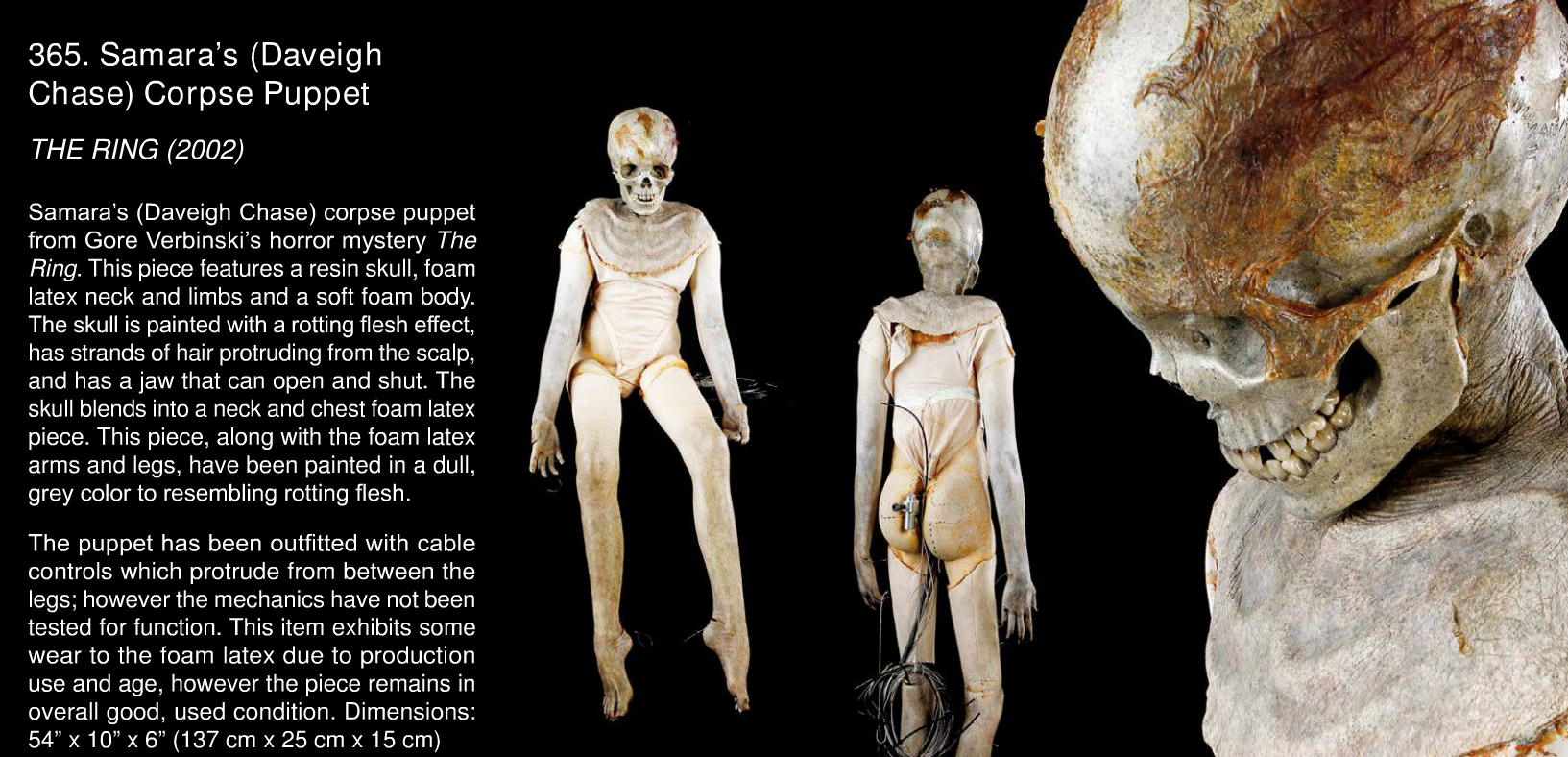 From the 2002 remake of The Ring, here is the creepy corpse puppet of Samara, which, if memory serves, was used in the scene where Naomi Watts falls into the well? Estimated to sell for around $2000 – $3000, cursed video tape not included …
Daffy Gremlin Puppet.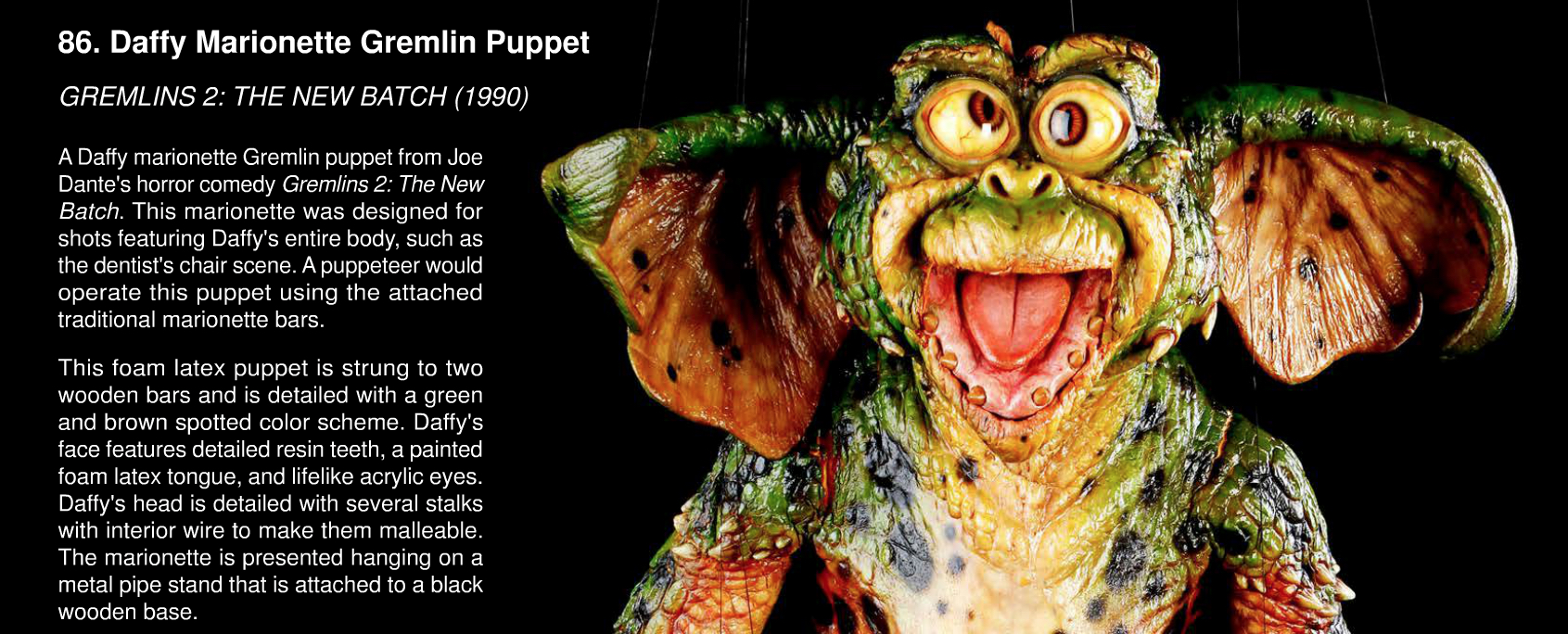 Who could forget those crazy floating eyes! This amazing marionette puppet was used in Gremlins 2: The New Batch, when they needed to film the little dude with his whole body in the shot. Just look at that beautifully detailed paint job! Once again no reserve and they are anticipating a sale price of around $4000 – $6000.
Spider Gremlin Body and Puppet Legs.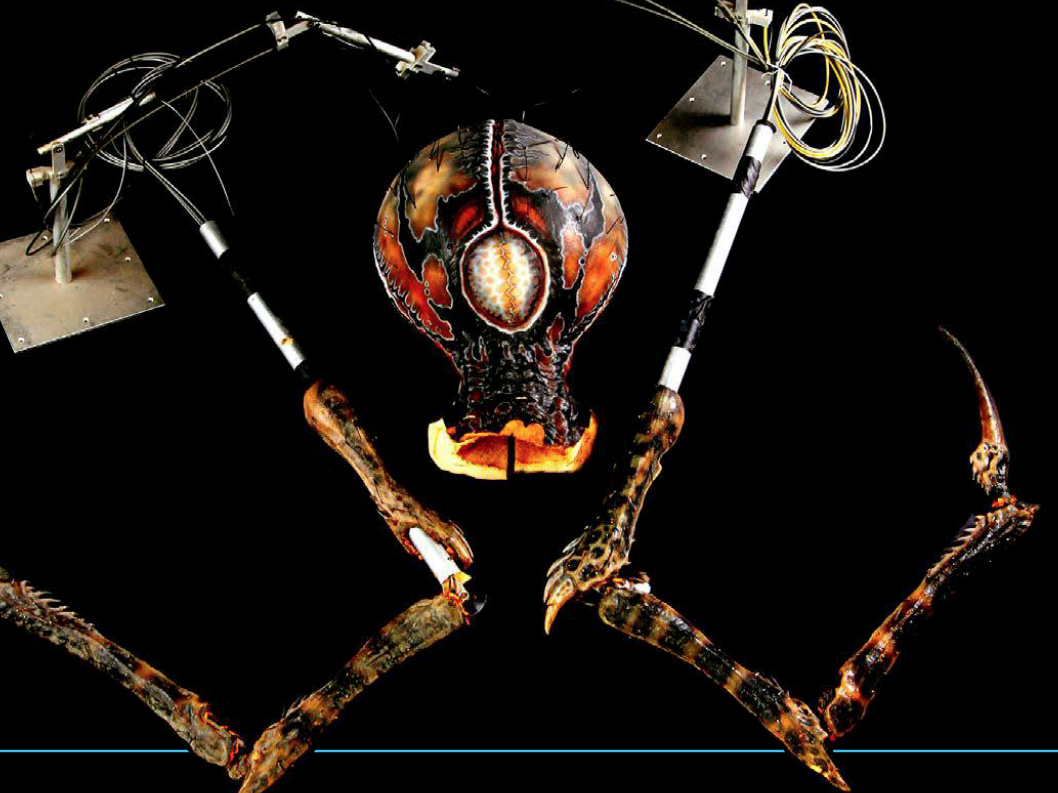 Gremlins 2 gave us lots of weird and wonderful variations, with the most memorable being the nightmare-inducing combination of a spider and a Gremlin, created after Mohawk drinks a beaker of liquid found within the laboratory. I'm not entirely sure what you could do with these, but I hope they find a good home – ideally far from anyone who suffers from arachnophobia! The estimated sale price is between $1000 – $1500.
Complete Zombie Costume from The Haunted Mansion.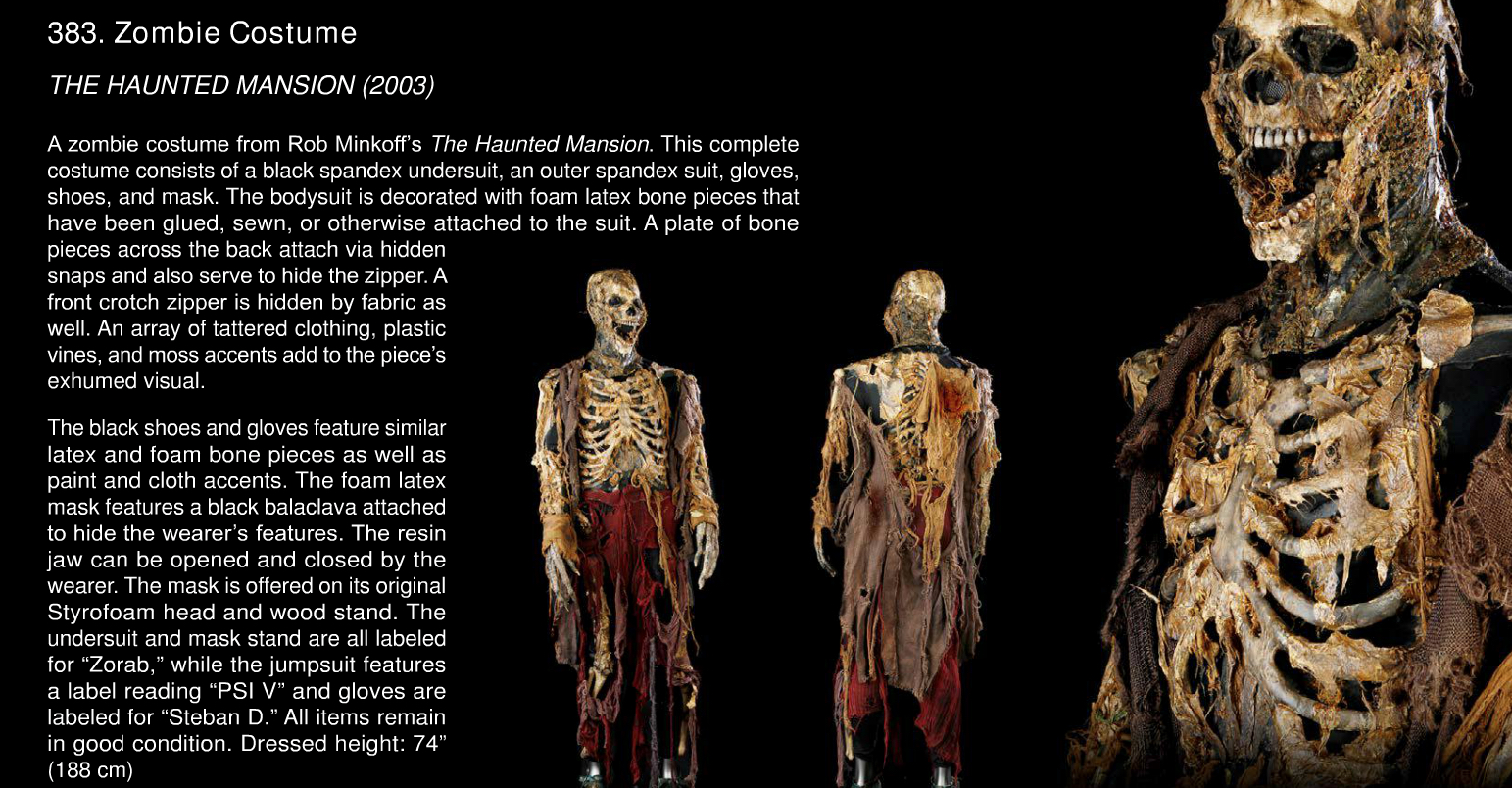 Now THAT would be a costume for Halloween night! I'd be tempted to add a hockey mask to the face and wander the streets as the ultimate zombie Jason! As you would expect the level detail involved here is second to none and yes, the jaw can be opened and closed. I adore this! An undead bargain at the predicted $1500 – $2000 valuation.
Mechanical Bat Gremlin Puppet.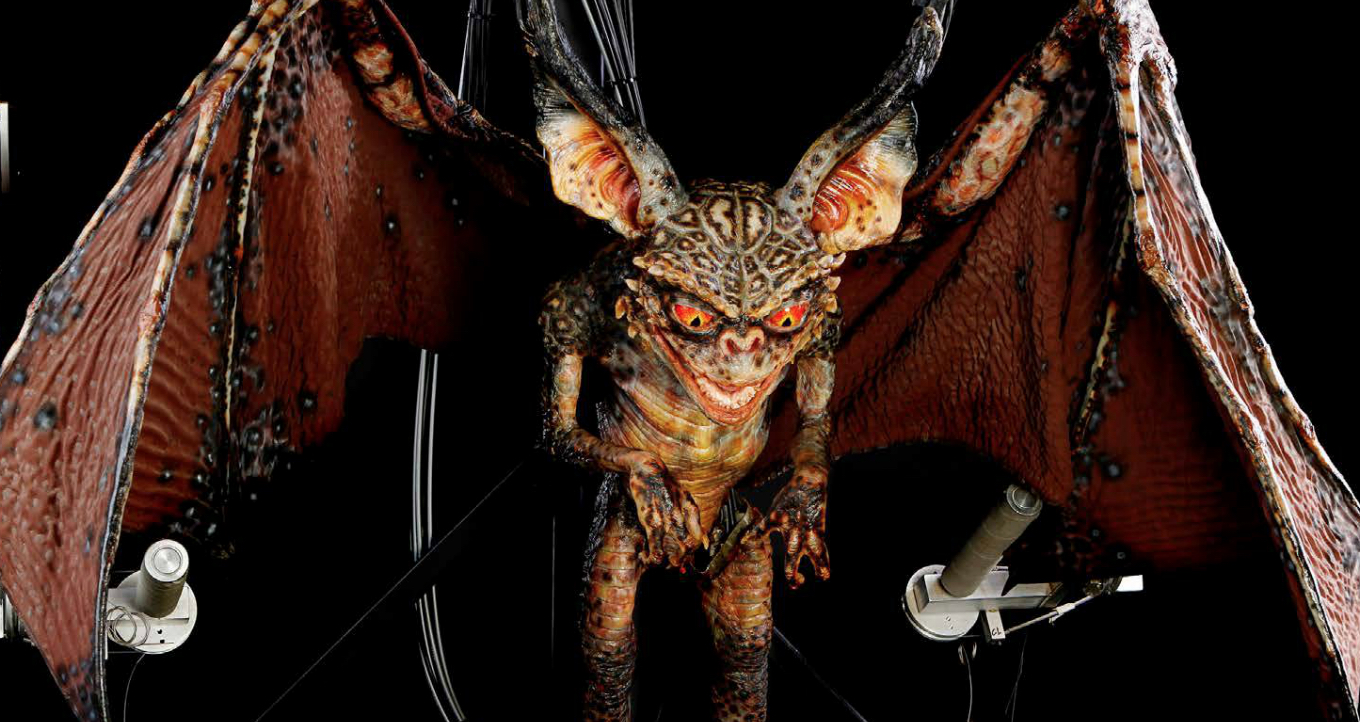 This is a full-on practical effects masterpiece. Craftsmanship and technical wizardry was on display throughout Gremlins 2, but in terms of sheer awe, it doesn't get much better than this. If I could borrow it for just one day I would have it mounted above my front door during Halloween, wings spread, watching over unsuspecting Trick-Or-Treaters. The estimate is a hefty $6000 – $8000.
Hatching Gremlin Puppet.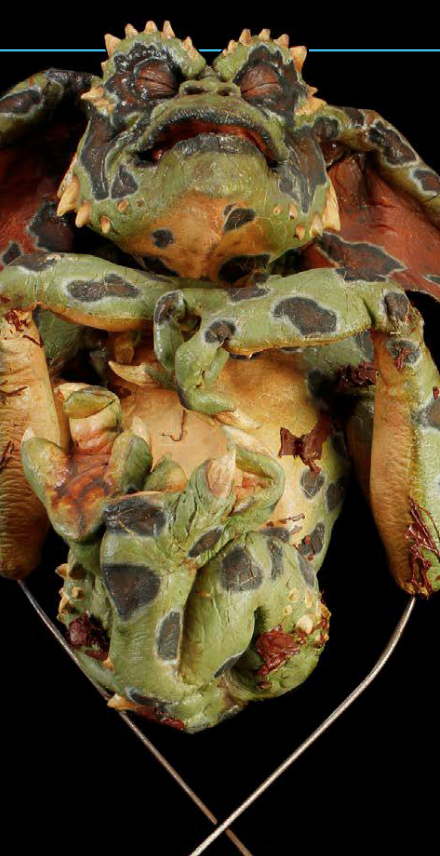 Another little piece of treasure from Gremlins 2. This time it's a puppet of a freshly hatched Gremlin. This one still has some dried hatching "goo" on it! Look at his cute sleepy little face – dreaming of the chaos he is about to unleash! They are hoping for between $800 – $1000, but I can see this selling for more.
Sir John Talbot Werewolf Mask from The Wolfman.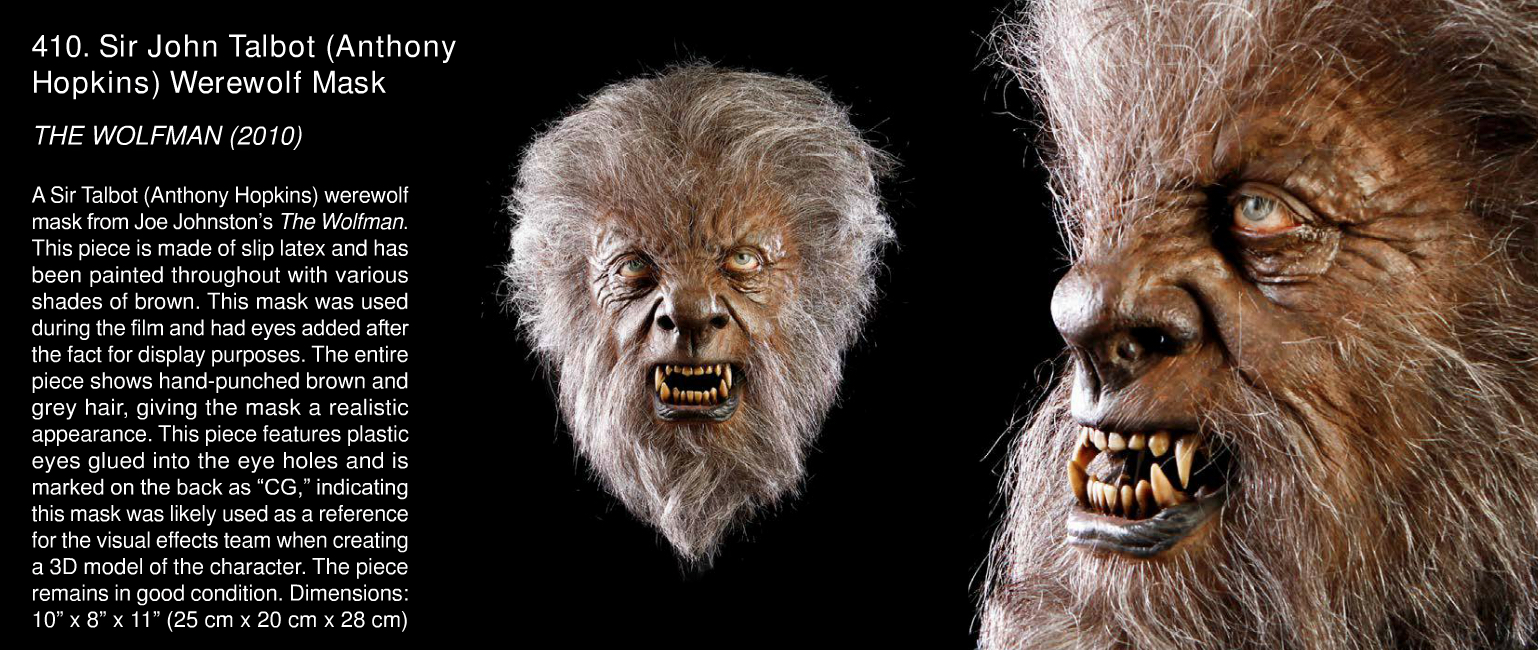 Ever wanted a werewolf mask that looks uncannily like Sir Anthony Hopkins? Well now is your opportunity to make that happen. I'll be honest, I've never actually seen The Wolfman, but the listing says this was used during production, so unless he had a stunt double this might come with some free, dried Hopkins sweat within! The hair and paint job on this is truly stunning, would look incredible on display. Estimated to leave the auction for around $2000 – $3000.

I've only scratched the surface here, if you want to see more then just head over to the Prop Store site and prepare for an overload of awesome!
Support Halloween Love
If an item was discussed in this article that you intend on buying or renting, you can help support Halloween Love and its writers by purchasing through our links:
(Not seeing any relevant products? Start your search on Amazon through us.)