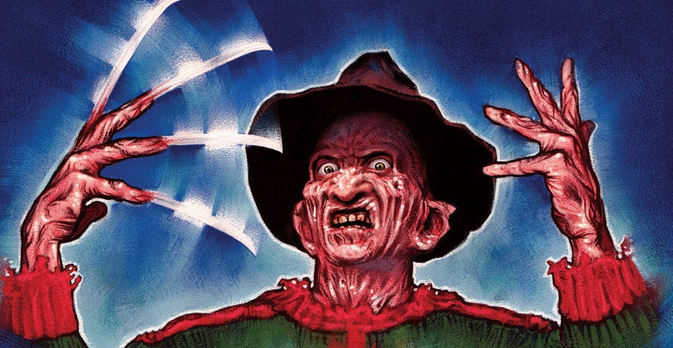 The art of Graham Humphreys has lived in my memory for as long as I can remember. Some pieces more vividly than others, but show me anything from his horror movie poster/promo work and I instantly get transported back to Saturday afternoons throughout the early 1980s.
The musty smell of my local VHS rental store, endless rows of large black plastic tape cases, and my Dad telling me to "Hurry up and choose something!"
I was a kid who was OBSESSED with movie posters. Drew Struzan was my fantasy/adventure art idol, and Graham was easily my favorite horror artist. He was responsible for some of the most striking and visually appealing movie posters back in the day, and while his early work was sometimes created specifically for the UK market, it has long since spread globally thanks to the modern age of the internet and the desire of many horror fans to seek out the best in classic poster art.
Graham appeared on UK television last week, which I wrote a small piece about HERE, and it was that appearance combined with another batch of memories flooding back that made me decide to try and contact him, to see if he would consider taking part in a little Q&A. It wasn't long before a very friendly reply arrived in my inbox, and I'm not afraid to say that the horror geek within me was grinning like an idiot! Communicating with anyone you have admired over the years is always cool – be it an actor, artist, whatever – but when you discover they are ALSO a bloody nice person who will happily give up some valuable time for a humble blogger … well, it doesn't get much better than that!

HL: Can you tell me a little bit about your artistic journey. Was it a talent from a young age?
GH: From the moment I could pick up a crayon I was drawing, in books and on the walls. After seeing the Daleks in Dr. Who (I was 3 years old) they became my favorite subject … then skulls! Not much has changed! Art was my favorite at school, and being a shy child I turned my energies to painting, drawing and making cardboard models. From school I went to Art College and learned the practical skills that serve me well. Though trained as a graphic designer I was clearly cut to be an illustrator. I left college to freelance, and have been so ever since.
My main influences came from TV (Dr. Who, Lost In Space, The Munsters, The Addams Family) and film posters (Horror and science fiction) Then punk rock (I was at college from 1976 to 1980).
HL: Back when you were painting iconic 1980s posters for films like A Nightmare on Elm Street and The Evil Dead, was it possible to predict how incredibly popular and almost timeless these movies would become?
GH: Absolutely not. I suspect that Palace had no idea how popular they were about to become either. The Evil Dead certainly filled their coffers – my very modest fee (£300 I believe) did not similarly grow, though I probably owe my subsequent current career to that film and thus have been repaid many times over. The A Nightmare on Elm Street poster was a different take, most people at the time did not realize it was the same artist that had painted the Evil Dead. I thought it was important to stretch myself and expand my range.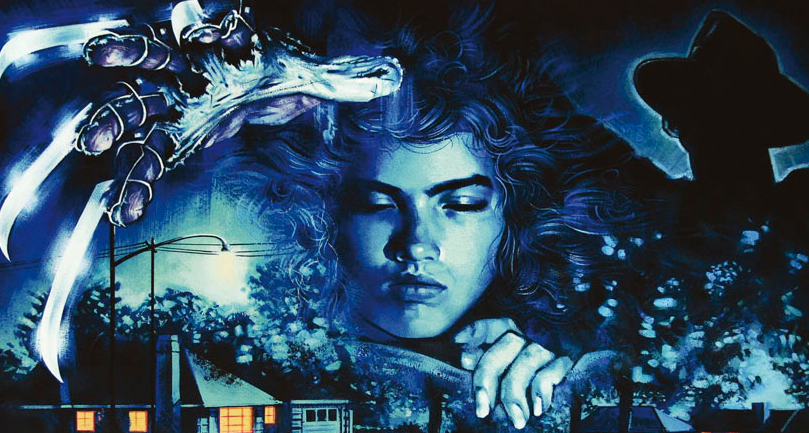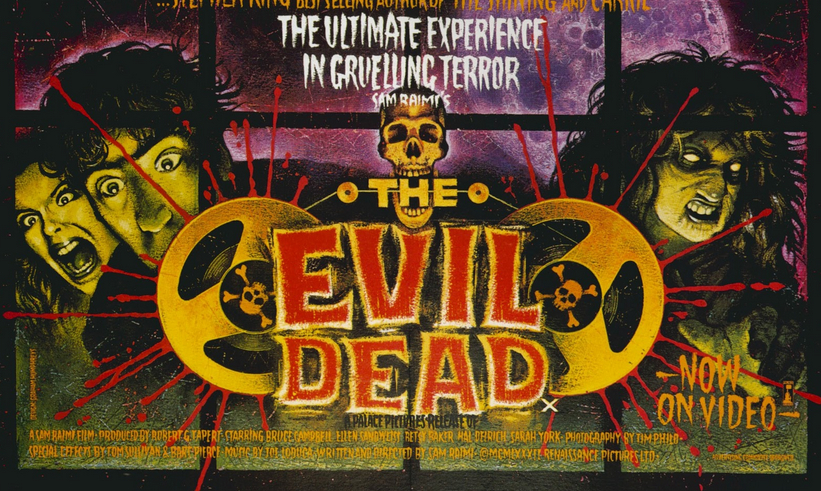 HL: I remember seeing your artwork everywhere back in the glory days of VHS rental shops. How did it feel to see paintings you had created so widely used on the front of tape boxes and outside cinemas? Was it an exciting time looking back?
GH: There was certainly a thrill the first few jobs, then after a while you just begin to see the aspects that didn't work and then become embarrassed. I've always been my own biggest critic – I get in there before anybody else has a chance! It's important to retain a sense of perspective, I'm always looking around at other peoples work and striving to be better, though budgets and time (and the occasional art direction) tend to stymie results. It's a constant challenge.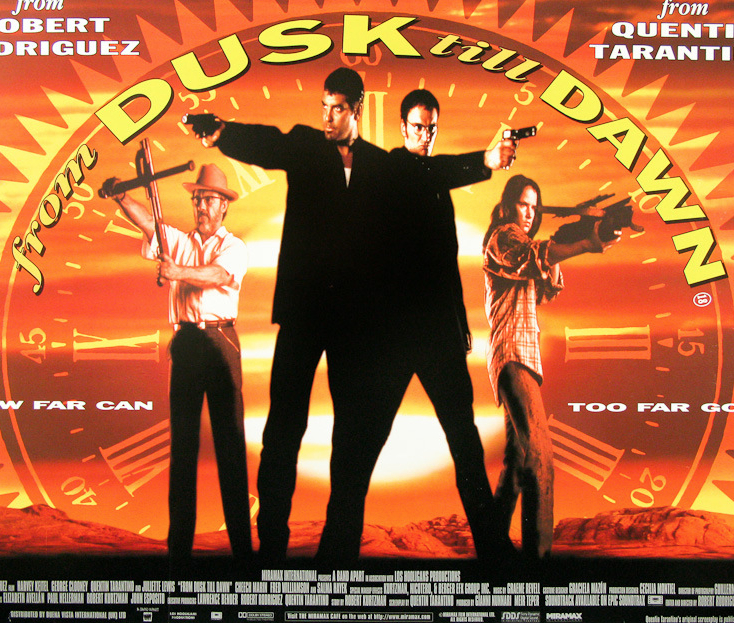 HL: I only recently discovered that you created the memorable poster image for From Dusk Till Dawn. Did you enjoy working digitally, and was painting something for that movie ever an option?
GH: At that time (and to an extent even now) illustration fell out of favour as it was considered too expensive and time consuming, the great irony being that compared to the routine Photoshop poster and the supporting photo-shoots etc, illustration is still more cost effective for creating new images. Computer driven imaging became the Emperors new clothes, and the superficial gloss seemed apt for the new generation of film making and overpaid stars.
However, I've always maintained that it requires an artist to create a successful composition, the visual language remains the same, paint or photo – Photoshop skills are merely the medium, not the art. I had no issues about using the digital means, there still remained the retouching (literally repainting the faces digitally, the images were SO fuzzy!) and I used a holiday photo of a trip to Mount Sinai in Egypt as my desert backdrop, haha! There was no talk of any illustration, it wasn't an option. Perhaps I'll have a chance to revisit the film again. I did get to art direct a photo-shoot with Salma Hayek and a python!!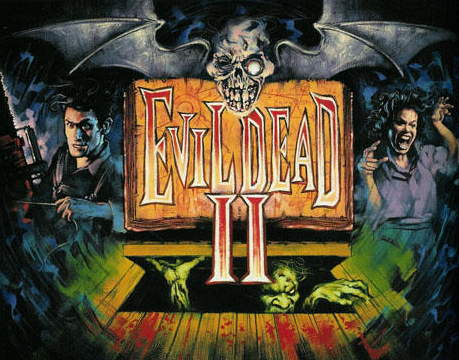 HL: Is horror a personal passion for you? And do you have a favorite horror movie?
GH: It is, and much like the Hammer films I love, I've always been interested in the literary tradition, this is after all where the Universal Monsters found their genesis and is still the biggest resource for great films. I am hard put to name any favorite, though I usually quote Hammer's The Lost Continent, purely for it's audacity.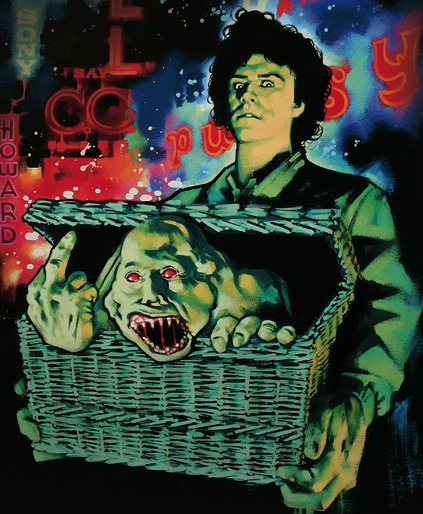 HL: Is there one piece you have created that you are most pleased with? Maybe something that when completed exceeded your expectations. Or is that the classic favorite child question?
GH: Though my answer tends to be "I've yet to paint it" (a not-too-clever get-out clause), my Freddy Krueger rising above the school bus for A Nightmare on Elm Street, Part 2, still has an appeal.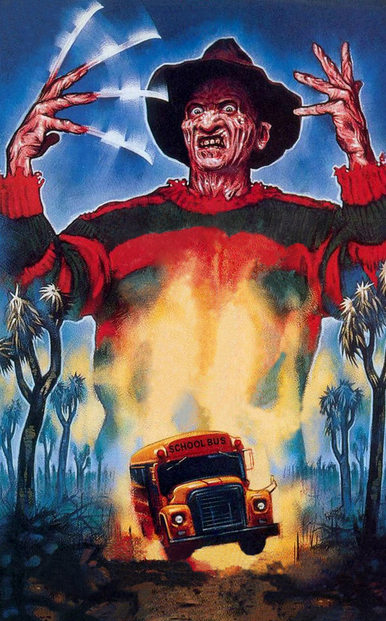 HL: Did you ever create a memorable or personally pleasing piece of art for a horror movie that wasn't used and has never seen the light of day?
GH: That's easy. Lesbian Vampire Killers. It was a private commission from the director, who – unhappy with the photographic route that featured little more than the two leads – wanted an image that reflected the Hammer Horror tradition that he'd hoped to emulate.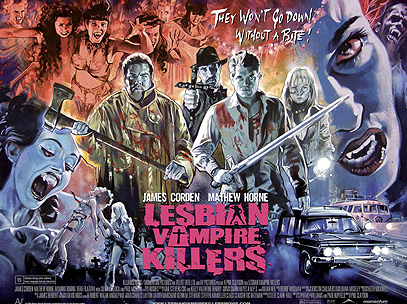 HL: Finally, you recently parted company with two of your most famous paintings to help fund a very exciting book project and art show. Do you ever find it hard to let go of your work?
GH: I try to take the Buddhist approach and consider everything to be transitory. Attachment isn't always a healthy thing. With the loss of a few friends and a shattered elbow and wrist, I have become acutely aware of mortality. As long as I know the images are still out there to be seen – in whatever form – I can live without them. It's just paint on paper. Assuming the book makes publication, I hope that the body of horror themed work will be a testament to the inspiration of film and the potential of the illustrated image.
---
On behalf of myself and everyone here at Halloween Love, I want to say a HUGE thank you to Graham for getting involved. Much more of his work can be found at his official site which is linked at the top of the page, or simply enter his name into Google and search away!
Support Halloween Love
If an item was discussed in this article that you intend on buying or renting, you can help support Halloween Love and its writers by purchasing through our links:
(Not seeing any relevant products? Start your search on Amazon through us.)