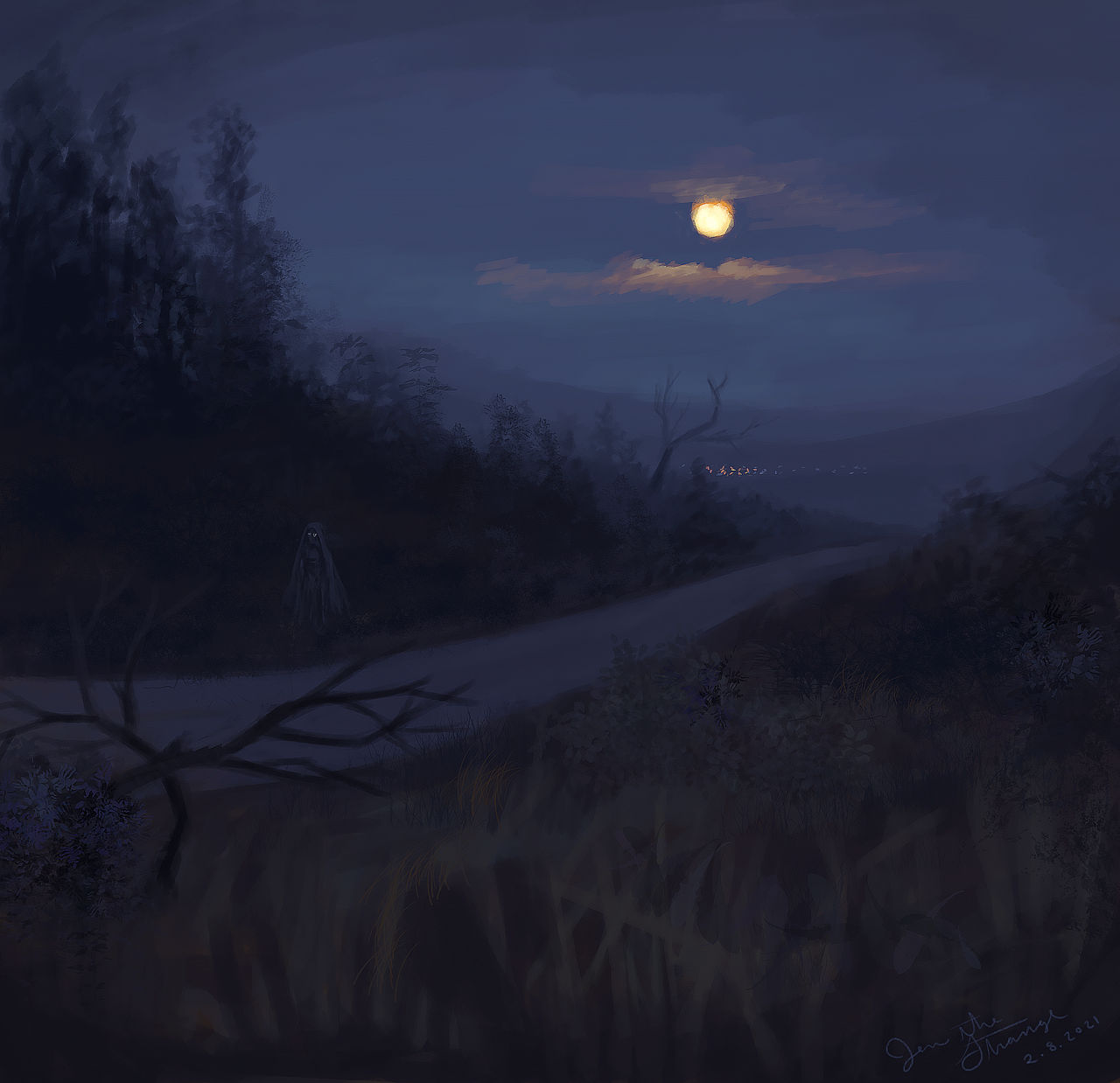 I just found out my friend Jen died.
I used to think it was tacky to share these things online, especially social media because it's public and not "real," but what is the purpose of interacting with other humans in any form, if not for real connection?
We may have just been "Twitter friends," but we were still real friends and I still care. In fact, most of the people I have in my life now I've only ever connected with remotely, and I no longer look down on that.
I know that physical touch is still important, but humans have connected remotely for thousands of years, whether through messengers, letters, or eventually with better technology, telephones, email, texting, and social media.
I'm not as active on social media as I used to be, but there were lonely times where I connected with a little circle of friends almost daily, for years. That's not meaningless.
I can't recall exactly when I met Jen, but at least since 2019, when I came across her artwork. Jen was a talented artist that created all sorts of cool things in a wide variety of media: paintings, crafts, video games, websites, etc.
She died just a week after I last spoke to her, back in March, but I only just found out. That's one downside to internet friends; sometimes they disappear and you never know what happened. Luckily, her husband understood that she had a lot of internet friends who would otherwise never know what happened unless he shared the following message: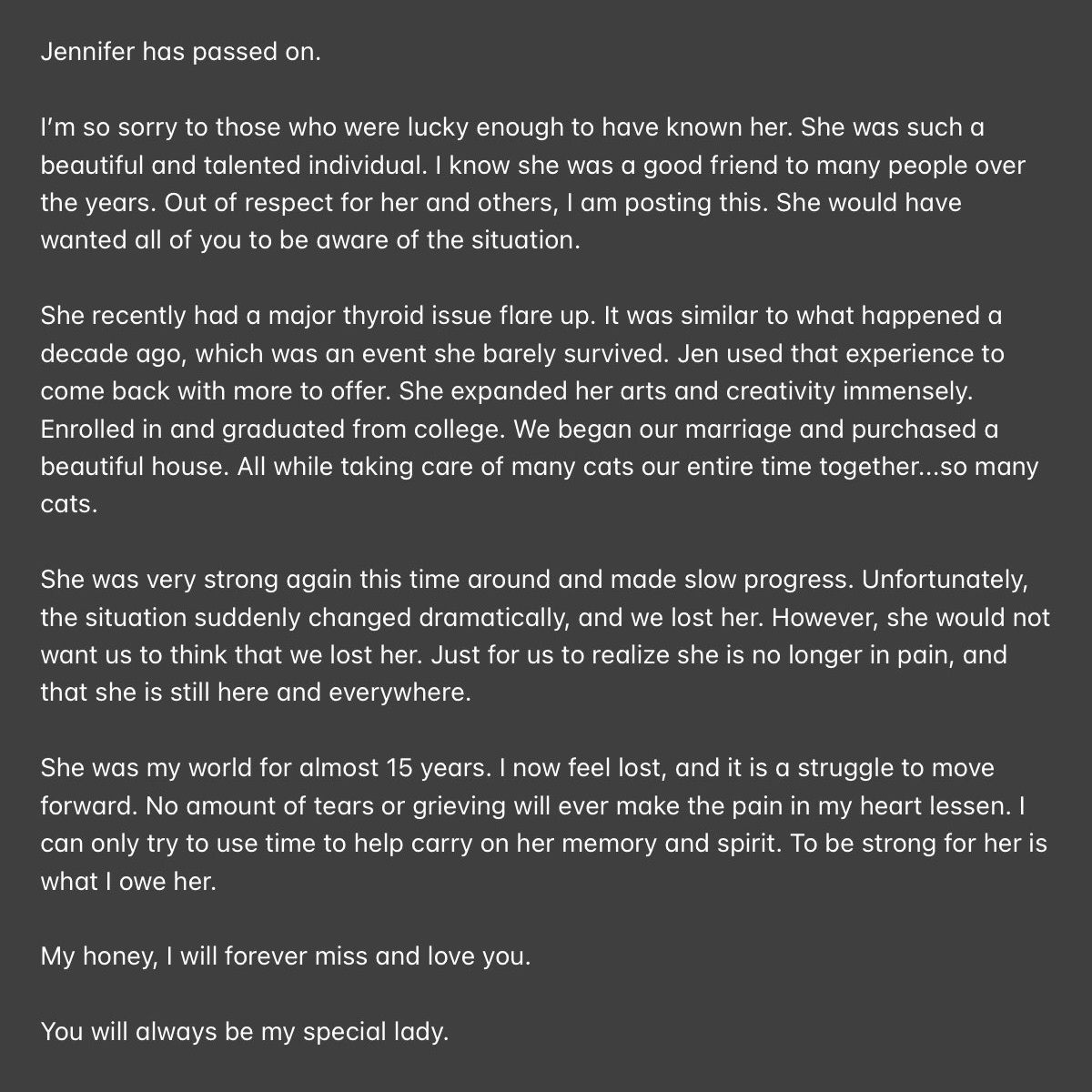 Who Jen was in Her Own Words
"Willkommen! My name is Jen. I am an honors graduate in the school of psychology with a concentration in criminal psychology. I am passionate about philosophy, art and science, psychology, parapsychology, and fiction writing for books and video games (mostly horror). I have a love for all life here on Earth — as cliché as that sounds — and I love the intricate and delicate balance of life between flora, fauna, "ghostkind," and mankind.

I am an advocate for paranormal research and changing how our culture perceives death and the hereafter. Growing up, I always had a connection to media about hauntings, out-of-body experiences, astral projections, and anything pertaining to the afterlife. I am a former ghost hunter, and I have researched and archived data on my own Ouija board experiences.

As my interests turned into research, I discovered that other souls were listening and teaching me, too. I have made it my life's work to connect with and understand the dead, the living, and their connections here on Earth through Source, or what some religions call "God." The nature of my work has brought me closer to new theories of consciousness and the practical application of Source energy in psychology, medicine, philosophy, and everyday life.

I also love connecting souls with their passions, whether they are dead or alive, and I have a natural intuition for what people need. It is my purpose to better the lives of those on Earth so that they may find their path and lead lives in a state of higher consciousness.

When I'm not channeling or teaching, I love to write horror stories, create video games, paint, garden, and enjoy a good latte on a cold October day. I also operate under the pseudonym Jennifer Strange as an author."
Support Halloween Love
If an item was discussed in this article that you intend on buying or renting, you can help support Halloween Love and its writers by purchasing through our links:
(Not seeing any relevant products? Start your search on Amazon through us.)