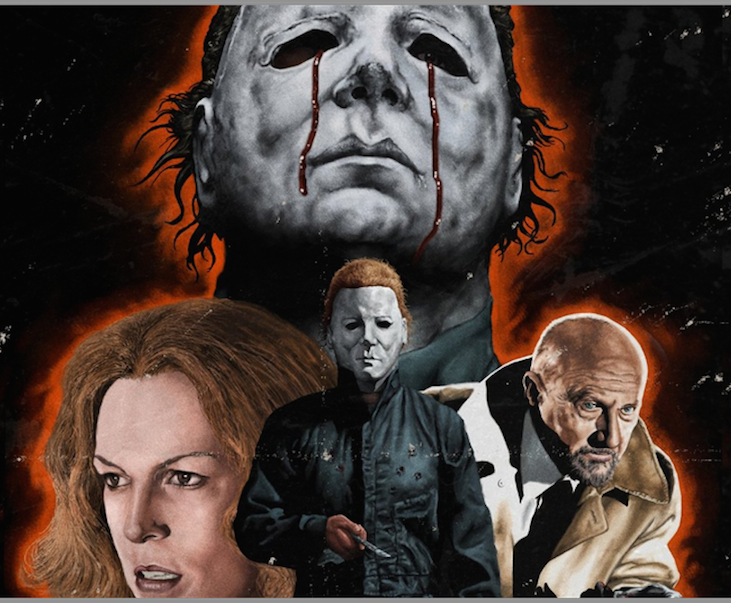 I've arranged short interviews with many artists over the last few weeks, amateur and professional. Some of those artists create horror art as well as work based on other genres, some have visited horror briefly then moved on to safer pastures. The individual involved in todays Q&A started away from horror … slowly found himself being pulled toward it … and now is, without question, one of the most talented horror artists on the planet.
Even if you don't know Nathan Thomas Milliner by name, you will almost certainly have had your eye-balls caressed by his art at some point … either online, in a magazine or possibly in the Blu-ray section of your local entertainment store. If horror is your passion his work is VERY hard to miss.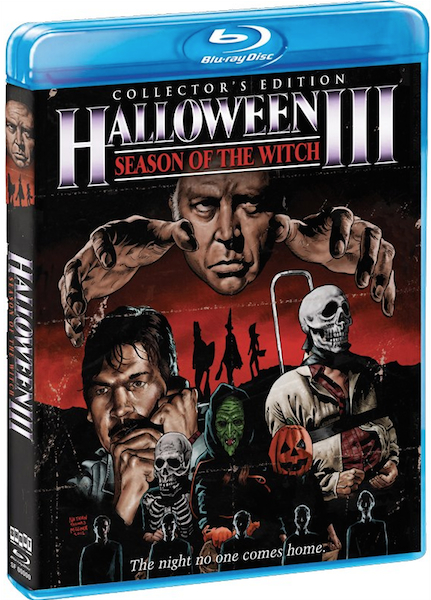 Nathan was good enough to take some time to answer a few questions I sent and his replies were wonderfully informative and personal … I get the feeling his talent is fuelled and increased by his love of horror and it flows through him and onto the page every time he works.
Grab a brew of choice, sit back and enjoy …
1. Can you start by telling me a little about your art history, was it a passion from a young age?
"The first real memory I have about art was in the 1st grade and the teacher had recognized my eye for it. She explained it to my mom as that when you ask a child to draw a house at that age (5 or 6), they will usually draw a square with a triangle on top, maybe a door and a window. Perhaps a tree, sun ect … She said, "Nathan draws the bricks, the shutters, the curtains, the gutters, the sidewalk, the grass, the chimney." … Basically I see details and that to me is what being an artist is – be it a painter, actor, director, writer – we see the world in greater detail than others. We observe."
"From that point on I was always drawing. I was the kid who when you gave him a coloring book he grabbed a black crayon and drew on the inside blank book cover instead of the pre-drawn pages."
"I mostly just drew whatever I was into. I grew up in the 80s so I was drawing G.I.Joes, Transformers, He-Man, Star Wars. I was always a big movie buff so I found a lot of inspiration from movies. In 1989 when I was 13 I saw Tim Burton's Batman and it changed my life. I became a comic fan and taught myself to write and illustrate comics. I did that for the next 20 years and in the early 2000s self-published a dozen comics and graphic novels. Then it all changed when I found work at HorrorHound Magazine in 2008. Now I am a horror artist. And that goes back to 1988, even before Batman … when I fell in love with Freddy and all things horror at the age of 12."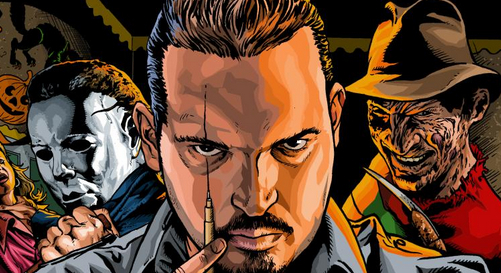 2. As you said, over the years you have illustrated comic books and been a staff artist for horror magazines. Do you prefer one over the other, or are they equally rewarding to work on?
"I suppose I find comics more rewarding as I get to write in that case and I love writing and creating characters and stories, so that would be the upside to comics. But I love being a horror artist. The horror crowd has really responded to what I do and for that I am eternally grateful to them. I never took a chance at pro comics so whatever I did was all on my own … so there is that thing where I feel proud, but at the same time no one hired me to do it."
"So, the fact that I get hired by others to do the horror art is rewarding. It wasn't until then, that I felt it was a job and that I could call myself a working, professional artist. As opposed to a guy who draws his own comics on the side."
3. How did it feel to see your art used on the front of Blu-ray boxes containing truly classic horror movies, that must have been such a thrill?
"A dream come true. As I said, I was always a movie fanatic. I mean, it really is my favourite thing in the world. Growing up in the 80s I was subjected to so much amazing artwork for films from guys like Drew Struzan and all of that gorgeous VHS box cover art you'd find … especially in the horror genre. But once the 90s came and I was leaving college in 1996, there simply were no illustrations on movie posters or VHS covers anymore. The art was dead. So I never in a million years expected to be doing that one day."
"Luckily Scream Factory came to be … and they chose me to be their first artist and the first title I did was Halloween 2. Halloween is my second favorite horror film of all-time so the chance to do Blu-ray art with Michael Myers, Dr. Loomis and Laurie Strode on it was like this strange dream that was suddenly real. To walk into a store and see that Blu-ray on the shelves is something else. I had my first taste of that when I did my first cover for HorrorHound in '09, and seeing it on the magazine racks at Barnes & Noble and Borders was amazing. You get this weird feeling like you are shocked to see it at first. Then this urge to tell everyone in the store, "I did this!" … But I don't."
"That first one, Halloween 2 … I asked all my facebook friends to snap pictures of themselves in stores holding it. That was fun. It was fun to see so many friends and fans supporting me and some of them are so great, they seem to be like proud parents at times with the things I do. That is really an amazing thing when it comes to social media. I have this huge extended family out there pulling for me, and they are happy to see things come my way. For that, I try my best to make them happy when I do something new."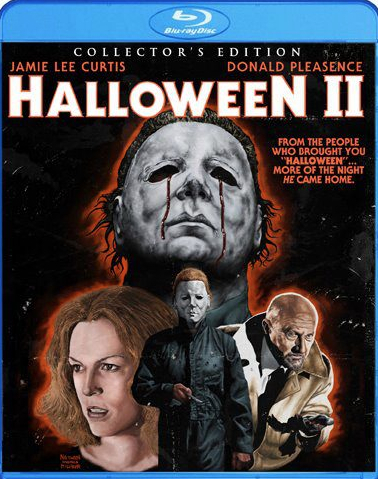 4. Do you have a favorite iconic horror character?
"Without a doubt it is Freddy Krueger. I was 12 and they were premiering Dream Warriors on cable along with Freddy's Revenge and I watched both of them and it changed my life, for horror. I was obsessed from that point on. I drew Freddy and watched those movies. My first horror movie in theaters was Dream Master that year. Let's put it this way, I have met almost all of the Michael Myers actors, all of the Jason Voorhees, all of the Leatherface's, Pinhead and so on … but to meet Robert Englund I drove 6 hours to Chicago to arrive at the hotel 3 hours early to stand in line so that I was assured I was getting one of the limited photo op' tickets. I then stood in line for another 2 hours to meet Robert."
"I do a lot of conventions and have met well over 200 guests but when I left Englund's table I was so emotional and overwhelmed that I told my wife I had to sit down because I was starting to lose it. I had to sit there and fight back tears … sobbing really. It was a 25 year full circle to meet this man who basically is responsible for the job I have today."
5. What do you look for in good horror, and do you have a favourite horror movie of all time?
"I don't know if I look for anything specific in horror films. I often bring this up. When I was a teenager and driving head first into horror it didn't matter how good or bad they were … It was just about watching horror movies. All horror fans have sat through the worst of the worst and were excited to do so. As we get older we get a little more jaded sadly, and I have tried my best to be as open minded about movies as I can. I like to see originality, a good story, developed characters, freshness, well executed direction, and while I may not get scared anymore I still recognize when a movie is working on its audience and is being effective in the scares and creeps department."
"For a while I was like other serious film fans in that I was being a little hard on film in general, but once I started making movies of my own I think I just gained such a new found respect for how hard it is to make movies and how much passion and hard work is poured into them that I lightened up, and can now find good in just about every movie I see. If you listen to a lot of fanboys out there, they will tell you all modern horror sucks. All remakes suck, yadda, yadda, yadda … But the truth is the past decade has been a great and exciting run for horror in my book. People are just being too hard on this genre that is supposed to be fun and celebrated by its fans."
"My favorite horror film of all-time is 'A Nightmare on Elm Street'. So much so that I recently did the cover art for the new coffee table book 'Never Sleep Again' which celebrates the 30th anniversary of the film and focuses only on it, with never before seen photos and stories from the making of the film. I wanted the gig so much I told them I would do the cover for pennies. They didn't need artwork as they already had some planned but I showed them the 'heart on my sleeve' for the film and they believed me / saw a kinship, and hired me to do a new cover for it."
6. Is there one piece of art that, when finished, you were most pleased / satisfied with … Or is that a 'favourite child' question?
"It really is, and should be the one you are currently working on. It is funny, I find myself each time I do a new Scream Factory cover feeling that "This is my personal favorite!!" … Until the next one. Artists, we struggle with our self-esteem and our confidence for so long that we are our own worst critics, but eventually you can get to this place where you become a fan of your own work. Sometimes I can't wait to see what I come up with. Not in an arrogant way but because I believe in my craft and my skills and I look at it as a challenge to produce the very best I possibly can. And with so many other amazing horror artists out there like Jason Edmiston, Daniel Horne and Gary Pullin some of us feel we have a healthy competition with one another. Not in any rivalry way, as we are friends … but simply in a motivational way. I think we push each other to get better and produce our best which is so great. Those guys keep me on my toes."
"My baby is my graphic novel 'The Malevolent'. I created it in 1996 and worked on it for 12 years. It's not the best drawn or written, I could do much better today, but it was a chronicle of my growth as an artist, extremely personal, and it was a reward to actually produce a 250 page comic book like that. So that would probably still be my baby. Career wise it is the Halloween 2 Blu-ray … That one changed my life and career."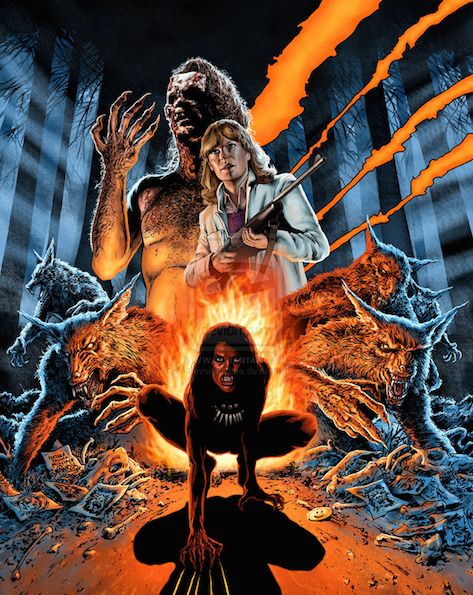 7. Finally, you have created work over the years that features just about every horror character imaginable, but is there a character or movie that has yet to come you way that you would love to draw?
"Well, I said this awhile back that my top 3 favorite horror films are Nightmare on Elm Street, Halloween and The Texas Chainsaw Massacre. I have done the Elm Street book cover, many Halloween Blu-ray covers, but I have yet to do anything official for Chainsaw. I have done some pieces with Leatherface but I'd love to do a Blu-ray or something like that. Next would be Haute Tension, my fourth favorite horror film. And while I love horror I'd also love to get some work outside of the genre. I love all film and it would be great to do that. Closest I have come was a cover for The Exterminator I did for NSM Records in Austria. I would love to do more films like that. Maybe one day Shout Factory will use some of us for those non-horror releases. I joked with Cliff when they released Rolling Thunder for Shout that I would have done that cover for a dollar. And I would have … Taxi Driver is my all-time favourite film and to have been a part of a Blu-ray featuring Paul Schrader would have been amazing …"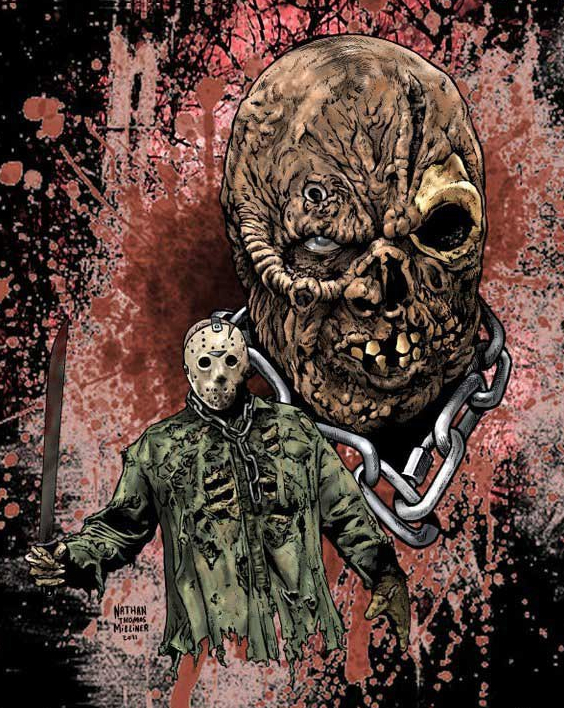 I want to say a MASSIVE thank you to Nathan for taking some time to be involved … To see much more of his work from the past to present day then head over to his site which can be found here. You'll be glad you did!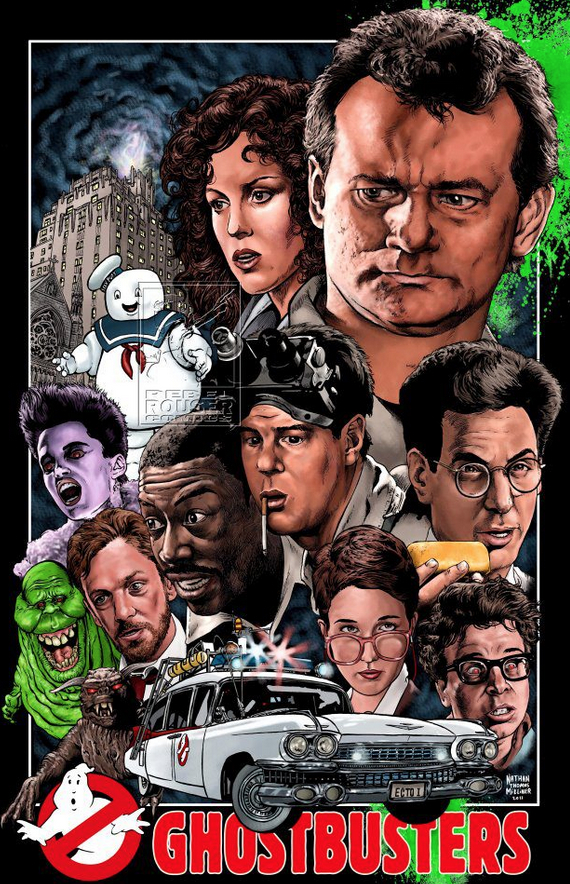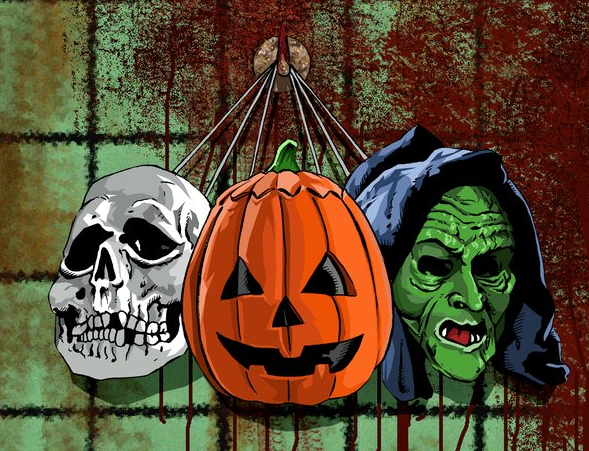 Support Halloween Love
If an item was discussed in this article that you intend on buying or renting, you can help support Halloween Love and its writers by purchasing through our links:
(Not seeing any relevant products? Start your search on Amazon through us.)