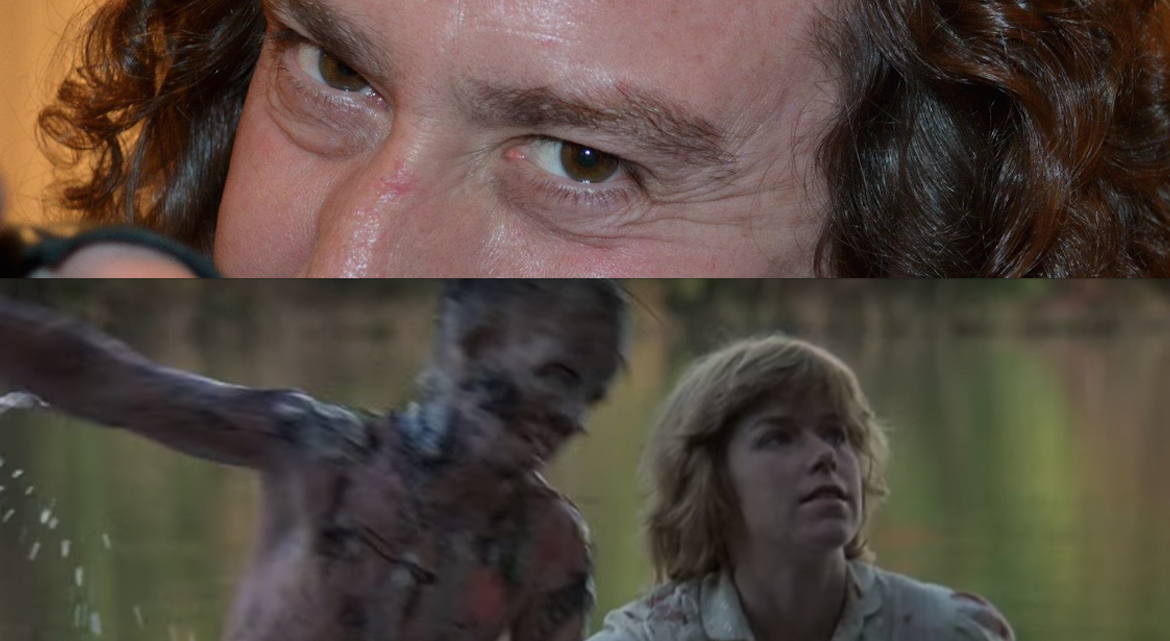 What do YOU consider to be the most memorable and iconic moment in horror movie history?
Jack Torrance looking through the broken door? Michael watching Laurie walk home from school? The shadow of Nosferatu climbing the stairs? The list is genuinely endless – and that's the wonderful thing about this genre we all love so much, there are hundreds of moments you could select that would be legitimate and worthy choices!
I could ask one hundred horror fans and get one hundred different answers and each one would probably make me reminisce for a second or two and think "Fuck yeah!"
There is no right choice, just opinion – and mine has always been the unforgettable moment a very angry young man emerged from beneath the still surface of a peaceful lake, grabbed a young woman around the neck, and pulled her down into the darkness.
Jason Voorhees had arrived and a horror icon was born.
After years of watching this giant brute of a man stomp around Crystal Lake at night, face concealed behind his damaged hockey mask, it can be easy to forget that this legendary franchise he belongs to, started in a much more subtle and human way. A vengeful grieving mother succumbing to her inner rage and sense of injustice goes on a killing rampage, and it was only in the last few seconds of the film that things took a sudden and almost supernatural turn which created one of the most incredible 'jump scares' in horror history.
35 years later it's still one the moments I think of first when I think HORROR.
Most dedicated horror fans will know that a young man named Ari Lehman portrayed Jason in that legendary scene, and it's LONG been an ambition of mine to make contact and ask him a few questions about the experience and how such a small role can be such a huge life changing event.
That ambition has now been realized.
Ari celebrated a milestone birthday this past weekend, and this year the Friday franchise celebrates a milestone anniversary. Sounds like the perfect time to catch up with him and hear some memories – Crystal Lake memories of the finest kind. Take a look …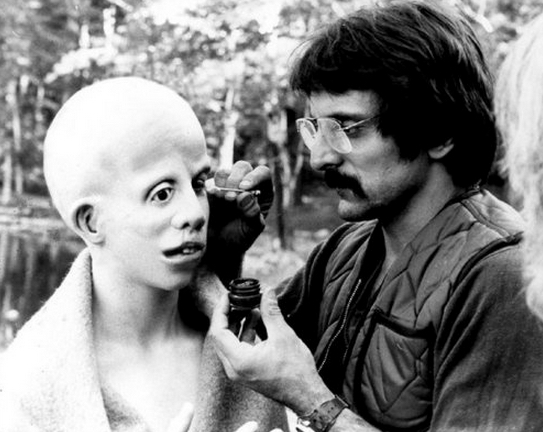 Halloween Love: First of all can you tell me a little about your creative/performing journey. Do you think music, writing and acting was a destiny from a young age?
Ari Lehman: I feel extremely honored and blessed to be continuing a long legacy of creative artists who attempt to provide relief from the mundane routine of modern life by making human thoughts and feelings tangible and relevant via the magic of music, acting and writing. Every day I work on improving my abilities to better serve the educated tastes of today's listeners, who, through the amazing technologies available now, have access to the most amazing performances and recordings literally at their fingertips. Should History agree that my Destiny has been well served by my passion, then I shall be even more honored and blessed. As a very young child I saw the inscription on the Brooklyn Academy Of Music "ARS LONGA – VITA BREVIS"!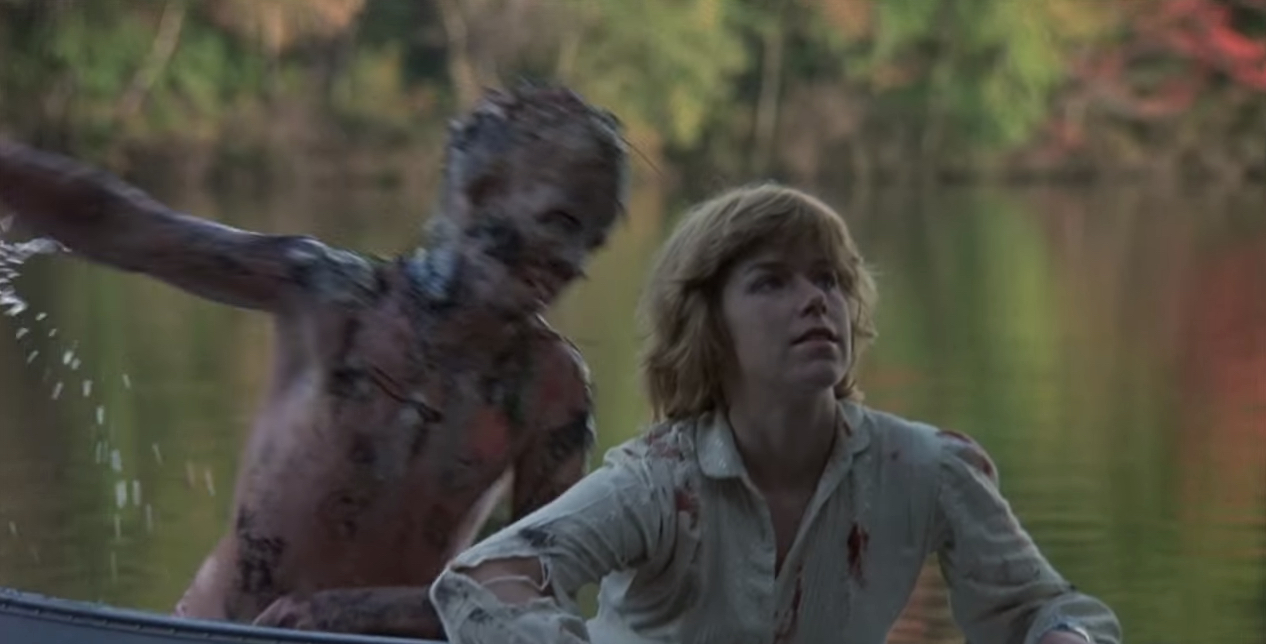 HL: I believe Friday The 13th was your second acting part at a relatively young age. At the time, was it possible to have any kind of idea that the movie, and the character you were portraying would become such a huge part of horror history?
AL: Back in 1979, when Friday the 13th was produced, no one on the set had any idea that we were working on anything more than a very decent Summer job. Not unlike Annie in the opening segment of the movie, we were all just looking forward to working together on a movie in the absolutely gorgeous setting of Delaware Water Gap, where the film shoot was located. Also similar to Annie, we were surprised when we found out what was in store!
Of course, the Young Jason Voorhees character that I played was not as significant as the Pamela Voorhees that Betsy Palmer played initially. The first script did not even have the famous ending sequence where Jason suddenly emerges from Crystal Lake! That idea came after Tom Savini and Sean Cunningham saw the "jump" ending of Carrie. They called me back to the set in October of 1979, and handed me a script that said "Alice's Dream". I, however, felt strongly that Jason was re-animated, and came back to seek vengeance for his mother's decapitation. After slight objection, the Director humored my imagination, and the rest is horror history!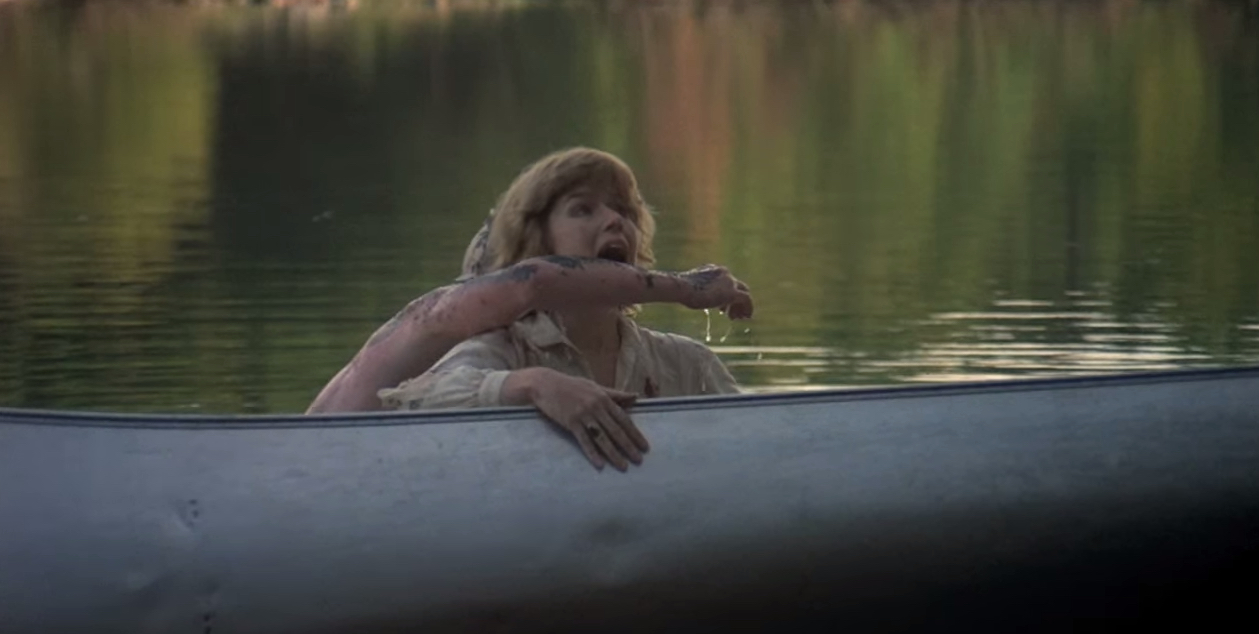 HL: Can you tell me a little about your time on set shooting. What was the biggest challenge? And what was the most enjoyable aspect of the role?
AL: Both the biggest challenge and the most enjoyable part was working on the extensive prosthetic makeup required for the illusion to be realistic. Master Special Effects Artist Tom Savini and his assistant Taso Stavrakis were a great deal of fun to work with, and they made the difficult task of working for weeks on the design, molding, casting and application of the Young Jason mask and makeup as enjoyable as possible. One time Tom played an LP of The Doors to get me to sit still while the alginate fully dried!
Learning about Special Effects was a thrill for me, everywhere in the studio were severed limbs, decapitated heads, explosive devices, weapons, as well as Tom's busts of Bela Lugosi, Lon Chaney, Boris Karloff and Vincent Price. I was given an insider's look at the word of Horror FX, and although that was not to be my future line of work, the information gathered there went a long way toward my being a valuable contributor when on the set of independent films and my own FIRST JASON Music Videos.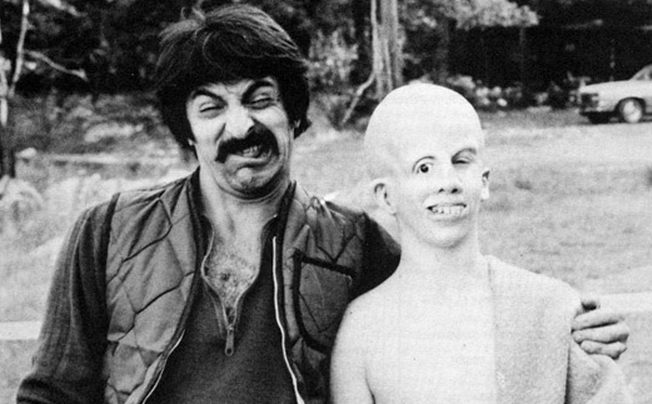 HL: How do you personally feel about the evolution of Jason Voorhees as a character? The boy in the lake, through to giant masked killer …
AL: Honestly I feel that every Jason actor brought something new and fresh to the role. My earliest memories of Horror are comparing the actors different portrayals of the same characters. "Who was the best Dracula?" my friends would ask each other at Summer Camp. I would always say "Lugosi!" – "No, Christopher Lee!" others would say emphatically. That's the fun of Horror Movies, fans love to compare Kane Hodder, Ted White, Steve Dash, and all of the other Jasons right up to Derek Mears. Who's it gonna be next?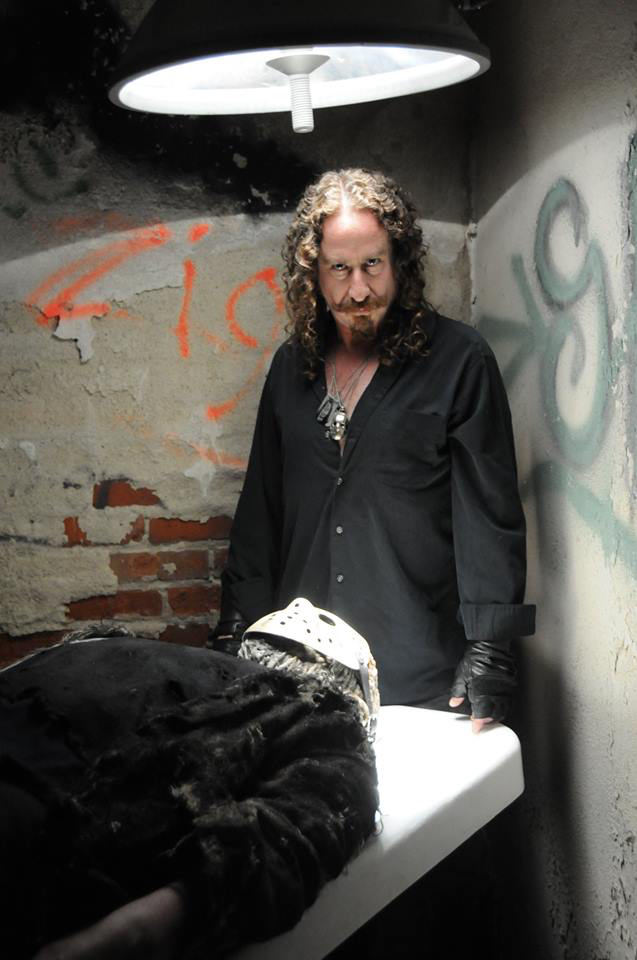 HL: In your opinion, why has Friday The 13th as a movie series endured? As we approach the 35th anniversary, why has it been such a success?
AL: The reason that Friday the 13th and Jason have survived is because of the absolutely amazing devotion and dedication of the fans to this series of films. Friday the 13th and Jason fans are a worldwide family of Campers that love to interact with the cast and crew members as well as each other. This may stem from the simple fact that Friday the 13th is a fun film to watch together with friends. I always ask fans to tell me when they first saw me jump out of the Lake, and I am consistently regaled with hilarious tales of family gatherings and parties where the experience was shared.
I am very gratified that, for whatever reason, people still love to watch this film that was shot 35 years ago in the Summer of 1979! It can be truly said JASON FANS NEVER DIE!!!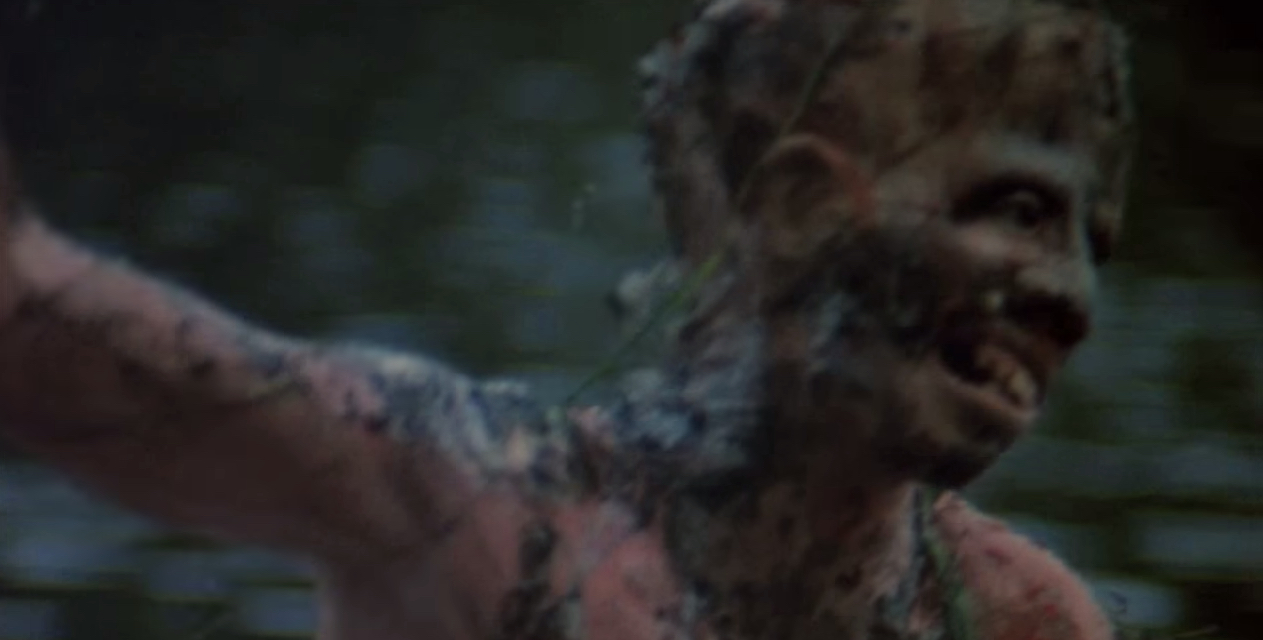 HL: The image of you rising from the lake has become one of the most iconic moments in movie history across every genre. It has been recreated by countless artists, it features on posters, and young Jason is soon to become an action figure. Is it a surreal experience, or something you have got used to now?
AL: Every day is a surreal experiment in Horror entertainment! The imagination of the fans makes each event and performance a unique experience. Jason and Pamela Voorhees (Betsy Palmer), have created such a lasting impression on movie-goers, that they are more like a form of American Mythological characters nowadays. Once one embraces this, and realizes how important this series really is to so many people worldwide, you cannot help but be once again inspired by their passion. In many ways, I feel Jason speaks directly to the American psyche: powerful, misunderstood, deadly and silent, we somehow relate to him as a hero, yet know he is pure evil, self-righteous vengeance gone horribly awry. Add to that the primeval struggle of Mothers against any and all that threaten their offspring, and you have some deeply compelling anti-heroes that we all love to fear.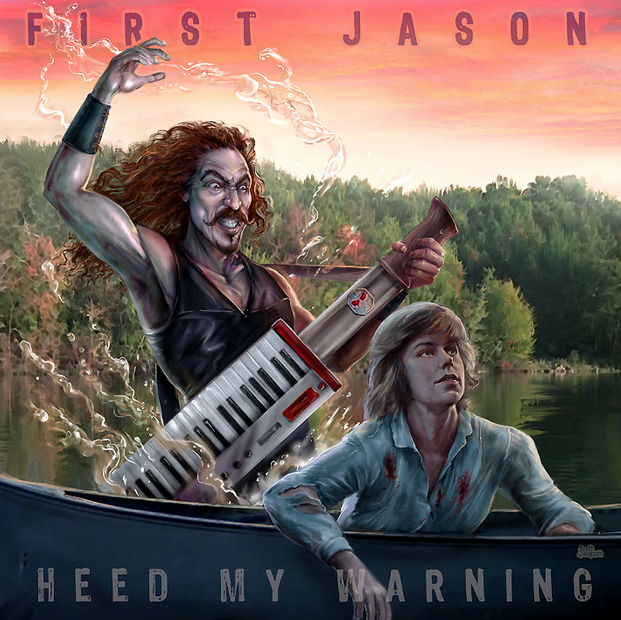 HL: Finally, how is life treating Ari Lehman now? What does your immediate future hold in terms of work and your music?
AL: My main occupation is touring and recording with my band, FIRST JASON, singing and playing the Heavy Metal Keytar, an amazing instrument that I am pioneering new sounds and new techniques for every day. A Punk Metal Power Trio, FIRST JASON has performed at some of the top venues and festivals in the US and EU. Our first two albums "Jason Is Watching!" and "Heed My Warning" are available online at Spotify and CDBaby. Both albums received critical acclaim and have sold thousands of downloads and discs. The next album/book project, FIRST JASON: AMERICAN ORIGINAL is already in the works.
The title AMERICAN ORIGINAL, is taken from one of Camp Counselor Annie's lines from Friday the 13th, when she mocks Enos the Truck Driver, by saying "You're just an American original". This album and book will reflect my own insights from the years of travelling the USA and meeting all of the wonderful fans/friends of Jason Voorhees. The lyrics take on a new, somewhat philosophical outlook, without taking sides politically, in an effort to stimulate thoughts and discussions about this fine Great Nation the USA.
I am also doing many Independent films, please visit us at the website: (HERE), and at the Facebook Page (HERE).
MANY THANKS FROM CAMP CRYSTAL LAKE!!!
and remember … JASON NEVER DIES!!! Ari Lehman/Jason#1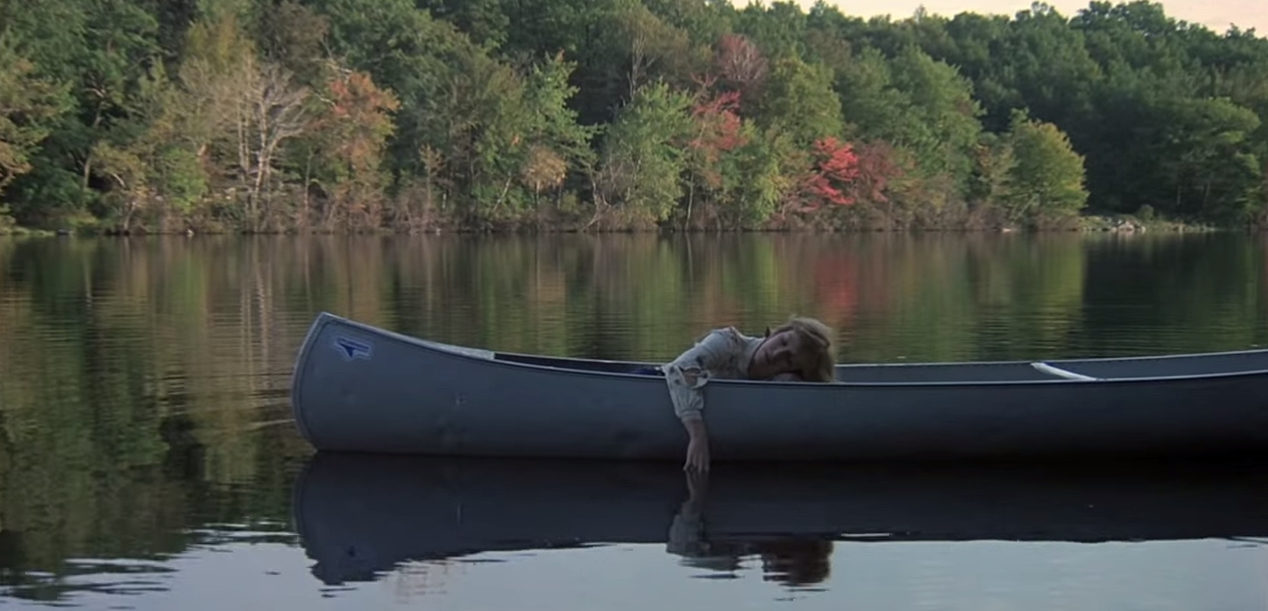 Support Halloween Love
If an item was discussed in this article that you intend on buying or renting, you can help support Halloween Love and its writers by purchasing through our links:
(Not seeing any relevant products? Start your search on Amazon through us.)