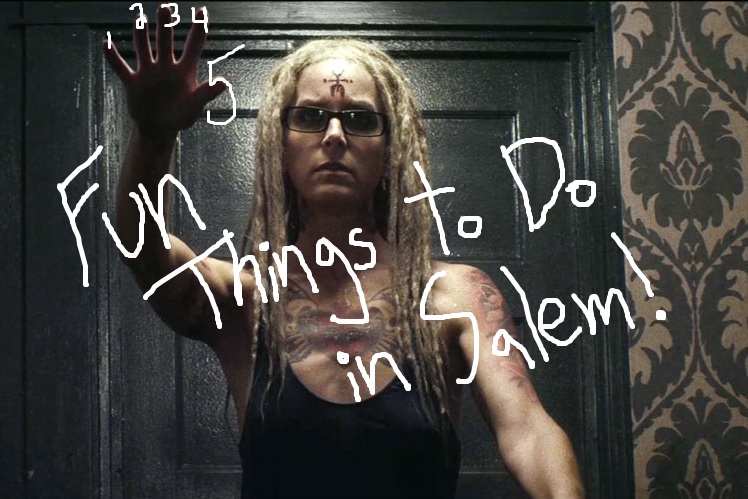 My wife and I spent this past weekend in historic Salem, Massachusetts, which is of course known for being the birthplace of the witch. Within 10 minutes of strolling around the area I was already intent on moving there, just as it immediately became set in stone that we found ourselves a new annual tradition.
Adequately described on a corny t-shirt seen in one of the area's many tourist trap shops, Salem is indeed 'Disneyland for the Dead,' meaning that it's essentially the ultimate happy place for all who put 'Halloween' and 'Horror' at the tippy top of their 'My Favorite Things' list.
Especially around this time of the year, Salem is Halloween Mecca, and to try and put into words what I loved about the area is quite frankly as impossible as trying to adequately convey why I love Trick 'r Treat so much. More than anything else, it was the intangible and indescribable vibe that spoke to me on so many levels, feeling like I had stepped foot inside a Halloween painting and got to play around for a few days.
If Halloween was a town, it'd be Salem in September/October, and magical is a word that suitably describes that aforementioned vibe. Heavenly also works, as does 'holy shit, this place is really fucking awesome.'
The sort of small town that you'd expect to see depicted in a movie but not actually be able to visit, Salem is a nice blend of the historic and the new, reflected in the shops and general population of the area. It's the sort of place that almost feels too good for this world, like an orange bolt of lightning was captured in a bottle and has somehow remained in there for all these years.
Full of both retirees enjoying the relaxing atmosphere and young people who are free to be creative and run their own small businesses, you get the sense that all of the above are happy to be living in Salem, whether it's a Monday morning or a Saturday night. And from our experience, they're more than happy to spread that happiness to the many tourists that flock to the area during the Halloween season.
I could write another 1,500 words about this little slice of Halloween Heaven, but at the risk of boring you, I've instead decided to write up a little handy guide for anyone who's planning a trip to Salem – either this year or sometime in the future.
So based on my personal experiences this past weekend, here are five things that I feel every horror fan needs to do, when venturing to the idyllic town of Salem, Massachusetts!
1) SPEND A NIGHT AT THE HAWTHORNE HOTEL!
If you're going to visit Salem, I would recommended spending at least two days in the area, as there's so much to see, do and eat. Of course, that means you're going to have to book a hotel for at least one night, and there's no better place to spend that night than in the Hawthorne Hotel.
Located right in the heart of Salem, within walking distance of EVERYTHING, the Hawthorne was built way back in 1925 and is considered one of the country's most haunted hotels, ranked as such by Travelocity. In fact, it was ranked #4 out of the top 10, which essentially means it's totally inhabited by more than paying guests.
We spent two nights in the Hawthorne and though it's definitely got that creepy vibe that comes along with old hotels (the coffin-like elevators are particularly unsettling), I can't say we experienced anything paranormal. I suppose, however, it's worth noting that our door mysteriously wouldn't unlock from either side when we were about to check out, trapping my wife inside while I tried – in vain, for about 60 seconds – to open it from the outside.
As I typically do when I stay in haunted hotels, I asked several staff members if they had experienced anything out of the ordinary, and not one of them had any personal accounts to relay. The bartender, who's been there for nine years, said he's never seen or heard a single paranormal thing, though he noted that many guests have told him stories.
According to the stories, the 6th floor is haunted by a dead woman and the Hawthorne even has its own version of Room 237, which is Room 325. Those are the most popular paranormal tales about the hotel, and other stories suggest crying noises and the usual bumps in the night.
Again, nothing too unusual was experienced by my wife or myself, aside from the aforementioned door jam and a bar of soap seemingly being pushed off the bathroom sink. An investigation Sunday night took us up to the allegedly haunted sixth floor, which yielded no ghost hunting results.
Haunted or not, the Hawthorne is a lovely hotel, and THE place to stay, if you're visiting Salem. Who knows, maybe you'll encounter something that we did not!
2) LEARN THINGS AT THE SALEM WITCH MUSEUM!
It would be downright criminal to take a trip to Salem and not immerse yourself in some of its rich history, and the iconic Salem Witch Museum is the perfect place to do just that. The most popular tourist attraction in the area, the museum is located a stone's throw away from the Hawthorne Hotel, and it's open for visitation every single day.
A guided tour through the history of Salem's Witch Trials, the museum first puts you and your group into a large room surrounded by life-sized dioramas, which light up as an unseen narrator relays the story of Salem's dark past. The first portion of the tour runs for about 30 minutes, followed by a brief guided walk-through of the museum itself, covering the evolution of the American witch.
While a lot of the tours that are offered up in Salem are pricey, tourist trap kind of deals, the Salem Witch Museum is both cheap (less than $10) and incredibly informative, making it a must-visit in the area. The story of the Salem Witch Trials is one of the most fascinating and horrifying in American history, and no trip to Salem is complete without hearing it told – whether you've heard it before or not.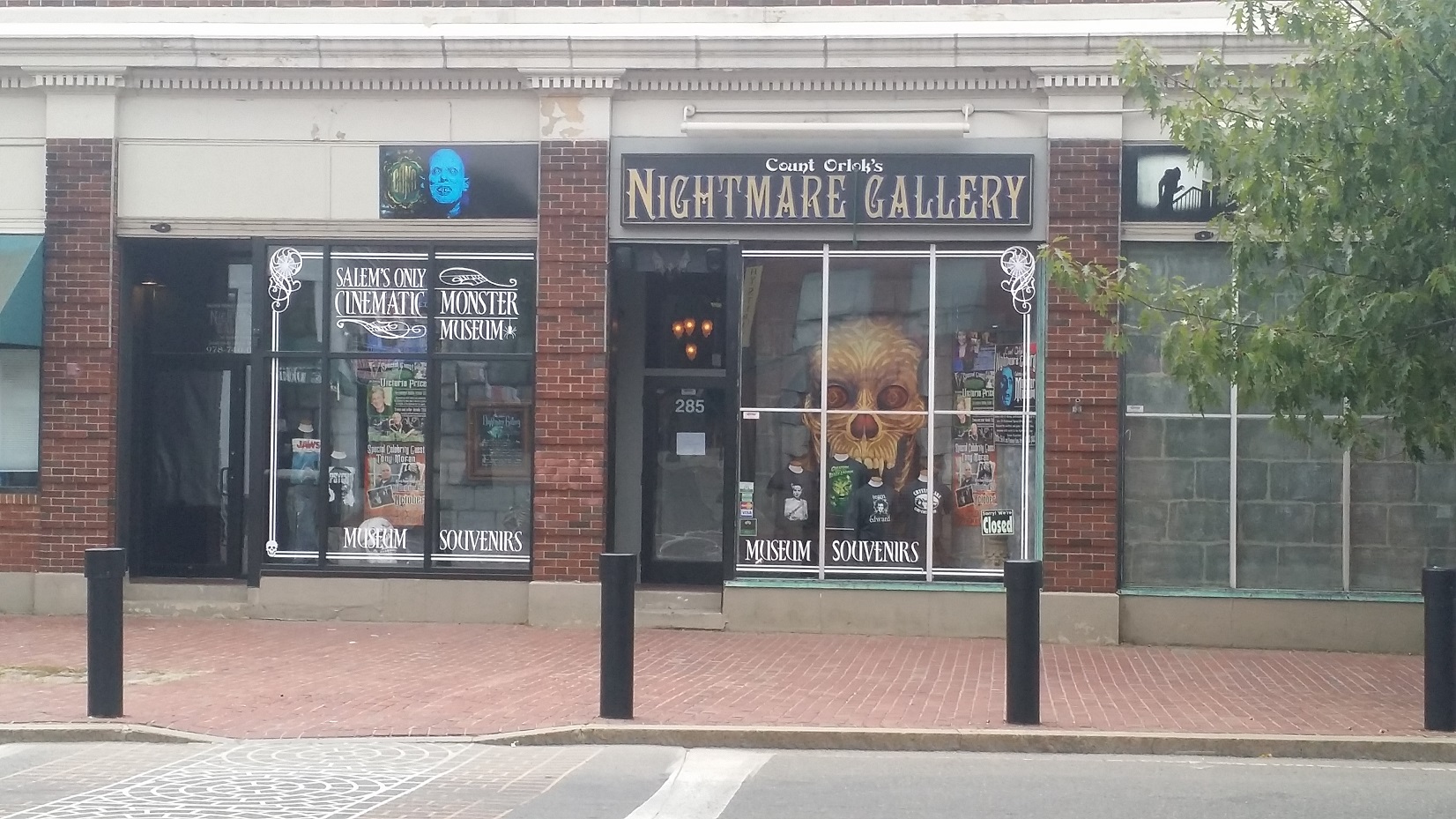 3) HANG OUT WITH HORROR ICONS AT COUNT ORLOK'S NIGHTMARE GALLERY!
When I mentioned on Twitter that I was going to Salem, the response from nearly everyone was pretty much the same; you have to go to Count Orlok's!
Billed as the only wax museum in the area centered on movie monsters, Count Orlok's Nightmare Gallery is just that – a self-guided tour through the history of the horror genre, as depicted by impressive life-sized statues of some of cinema's most iconic monsters.
Like Salem itself, Count Orlok's is a blend of the classic and the modern, the walk-through filled with everyone from the Universal Monsters to Trick 'r Treat's Sam. In between is pretty much every iconic horror character that you can think of, including Freddy, Jason, Pumpkinhead, Carrie, Pennywise, Romero's zombies and Pinhead (who is incased inside a puzzle box, in one of the coolest displays).
Each statue has a little plaque in front of it with history about that specific actor/character/movie, which is awesome because the museum is not just cool to look at but also very informative. Watching the mother and daughter behind us learn all about horror history together put a huge smile on my face, and I love that Orlok's brings cinema's monsters to Salem.
Every October, Count Orlok's has celebrity guests, and this year they include Dee Wallace and Halloween's Tony Moran. So be sure to check their website to see what's going on, whenever you're going to be in the area!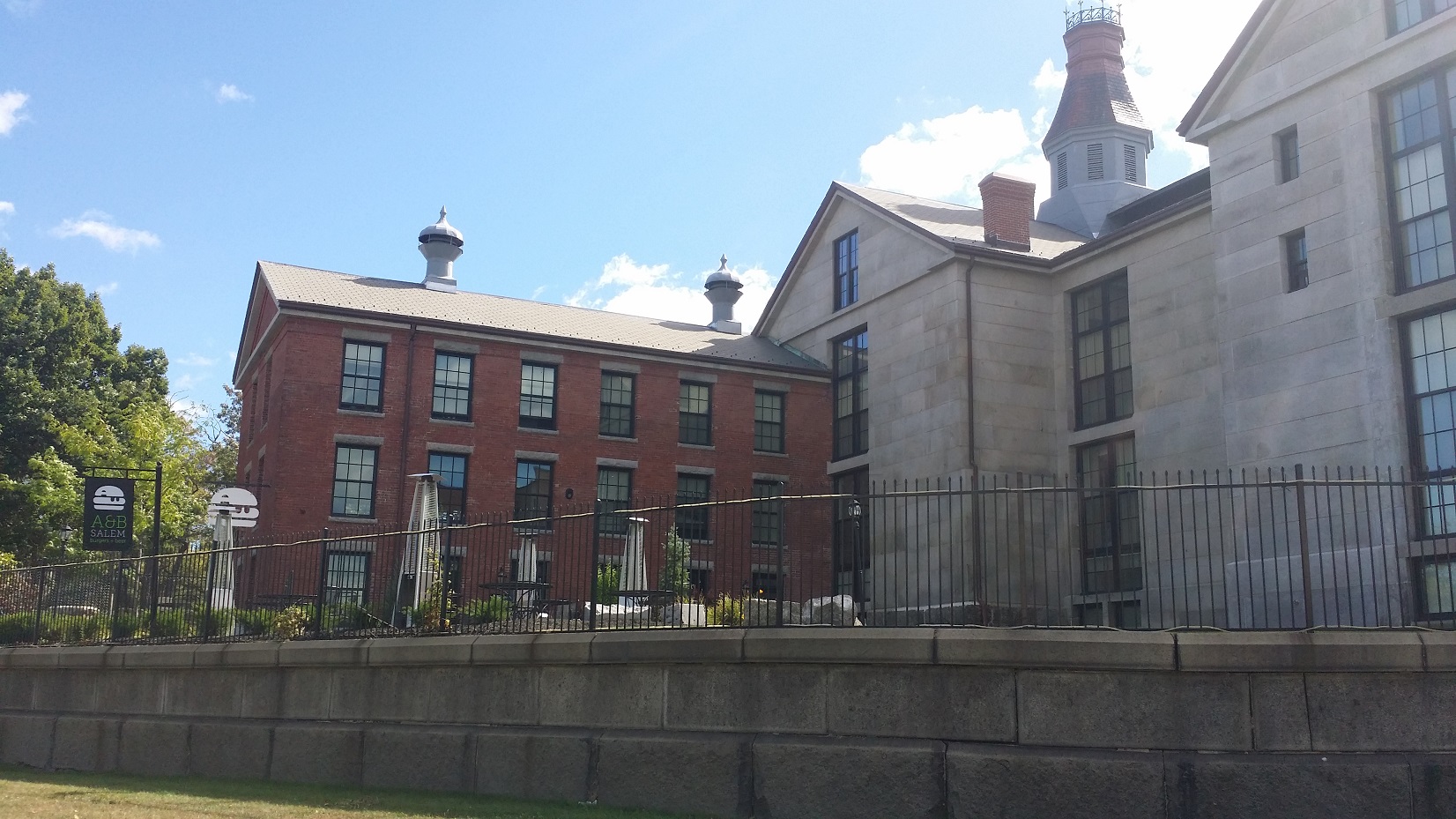 4) EAT & DRINK IN SALEM'S OLD JAIL!
One of the true joys of Salem is its diversity of food, which takes your taste buds from Italy to India, China to Mexico. In fact, many of my favorite memories of the weekend are tied to the incredible food and drink we consumed, and if there's any place I'd have to recommend it'd be A&B Burger.
My wife and I both became vegetarians nearly two years ago so that's always a deciding factor in where we eat, and we chose A&B Saturday night because of the wealth of vegetarian options. What we didn't realize until we got there was that the restaurant was originally Salem's jail, which is quite clear when you're armed with that knowledge and look at it from the outside.
Like the Hawthorne, A&B Burger is allegedly haunted, with the whole story of the place outlined on the back of the food menu. Our waitress didn't buy into the stories but she was happy to show us some relics from the jail – including a pair of handcuffs and a couple vintage intake forms.
The only thing we found haunting the building was delicious food and creative drinks, with sweet potato burgers and zucchini fries delivering one of the best dining experiences we had all weekend – and we had MANY dining experiences.
Also noteworthy is the Drunken Pumpkin drink, which is comprised of a glass of pumpkin beer with a shot of vanilla vodka in it (plus cinnamon sugar rim!) and is needless to say my new favorite thing. Vodka + beer may sound kind of gross on paper, but the vanilla taste really couples well with the pumpkin beer, essentially turning the beer into liquid pumpkin pie. I had two. And I felt them both the next morning.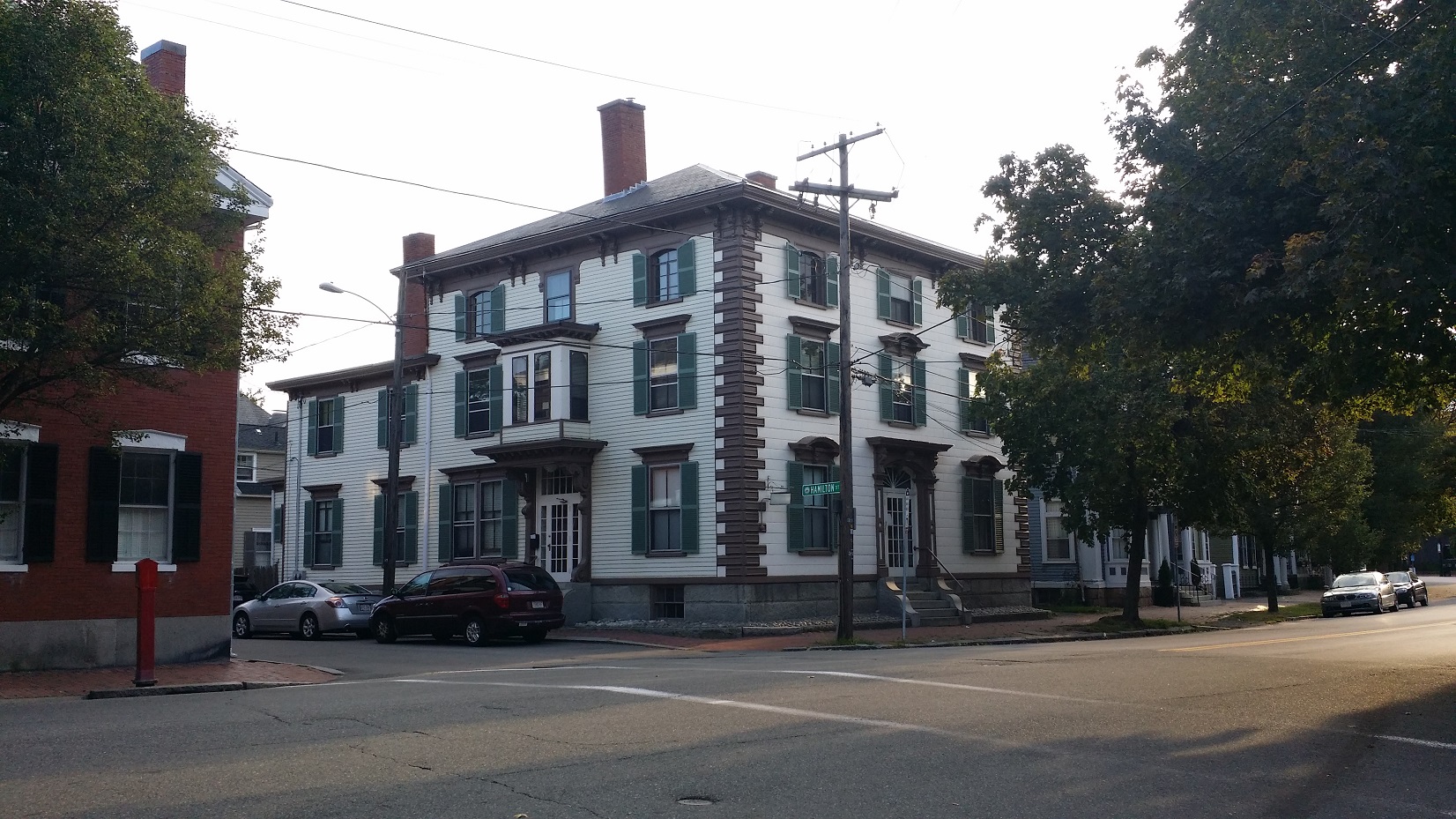 5) VISIT THE LORDS OF SALEM FILMING LOCATIONS!
And finally, no horror fan should visit Salem without checking out the filming locations for Rob Zombie's under-appreciated Lords of Salem, which was set and shot in the area. Above is the most instantly recognizable location from the film, used as Heidi LaRoc's apartment building. It's found where Essex Street meets Hamilton, and was only used for exterior shots.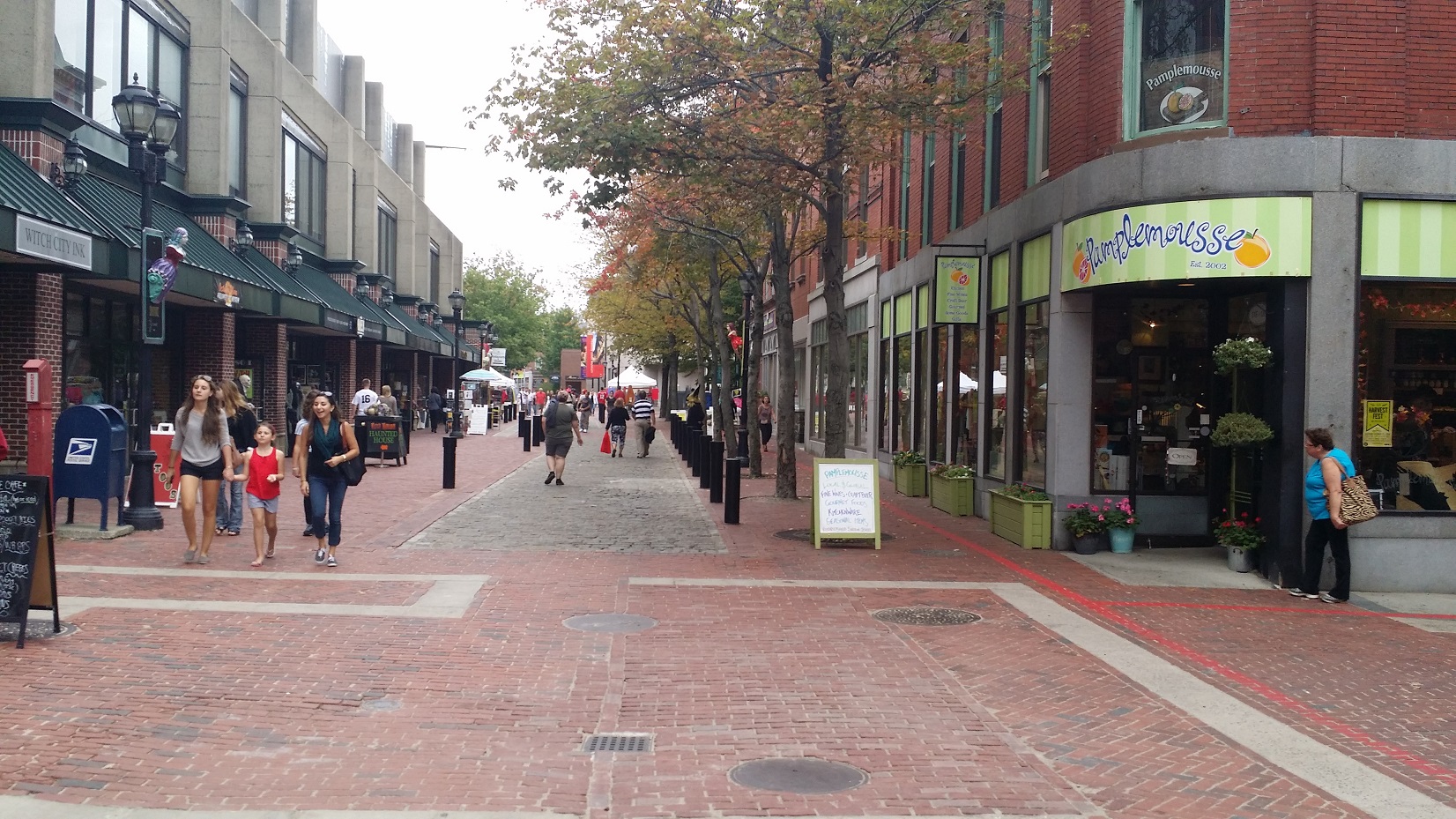 Other notable locations include the Engine House Pizza Restaurant on Lafayette Street, seen from the outside and inside in one scene, and the Essex Street Pedestrian Mall (above), where Bruce Davison's character is seen walking around – the latter of which being the main strip where all the shops are located.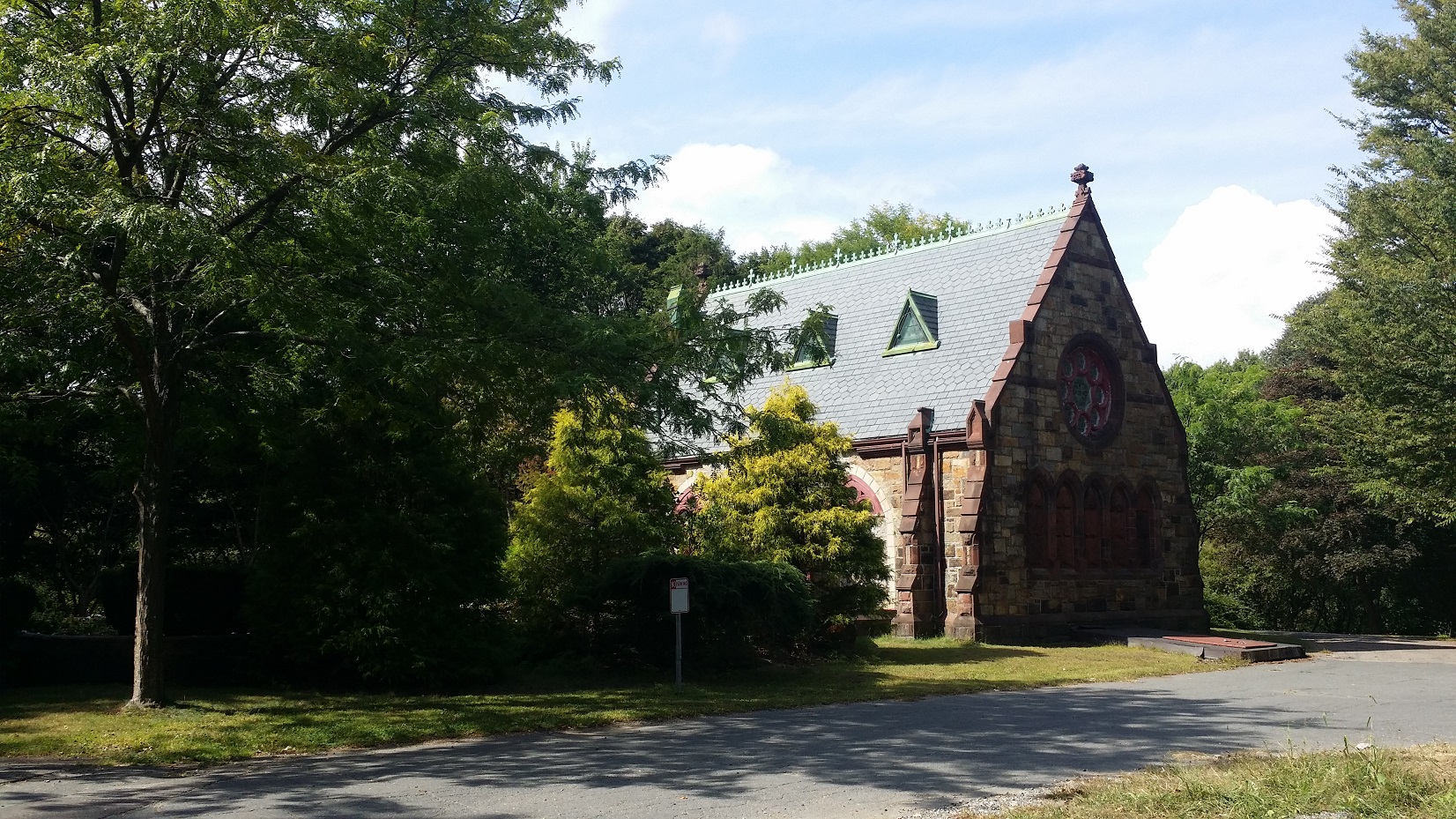 A few minutes outside of the main town area you'll find Greenlawn Cemetery, which is where Heidi sees the creepy masked dude walking a goat. Within the cemetery is the Dickson Memorial Chapel (above), shown off in that same scene – the inside of the chapel in the film, however, appears to have been shot elsewhere.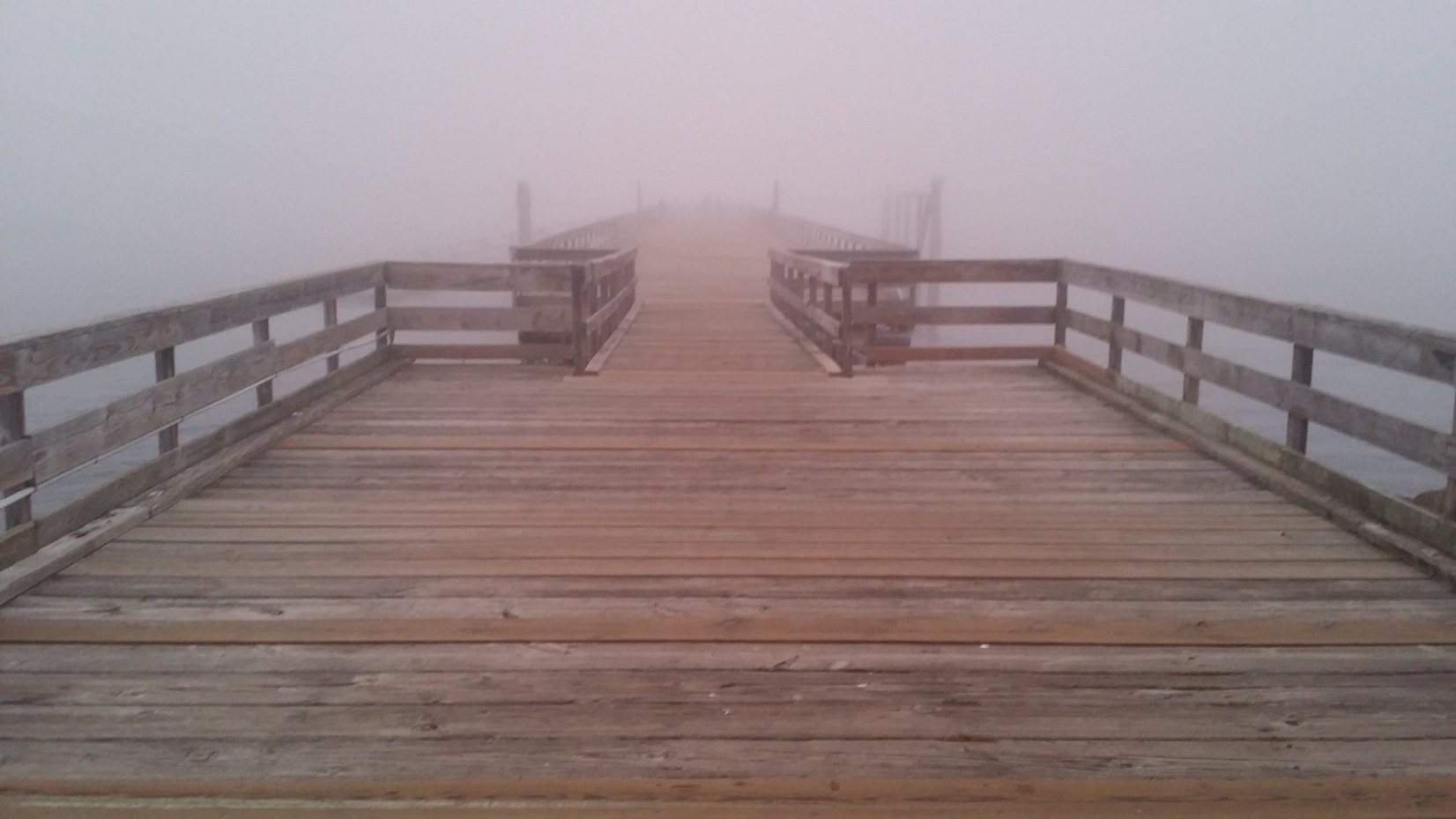 The coolest location of them all is the Salem Willows Pier (above), where Herman receives a phone call from Heidi. Again, it's a few minutes away from Hawthorne Hotel and the main town, but I can't recommend enough that you go there. When we went, a thick fog had enveloped the whole area, which was absolutely beautiful and quite creepy.
In addition to the breathtaking views, there's also a boardwalk at Salem Willows, outfitted with several places to grab ice cream and carnival food as well as two retro-style arcades. Both arcades have all sorts of vintage games that you likely haven't seen in many decades, including a 90s Ninja Turtles arcade game that I contemplated stealing. It was too big.
Some other locations are seen in the film's end credits, including the Witch Trials Memorial and a Salem Cycles location, where you can rent bicycles free of charge. Walking around the area, you'll also notice other locales that characters briefly walk past, so be sure to watch/re-watch the movie prior to going to Salem and keep your eyes peeled.
*Many thanks to the awesome owners of Silver Moon Comics, J.W. Ocker from Odd Things I've Seen and a kind stranger with incredible timing for helping us find all the Lords of Salem filming locations!
On a related note, I somehow never got around to picking up a copy of Lords of Salem so I snagged one at a Target a few miles from the hotel, which made me glad that I never bought the DVD prior. It's the little things in life that thrill me, and owning a copy of Lords of Salem, bought in Salem, just seems so right.
Other places worth visiting in Salem include Red Lion Smoke Shop (FILLED with weird vintage relics), Jerry's Department Store (also chock full of strange shit you won't find anywhere else), the Redline Cafe (their delicious crepes make for a delightful Salem breakfast), Five Hands Curiosity Shoppe (cool owner and a vast array of oddball trinkets), Harrison's Comics (you could spend all day in there) and Life Alive (Salem's best eatery for vegans/vegetarians).
If a trip to Salem isn't on your Bucket List, then I strongly recommend you add it. You won't want to leave when it's time to, I can guarantee you of that!
Support Halloween Love
If an item was discussed in this article that you intend on buying or renting, you can help support Halloween Love and its writers by purchasing through our links:
(Not seeing any relevant products? Start your search on Amazon through us.)