There are a handful of things that are synonymous with the Halloween season, from pumpkin beer to pumpkin picking. But there's perhaps no greater October joy than haunted attractions, which take horror movies to the next level and put you directly inside of them.
I've hit up my fair share of haunts this season, including Universal Studios' Halloween Horror Nights and Pennsylvania's Bates Motel & Haunted Hayride. But you need not leave the comfort of your computer chair to experience the thrills and chills those sorts of attractions provide, as you will soon see.
With Halloween just one day away, I invite you on a virtual tour of five different haunted attractions, as seen in five different horror movies. So grab a bag of popcorn, pour yourself a nice tall glass of pumpkin beer, and come along for the ride. Don't touch the actors, and they won't touch you!
Well, there are no guarantees…
Though I'd be much more inclined to revisit it than Bride or Seed of Chucky, I've never been a big fan of Child's Play 3 – which is kind of odd, considering it's one of the first horror movies I can remember watching, as a kid.
But if there's one thing I absolutely love about the franchise's second sequel it's the finale, which takes place almost entirely inside of a haunted carnival attraction. And holy shit is the set design in the haunt incredible, jam-packed with things like a massive grim reaper, a mountain of skulls and a flying bat creature.
Child's Play 2's toy factory finale is pretty great, but I think they topped it with Child's Play 3. The way that the haunt becomes a participant in the action, rather than merely the setting of the film's final battle, is what really seals the deal on it being one of the best horror climaxes of them all.
As if it wasn't already cool enough, this is one of those ride-on attractions, with the vehicle designed to look like an angry Piranha. Sadly, ride-on haunts have been mostly replaced across the country by walkthroughs, and I thank Child's Play 3 every Halloween season for allowing me to experience that joy once more, if only through my television screen.
Aside from the fact that you're mere seconds away from being brutally murdered the second you step inside, Captain Spaulding's place of work makes for a pretty awesome rest stop. He's got the essentials like gas and fried chicken, and there's also a shop full of strange oddities.
But the coolest aspect of Spaulding's Museum of Monsters and Madmen is what he calls the Murder Ride. Spaulding himself plays host for the ride-on haunt, which serves as an animatronic tour through the annals of true crime history.
After he regales guests with the true tales of serial killers Albert Fish and Ed Gein, Spaulding segues into the local legend of Dr. Satan, a twisted surgeon intent on creating a race of super-humans. His body went missing after he was hanged, Spaulding notes, whetting the appetites of curious travelers and leading them on a path to the grave.
Okay, so the Murder Ride is likely the last haunted attraction you'll ever experience. But that doesn't make it any less awesome. And kids get in half price, so that's totally a plus.
Sometimes known as Blood Wedding, 1980's He Knows You're Alone is notable for marking the big screen debut of Tom Hanks, who appears in a relatively small role. A clear attempt to capitalize on the success of Halloween, the film centers on a killer named Ray Carlton, who uses a knife as his weapon of choice.
Shortly after being introduced, Hanks' character (a psych student) goes to an amusement park with main character Amy and her younger sister. Amy is convinced that the killer is stalking her, and her fears are realized inside the haunt, when Ray pops up amongst the various props.
Due to the low budget, the ride-on haunt is actually just a pitch black room, so we never really see much of what's going on inside of there. But it's a memorable scene nonetheless, and a fun way to have the killer spook Amy. And keep your eyes peeled for the Silver Shamrock skull mask, which plays a prominent role!
The highlight of the film, however, is Hanks' monologue at the amusement park, where he explains why people like to be scared. "Horror movies, roller coasters and the 'house of horror' ride – you can face death without any real fear of dying," he says. "You can leave the movie or get off the ride with a vicarious thrill and the feeling that you just conquered death. One hell of a first class rush."
Amen, Tom. Amen.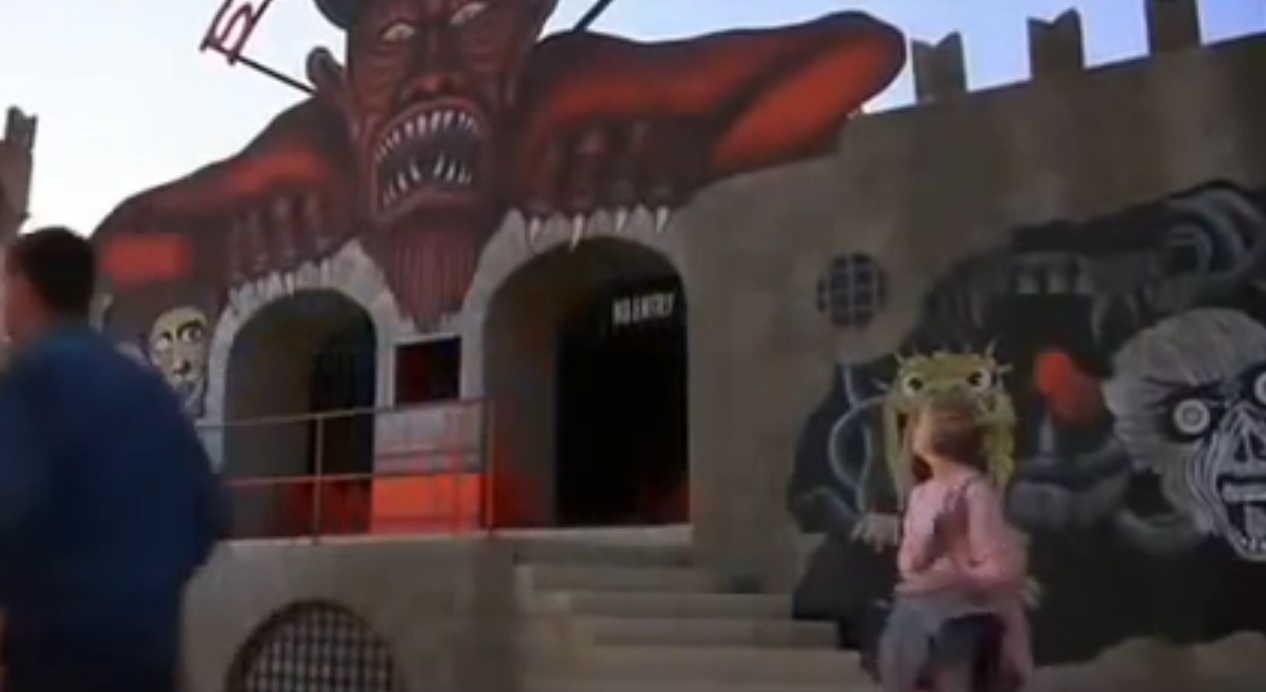 The very first shot of Ghoulies 2 is of a truck driving down the road, with the graphic 'Satan's Den' plastered on the side. Shortly after the opening credits, the titular monsters hitch a ride on the truck and we're taken directly into Satan's Den, which as it turns out is a carnival sideshow.
Based primarily on the Universal Monster movies, the freak show's haunted house is a walkthrough affair filled with the likes of The Mummy, Dracula and Frankenstein's monster. And it's pretty boring, as even a group of kids point out. That is, until the Ghoulies invade the haunt, and make it a whole lot more entertaining.
Of course, it doesn't take long before those loveable monsters start attacking the guests, replacing the animatronic decorations with their lifeless corpses. It's actually a fairly brilliant concept for a silly sequel to a silly movie, Charles Band and company having fun with the fact that the Ghoulies look like rubber Halloween decorations.
At one point in Ghoulies 2, the zombies from the original Return of the Living Dead poster are briefly seen on one of the haunt's inside walls. See if you can spot them, next time you watch!
Of course, if there's any holy grail of haunted attraction movies it's The Funhouse, directed by Tobe Hooper and released in 1981. Set at a local carnival, the bulk of the film takes place inside of a haunt, as the ill-fated characters decide to spend the night in there.
I think I speak for most horror fans when I say that spending a night inside of a haunted attraction is something we can only dream of doing, though it doesn't work out so well for the characters in the movie. When maniacal freak Gunther and his equally crazed father find out the teens have invaded their home, the body count quickly rises.
Sometimes, all it takes is a setting change for one horror movie to separate itself from all the others, and The Funhouse distances itself from other slashers thanks to the carnival atmosphere. Essentially, The Funhouse is Haunted Attraction: The Movie, and goddamn do I love it for that.
While haunted rides are all about safely experiencing terror, as Tom Hanks once said, this one becomes a true horror movie come to life, as the once harmless props take a nightmarish turn when the electricity cuts out and Gunther goes on the prowl. The Funhouse is particularly creepy when those animatronics short circuit, the laughter of the fat clown lady out front, for example, turning real demonic real quick.
The Funhouse is the King of haunted attraction horror, likely to never be dethroned. We salute you, Tobe Hooper. Now and forever.
Support Halloween Love
If an item was discussed in this article that you intend on buying or renting, you can help support Halloween Love and its writers by purchasing through our links:
(Not seeing any relevant products? Start your search on Amazon through us.)