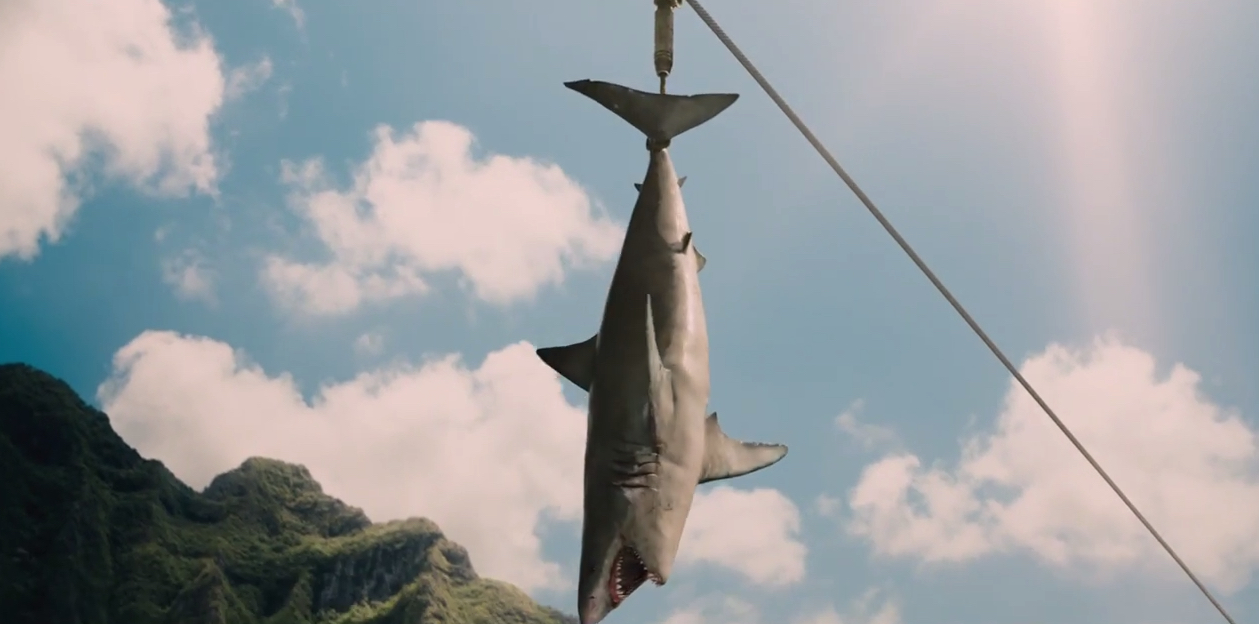 When Jurassic Park was released in the summer of 1993 I was seventeen years old and going through what I like to call my "All movies SUCK" teenage phase.
My youthful obsession with cinema had faded and even my love for horror had temporarily been put to one side as I embraced the role of a miserable teenager. All I seemed to care about was football and girls. But you can always rely on Steven Spielberg, and he created a movie that instantly made me fall in love with film all over again, and it ALSO reminded me just how much I enjoyed a good scare.
I owe a lot to the original Jurassic Park, it was a genuine 'event' movie and when I look back to the year it was released I can clearly see just how much it reignited my passion for many things, horror included. I've been following the progress of the fourth movie in the series with great interest, praying they might be able to replicate the sense of wonder AND terror the original perfected … We finally got a Jurassic World trailer this week and here are some of the moments that caught my eye …
Bon Voyage.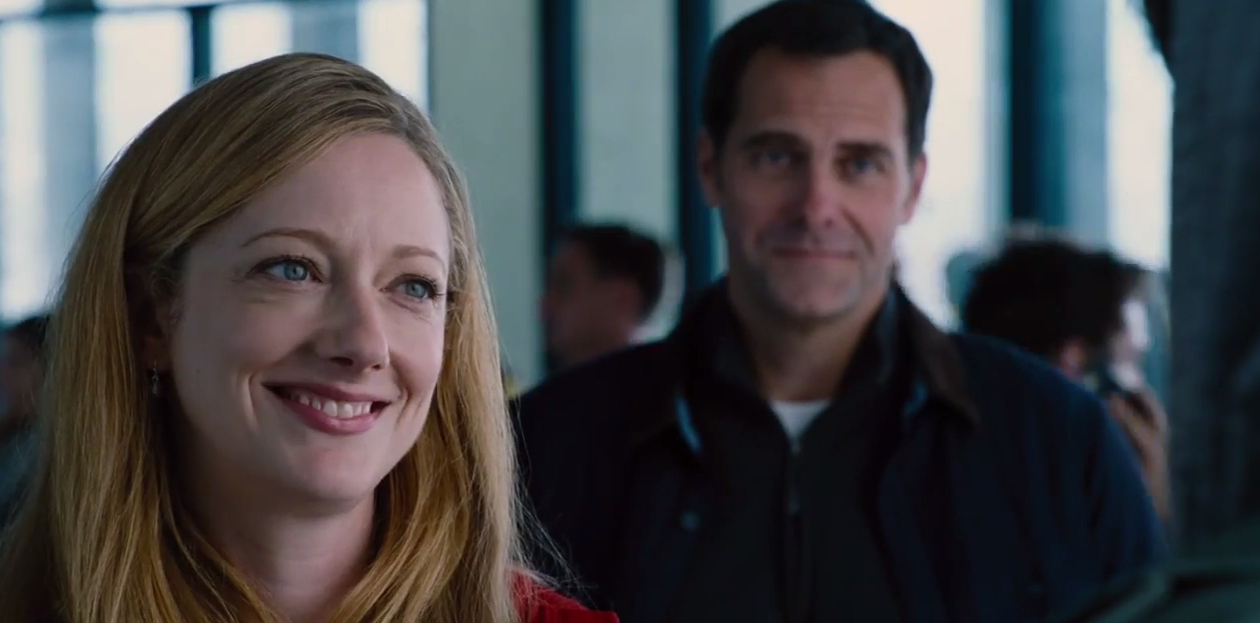 "Remember, if something chases you, runnnnn" … Wise and slightly creepy advice from a woman who appears to be sending two kids to Jurassic World without any adult supervision. I'm sure they will be just fine!
They Already Have A Bigger Boat.
It looks like you travel to Isla Nublar in style these days. No more bumpy plane rides with Jeff Goldblum and his unique laugh.
Gatekeeper.

Just like in the original, visitors to the park will pass through some giant wooden gates, and as you can see they have kept the classic look, even down to the torches that burn on either side of this iconic entrance. Of course in Jurassic World it's far bigger, but bigger doesn't always mean better!
Let's Get Busy.
Jurassic World is an open, fully functioning theme park. Just look at all that food … I mean PEOPLE, look at all those people.
Keep On Rolling.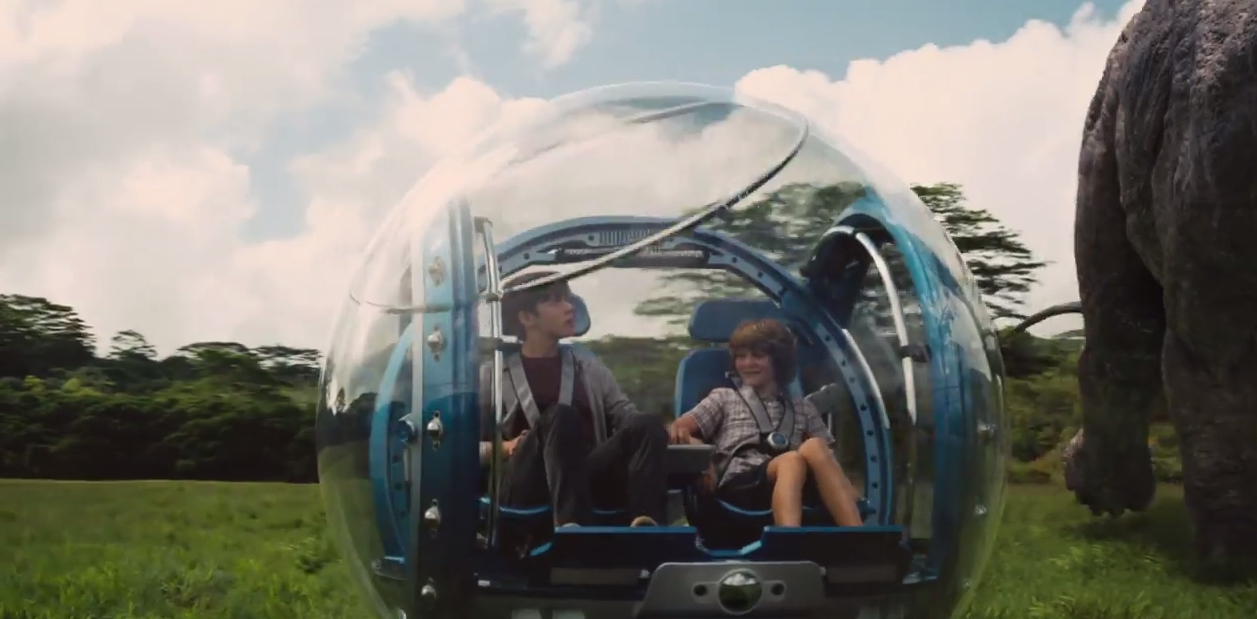 Here we see the kids from the beginning of the trailer taking a ride within a 'Gyrosphere', which thanks to its sturdy and super-tough construction allows visitors to get close to the dinosaurs in a perfectly safe way.
Dead Shark?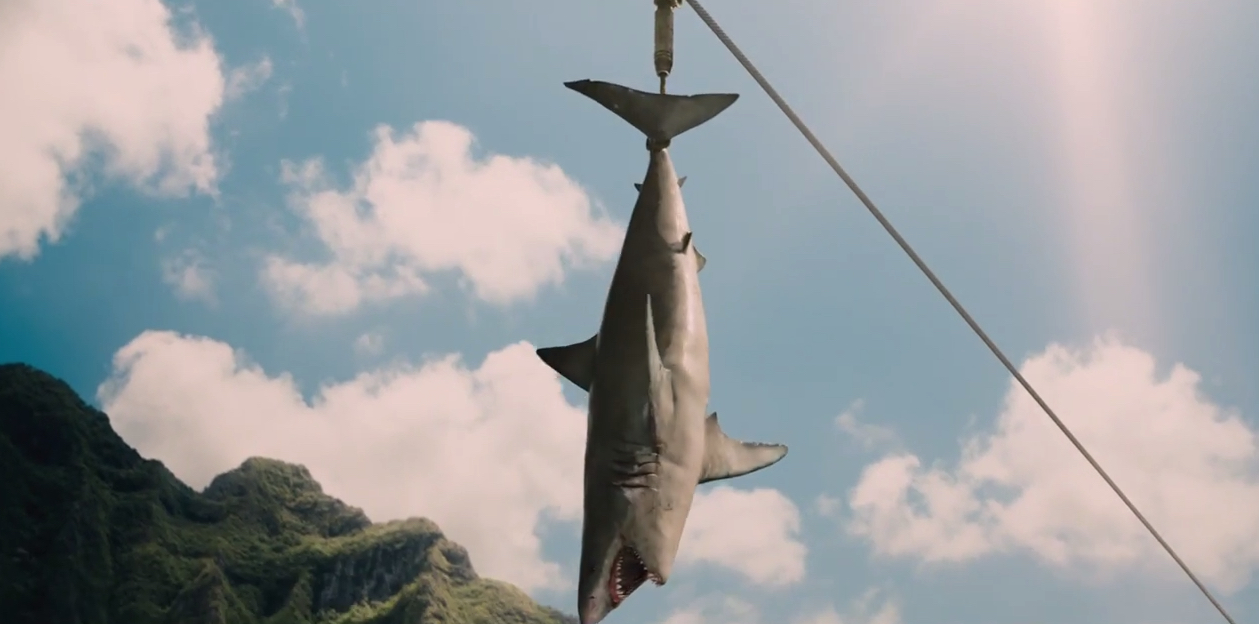 Why have we cut to a shot of a large dead shark hanging from some rope?? I want dinosaurs damn you!!
Ohhhhh … ok.
Headache.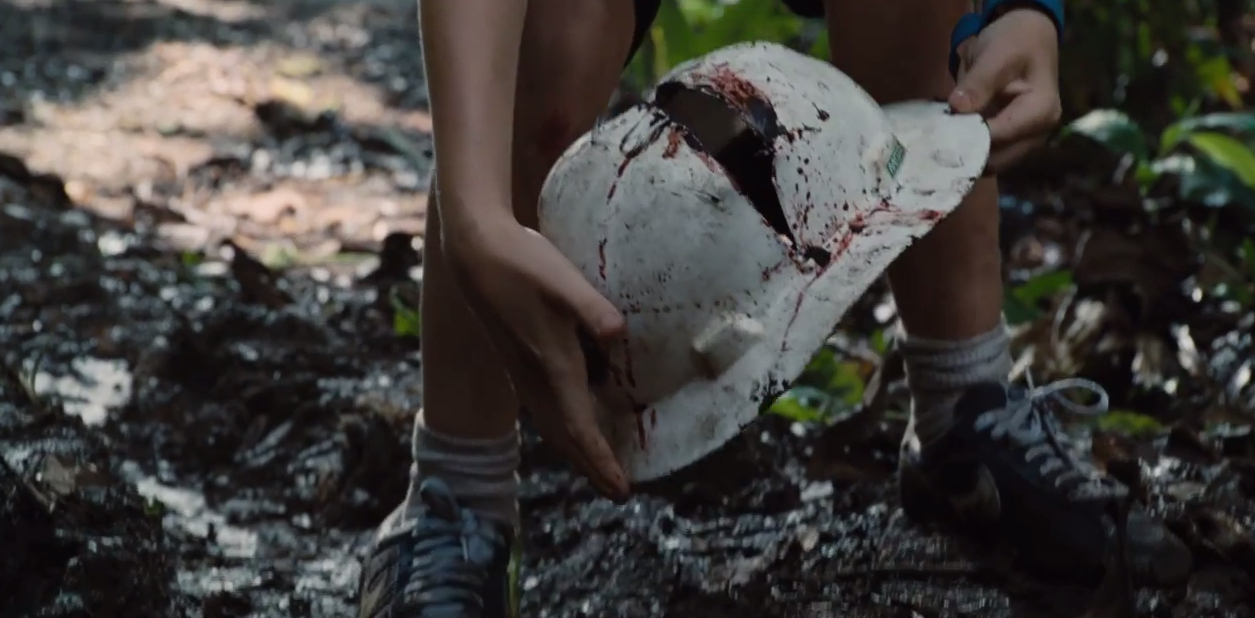 One of the abandoned kids discovers a workers helmet covered with blood and featuring a worryingly large hole shaped like a claw. I'm sure it's nothing to be concerned about.
Not So Sturdy!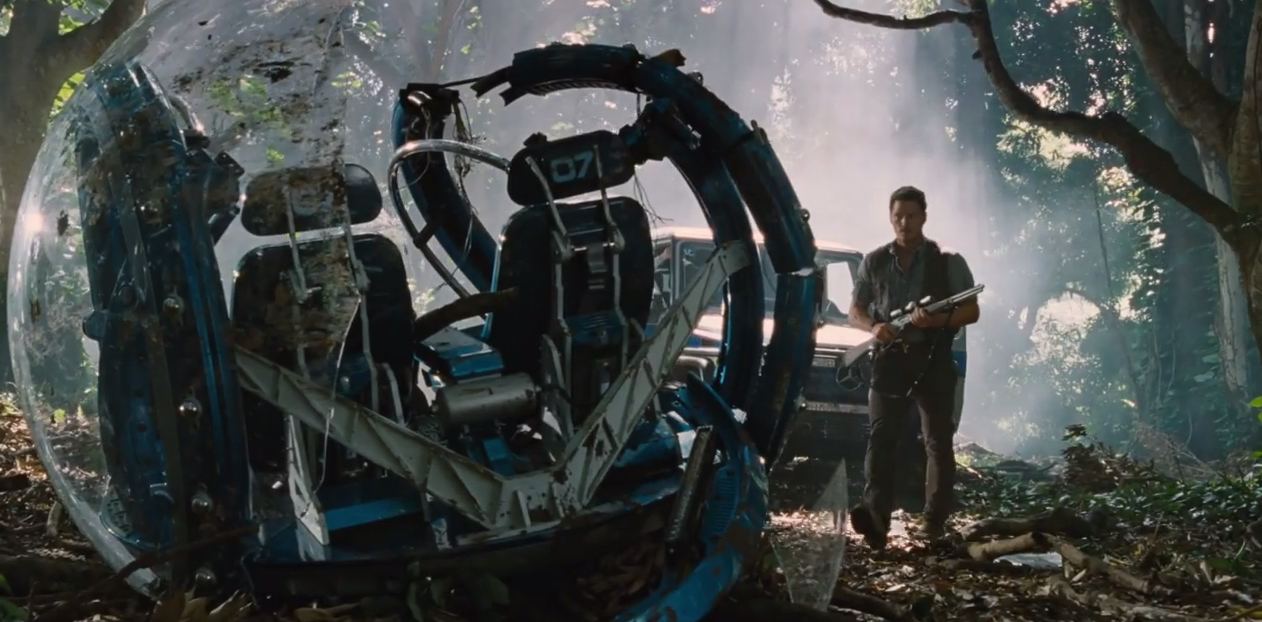 So, remember those super-tough, perfectly safe Gyrosphere's we got a glimpse of earlier? Yeah, ignore that. This one has been torn apart, by … something!
Run!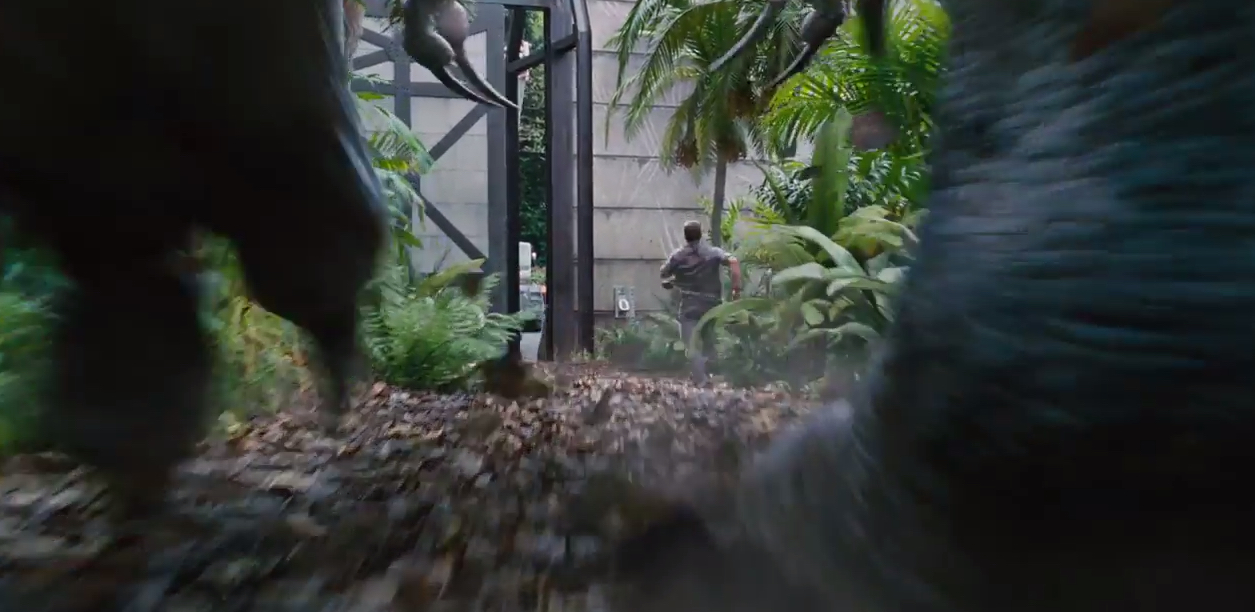 Our first glimpse of what appears to be some kind of genetically engineered dinosaur that the park has been developing. Because let's face it, just seeing regular dinosaurs in the flesh would be boring, we need them to be as nasty as possible. Just look at those claws … perfect for ripping open a helmet or even a Gyrosphere!
Panic!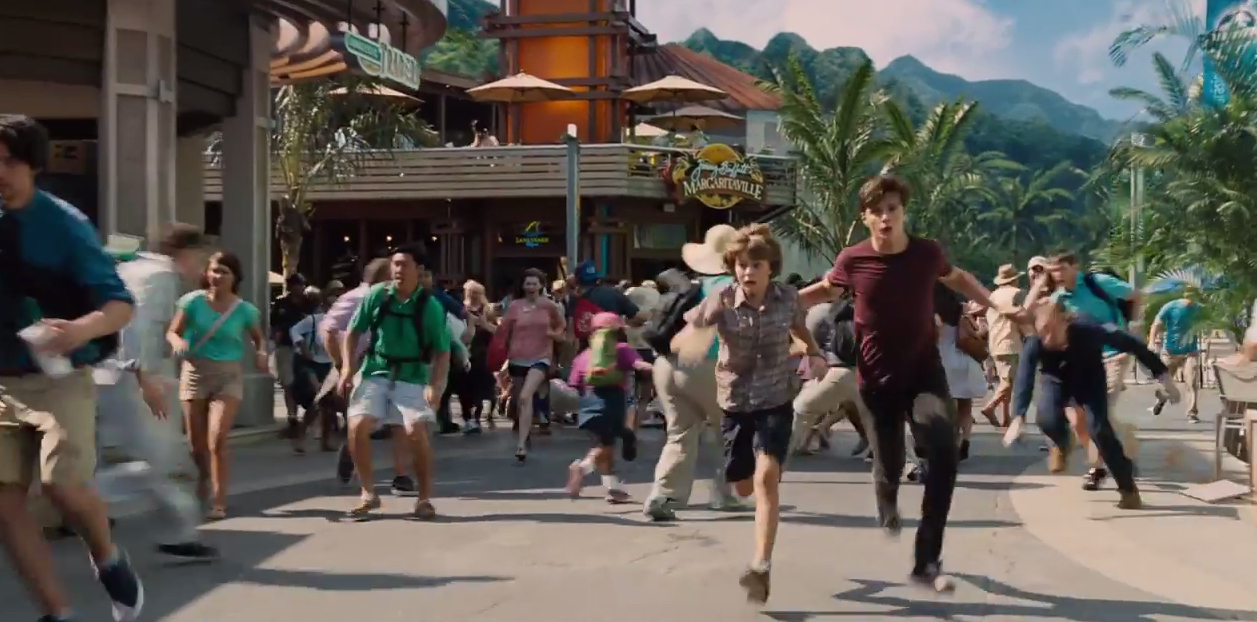 The trailer ends with the kids taking the advice from the start and running like hell, just look at all that fast food! Am I the only person who would love to see multiple dinosaurs just descend upon the park and start eating countless tourists in a blood soaked frenzy?
---
Final Verdict – Promising. The CGI looked a little basic in places but they still have plenty of time to work on that. As I touched upon above, I just hope they aren't afraid to give the movie an edge like the original had … Remember Bob Peck's death scene as he tries to hunt the Raptors? That was genuinely unsettling.
Create an epic adventure but don't be afraid to terrify the kids, it's a combination that many movies from the 80s and 90s nailed and I'd love to see it make a return next summer. Time will tell.
Support Halloween Love
If an item was discussed in this article that you intend on buying or renting, you can help support Halloween Love and its writers by purchasing through our links:
(Not seeing any relevant products? Start your search on Amazon through us.)