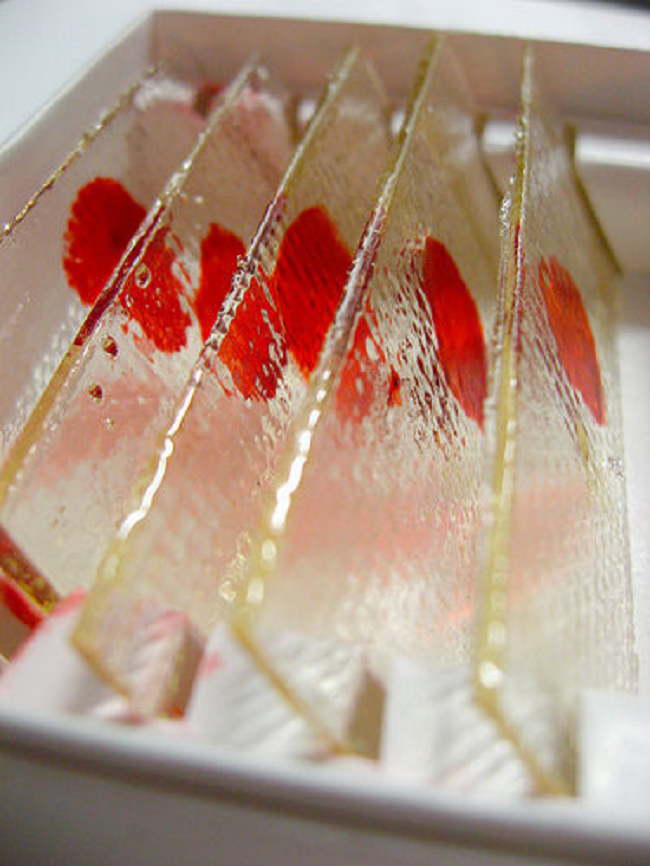 Forensic analyst by day and serial killer by night, Dexter murders evil criminals who slip through the cracks of Miami's defective judicial system. He then places a drop of their blood on a glass slide and tucks it away in his slide box.
Create your own "trophy case" of edible slides this Halloween with this cheap and simple recipe. If you're "Type A", follow the recipe to a "t". Are you a more laid-back "Type B"? Create a broken glass look by shatter this sugar sheet into large fragments and saturating them in red food coloring, or take a step over to the supernatural side by displaying the greenish blood of ghouls and goblins.
Ingredients
1 cup of sugar
1/3 cup of light corn syrup
2 tablespoons of water
Red food dye
Green food dye (Optional)
Colorless extract
A tooth pick
2-quart sauce pan
Pastry brush
Parchment paper
Cookie sheet
Knife
Latex gloves
Tweezers
Slide box
Directions
Step 1
Mix sugar, light corn syrup, and 2 tablespoons of water in a 2-quart sauce pan, and bring it to a boil. Stir the mixture for 5-7 minutes until the sugar dissolves, and it turns a golden-brown. To prevent crystals from forming on the sides of the pan, dab them with a pastry brush dipped in cold water.
Step 2
Line a cookie sheet with a two or three pieces of parchment paper. Add your favorite colorless extract (almond, orange, mint, espresso, etc.) to your melted sugar mixture then pour it into the center of the pan. Use the flat edge of your knife to spread the sugar into a thin, flat sheet. Let the mixture cool and harden for 5 to 10 minutes and then pull it away from the parchment paper.
Step 3
Place the blade of your knife directly into your gas burner to heat it up. If you have an electric stove, heat your blade with a lighter. Once the blade is piping-hot, cut the sheets of sugar into strips. Then cut the strips into 3X1 in or 76.2X25.4 mm rectangles. To prevent sugar from caking to your blade, make sure to rinse and reheat it before each cut. If the slide's edges are rough, smooth them out by dipping your finger in water and gently rubbing them. Leave your slides on the baking tray and refrigerate them for at least 15 minutes.
Step 4
Remove your slides from your refrigerator. Smear a small droplet of blood (red food dye) in the center with a toothpick. Place your slides back in the fridge or behind your air conditioning unit like Dexter until the dye hardens. Then serve the bio-hazardous blood of your victims on slides in a slide box with a pair of tweezers and latex gloves.
Support Halloween Love
If an item was discussed in this article that you intend on buying or renting, you can help support Halloween Love and its writers by purchasing through our links:
(Not seeing any relevant products? Start your search on Amazon through us.)