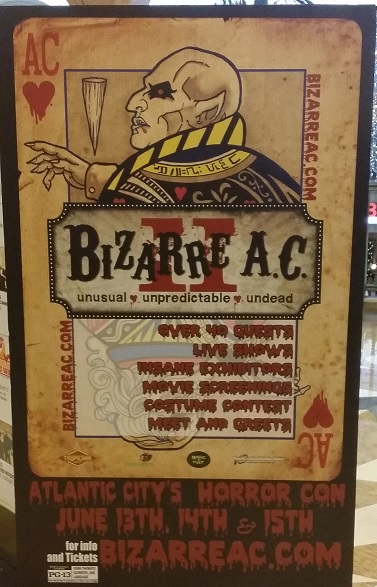 I'll never forget the first time I attended a horror convention, which was Maryland's HorrorFind Weekend, sometime in the early 2000s. Not yet the jaded horror fan I am today, I was a fresh-faced youngster at the time, absolutely in awe of everything that was going on throughout the hotel.
You're telling me I can buy a vintage Freddy Krueger toy in one room, and then take a picture with Jeffrey Combs in the next? Seriously? This is actually happening?
Unfortunately, as is the case with most everything in life, those early feelings of sheer childlike excitement quickly dwindled, and I've admittedly become less and less interested in the convention scene, with each passing year. The fact of the matter is that I've attended so many of them over the years that they've just plain lost their luster.
Don't get me wrong; they'll always be a whole lot of fun, but I've made peace with the fact that it'll never be like it was those first couple of times. Despite what Madonna will have you believe, you can never go back to being a virgin, once the cherry's been popped.
All that being said, I found myself pretty excited to head to Atlantic City this past weekend for Bizarre AC, mostly because it was a convention I had never before experienced. After attending Monster Mania and nothing but Monster Mania for the past decade, I was needless to say ready for something new, which was what the second annual Bizarre AC seemed poised to offer up to me.
Situated inside of Atlantic City's massive Tropicana Hotel – which is essentially a mall/casino that you can sleep in – Bizarre AC was largely comprised of two decently-sized rooms on a floor above the casino, each containing a mixture of vendors and the usual cast of characters that I've come to find comfort in seeing on the convention circuit.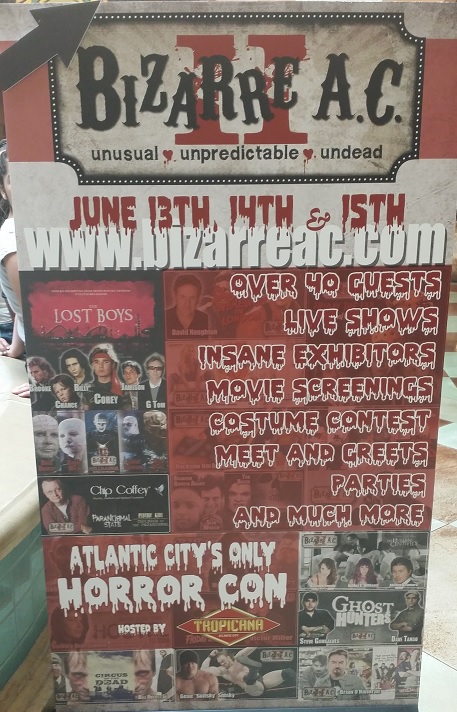 In the first room, artists and dealers were side by side with the casts of The Lost Boys and the original Dawn of the Dead, along with stars from Pet Sematary, Friday the 13th: The Final Chapter and even Clerks – hey, it was filmed in New Jersey and most horror fans seem to dig it, so why not, right?
One thing I immediately noted is that Corey Feldman was nowhere to be found in this room, despite the fact that one of the big draws of the show was the Lost Boys Reunion. Corey was at the show, but he was hidden away in his own special separate room, which should give you a good idea of how highly he thinks of himself. The fact that he wasn't sitting in the section of the room reserved for the Lost Boys cast and crew spoke volumes of who Feldman is as a person, and needless to say I heard many negative stories about him throughout the weekend.
Personally, as much of a fan as I am of his childhood roles, I had absolutely no interest in meeting an adult Feldman, and there were really only two guests that I did feel compelled to shell out my hard-earned dollars to meet, the first of whom was wrestling legend "Hacksaw" Jim Duggan.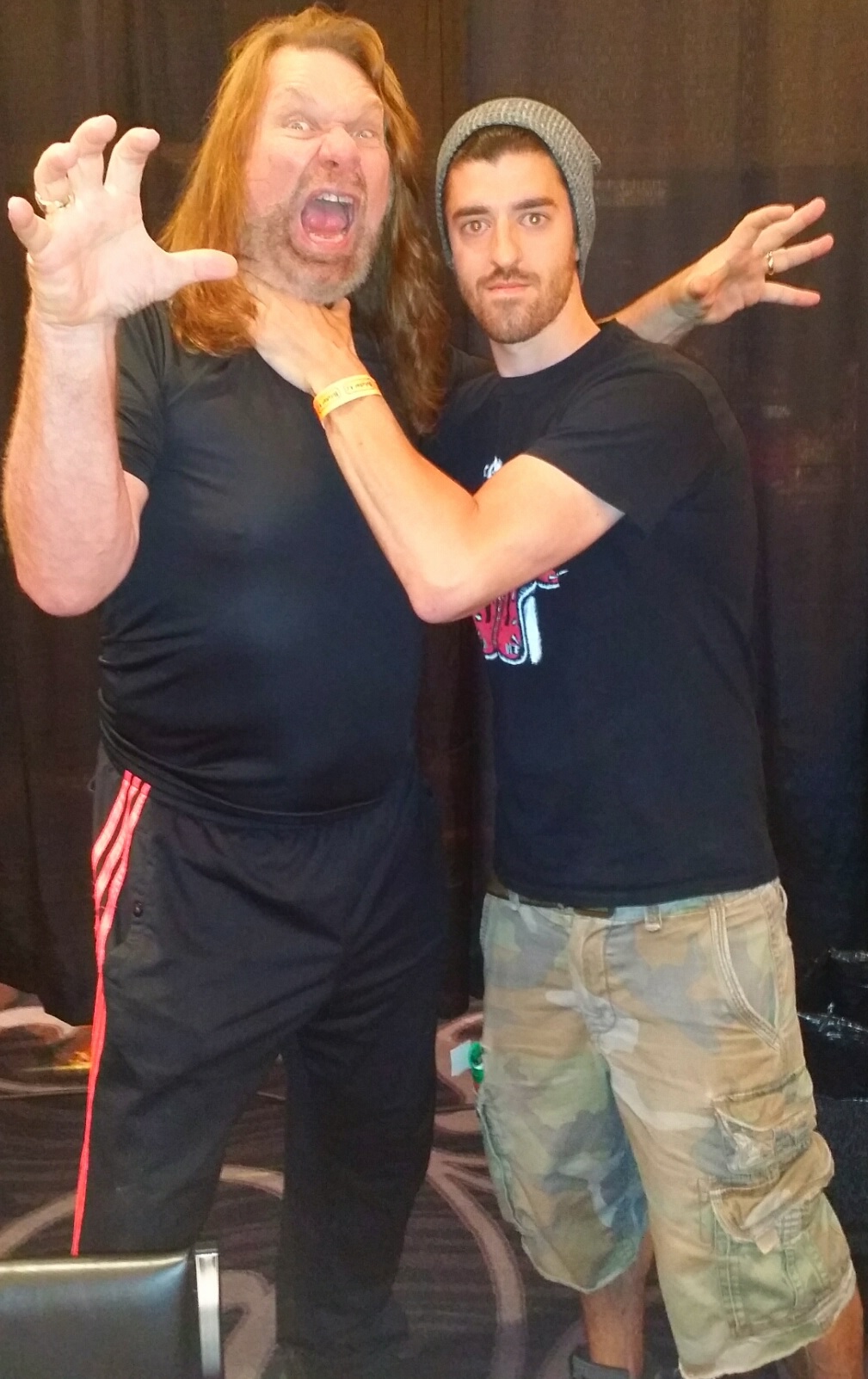 I've been a wrestling fan my whole life and Hacksaw always seemed like one of the most kind-hearted people in the business, a fact that was solidified for me during our brief chat. It was actually my wife who insisted we meet him – she became a fan through the reality show Legends House – and I'm glad we did, because the encounter was one of the best experiences of the weekend.
We took a few pictures with Hacksaw and talked about everything from yoga to a new horror movie called Pro Wrestlers vs. Zombies, which he stars in. The movie was actually playing that night in one of the screening rooms, though the allure of gambling, drinking and soaking in the various sights and sounds of Atlantic City ensured that we wouldn't be attending any events of that sort – more on that in a little bit.
Also in that first room were the Chido Brothers, the trio behind Killer Klowns from Outer Space. Not only did they write and direct the film but they also created all the Klowns for it, and in fact they're mostly known for their special effects work – movies like Critters and Ernest Scared Stupid would've never been the same without the Chiodos.
Not only are my wife and I big fans of Killer Klowns but it's actually the movie that made us realize how much we had in common, early in our relationship – the moment I learned that she was a fan, and owned the movie, I knew I had found the one. Needless to say, the movie holds a special place in our hearts.
We chatted with Charles Chiodo for a few minutes, mostly about the long talked about sequel Return to Killer Klowns from Outer Space 3D. As I learned, the main issue with the project is that MGM owns the right and they just don't feel there's enough fan interest to fund a sequel, which has essentially tied the hands of the brothers Chiodo. They want to make it, and Charles seemed incredibly passionate about getting the ball rolling, but without MGM's approval, it's just not going to happen.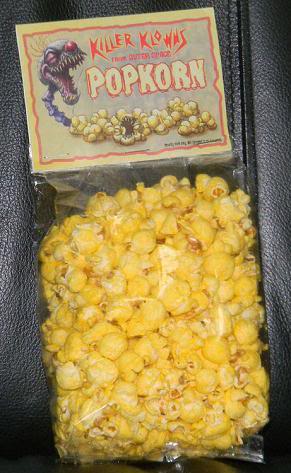 That said, Charles did talk about potentially doing a Killer Klowns TV series at some point, rather than a sequel, which he seemed hopeful about. He also mentioned creating brand new original clown characters and just doing a totally original clown movie, which wouldn't really have anything to do with Killer Klowns. Would be cool to see, but it's ultimately a damn shame that MGM just doesn't give the brothers a few millions bucks to make a true sequel, because that's just something that needs to happen.
Ended up buying a bag of 'Killer Klowns Popkorn' that they were selling at their table, which all of them signed for only $10. Charles was such a nice guy, and so willing to talk, and I'm glad that I finally got to meet him and his brothers. There are very few guests on the convention scene that I still have a desire to meet, and they were definitely on that list.
The second room, which was much larger and with much more going on, was jam packed with both vendors and celebs, including a Hellraiser reunion, the three pieces of The Human Centipede and various other familiar faces. For the most part, the vendors were much the same as the ones you'd find at any other convention, though the overall 'bizarre' theme of the con allowed for a few who wouldn't exactly fit in at a regular convention.
The most notable example would be the dude selling chocolate covered bacon, which is a table you'd expect to see at a beer festival – I say this because I've seen the same table at a beer festival. My wife and I walked past at one point and the guy tried to hand us an 'I Love Bacon' hat, which made for a pretty humorous interaction, given the fact that we're both vegetarians. So my apologies for turning down the free hat, sir, but we're just not your target audience!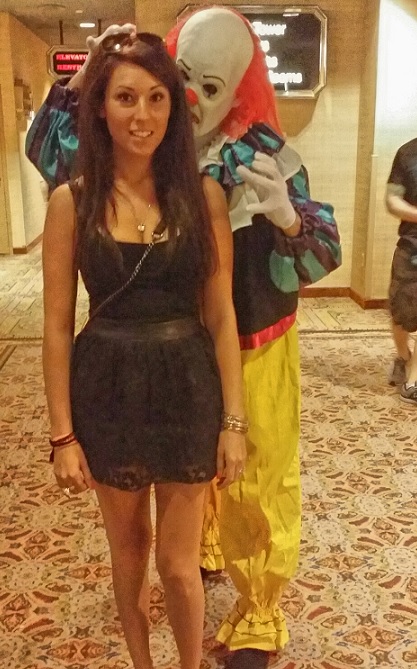 What was most interesting about the second room was that there was a stage set up in the corner, where various things were going on throughout the weekend. At one point, a short film was being shot on the stage while at another, people were eating worms and doing other gross things for money. I believe there was even a screening of The Toxic Avenger with live Lloyd Kaufman commentary at one point, which was likely a pretty fun thing to witness.
The cool thing about Bizarre AC, as opposed to most other conventions, is that there were so many fun things like that going on, to break up the monotony of the usual Q&As and movie screenings. In addition to those usual convention events there were also all sorts of nighttime parties and various different activities, which is something I'd like to see other conventions adopt and run with. Again, these things get boring after you've been to a handful of them, and so it was refreshing to see attempts made to liven the event up a bit.
As I briefly touched upon above, the problem was that there's so much else going on in Atlantic City, and inside the Tropicana hotel, that the convention was essentially swallowed up, to the point that it almost didn't even feel like a convention was going on. That usual convention atmosphere just wasn't felt, as least not by me, as the two rooms were so spaced out, with so much non-convention stuff in between.
One of the fun things about horror conventions is being inside of a hotel that's been totally taken over by the convention, and by horror fans, and that feeling was very much absent, due to how massively large the Tropicana is. It's somewhat of an ironic complaint, given that I've spoken outwardly about the fact that the Monster Mania hotel is too small for how big the event has become, but I couldn't help but feel that the Tropicana was just plain too big for this one.
When there's so much else going on, it's hard to stand out and grab attention, and I admit that my group really didn't get the full Bizarre AC experience, because we were constantly being lured away from the convention by the sounds of spinning slot machines and the desire to hit the boardwalk and pound back adult beverages. There wasn't even a bar inside either of the convention areas, which further contributed to the whole thing not feeling all that much like a convention.
Again though, these aren't really complaints about the convention so much as they are about the venue. I'm just not sure that the heart of Atlantic City is the best place for a horror convention, and I can only imagine that the vendors didn't make all that much money. After all, I'd rather toss a $20 bill into a slot machine and attempt to turn it into more money than drop that same $20 on an autograph from the Female Cenobite. Personally, I spent very little money inside the convention, for this very reason.
I feel there's great potential for Bizarre AC in the future, I just hope that it will eventually break out of the shadow of Atlantic City, and carve out more of its own space in the area. This being only the second show, I definitely feel it'll end up becoming a force to be reckoned with on the horror convention scene, so long as that communal atmosphere becomes more present, going forward. Ultimately, that's what conventions are all about.
Not sure if my friends/fellow attendees Matt and Jay are going to be doing their own recaps of the event, but be sure to check out their sites Dinosaur Dracula and The Sexy Armpit, which are two of my favorites on the web. They didn't pay me to type that. Not nearly enough, at least.
Support Halloween Love
If an item was discussed in this article that you intend on buying or renting, you can help support Halloween Love and its writers by purchasing through our links:
(Not seeing any relevant products? Start your search on Amazon through us.)