Chainsaw Confidential: How We Made the World's Most Notorious Horror Movie is written by Gunnar Hansen and it chronicles the making of The Texas Chainsaw Massacre.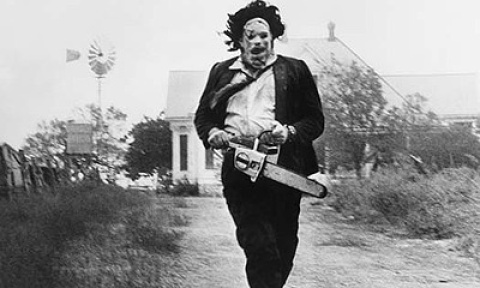 I could give a straight up review of this book but instead I'd like to take you on a little journey that, I hope, will support my review a bit and give some insight.
Chain Saw was always one of those movies that I loved but couldn't watch. I understood it as being powerful, epic and absolutely terrifying. Being a sensitive person who loves horror is not an easy line to walk. Something about how horror movies that were filmed in the 70's – maybe the grittiness or the fact that most seemed to be shot in darkness – just really freaked me out! And (40 year spoiler alert!), when Sally is being driven away in the truck screaming I just felt so hopeless. Like maybe it would have been better had they killed her. Just the thought that death is sometimes the best option really scared me.
Fast forward to 2011. I was rooming with a guest at a horror convention. Who the guest is is not important. I'll just keep that to myself lest I be accused of name dropping. My friend knew Gunnar and at one point she, myself and Leatherface himself were riding an elevator together. "Keep cool", I told myself. They chatted, I tried not to pee myself, it all worked out. As far as I know I didn't make a fool of myself. At least not on that occasion. That was my first encounter with him.
Fast forward again to 2013 at another convention but this time I was volunteering. I was put in a room of actors to take care of and lo and behold Gunnar Hansen was there. I didn't mention that we'd met already because how could he remember me and what was the point of making him feel bad for not? Instead I got him whatever he needed, as was my job, and enjoyed the conversation we would have on and off. Eventually I realized that I really enjoyed talking to him. He's the kind of guy I'd want to be friends with – Leatherface or no. As a horror fanatic it can be hard to forget that these people are so much more than their films but he made it easy and before I knew it I was genuinely hoping we'd stay in touch. My fist stayed in touch with his jaw in the photo below, but that's not entirely what I meant.
Too many months later I finally had the free time I needed to pick up a copy of Chainsaw Confidential. I devoured it (no pun intended) in no time flat.
The book takes us through the film making process, to each and every on screen kill. Hansen exposes the geurilla film making style of the time which, frankly, left me feeling scared for the actors and relieved that they were all able to continue making the film. As a low budget artist I understood everything that he was saying, it resonated within me and I reminisced about all the stupid things I'd done for art or, as they say, to "get the shot".
More than that, we're given insight into how the actors and other prominent horror figures felt about the filming and about horror in general. The cohesiveness of the book made it easy to understand and imagine. At every turn I found myself wanting to put the movie on so I could visually see just what he was talking about. The story was compelling and breathed new interest in the film into me. For the first time I feel that watching Chainsaw may not be a harrowing experience. Maybe, just maybe, I can enjoy it from the perspective the book gives – one of technical difficulties, missteps and happy accidents all coated in goo and decaying body parts.
The book takes us even further beyond the filming and into the release, public emotions and opinions, criticisms and praise to where it all stands now forty years later. And last, but not least, Gunnar writes exactly as he speaks. With whit, passion and cleverness.
Chainsaw Confidential is a truly wonderful, easy read for horror and non horror fans a like. If I had to wager I'd say that you'll find yourself itching to watch the original film once you finish. And if you're ever lucky enough to be at a horror convention with Gunnar go talk to him! Don't let that towering, cannibalistic facade scare you off. I'm sure if you hand over your book for a signing you won't lose any fingers.
Support Halloween Love
If an item was discussed in this article that you intend on buying or renting, you can help support Halloween Love and its writers by purchasing through our links:
(Not seeing any relevant products? Start your search on Amazon through us.)