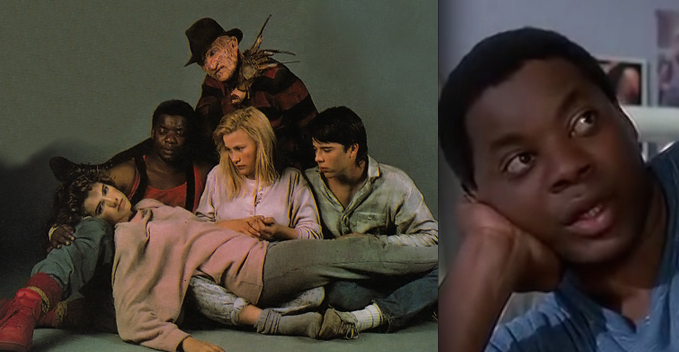 When it comes to successful and high quality sequels, the early days of the Nightmare on Elm Street franchise are hard to beat.
The original is a terrifying and dark classic that seems to just get better with age. Freddy's Revenge tried something a little different but thanks to strong casting and surprisingly layered characters the end result was a powerful movie that is steadily getting the praise it deserves … Then, Part 3 :Dream Warriors, brought the story back to its roots and in doing so dragged along some familiar faces, as well as introducing viewers to a wonderful batch of new potential victims for Freddy to torment. It was scary and often spooky, but it also had an 'epic' quality that injected some action and adventure into the series.
Dream Warriors is a 'crowd-pleaser' … I'm not keen on that term but it really is. Crafted in such a way that I've met quite a few people over the years who aren't that interested in horror movies but LOVE it anyway. Bringing back Nancy (Heather Langenkamp), was a wise decision, but in my humble opinion the true magic to be found within Dream Warriors comes from the new, fresh-faced cast members who joined her to battle Krueger once more. They were just all SO damn likeable … each with a unique personality and making the most of a special opportunity.
In my younger days I had two favorites: Kristen (Patricia Arquette), and like most teenage guys at the time I think I was in love with her a little bit … and Roland Kincaid (Ken Sagoes), who had the attitude and strength my 13 year old self longed to be capable of. It's almost easy to dislike the character of Kincaid the very first time you start watching the movie, but as the story progresses you connect with him more and more … finally cheering on a true horror movie hero!
I recently had a chance to communicate with Mr. Sagoes and it was a genuine thrill to discover a bit more about his own real life journey toward spending some time on Elm Street and beyond …
---
Halloween Love: Can you tell me a little about your childhood … was acting/performing a destiny from a young age?
"I was born in a small town south of Atlanta called Stockbridge. We were a poor family, didn't have running water, electric, or a bathroom. In the 5th grade, we had to move to Atlanta because of my mother's health and to be closer to the hospital. But I was always a kick that loved the stage. My first time on stage was in the 4th grade doing lip-singing to The Temptations. And then, I played Joseph in the Christmas play."
HL: How did you land the part of Kincaid in NOES 3?
"To be honest, I didn't think I was going to have a chance. What they asked for, (physically), was for a muscular, small waist linebacker type guy. I didn't have that shape. The day of the audition, I had car problems and had to catch three buses to get there in the pouring rain, plus, I had to go to court that same morning. So I had a serious attitude when I went in to see the casting director and the director – which was Chuck Russell."
"Mr. Russell wanted Kincaid to have an attitude, he told me to read the lines, but say it how a black guy would say it, so I cussed him out. (smile) They thought I was acting, but I was really cussing them out for bringing me in to audition for shit I wasn't right for … short story, I got the part out of nearly a hundred physically built others."
HL: Part 3 famously had a large group of young cast members … was it an exciting set to work on and did you all bond?
"It was very exciting. If I remember correctly, most of us were doing our first film. I had recently completed a high school TV movie with Denzel Washington. Robert Englund and Heather Langenkamp were like a big sister and big brother to us. One of the first scenes we filmed was the scene where we are all in the hospital. We were all together and had a chance to bond and get to know one another. I don't remember any of us having a problem with one another. We were all a team and a close family group. I think that's one of the reasons we worked well together and it showed on screen."
HL: Can you tell me about the moment you first saw Robert in his full Freddy make-up and costume … And had you been a fan of the first two movies before joining part 3?
"I had no idea what "A Nightmare on Elm Street" was … I had not watched part 1 or part 2. My first time seeing Robert was my first day on the set. I had to go into make-up, and there he was sitting in his chair, laughing and telling jokes. Since I really didn't see his face, just hearing his joyful voice, I was kinda shocked when he said, "Hey, Kenny, welcome, I love your scenes. We are going to have some great times." From then on he was the big brother to us all."
HL: For many people Dream Warriors is their favorite entry in the entire series. It seemed to blend horror AND action / adventure perfectly. Looking back now, how do you feel about the movie?
"Honored. Blessed. I think it will be a classic for its time, it WILL stand the test of time. Of course, if I had known then what I know now, I would not have thrown a damn thing away. 'Youth' that's all I will say. Young and didn't know what I was a part of. You live and you learn. But I have been a part of one of the best … I'm grateful."
HL: Do you have one memory or moment from your time working on Part 3 and Part 4 that you remember most fondly?
"On part 3, the fun part was the group in the hospital scene, that's where Laurence Fishburne taught me about physical acting. He took me to the side and told me I was working too hard. That I was a good actor, but just to be me and let the character come from inside of me. I said that I remember it the most because I was learning and being paid at the same time. Of course, I had a chance to say some great lines like, "F*&K You, You sit down, anybody tries to put me to sleep gonna get their ass killed!" Something like that, don't remember exactly … In part 4, hands down it was the junk yard scene, "Freddy's back, Freddy's back…" and then to see a dog piss fire. "F*&kin' A!" Can't put a price on it."
HL: Finally, What does the immediate future hold for you and news of any projects you can share with us?
"I am still very much working as an actor. I have a non-profit organization called, Giving Back Corporation, where I send kids to camp and pay for their books and supplies when they go to school. Most presently, I am working on raising funds for a short-film that I hope will become a feature. It's called, "The Secret Weapon." It's a powerful story about when children took a stand in the 60's and gave power back to the Civil Rights Movement. It was an event that touched people all over the world. I need pledges if anyone would care to help support me. To get more information, go to: www.thesagoescompany.com"
---
A HUGE thank you to Ken for taking some time to answer these questions, it really was a pleasure to communicate with such a friendly and obviously passionate actor. For more information on the project he mentioned just follow the link above … and for ALL his latest news and thoughts give his facebook page a like which can be found here.
Support Halloween Love
If an item was discussed in this article that you intend on buying or renting, you can help support Halloween Love and its writers by purchasing through our links:
(Not seeing any relevant products? Start your search on Amazon through us.)