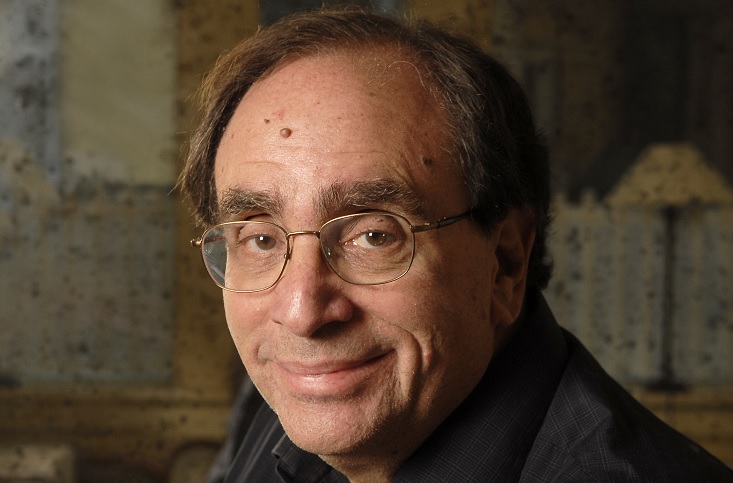 Two decades after becoming a household name, the 70-year-old R.L. Stine is still to this day as busy as ever, his Goosebumps series showing no signs of slowing down and his Fear Street series making its triumphant return on September 30th.
In 2015, Stine's work will be introduced to brand new audiences in the form of a long-awaited, much-delayed feature film adaptation of the Goosebumps books, along with an MTV series based on one of his more recent novels, Eye Candy.
Needless to say, Stine is not just busy as ever but also relevant as ever, and his 128,000 Twitter followers serve as evidence of that fact. Last week, Stine used the social media platform to conduct a little question & answer session with his fans, and he revealed many interesting little tidbits during the live chat.
As a huge fan of R.L. Stine, who I credit for introducing me to all things horror at a young age, I was paying close attention during the Q&A, and I plucked out 10 answers that will likely be of interest to all fellow fans. So check 'em out below!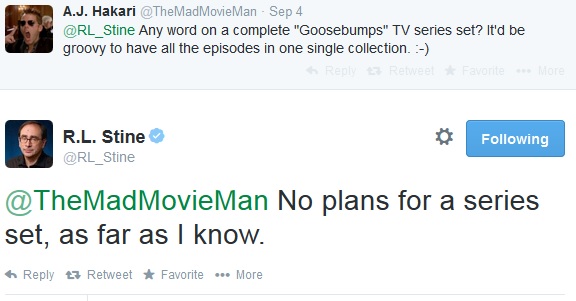 1 – There are currently no plans to release the entire Goosebumps TV series on DVD.
This is quite frankly a heartbreaking piece of news, though much comfort must be taken in the fact that the entire series is currently available for streaming on Netflix. Also, most episodes were released a few years back as part of multi-episode DVD collections, which will have to do for now. I bet if the Goosebumps movie does well in theaters, it won't be long before the long-awaited DVD set is finally made a reality, so here's to hoping!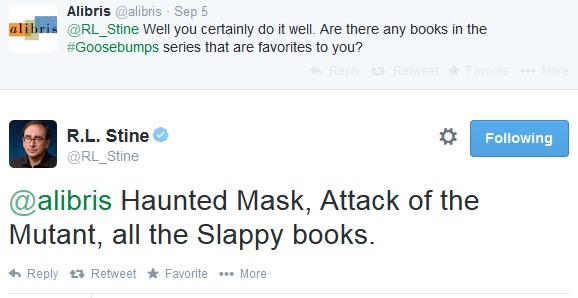 2 – Stine loves The Haunted Mask, Attack of the Mutant and anything with Slappy in it.
If you threw me on a desert island and told me that I could only bring one Goosebumps book with me, I would – without a moment's hesitation – toss The Haunted Mask in my survival kit, as it's always been my personal favorite. So I'm right there with ya on that one, Mr. Stine!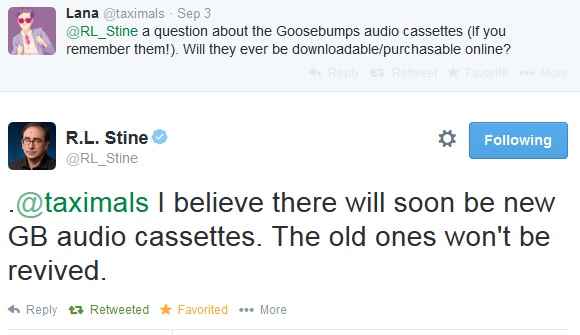 3 – New Goosebumps audio cassettes are on the way.
Back in the 1990s, at the height of the Goosebumps series' popularity, audio versions of many of the most popular books were released, including The Haunted Mask, A Night in Terror Tower and A Shocker on Shock Street. The fact that new ones are in the works suggests that the movie will be spawning a revival of Goosebumps merchandise, which makes me very happy for the kids of today – and for myself!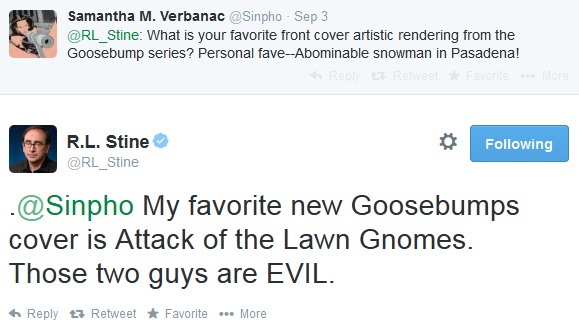 4 – The lawn gnomes are coming back…?
1995 saw the release of the book Revenge of the Lawn Gnomes, which was followed up in 2012 by Planet of the Lawn Gnomes. Unless Stine made a typo here, I think he just revealed that the series will become a trilogy with a new book called Attack of the Lawn Gnomes – though again, he totally could've meant Revenge or Planet.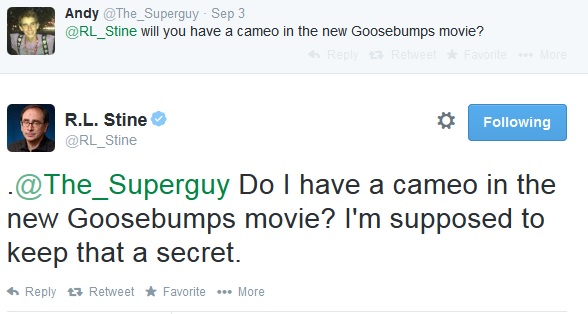 5 – Stine will likely have a cameo in the Goosebumps movie.
Though Jack Black is playing the character of R.L. Stine in 2015's feature film, many have been wondering if Stine himself will have any sort of cameo, and I'm pretty sure he just revealed that he will – without directly revealing that he will. Would love to see him in the movie in some capacity, so again I say, here's to hoping!

6 – There's a reason Slappy looks like Jack Black…
As many noted when the first images from the movie hit the net, Slappy looks like a ventriloquist dummy version of star Jack Black, and Stine hints that there's a reason for that. I guess we'll just have to wait until next August to find out what that reason is!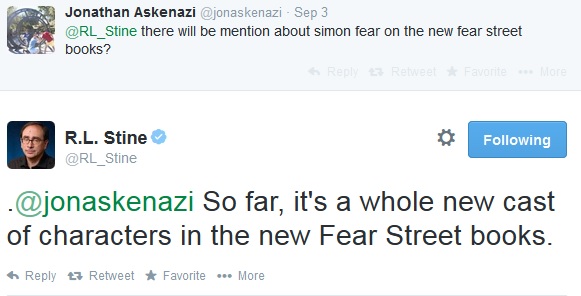 7 – New Fear Street books will focus on brand new characters.
As mentioned up above, Fear Street returns later this month with the release of Party Games – the series' first book in nearly ten years. Five more new books will follow, and it looks like they'll center entirely on new characters, rather than ones familiar to Fear Street readers. One of the main characters in Party Games is Brendan Fear, for example, a member of the infamous Fear family that we haven't yet met.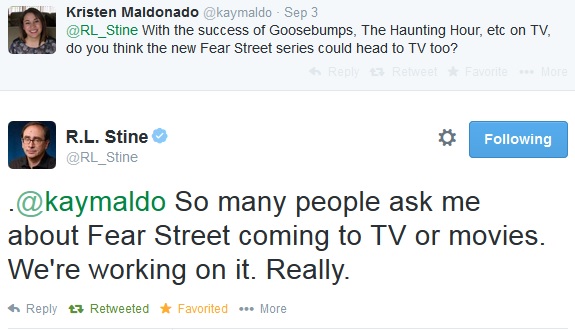 8 – Fear Street may come to the big and/or small screen.
The Fear Street series never managed to leap off the page the way the Goosebumps series did, and Stine hints at the possibility of that changing, somewhere down the line. Whether or not that happens is likely tied to the success of the new books and the Goosebumps movie, so be sure to vote with your money and support both!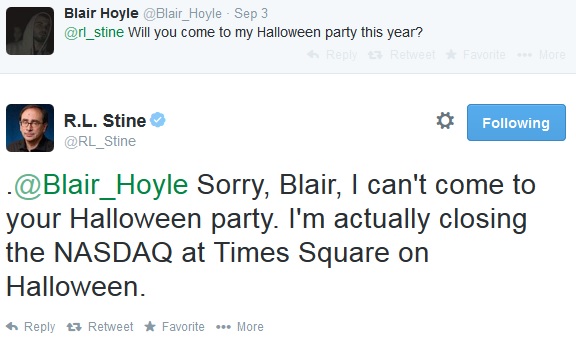 9 – Times Square gets Goosebumps this Halloween.
Though Stine won't be accepting any invites to Halloween parties this year, you can come to his if you live in the New York City area, as he revealed he'll be making a special appearance on Wall Street. The city's annual Halloween parade takes place on that very same night, so there's truly no better place to celebrate the holiday this year than New York City!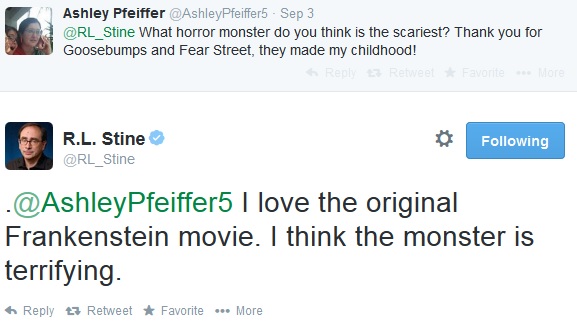 10 – R.L. Stine is afraid of Frankenstein.
What scares the man responsible for scaring hundreds of millions of kids? Well, it aint Aaron Eckhart, that's for damn sure!
If you're a fan, be sure to follow R.L. Stine on Twitter, as he's always got interesting things to say and is always happy to interact with his fans!
Support Halloween Love
If an item was discussed in this article that you intend on buying or renting, you can help support Halloween Love and its writers by purchasing through our links:
(Not seeing any relevant products? Start your search on Amazon through us.)