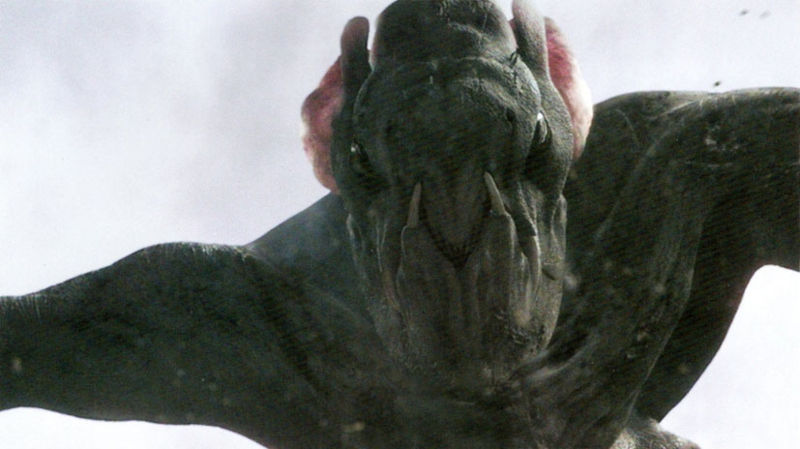 It was on this day in 2008 that I sat down in my local theater to watch Cloverfield, a movie that I knew very little about at the time. In fact, I knew almost nothing about it, and that was certainly by design. The marketing for the J.J. Abrams-produced monster movie was so brilliant and wonderfully secretive that it's become legendary, and the excitement of not knowing what I was getting into on the night of January 18th, 2008 made for an experience that I'll never forget.
(It didn't hurt that the movie itself totally lived up to the "hype.")
Cut to eight years later.
This past Thursday night, just as I was about to turn off the computer and go to sleep, my Twitter feed exploded with mentions of Cloverfield 2, a film that had apparently been shot, in secret, behind all of our backs. Long story short, that alleged sequel is titled 10 Cloverfield Lane, and the trailer (below) for the Abrams-produced movie – due in theaters on March 11th – hit the net soon after audiences who went to see Michael Bay's 13 Hours were surprised with it.
A whole lot has been written and speculated about "Cloverfield 2" in the past few days, but the only thing we really know for sure is that it is, in some way, connected to the 2008 film. According to Abrams himself, it's a "blood relative" to Cloverfield, a coy statement that has only served to deepen the mystery behind what has quickly become 2016's most anticipated movie – a movie, I must remind, that none of us knew anything about until this past weekend.
As it turns out, 10 Cloverfield Lane was shot under the working title Valencia – a film that movie news sites had previously reported on – and it centers on a young woman who wakes up after an accident and finds herself locked in an underground shelter by a man claiming that the outside world has been left uninhabitable by some sort of attack. Of course, the assumption is that the movie takes place in the same universe as Cloverfield, and what's presumably going on outside the shelter is that the monster we first met back in 2008 is wreaking all kinds of havoc.
Was Valencia turned into a Cloverfield spinoff at some point during the production or was the plan always that it was going to be a pseudo-Cloverfield sequel? It's impossible to tell at this point in time, though fan theories are running rampant across the internet. We haven't yet seen strange, clue-filled websites pop up like they did back in '08, but the viral approach to marketing 10 Cloverfield Lane surely feels familiar to anyone who had an internet connection eight years ago. And once again, it's precisely because we know so little that the impending release is so exciting.
For all the good that comes from the internet, there's also a huge downside to the unprecedented access we have to, well, pretty much everything. When it comes to movies, we often know everything there is to know at least a year before they're released, and many times well before they're even shot, as things like concept art, set photos, and script details clutter movie sites to the point that it's impossible to avoid spoilers. Every detail we learn about a movie before seeing it has the potential to spoil the fun of that eventual experience at the theater, whether we even realize it or not.
For a movie like 10 Cloverfield Lane to be shrouded in such secrecy, in the year 2016, is pretty remarkable, and the sleight of hand magic trick pulled off by Abrams and company – no matter what the film actually turns out to be – is something we should all be praising right now. In a marketing climate filled with teasers for teasers and trailers for trailers, the film formerly known as Valencia – like its "blood relative" before it – is reminding that less is sometimes so much more. And if all movies were marketed this way, at least to some degree, I can be pretty certain that going to the movies would be a whole lot more fun.
When I take a seat in my local theater on March 11th, I will once again find myself in the position of having no idea what I'm about to witness over the course of the next two hours. And that thought, the anticipation of that feeling, has me excited about movies in a way that I haven't really been in a long time. I may see a familiar-looking monster on that night and I may not – keep in mind, I urge you, that anyone calling the film "Cloverfield 2" is doing so as a traffic-baiting tactic – but one thing is for certain: I will be in that theater, and I'm already counting down the days.
Bring on the fan theories. Let's have all the fun that we can with this bad boy.
Support Halloween Love
If an item was discussed in this article that you intend on buying or renting, you can help support Halloween Love and its writers by purchasing through our links:
(Not seeing any relevant products? Start your search on Amazon through us.)