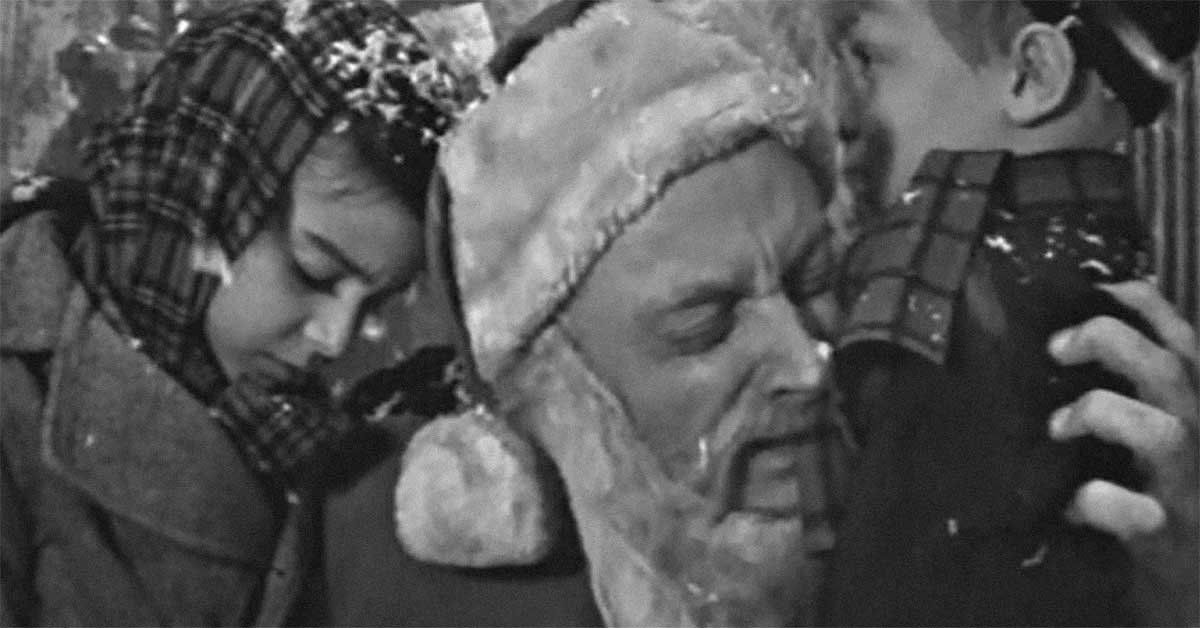 They say that the only two things that you can count on in this life are death and taxes. I would like to respectfully amend that time-honored list to include The Twilight Zone and maybe take taxes off altogether. The new phrase would go something like "Yes, you will die one day, but at least you'll get to watch The Twilight Zone before you do."
You see, I can't think of a time in my life when The Twilight Zone wasn't somewhere in the background. If I can credit my parents with anything, it would be for at least ringing in the new year with The Twilight Zone and then whenever the mood happened to strike them. Watching endless black and white episodes of The Twilight Zone is still my New Year's Eve tradition. Some people like to drink. Some people like to eat 12 grapes at midnight. I like to hang out with my buddy, Rod Serling, get a good fright, and eat chocolate-covered Entenmann's donuts.
The Twilight Zone is a constant in my life and was also here for me this Christmas, as a soon to be divorced woman. If there was one thing I was looking forward to for the holiday, it was definitely watching "The Night of the Meek." Not only is it my favorite episode of The Twilight Zone, it's my favorite Christmas show of all time. You can keep A Christmas Story and White Christmas. I just want 25 minutes of this cinematic Christmas glory and feel all warm and fuzzy at the end.
"The Night of the Meek" represents the true spirit of Christmas. Although the main character is an alcoholic department store Santa ("I can either drink, or I can weep, and drinking is so much more subtle."), this particular episode has nothing to do with materialism. Instead, and thankfully so, it shows us the importance of giving during the holiday season, and in particular to the less fortunate among us. If you pay close attention, you'll see the writing is literally on the wall, as there are signs that say "Love Thy Neighbor."
Now, you may be wondering why I'm not giving you more vivid details about "The Night of the Meek." After all, isn't this post supposed to sell you on the idea of spending 25 minutes of your time on it? The truth is, I'm doing that on purpose. I want you to experience this episode without any spoilers.
Just know that Henry Corwin (played by Art Carney) will soon be your favorite Santa Claus of all time. You may come to love him so much, that you will end up naming your next cat or dog after him. You see, I hold "The Night of the Meek" very close to my heart and I hope you will too. If it becomes a Christmas tradition in your family, then I have done my job.
I will, however, share some of my favorite lines from this special episode:
"Someone should remind her that Christmas is more than barging up and down department store aisles and pushing people out of the way. Someone has to tell her that Christmas is another thing finer than that. Richer, finer, truer, and it should come with patience and love, charity, compassion."
"I live in a dirty rooming house on a street filled with hungry kids and shabby people, where the only thing that comes down the chimney on Christmas Eve is more poverty."
"I can't think of what I want. I guess, what I really wanted was to be the biggest gift-giver of all time."
And dear reader, don't feel bad for me. I was not alone this Christmas. I watched "The Night of the Meek" with my boyfriend. I suggest you watch it with someone you love as well. I'm still counting on The Twilight Zone to always be there for me and I don't deny that death is something no one among us can escape.
However, this year I will add love to the list of things that we can all count on in life. The phrase should now be, "Yes, you will die one day, but at least you'll get to watch The Twilight Zone before you do, and somewhere along the way, you may find love."
Support Halloween Love
If an item was discussed in this article that you intend on buying or renting, you can help support Halloween Love and its writers by purchasing through our links:
(Not seeing any relevant products? Start your search on Amazon through us.)