In honor of Valentine's Day I'm going to present five of my favorite horror movie duos. Of course these are open to interpretation but I think you'd be hard pressed to disagree.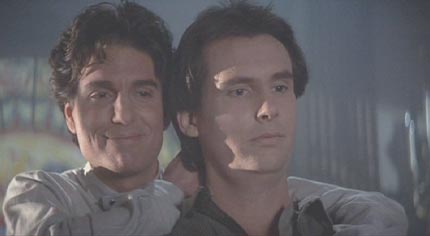 5. Coming in at number five is Jerry Dandridge and Billy Cole from Fright Night. This may be the most controversial couple on my list but, let's face it, nobody is really sure of their relationship. I guess having a loyal man servant doesn't necessarily mean Jerry swings both ways but..ya know…it doesn't mean he doesn't. There are a lot of unanswered questions about Billy in general, like what kind of creature he is, but he's willing to die for Jerry. Listen, I'm just sayin'.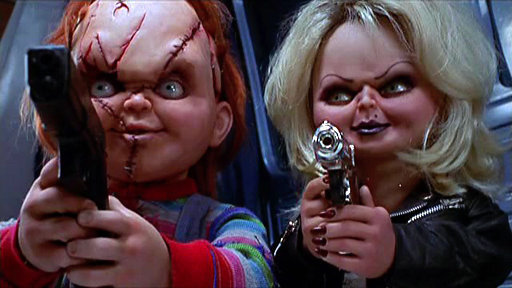 4. The couple that slays together, stays together. This is certainly true of duo number four on the list, Tiffany and Chucky from Bride of Chucky. Any love that can withstand the transition from flesh and blood to plastic has to be something pretty special. I'm just glad Chucky found himself a nice lady to settle down with. His obsession with little Andy was getting to be a bit much.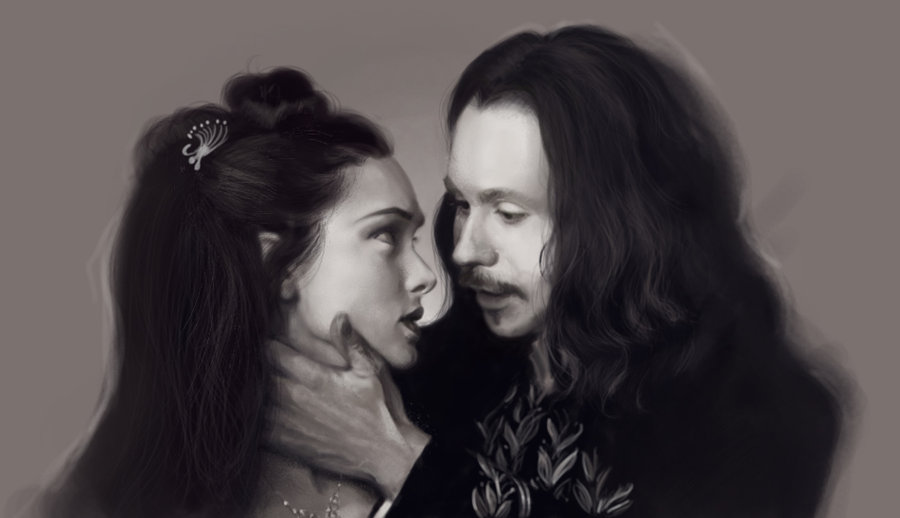 3. "I've crossed oceans of time to find you." Excluding one performance, Bram Stoker's Dracula is a visual delight that tells the tale of a very lonely, very sad vampire trying to get back to his one true love. It can be argued that Mina Harker didn't really love Dracula, that she was enchanted into following him, but I'm not sure I share that opinion. Wether she chose to stay with him or not the passion and temptation put this couple at number three.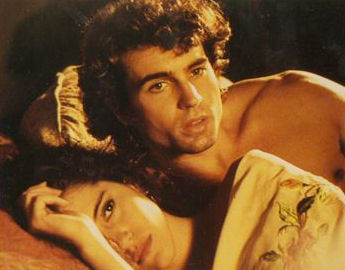 2. Young love can be fleeting, but there's something to say about taking out a whole pack of vampires with your boyfriend. Do you really ever break up after that? That's a lot of baggage to bring into your next relationship. Coming in at number two is Star and Michael from The Lost Boys. From the moment they laid eyes on each other they somehow knew they'd make sweet, sweet love in a cave one night. And once Michael sets her free from her vampire curse, well, that pretty well seals the deal.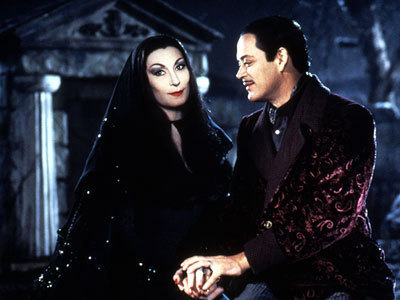 1. Gomez and Morticia Addams redefine what it means to be in love, and we've gotten to enjoy that through all the incarnations of The Addams Family. They demonstrate what it means to get someone else's weirdness. And not just get it, but embrace it and have equally creepy offspring.
Support Halloween Love
If an item was discussed in this article that you intend on buying or renting, you can help support Halloween Love and its writers by purchasing through our links:
(Not seeing any relevant products? Start your search on Amazon through us.)