Find yourself bored by the Academy Awards, and the pandering, Oscar-bait films that are handed nominations and statues of naked gold dudes? Then Fangoria's Chainsaw Awards are for you.
Actually, they're for all of us; all of us who'd rather see people get killed than fall in love. All of us who are more interested in scary stories than inspirational ones. And all of us who'd rather wipe blood from our eyes than tears. We, the horror fans!
Fangoria's annual Chainsaw Awards have long been a staple of the iconic magazine, and though the ceremony was broadcast on FUSE TV in 2006, the winners are nowadays once again announced within the confines of the magazine. As for the voting, that takes place through e-mail, and it is us fans who are tasked with choosing the movies, filmmakers and actors who are most deserving of the golden chainsaws.
This year's full list of nominees have just been revealed over on Fangoria's website, and I wanted to take a moment today to list off my personal picks in each of the categories. So if you care about what I think, read on to find out who and what I've cast my votes for!
BEST WIDE-RELEASE FILM: The Conjuring, Evil Dead, Insidious: Chapter 2, Mama, You're Next
Torn between two choices on this one; Evil Dead and You're Next. I had an absolute blast with both movies, but I'm going to have to give the honor to You're Next, if only because it's an original film rather than a remake. Wasn't a big fan of Mama or Insidious: Chapter 2, and The Conjuring was an incredibly solid flick, though I found it to be a bit too generic and by the numbers.
BEST LIMITED-RELEASE/DIRECT-TO-VIDEO FILM: Berberian Sound Studio, Byzantium, Stoker, V/H/S 2, We Are What We Are
I'm quite glad that I finally got around to watching Stoker last night, because I would've been kicking myself had I voted for another film in this category, and then seen it afterward. I've got a whole lot of love for We Are What We Are, which I thought was exceptional, but Stoker is in a league all its own – as most Park Chan-wook movies are. I just gave it a lengthy review here on Halloween Love, if you want to read my full thoughts.
BEST FOREIGN-LANGUAGE FILM: The Condemned, Here Comes The Devil, Horror Stories, Tormented, Wither
Wow, I am quite embarrassed to say that I didn't get around to seeing any of these movies. So instead of placing a vote for this category, I'm instead going to promise myself that I'll carve out the time to watch all five of these. My apologies to each and every one of them, for being a bad horror fan!
BEST ACTOR: Franciso Barreiro (Here Comes The Devil), Toby Jones (Berberian Sound Studio), Bill Sage (We Are What We Are), Patrick Wilson (Insidious: Chapter 2), Elijah Wood (Maniac)
Though I wasn't as in love with the movie as everyone else seemed to be, I still feel compelled to vote for Elijah Wood's performance in the Maniac remake. Why? Because Wood being cast as Frank Zito was the main reason most horror fans were against the remake, and everyone was left eating their criticisms when Wood proved himself to be an effective replacement for Joe Spinell. Take that, haters. And props to you for proving everyone wrong, Frodo.
BEST ACTRESS: Katharine Isabelle (American Mary), Saoirse Ronan (Byzantium), Juno Temple (Magic Magic), Sharni Vinson (You're Next), Mia Wasikowska (Stoker)
When I look back on the female characters from 2013 horror movies, there's one that stands high above the rest; Erin, from You're Next. Sharni Vinson was totally badass in the role of the final girl who fights back, and Erin will forever go down in my mind as one of the most awesome heroines in horror history. More female characters like her, please.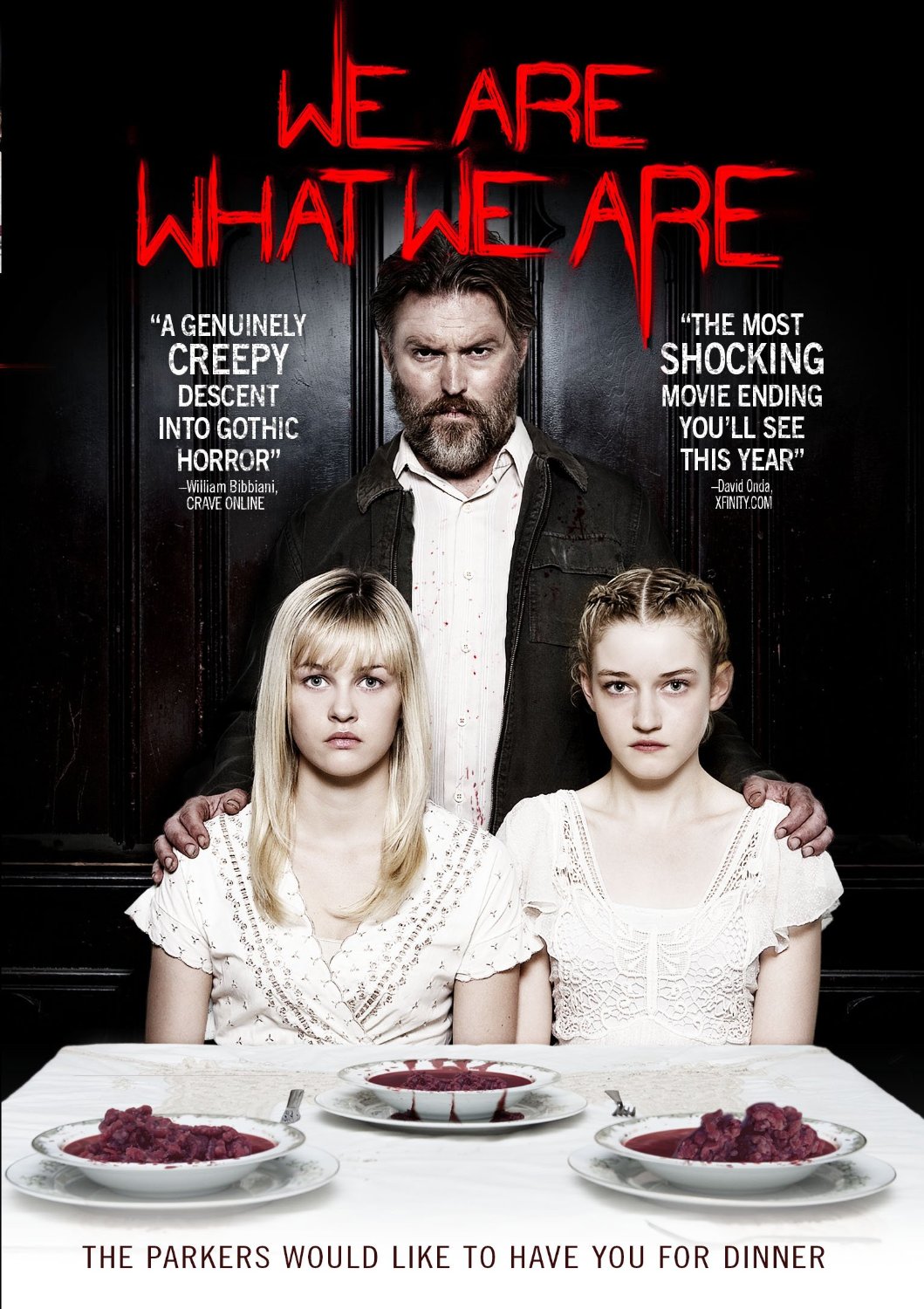 BEST SUPPORTING ACTOR: Matthew Goode (Stoker), Stephen McHattie (Haunter), Michael Parks (We Are What We Are), Lou Taylor Pucci (Evil Dead), Joe Swanberg (You're Next)
My dad has been telling me how awesome Michael Parks is for years now, and only recently have I discovered that for myself. Parks totally won me over with his horrifying portrayal of Abin Cooper in Kevin Smith's Red State, and he again impressed me in We Are What We Are. Though he doesn't get to do nearly as much as I would've liked, he's still one of the best things about the movie, and I'm so impressed with what he's able to do even with the smallest of roles. I finally understand, dad. Michael Parks indeed is the man.
BEST SUPPORTING ACTRESS: Ambyr Childers (We Are What We Are), Julia Garner (We Are What We Are), Julianne Moore (Carrie), Tristan Risk (American Mary), Lili Taylor (The Conjuring)
Carrie 2013 was a totally pointless movie, the kind of remake that does absolutely nothing to infuse anything new into the story it's retelling. And honestly, I wasn't even a huge fan of Chloe Grace Moretz' depiction of Carrie White. Julianne Moore, on the other hand, was absolutely bone-chilling in the role of Margaret White, and in fact it's her performance that is the only thing that makes the movie worth watching. So this one goes to you, Julianne. As if you need any more awards!
BEST SCREENPLAY: Kevin Lehane (Grabbers), Brian King (Haunter), Wentworth Miller (Stoker), Nick Damici & Jim Mickle (We Are What We Are), Simon Barrett (You're Next)
While I was a fan of all five of these movies, and am glad to see both Haunter and Grabbers getting much-deserved shout-outs for being inventive little flicks, the award for this one once again goes to Stoker. Still can't believe the dude from Prison Break is such an amazing writer, and if Stoker is any indication of his talent, then I cannot wait to see what he does next.
BEST SCORE: Broadcast (Berberian Sound Studio), Javier Navarrete (Byzantium), Rob (Maniac), Philip Mossman, Darren Morris & Jeff Grace (We Are What We Are), Jasper Justice Lee, Kyle Mckinnon & Mads Heldtberg (You're Next)
That Rob dude's soundtrack to Maniac is one of the very best things about the movie, the kind of soundtrack that is enjoyable to listen to even outside the confines of the movie. Truthfully, I was delighted more by the 80s-inspired synthy sounds than the movie itself, so this one was a no-brainer for me.
BEST MAKEUP/CREATURE FX: Justin Raleigh (Bad Milo!), Roger Murray & Jane O'Kane (Evil Dead), Rogier Samuels (Frankenstein's Army), Paddy Eason & Shaune Harrison (Grabbers), Mike Elizalde, Tamar Aviv & Jorn Seifert (Hansel & Gretel: Witch Hunters)
The titular creature from Bad Milo is an absolutely adorable creation, one that I'd love to make a pet out of, but Evil Dead's old-school style effects work was just what the movie needed, and I feel that Murray and O'Kane deserve to be awarded for their efforts. Evil Dead just isn't Evil Dead without incredible practical effects, and if there's one thing about the movie that even those who hated it surely must agree with, it's that the effects work was top notch. No CGI. Just good old fashioned practical effects. Gotta love it.
WORST FILM
This one's a write-in category, presumably because Fangoria didn't want to trash any films by nominating them for such an award. Props to them for that, as I also prefer to praise movies rather than shit on them. But since I'm being asked, I'll go with the Uwe Boll-produced Zombie Massacre, which I had the displeasure of watching one night on Netflix Instant – don't even ask why I chose it, because I'm not sure myself. Yet another film from Uwe that belongs in the toilet Boll.
FANGORIA HALL OF FAME
Every year, Fango inducts a few horror icons into their hall of fame, and this is another write-in category. You can see the full list of people who have already been inducted over on their website. One name that you won't find on the list is Tom Holland, who has given us some truly awesome movies over the years, including Psycho 2 (which he wrote), Child's Play and Fright Night. Would love to see him added, as his name most definitely belongs amongst all the others on the list.
Deadline for all votes in March 20th, and write-in votes are encouraged for all categories. Send off your ballet to postalzone@starloggroup.com, and find all the winners inside the pages of Fango #334, due out in May!
If you do end up casting votes, I'd love to see your picks. So feel free to leave a comment below with your choices!
Support Halloween Love
If an item was discussed in this article that you intend on buying or renting, you can help support Halloween Love and its writers by purchasing through our links:
(Not seeing any relevant products? Start your search on Amazon through us.)