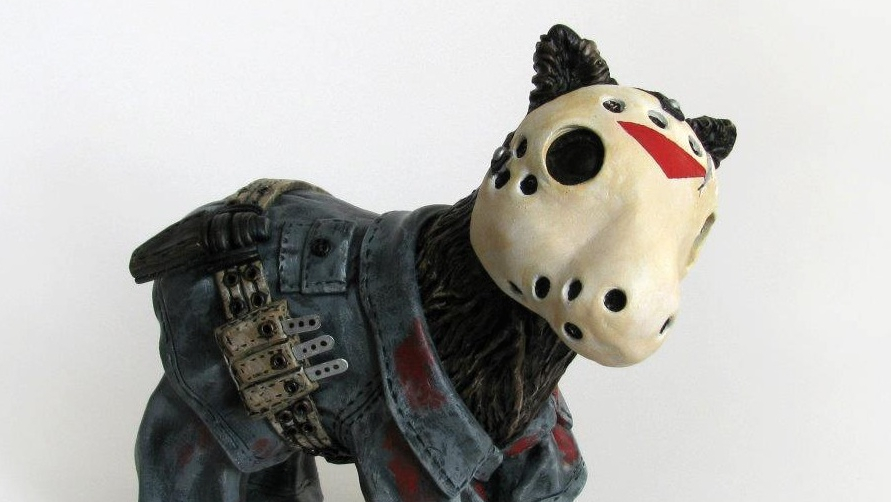 My daughter is obsessed with them, my girlfriend adores them, and due to those circumstances I spend WAY more money on them than any man my age probably should. I am talking about My Little Pony. Those annoyingly impressive lumps of plastic that have been around since the dawn of time … or at least 1981 … give or take.
Over the years they have adapted to the world around them in an admirable way, always being styled to suit the ever changing attitudes and tastes of children across the globe. You simply cannot walk into a toy store without being confronted by them and I don't see that changing any time soon. So why am I talking about them on a site dedicated to all things horror?
About a year ago I decided it would be cool to buy my partner a customized pony linked to the horror genre in some way. I had become aware that there are some fantastically talented people out there who take the original figures and do TERRIBLE things to them … I'd seen zombie ponies, horror icon ponies and much, much more. The idea really appealed to me and I KNOW it would have been a present worth giving.
Ultimately shipping times across the Atlantic made buying one for Christmas impossible, and the quality of the work involved would vary considerably even if the passion behind them remained consistently strong. My journey into this wonderful community left me wanting to know more, and I recently stumbled across the work of an artist that made my jaw hit the floor, and it's been there ever since.
These were customized My Little Ponies on a different level from everything else I had seen … They were sculptures, they were works of art, all created by a lady called Mari Kasurinen.
I recently had a chance to communicate with Mari, and we talked a little bit about her work that pays to tribute to the horror genre and more. Take a look …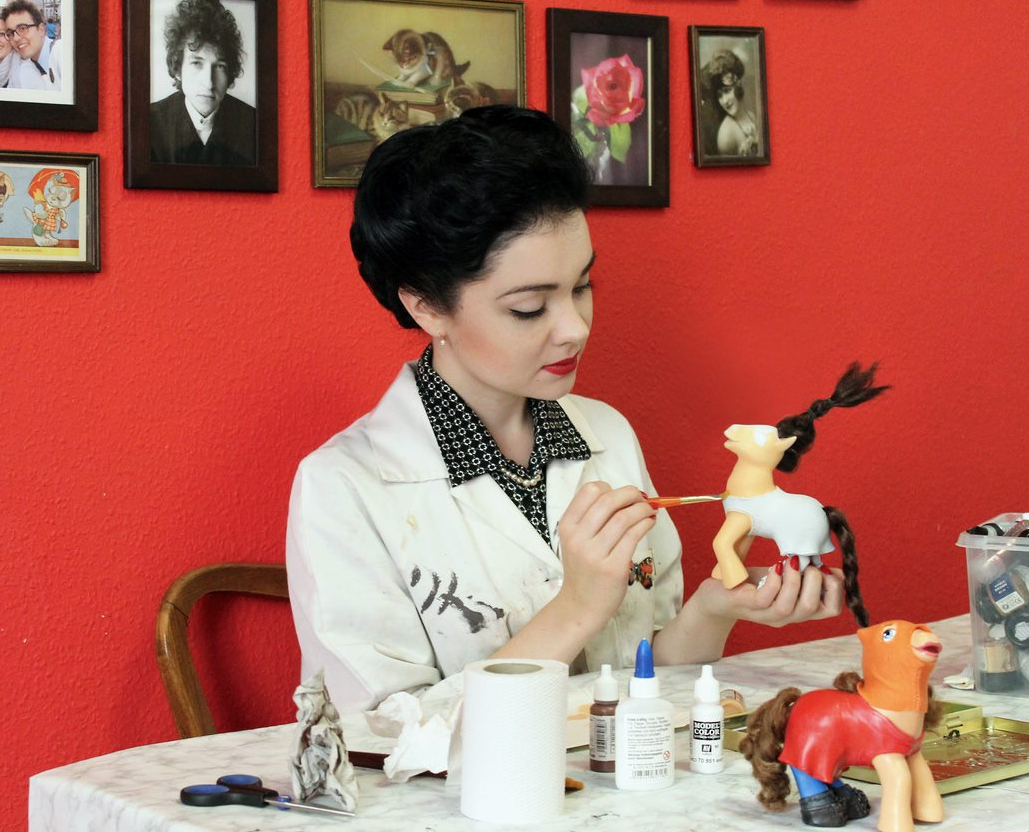 Halloween Love: Can you tell me a little about your artistic journey. Were you creative from a young age?
Yes, I've had this urge to create as long as I can remember. According to my mother I used to draw all the time when I was little. I drew things I saw which I found interesting, beautiful or weird. I preferred to draw with markers. I also loved to sculpt pictures on the walls with play-dough.
In school, art was naturally my favorite subject and I was very ambitious – I wanted to get better and better and learn as much as I could. In high school my art teacher said that I should do art for a living. This had been a dream of mine, but a secret one. I spent my childhood growing up on a farm and my parents are very down to earth, rational people. They always warned me that doing art for a living is too hard and unreliable, especially in Finland. I understood their point and decided to become an art teacher instead and do my own art as a hobby on the side. This didn't feel like a bad choice at all because I loved to teach and work with children from a very young age.
Then I went to art school to study Fine Arts as a base and then was supposed to continue with the pedagogical Studies but I never got that far – in the second grade in 2008 I published my very first "My Little Pop Icon", "My Little Batman", and it went viral on the internet. The next year I was already making the "My Little Pop Icon" series for a living. When I graduated, I had managed to create a career in arts and soon got a representation contract with the well-known art gallery Galerie Gmurzynska. Now I work as a full time artist. I really do feel that this road was pointed at me and I just had to follow it.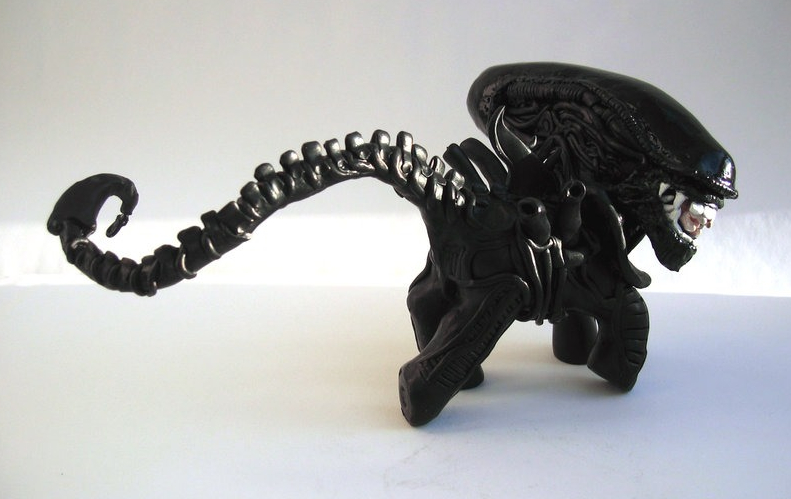 HL: It seems that you love My Little Ponies … is it also safe to assume you have a passion for horror as well, considering what you transform many of them into?
I actually don't love My Little Ponies that much! I had a few when I was little but my favorite toys were Batman, Star Wars, He-Man and Turtles related ones. I use the My Little Pony toy as a base for my art because it fits so well material-wise and supports my thematics.
Horror on the other hand I have loved since from a very young age! I'm a true romantic and I love curiosities and macabre things because they give you a new perspective and challenge you. You see the other side of things and in the end true beauty. I've always felt like an outsider so I still feel that the show I should star in would be with the freaks instead.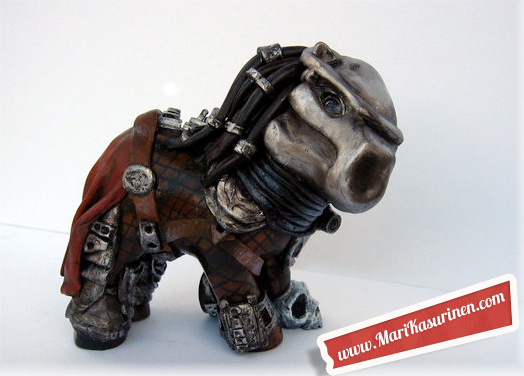 HL: Can you give me a rough idea of the process involved in creating one of your customs, and how long they can take to complete?
The popular culture, social media and the celebrity entertainment business offer perfect surroundings for the new digital age obsessions – the personality cult phenomenon and personal branding. Nowadays I really enjoy studying the personal brand. The whole process starts with choosing the character or person who I want to portray.
After I have chosen the character, I study its example. I make sketches and do research a lot. I want to understand what makes the person what he or she is. How the personal brand is constructed.
Then I'll choose an original My Little Pony to work with. All of my sculptures have an original My Little Pony toy underneath. The pony toys differ a lot – there are so many different poses to choose from. A lot of the pony toy itself gets altered but the pose stays. After choosing the pony that fits the best, I start the actual process. I re-root the hair, use polymer clays for sculpting and high quality acrylics and lacquers for painting. Sometimes I get to use materials such as fur, metal, jewels… There's a lot of possibilities and I'm always trying to come up with new techniques!
It's hard to give a very precise estimate about the time I need to finish a piece – it depends a lot on the size and the complexity of the character. The standard My Little Pony toy size takes a few days but a big size pony can take even a few weeks. I want to do Pop art in a very specific but typical style – the piece has to be so well crafted that it looks as if it was done by a machine.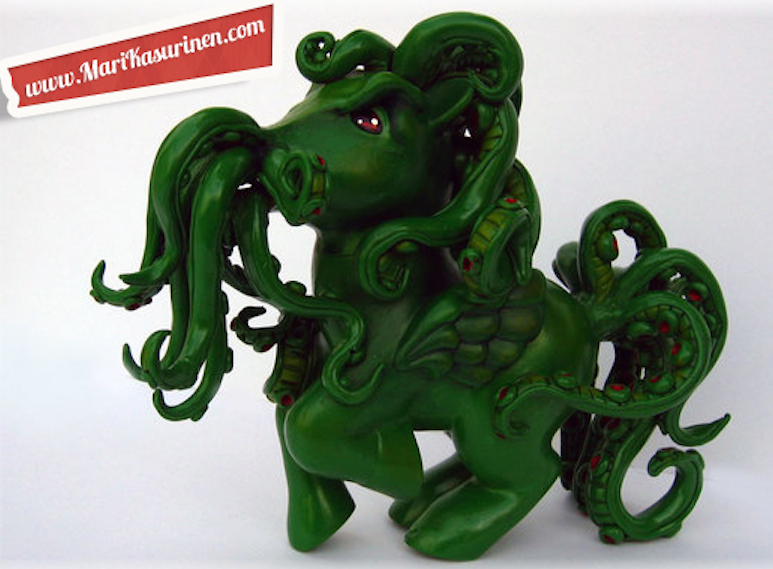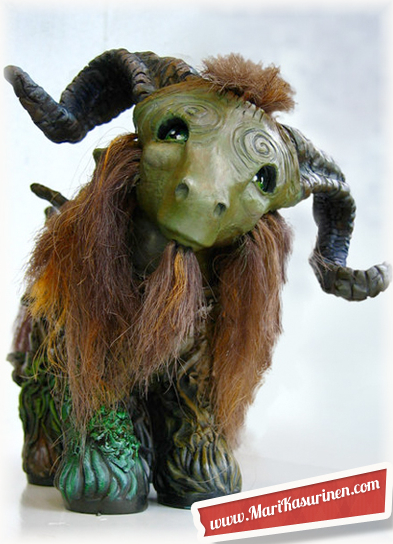 HL: Possibly a tough question, but do you have a favorite? Perhaps one that exceeded your expectations when completed?
It's very hard for me to name a favorite. Nowadays I tend to favor the one which is in the making. The process requires so much time, work and accuracy that I get very intimate with the piece. It's very important for me that I get better technique-wise after every piece. Of course feedback means a lot for me as well. This makes working with celebrities even more interesting – it's fascinating to witness how they confront their own "My Little Pop Icons" and how it makes them feel.
For example I enjoyed working with the British band called "Hurts" because the process was so intimate and they were so involved from the start. They also really loved their own "My Little Hurts" ponies and recognized themselves. This is very important to me as an artist. Other pieces which have received really good feedback were "My Little Dolly Parton", "My Little Dr. Frank-N-Furter" and "My Little Tom of Finland".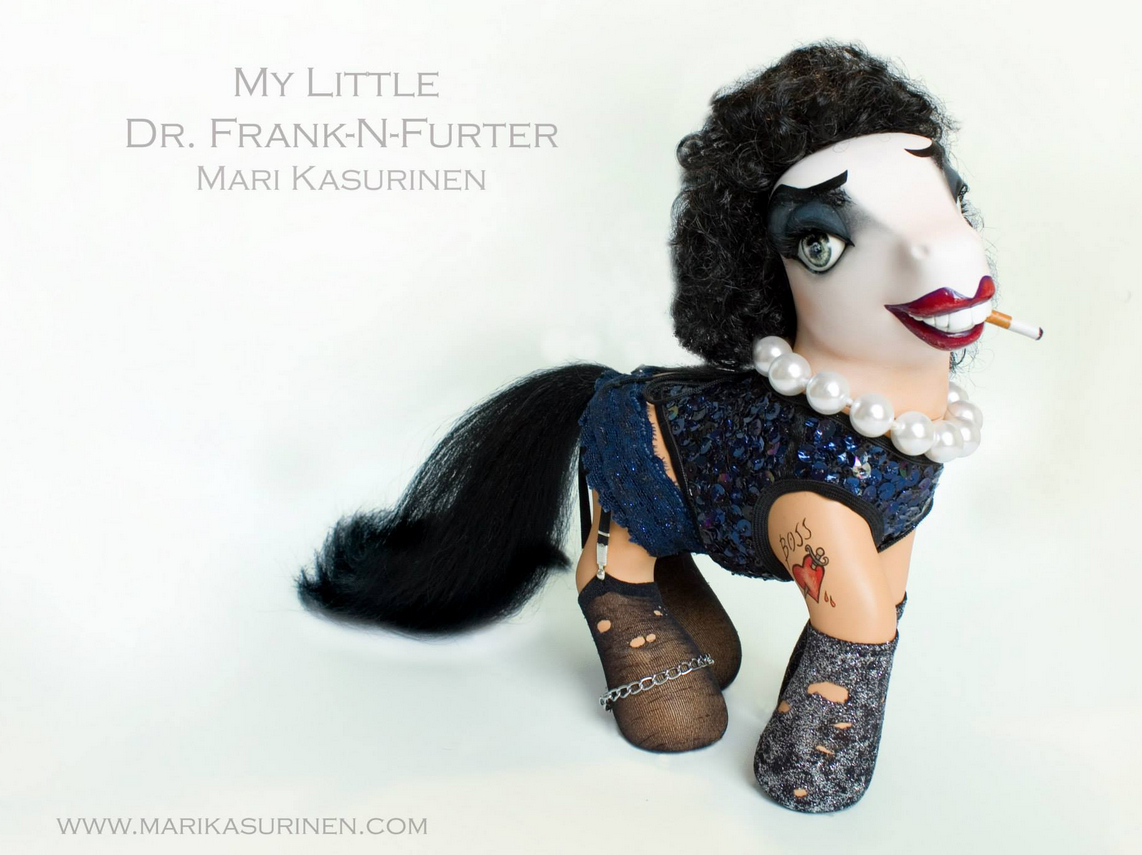 HL: Customizing a wide variety of toys and action figures seems to have become a thriving community … Have you found that to be the case?
Yes indeed! I think it's a very interesting phenomenon and tells a lot about our time. I think the digital age person should be able to be as creative as possible and really do things with his or her hands. If you need something, you don't necessarily need to buy it – you could also just make it by yourself instead. I think people have started to forget this.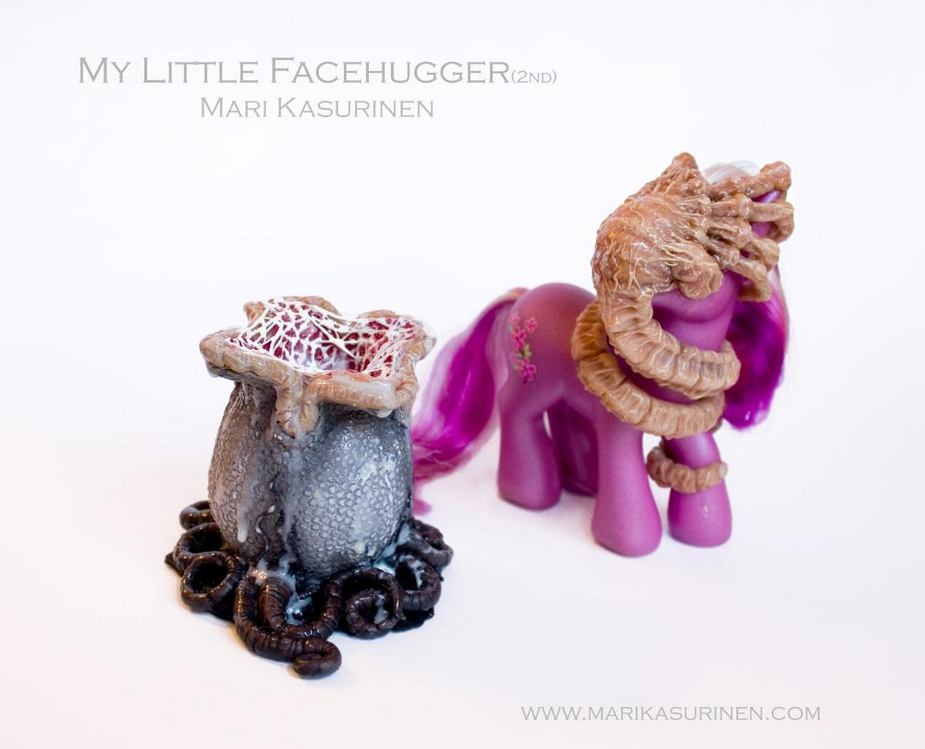 HL: Finally, are there any horror characters you have yet to create that you would like to attempt one day?
Plenty! For example now that I've made "My Little Facehugger" and "My Little Chestburster" I want to make a really big "My Little Xenomorph" based on the first sketches H.R. Giger made for the movie "Alien". You know, that specific version of the Alien with the transparent crown so that you can see the skull. It's incredibly beautiful and detailed. I also accept commission pieces and just recently someone was interested in a "My Little Freddy Krueger" so you might get to see him as well. I really like it when people visit my Facebook, Instagram or Twitter pages and tell me about the characters they would like to see as a "My Little Pop Icon".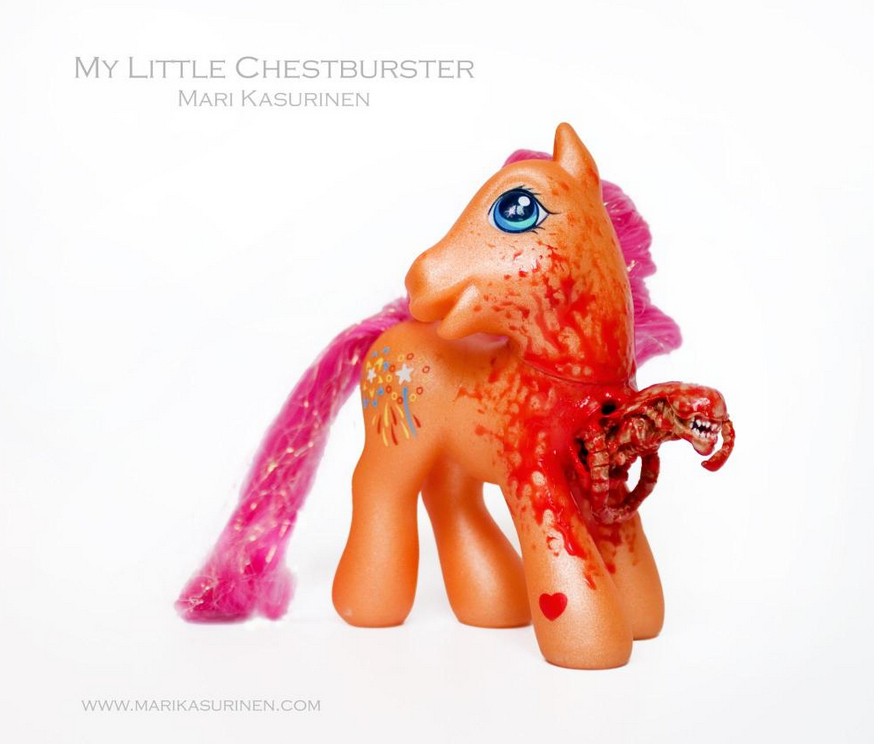 I think I speak for most people who will be reading this when I say a "My Little Freddy Krueger" needs to happen!
I want to personally say a HUGE thank you to Mari for taking the time to be involved. When you have a moment be sure to follow the links above to look at even more of her amazing work.
Support Halloween Love
If an item was discussed in this article that you intend on buying or renting, you can help support Halloween Love and its writers by purchasing through our links:
(Not seeing any relevant products? Start your search on Amazon through us.)