Overall 2016 was a pretty good year for horror. Releases such as 10 Cloverfield Lane, Lights Out, and The Witch all provided big screen chills that delivered at the box office as well as in the heart's of horror fans. Looking forward, 2017 is shaping up to be pretty spiffy itself. This article is going to focus solely on upcoming wide theatrical releases. We all know the indie/VOD releases are sometimes the year's best and typically wind up being big surprises coming out of nowhere, not needing months of marketing and hype. I feel it's much harder to predict which indie films will make a big splash this far in advance. It's especially difficult until we start hearing buzz coming out of Sundance's midnight lineup…like any minute now!
So which films warrant you to grab a sharpie and start circling dates on your groovy Lunchmeat Home Video Horrors calendar (yes I nabbed one, and yes it's amazing)?
Alien: Covenant – May 19th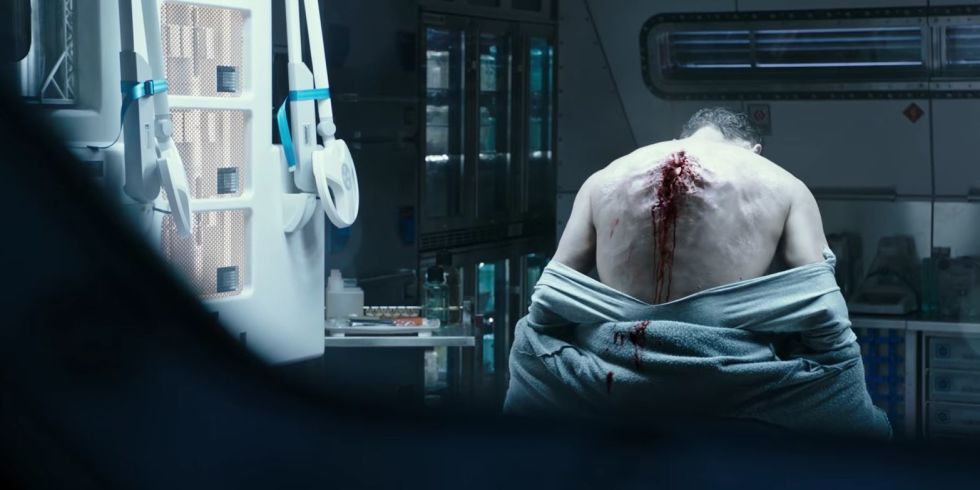 The new film in the Alien saga, the first of a new trilogy of prequels building up to the original film, and a direct sequel to the epic yet divisive Prometheus is set to return the series to its sci-fi/horror roots. We've already seen the first trailer and it's a doozy of blood, sex, creatures, and more blood. This is probably my most anticipated film of 2017.
I have full faith in Ridley Scott to craft a film that not only plays to the longtime fans but also stands on its own two slimy black legs. Here's hoping for an edge of your seat spookhouse in space, much like the original Alien.
IT – Sept 8th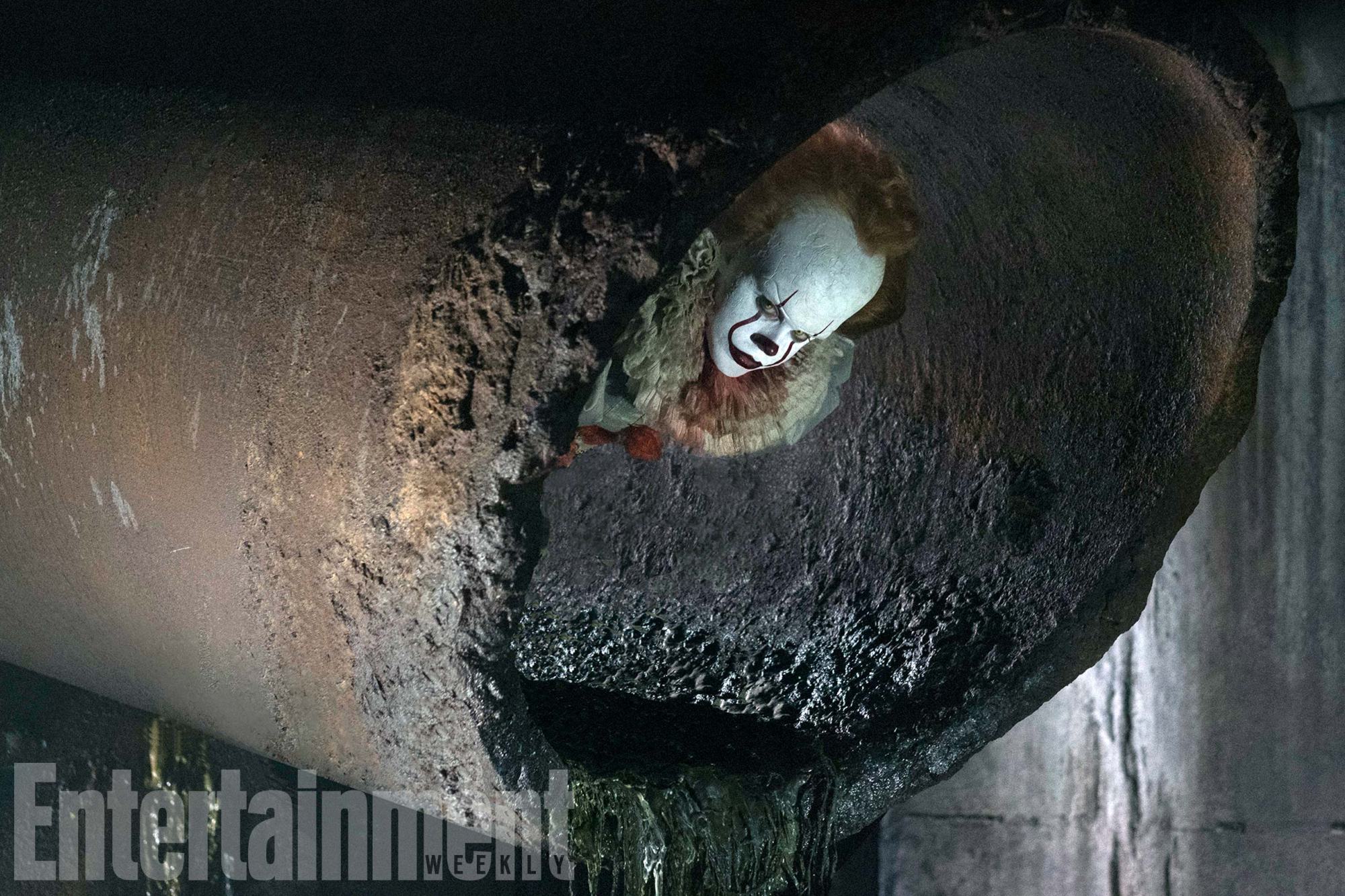 Stephen King's IT is the timeless tale of a bunch of kids facing off against an ancient evil, shape shifting clown who later grow up to become a bunch of adults facing off against an ancient evil, shape shifting clown. We were all nearly traumatized by the mini-series as children, and for those of us who revisited the film in recent years – we know it doesn't hold up well.
Tim Curry's performance as Pennywise always was and always will be the standout of the 1990's film. Everything else plays a bit too hokey. This is why I'm excited we're getting an update. Granted, at this point we know very little about the production. Andres Muschietti, director of Mama, has taken the reigns on the production with Hemlock Grove's Bill Skarsgard slipping into Tim Curry's ginormous clown shoes. This is intended to be the first part dealing with the kid's story with an as yet unannounced sequel picking up with the adults.
We don't have a trailer yet, but thanks to EW we do have the seriously goofy image provided above. Let's hope this isn't too indicative of the film's look.
Annabelle 2 – Aug 11th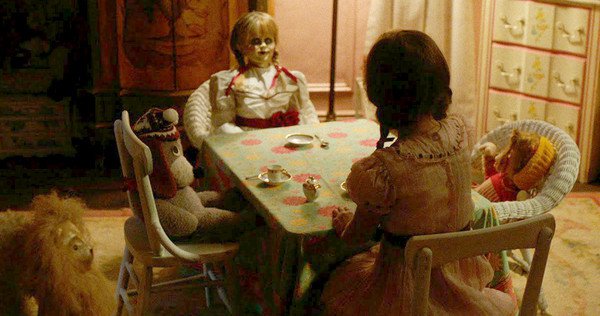 Yeah. That's right! I'm excited to see Annabelle 2. I know it's nothing more than a cash grab spinoff of Jame's Wan mega successful The Conjuring franchise, and the first film was a pile of steamy hot garbage that I never bothered to finish. Why am I excited? David F. Sandberg. That's why.
The director of the delightfully silly thrill ride, Lights Out, has stepped up to the director's seat for this sequel. He has proven himself adept at setting up genuine scares that can goose the audience right out of their seats while also laughing at the same time. The "car alarm" moment elicited one of the biggest audience responses I think I've ever witnessed. With that in mind, I don't really care that he's tackling a sequel to a film no one really cared about – I'll be there opening weekend.
Get Out – Feb 24th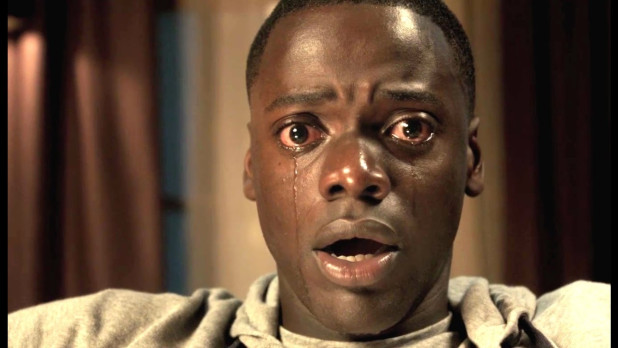 The directorial debut of Jordan Peele of Key & Peele fame is surprisingly NOT a comedy. Get Out appears to be a timely modern riff on The Stepford Wives dealing with race relations. The trailer alone is enough to cause one to nibble off half their finger nails. (SIDENOTE: I did not finish the trailer myself. It felt like it was showing WAY too much. View at your own discretion)
What's equally exciting about this release other than it tackles touchy themes by using horror as social commentary (which is when the genre shines the brightest) and it just fucking looks good – is this is a Blumhouse production. We all know the Blumhouse name and logo, but over the years they've become synonymous with creaky ghost pictures. Some of them are great, some have gotten stale, and I for one am excited they are branching out into broader horror territories.
I feel like part of that shake up might have to do with the inclusion of former Shock Til You Drop editor, Ryan Turek as part of their production/acquisition team. Whatever the reason, Blumhouse should keep it up! Between Get Out, the coming out this Friday Split, and possible Halloween sequel all landing in 2017 – this could be the year of Blum!
The Belko Experiment – March 17th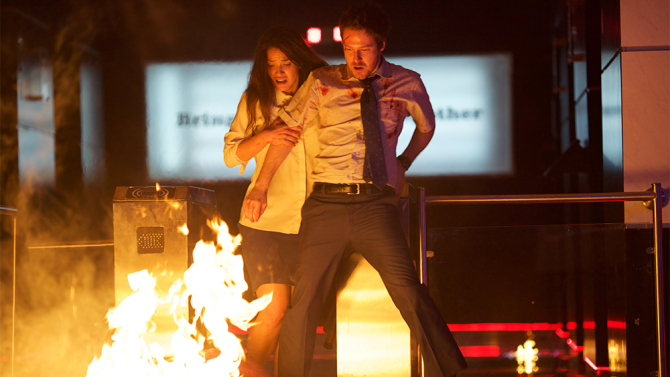 Speaking of Blumhouse, their "edgier" brand, BH Tilt, will be launching the new Greg Mclean (Wolf Creek) horror bloodbath, The Belko Experiment, into theaters in just a couple of months. Belko is being dubbed "Office Space meets Battle Roayle". That sounds like a winner to me!
Early word has it that the film is a bloody good time, and with a script penned by non other than James Gunn (Slither, Guardians of the Galaxy) I would expect nothing less. On top of the Mclean/Gunn sundae is an amazing cast of B-movie regulars (Michael Rooker, John Gallagher Jr., Sean Gunn, John C. McGinley) This being a "Tilt" title, it might not get as big a release as some of the other films on this list, but certainly expect it to be playing in at least one theater near you come March 17th.
Return of the Franchise Boogeyman – TBA
As mentioned previously, Michael Myers might be stalking back to the big screen with non other than John Carpenter acting as a consultant to ensure the film delivers. It was amazing news for horror fans when first announced, yet we still haven't heard much else. But Halloween isn't the only classic franchise getting dragged into the conversation of new releases.
There are actually a bunch more! It's practically a classic slasher renaissance! I won't go into too much detail here. I'm actually planning another article later this week to break down all the upcoming franchises prepping for the reboot treatment, so stay tuned, fiends!
Out of all the films mentioned, which one are you dying to see? Anything I may have missed? Let me know. Cheers!
Support Halloween Love
If an item was discussed in this article that you intend on buying or renting, you can help support Halloween Love and its writers by purchasing through our links:
(Not seeing any relevant products? Start your search on Amazon through us.)