30 years ago, A Nightmare on Elm Street was released. 40 years ago, The Texas Chain Saw Massacre was released. And 100 years ago, William Castle was born.
A producer and director, the late William Castle knew how to entertain audiences better than any other filmmaker, as the thrills and chills of his movies weren't confined to the big screen. A master showman, Castle would bring the movies to life with fun in-theater gimmicks, making audiences active participants in the action.
On the 100th anniversary of his birth, we look back on William Castle's go-for-broke approach to entertaining movie-goers, by shining the spotlight on some of his most impressive theatrical gimmicks.
If you thought being handed a pair of 3D glasses at the theater was something exciting, think again…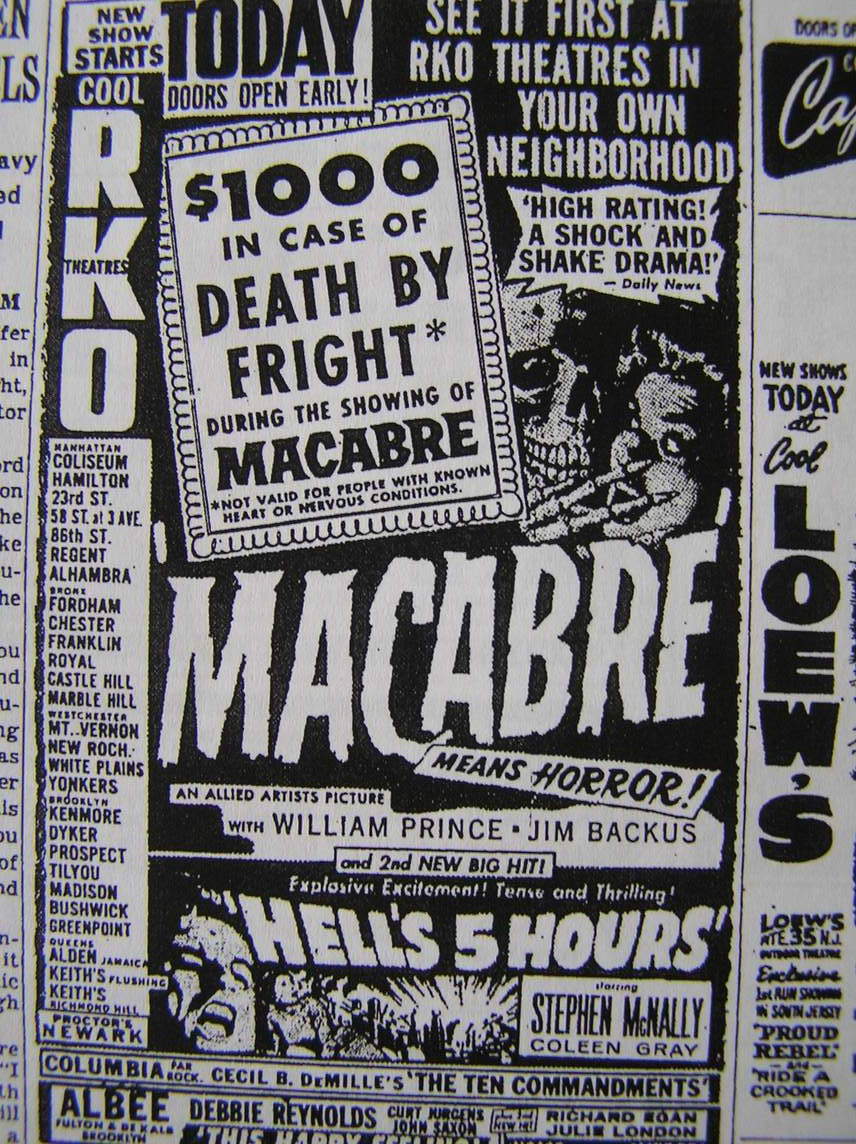 MACABRE – 1958
When you paid to see Macabre, you were not only handed a ticket but also a 'Fright Insurance Policy' for $1,000, in the event that you were to die of fright during the film. At select showings, ushers were decked out in surgical scrubs and ambulances were even parked outside the theater. As if the faux life insurance policy wasn't enough excitement, you were also provided with a pin upon entering the theater, which stated 'I'm no chicken. I saw Macabre.'
HOUSE ON HAUNTED HILL – 1959
Remember that famous scene toward the end of House on Haunted Hill where a skeleton emerges from a vat of acid? Well, if you had seen the film on the big screen back in the 50s, you would've experienced what Castle called 'Emergo.' At the exact moment the skeleton emerged, an inflatable skeleton on a wire was floated over the audience, giving the illusion that the skeleton leapt right off the screen. Allegedly the gimmick didn't only instill fear but also evoked laughter, as some fans threw candy, soda, and other assorted goodies at the obviously fake skeleton. Sigh. Some people just don't know how to have fun.
THE TINGLER – 1959
The Tingler is about a creature that lives in the spinal cord of its victims, which is activated by fear and can only be destroyed by screaming. In the finale of the film, one of the creatures is unleashed into a movie theater, and it was at that moment that buzzers went off underneath select seats. The buzzers administered small shocks to movie-goers, and Vincent Price, on screen, prompted audiences to scream for their lives. Castle called the gimmick 'Percepto,' and for the first time in horror history it allowed audiences to actually aid in destroying the monster.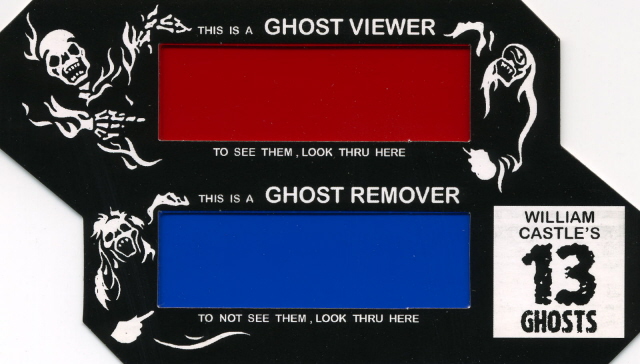 13 GHOSTS – 1960
13 Ghosts was filmed in what Castle referred to as 'Illusion-O.' Upon entering the theater, you were handed a Ghost Viewer/Ghost Remover, outfitted with pieces of red and blue cellophane. At certain points in the film, you were prompted to look through the viewer, with the red cellophane enabling you to see the ghosts and the blue making them disappear. The idea was that you could watch the film with the ghosts visible if you were brave, or remove them if you were too scared – customizing the experience to your own liking.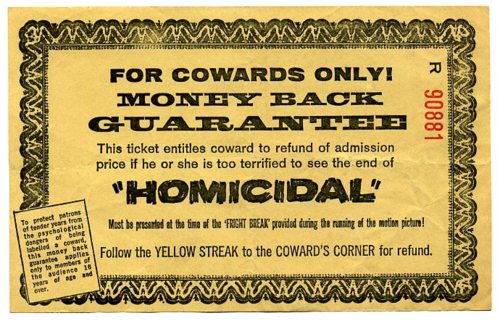 HOMICIDAL – 1961
Near the end of Homicidal, a woman approaches a house with a sadistic serial killer inside. As she inched closer and closer to the doorway, Castle gave you a choice, which he called a 'Fright Break' – if you were too scared to watch the conclusion of the film, you were given ample time to exit the theater and get a full refund. This would prove to be a very humiliating task, as you had to follow yellow footsteps up the aisle, bathed in a yellow light, and stand in 'Coward's Corner.' Adding more insult to the humiliation, a recording blared, 'Watch the chicken! Watch him shiver in coward's corner!'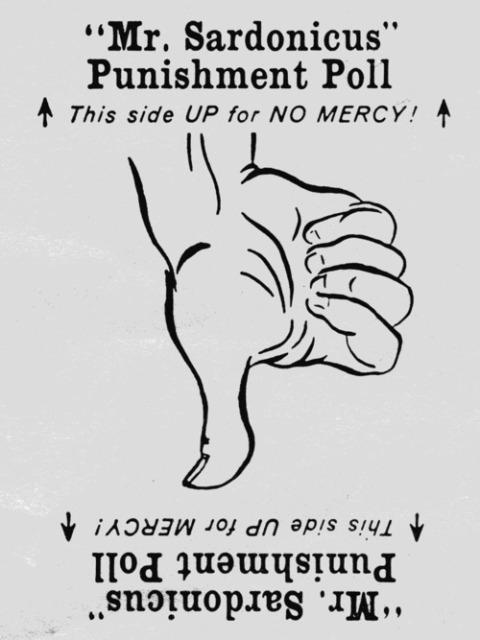 MR. SARDONICUS – 1961
Mr. Sardonicus' so-called 'Punishment Poll' allowed audiences to decide whether or not, at the end of the film, they wanted Mr. Sardonicus – a man whose face was frozen into a permanent hideous smile after digging up his own father's body to retrieve a lottery ticket – to be cured of his affliction or to die. Each member of the audience was given a card with a glow-in-the-dark thumb they could hold either up or down, to decide Sardonicus' fate. It's said that Castle never even filmed the happier ending, as he was pretty sure of the fact that nobody would vote for the character to live.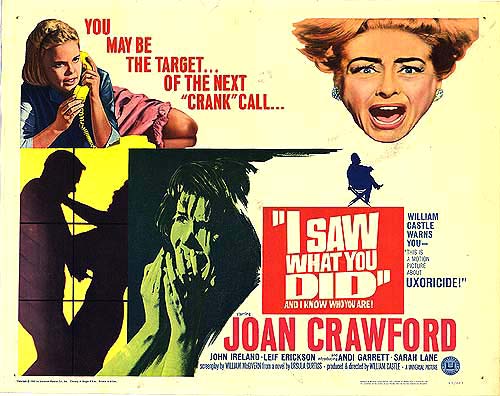 I SAW WHAT YOU DID – 1965
A film about teen girls unknowingly prank calling a murderer, I Saw What You Did's original promotional campaign had a number being advertised in newspapers. When called, a female told you that she saw what you did, and set up a date at your local movie theater for a time that the film was being shown. After telephone companies were outraged in the wake of phone lines being jammed up, the gimmick was tossed aside in favor of 'Shock Sections' at select theaters, which featured seat belts so that brave audience members could lock themselves in for the full duration of the terror.
William Castle went on to produce Rosemary's Baby in 1968, and his gimmicks of the 50s and 60s became a thing of the past by the time the 1970s rolled around. 1975's Bug, which Castle produced, was promoted with a life insurance policy similar to Macabre, though that was to be the final nail in the coffin of his particular brand of artistry. In 1977, Castle died of a heart attack.
With Castle's death, going to the movies became a little less fun, though he inspired many filmmakers to follow in his cinematic footsteps. Alfred Hitchcock and John Waters both cited Castle as being a huge inspiration on them, and both filmmakers employed similar gimmicks to drum up interest in their own films – including Psycho and Polyester.
Long live the King of the Gimmicks!
Support Halloween Love
If an item was discussed in this article that you intend on buying or renting, you can help support Halloween Love and its writers by purchasing through our links:
(Not seeing any relevant products? Start your search on Amazon through us.)