Though a killer Santa first stalked the screen in 1972's Tales from the Crypt, it was thanks to films like Black Christmas, Christmas Evil and Silent Night, Deadly Night that 'Christmas horror' became a bona fide sub-genre. In the decades since their release, holiday figures like elves and gingerbread men have joined Santa as horror villains, but one festive monster had for many years been left out in the cold.
A figure in Alpine folklore whose origins date back to the 1800s, Krampus is essentially the evil version of Santa Claus – brutally punishing the naughty children while Santa rewards the nice. Most Krampus imagery comes courtesy of decidedly sinister holiday greeting cards (above) that depicted the so called anti-Claus as a horned beast with cloven hooves, oftentimes kidnapping children and stuffing them into bags.
Filmmakers are always on a quest to introduce the world to new horror villains, which is why it's surprising that it has taken so long for Krampus to make the leap from myth to movie monster. With such a rich mythology already established, Krampus has for many years been begging to become a holiday horror icon, and it's Trick 'r Treat director Michael Dougherty who has taken it upon himself to make him precisely that.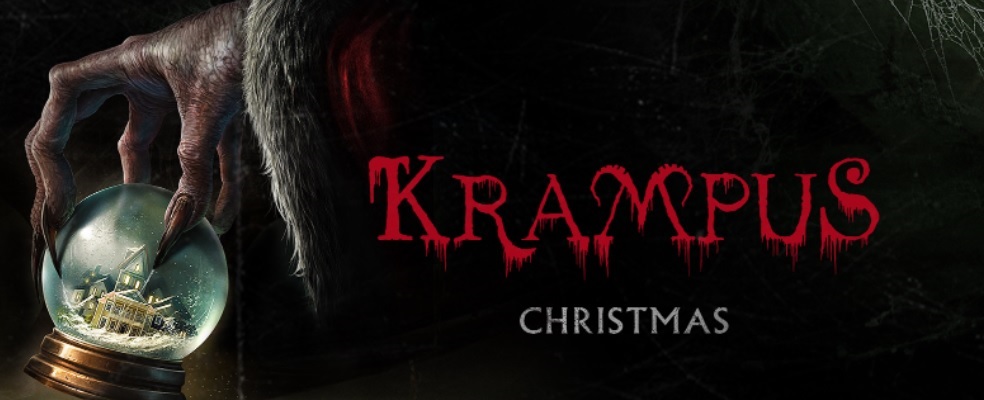 Dougherty is no stranger to reinventing holidays in the horror genre, and with 2007's Trick 'r Treat he gave rise to a true Halloween icon with pumpkin boy Sam. As the writer/director has noted in various interviews, the Halloween season's lack of a horror mascot served as inspiration for the anthology film, so it should come as no surprise that Dougherty is now intent on giving Christmas a villain of its own.
Set for theatrical release on December 4th, and co-written/directed by Dougherty, Krampus centers on a young boy who loses his Christmas spirit in the wake of his dysfunctional family getting together during the holiday season. When they accidentally unleash the wrath of the titular monster and his devilish minions, all hell breaks loose, and the fractured family is forced to unite if they hope to survive.
The good news, for those who have been eagerly anticipating the arrival of Krampus on the horror scene, is that Dougherty's film isn't the only one injecting him into the genre this year. October 2nd marks the theatrical and VOD release of A Christmas Horror Story, an anthology comprised of four interwoven holiday horror tales. One of the segments sees Krampus (below) stalking and slaying a family – and he even battles Santa Claus.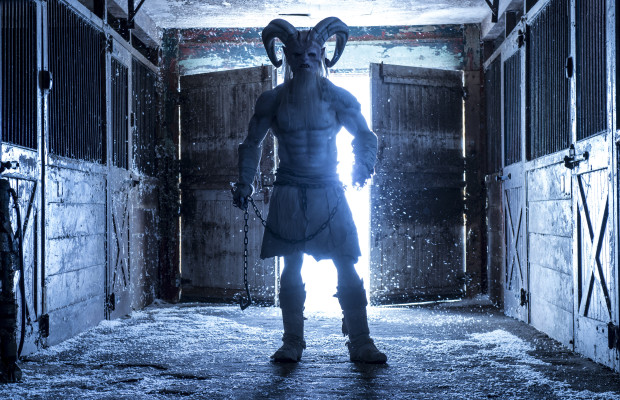 Also beating Dougherty's big screen film to the punch is director Robert Conway's Krampus: The Reckoning, which tells the story of a young girl who becomes friendly with the holiday beast. When he's unleashed upon her small town, nobody is safe from his reign of hellish terror. The trailer indicates Krampus will be fully computer-generated for this one, so it's likely to be a lump of Christmas coal.
And the distant future of Krampus cinema is looking bright, as Kevin Smith recently revealed that he wrote an anthology film called Anti-Claus, which will tell different stories about the creature. Smith noted last year that he was tired of waiting for someone else to make the Christmas horror movie that he had long desired to see, though little has been heard about the project since Dougherty's film was announced.
Another horror movie on the Krampus radar is SpookyDan Walker's Slay Belles, which raised only half of its goal amount on Indiegogo a couple months back. But have no fear, because this one is almost completed, and Walker promises that it will soon see release. In the gory horror-comedy, Santa Claus teams up with a trio of sexy babes to take down Krampus at an abandoned Christmas theme park.
Perhaps the truest testament to Krampus' growing popularity is the upcoming family-friendly film Happy Krampus!, being co-developed by the Jim Henson Company. The live-action movie imagines Krampus as Santa's coal-giving sidekick, who loses his job at the North Pole. To prove to the world he is still needed, Krampus travels to New York and attempts to replace Christmas with Krampus Day.
While we wait for these upcoming projects, it must be noted that Krampus had already begun to make his mark on the horror genre prior to this year's big coming out. Jason Hull's little-seen 2013 horror movie Krampus: The Christmas Devil, which centered on a police officer hunting down a child kidnapper who turns out to be Krampus, will go down in history as the first feature film about the monster.
That film, by the way, gets a sequel in the form of Krampus: The Devil Returns, set for release in 2016.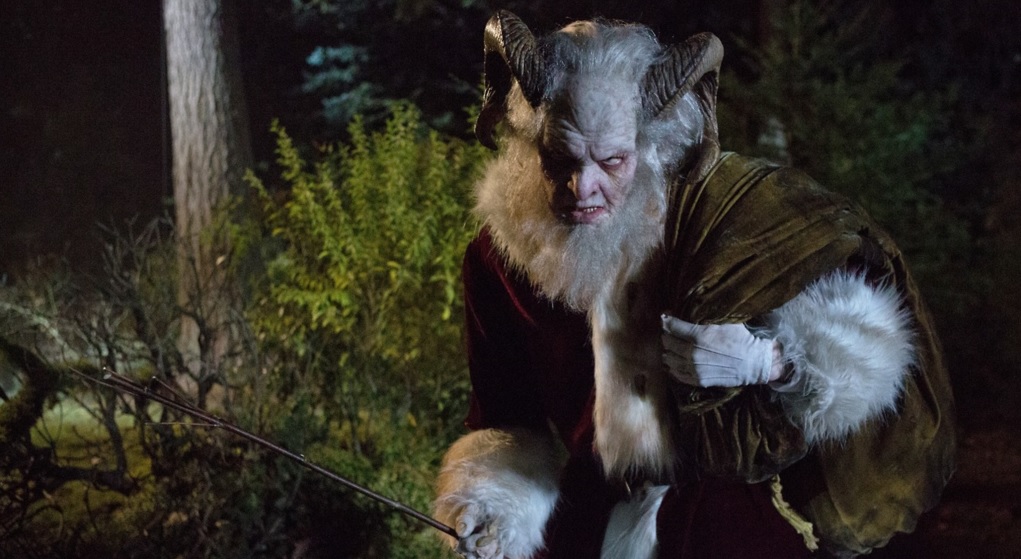 On the small screen, TV series Supernatural's 2007 Christmas special 'A Very Supernatural Christmas' explored the legend of Krampus, while last year's holiday episode of Grimm, titled 'The Grimm Who Stole Christmas,' brought Krampus to life in the most memorable adaptation of the myth to date – it was the Friday the 13th remake's Jason Voorhees, Derek Mears (above), who played Krampus in the episode.
Get ready to step aside, Santa Claus with an axe. Krampus soon takes his rightful place as the ultimate Christmas horror icon. And it has been a long time coming.
Support Halloween Love
If an item was discussed in this article that you intend on buying or renting, you can help support Halloween Love and its writers by purchasing through our links:
(Not seeing any relevant products? Start your search on Amazon through us.)