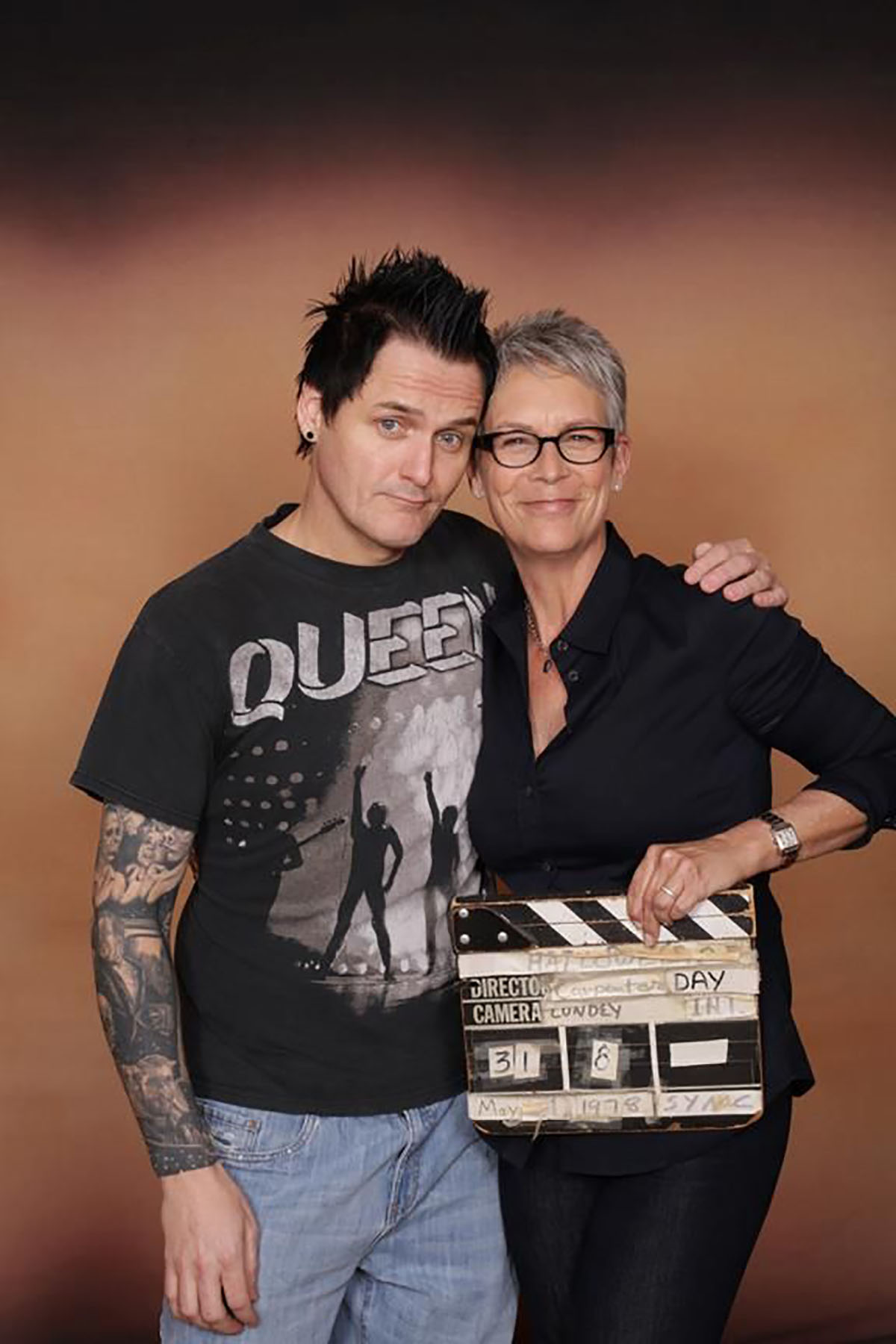 Halloween Love: I've been seeing your mug for about as long as I can remember, in terms of DVD special features that is. Maybe as far back as 2005? Do you recall the first DVD you ever appeared on? Your first ever IMDb credit, however, shows 1993. I take it long before ever getting officially involved or producing video content, you would just show up on film sets? I see you were an extra in Lord of Illusions! Maybe you can share a brief timeline of your interest in horror movies as a kid, and the evolution that took place between then and where you are in the industry now?
Sean Clark: I think the first DVD I officially was on was in 2005 on the Halloween "25 Years of Terror" documentary, which I was one of the creators of. I don't appear anywhere in the documentary, but my first episode of Horror's Hallowed Grounds, which I hosted was a bonus feature on that release. I was an extra in the Alex Winter film Freaked. I was a huge fan of Alex and Tom Stern's TV series called The Idiot Box as well as their old student films like Squeal of Death.
I won a contest at a Fangoria convention in Los Angeles to get to be an extra for a day. As for Clive Barker's Lord of Illusions, I became friends with Clive by going to so many of his book signings and events, that he invited me to come be an extra in the crowd scene during Swann's big magic show. That was fun. I never pursued trying to act or being a professional extra.
---
HL: I'm watching your video for filming locations in Jason Lives (my favorite of the franchise) right now. When you walked into the police station, those people looked a little startled and later you mentioned security was approaching you. I was thinking about this the other day in general. Nowadays, I like to remain behind the scenes, but when I was younger, I used to get out there with my video camera and film EVERYTHING, interview people, etc. It's so different today though.
Back then, if you walked just about anywhere while filming, people would instantly get upset and yell at you: "You can't film in here!" But now, everyone's walking around with a camera all the time, that it's been normalized and people are less camera shy. I'm sure most of those events get edited out for obvious reasons, but can you share some notable stories of people getting pissed at you for filming?
SC: That happens quite often too. People have gotten more used to it now that everyone has a recording device on their phones. You encounter a lot more resistance in Los Angeles because they may have prior experience with getting paid for letting you film on their property or needing permits and such. Some home owners just want nothing to do with it. The guy that owns the Poltergeist house kind of freaked out on me one day. I also had a neighbor on Orange Grove in Hollywood where the Doyle and Wallace houses from Halloween are threaten to call the cops if we didn't stop filming. I told him to go for it. We would be long-gone before they ever got here.
---
HL: While we both probably love horror movies just as much as the other and wear many hats, in every other way, we're the polar opposite. At some point, I put the camera down and never picked it up again. And while I miss it sometimes and also love everything about what you do, checking out film locations, and the urban exploration aspect of it, I just went the other way. I spend most of my days behind a desk and I like my privacy.
So, while going to horror conventions, hunting down film locations, and starting a podcast are all creatively in my wheelhouse and something I'd hypothetically love to do, I stay in the shadows and get to enjoy all those things vicariously through content creators like you! Of all the different things you get to do, regardless of whether it pays the bills, what do you enjoy spending time on the most?
SC: That would be going to the filming locations and then editing my various content from The Thing With Two Heads podcast or Horror's Hallowed Grounds. I just enjoy putting them together and creating a small bit of art with it.
---
HL: What is your favorite horror movie and what is your favorite non-horror movie?
SC: The Shining and A Clockwork Orange. Two Kubrick classics.
---
HL: What are your fondest childhood memories of Halloween?
SC: I have several, but they both involve trick or treating with my friends. Walking up to houses that were totally decked out and they tried to scare you. I have vivid memories of some of the decorations at certain houses that clearly had a big impact on me. Then there was a little haunted house that they put on at a community center by my house that I'll never forget. Then watching the Horror marathons they used to do on SelecTV, which was one of the first movie channels. It was a stand-alone system with one channel. Then starting the tradition of going to Knott's Berry Farm's Halloween Haunt, which is known as Knott's Scary Farm. I've gone to that every year since about 1980.
---
HL: If money were no object, what would be your dream project?
SC: I have a few movie scripts I wrote I would make into feature films if money was no object.
---
HL: Any upcoming projects that you're excited about that we can give a shoutout for?
SC: Right now just doing new episodes of The Thing With Two Heads with my buddy Christopher Nelson. He's quickly become one of my best friends and I really love the guy. We just really enjoy the same stuff and love to talk about it together and it's cool we can share that with like-minded people through the podcast. It's just getting difficult to do often as we have both gotten really busy again with work. I wish he and I had time to just hang out more in general. I have about 11 new Horror's Hallowed Grounds episodes shot, I'm just trying my best to get them all edited so I can release them. Lots of great content coming.
---
HL: What's a question you'd like to be asked, but never have been? Go ahead and ask yourself that question now and answer it.
SC: I've been doing this so long now I think at some point I've been asked just about everything I can think of I'd want to answer.
---
HL: At HL, we love getting weird. Anything bizarre, random, or off-topic you'd like to share?
SC: I got home from a convention on Monday afternoon and after unpacking and such I got in my car to go get some food and when I pulled up to the first stop light I looked up at my rearview mirror to check the traffic behind me and I noticed my mirror was pointing upwards towards the ceiling. I never did that so I was a bit confused. So I readjusted it and then I noticed I couldn't see out of my back window because there was something blocking the window. I got out and looked and they were shopping bags blocking my rear window that I had never seen before and I did not put there.
So I kind of freaked out. So I started going through the security footage at my home and saw footage of a woman checking the doors on my girlfriend's car and then mine, which apparently I left unlocked. She got in my car and stayed in it for about 8 minutes. She tried to start the car, but was unsuccessful. It's a push button, but you need to have the key. Then she left. This was only 2 hours before I got home. Then I saw her at a park across the street from my house. So I called the cops and got her tossed in jail. Crazy day!
---
Thank you Sean!
How to reach out to Sean:
Official Website / Facebook / Twitter / Email
---
Support Halloween Love
If an item was discussed in this article that you intend on buying or renting, you can help support Halloween Love and its writers by purchasing through our links:
(Not seeing any relevant products? Start your search on Amazon through us.)