It's fair to say that when you grow up obsessing over horror films you'd be at least a little nervous to meet your favorite icons of fright. With so many conventions spreading all across the globe, meeting your favorite celebrity has never been easier. As a person who frequents conventions I'm here to give you a few tips so you can have the meeting of your dreams nightmares.
1. Try not to do it in the middle of the day on a Saturday. The lines are long, the guests are tired and you're going to be waiting for a long time. If you come on a Friday or anytime Sunday you'll find the person has more time to chat and isn't so exhausted. Making a Freddy claw with your hand all day just takes it right out of you, ya know?
2. Know how much their autographs cost before approaching. This is usually listed on the con website well before the event and on their tables. Seriously. Just look at it and stop caring about the cost. Either it's too expensive or it isn't. Most cost between $20-$30. I can't tell you how many people I've seen pull out a wad of small bills, ask the guest the price and awkwardly walk away. This is weird, okay? Weird for everyone. Don't make your time with them about money.
3. Brush up on them as actors and as people. Believe me, Chris Sarandon is more than Jerry Dandridge or Jack Skellington. He was nominated for a god damned Oscar! Linda Blair actually wants to talk more about her animal rescue group than about the Exorcist. If you're able to talk to them about something other than their work in the horror genre you come across as well rounded and they're usually grateful to be appreciated for other genres and events. This tactic sometimes helps later when they're in the hotel bar and spot you. "Gee, isn't that the guy who loved one of the other hundred films I've done? I like that guy. Maybe we should have a drink." (believe me, it happens!)
4. Don't hold up the line if you aren't buying anything. Just don't. If you don't have the money to purchase an item most celebrities will get that, but realize that they are there to make money, and when you stand there talking to them about scenes from their films and babbling about your screen used prop, there are people waiting to patronize them. So know your social norms and take cues! If they are keeping you there to chat then enjoy, if not move it along!
5. And last, but not least, rehearse what you want to say. Meeting someone who you fangirl/fanboy over is not easy, especially if you're introverted. If I'm meeting someone new I always think about what I want to say. If their work means something to you then tell them! Don't be so shy that you just stand there while they sign your 8×10 and walk away. Guess what? You can get that exact one on Ebay. You're paying for an experience. Be respectful, enjoy the moment and introduce yourself so that next time they'll remember you. And not because of the restraining order.
If you follow these guidelines and some common sense you might get more than you bargained for.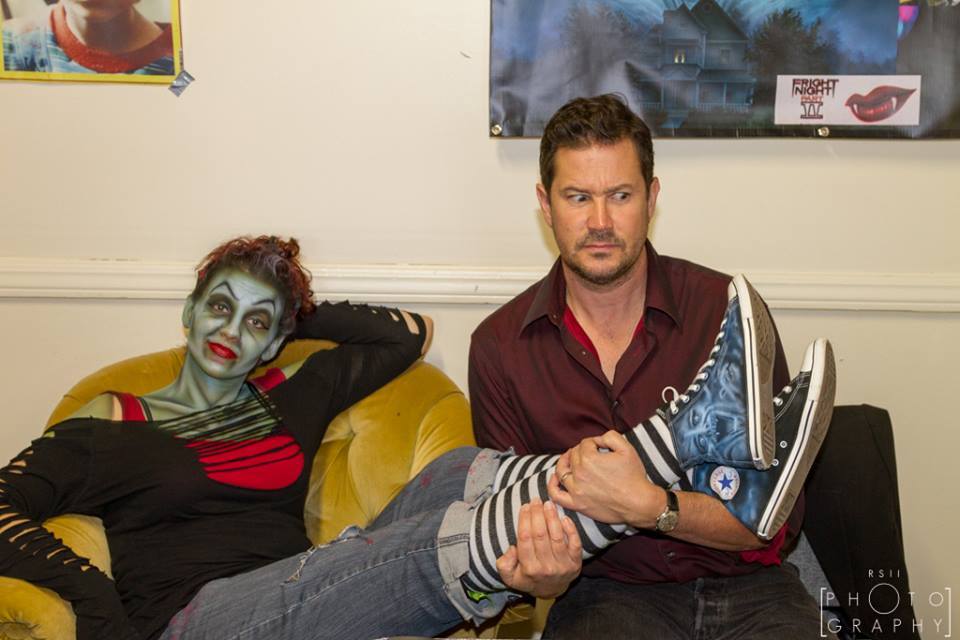 Photo Credit: RSII Photography
Note: This picture with William Ragsdale was more than I bargained for and/or dreamed of.
Support Halloween Love
If an item was discussed in this article that you intend on buying or renting, you can help support Halloween Love and its writers by purchasing through our links:
(Not seeing any relevant products? Start your search on Amazon through us.)