Ah, VHS. Three letters that instill warm, fuzzy and utterly nostalgic feelings in so many horror fans – myself included. A dead format, long ago replaced by things like DVDs and Blu-rays? Well, it depends on who you ask.
Though it's been many years since VHS tapes were widely available for either rental or purchase, there's no denying that the format has been experiencing one hell of a revival in recent years, with several independent companies springing up to remind horror fans that the era of the VHS tape may be gone, but it will never be forgotten.
Companies like Mondo, Vultra Video and The Uneasy Archive have been doing a bang up job when it comes to keeping the spirit of VHS alive and kicking, filling in the gaps that were long ago left behind by fan-favorite labels such as Midnight Video, Media Home Entertainment and Vestron Video.
Another label that most definitely belongs listed amongst those aforementioned companies is Gorgon Video, which burst onto the scene in 1982 and was responsible for bringing the Faces of Death films into our lives, amongst many other titles whose cover arts surely put a smile on the faces of many of you reading this right now.
Like a Phoenix rising from the ashes, Gorgon Video unexpectedly emerged from its extended dirt nap back in May of this year, with a Blu-ray release of the 1989 cult classic Death Spa. It's merely the first of many exciting upcoming releases from the newly-relaunched label, which is set to once again take the horror home video world by storm.
In the wake of the exciting revival, I caught up with the fine folks behind Gorgon Video in an effort to find out what we can expect from them in the near future, so read on for the full interview, which you'll only find here on Halloween Love!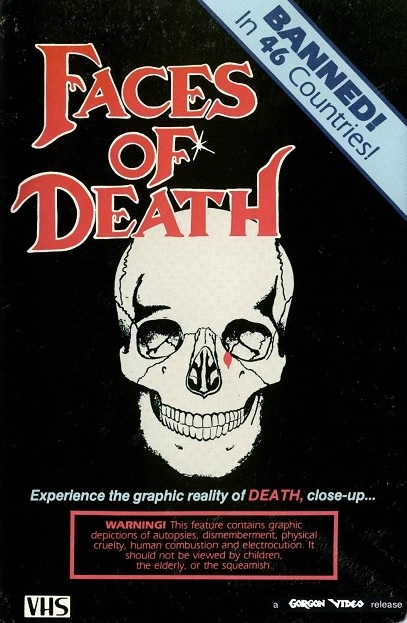 HALLOWEEN LOVE: For those who are unfamiliar with the label, can you tell us a little bit about the history of Gorgon Video?
GORGON VIDEO: 1982; slasher films were red-hot in cinemas, the VHS craze was just heating up, and Gorgon Video was born as a specialty label to capitalize on the twin phenomena.
Home video distribution was in its infancy, and rights holders were rife with product. Most labels would be content with rushing any horror film into the market, but Gorgon was particular, downright judicious in its releases.
Over the years they were the first to release such films as BAY OF BLOOD, DEATHDREAM, CARNIVAL OF SOULS and FACES OF DEATH. Not only were the films memorable, but so was the original artwork created especially for the releases themselves. Hand-drawn and hand-painted, Gorgon is as proud of the art as they are of the films themselves.
Gorgon continued to release titles throughout the 1990s, but as the general public's interest in horror dried up, so did the market and the label's output.
HL: The exciting news is that Gorgon Video is back, marked by the recent Blu-ray debut of Death Spa. What can we expect in the future from the relaunch of the label?
GORGON: We just released the VHS of DEATH SPA and have the VHS of EVILS OF THE NIGHT on deck, as well. We plan on doing many re-issues of the earlier Gorgon Video titles and giving them the same look and feel that they once had back in the day.
HL: This isn't the first time new life has been breathed into Gorgon. A few years back, you guys released Faces of Death onto Blu-ray, and your familiar logo was even slapped on the VHS release of House of the Devil. What's different about this relaunch, as opposed to that one?
GORGON: We've totally started from the ground up on this re-launch. Gorgon Video has always been around, just idle. We spent a good amount of time putting our heads together on new ideas, digging up old material, cleaning up existing elements like the logo, and finding outlets to make it feel authentic and give fans that whole nostalgia experience again. With this re-launch, we'll continue to have release after release as well as venturing into some new merchandise and collectible items.
HL: The last few years have seen a big time resurgence of fan interest in the VHS format, and a hardcore embrace of the nostalgia attached to it. Is that what paved the way for the full-on return of Gorgon?
GORGON: We've been contemplating the return of Gorgon for quite some time and it just felt right now for many reasons. It's great that there is such a big fanbase for VHS and we feel like we have the right team working on it now. We're all very dedicated to the label and know the brand inside and out. It's really exciting to see that fans of Gorgon Video are still out there and so supportive.
HL: Will you mostly be sticking with DVD and Blu-ray releases or will be seeing some more VHS boxes with the Gorgon Video logo on them, in the near future?
GORGON: You will definitely be seeing many more VHS releases from Gorgon Video. Clamshell cases and all!
HL: Speaking of which, the Gorgon Video logo is one that instantly instills feelings of nostalgia in use diehard fans. Please tell us you're never going to change it, or update it for modern times?!
GORGON: That logo is such an entity of it's own. We did clean it up a bit, but there's just no way that we would change it. For every little detail that has gone into this whole re-launch, we've exclusively worked with others who know and love the brand. We definitely would not change that. We've even had fans tell us about their Gorgon logo tattoos! That's dedication.
HL: Gorgon Video is of course most known for releasing the Faces of Death series. Any chances the return of Gorgon will lead to the return of that highly controversial brand?
GORGON: Yes, definitely. We're throwing ideas around for the release and spending a lot of time on it to give it the best release we can, so I can't give too many details just yet, but rest assured that fans will be able to pick up FACES OF DEATH once again.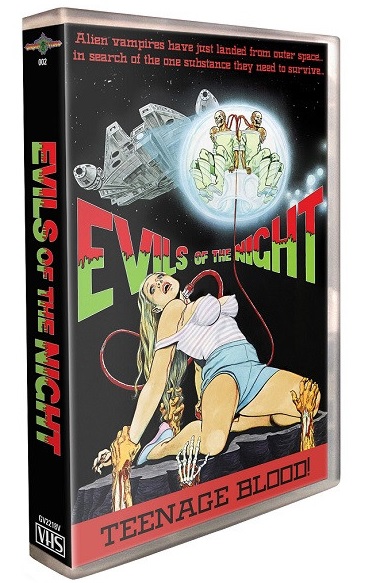 HL: Anything else you'd like Gorgon fans to know about, in regards to what's coming next? Any and all teases are more than welcome!
GORGON: With this re-launch, we're opening up a lot of ourselves to the fans. We want to get people involved and show you what's on the table.
We just announced our new website – www.gorgon-video.com – and with that, we've created a whole blog section that really gives you a sort of behind-the-scenes on some things – videos and pictures from our vault, original paintings that were used on cover art, and coming soon items. So any and all updates can be found there.
We also really encourage people to reach out and let us know what they want to see. We're reviving Gorgon because we truly love the label and would like to give people what they want to see.
---
To keep tabs on the latest releases from Gorgon Video, be sure to "like" the label on Facebook and follow them on Twitter!
Support Halloween Love
If an item was discussed in this article that you intend on buying or renting, you can help support Halloween Love and its writers by purchasing through our links:
(Not seeing any relevant products? Start your search on Amazon through us.)