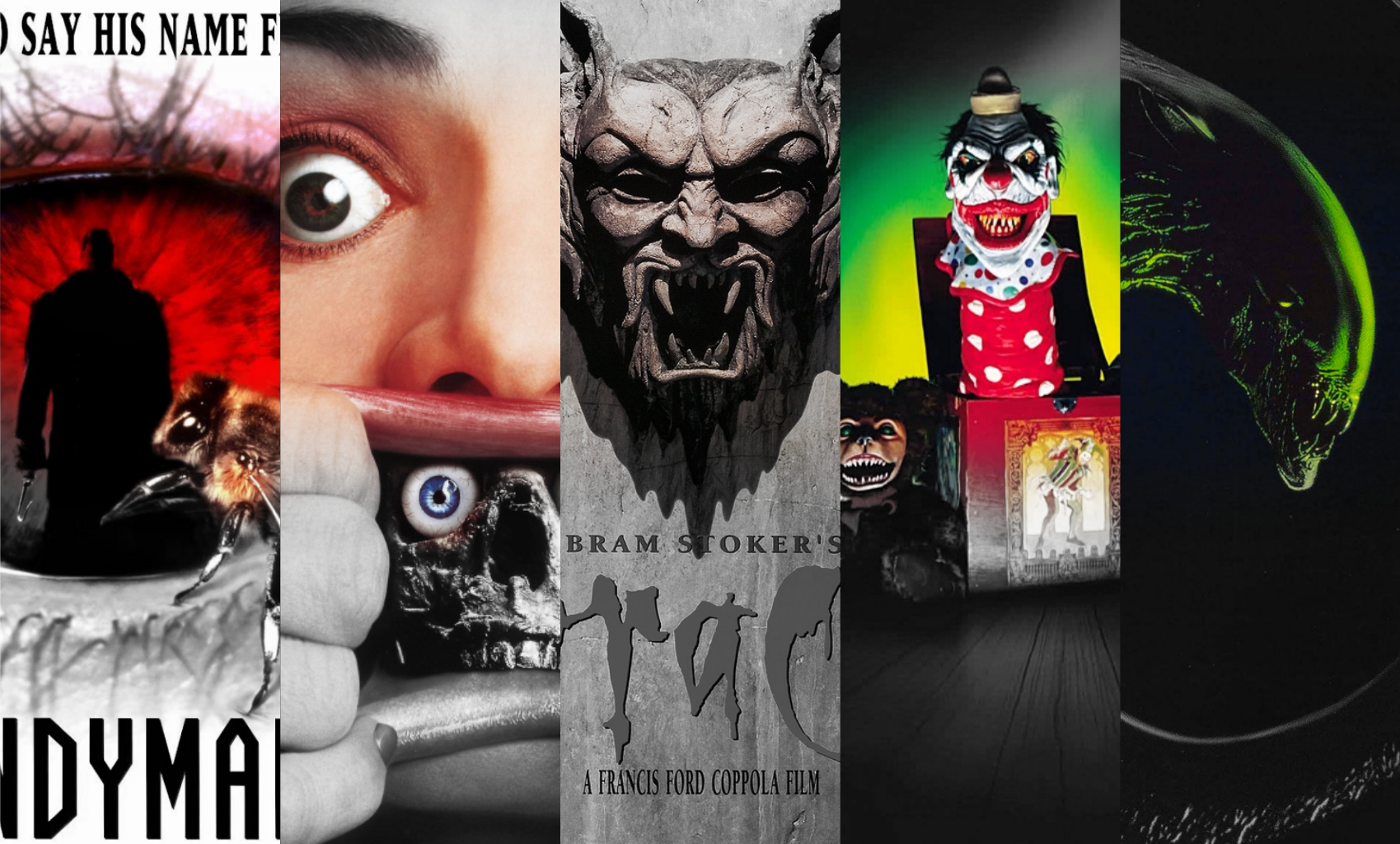 31 days. 31 years. 5 movies per year!
That's the challenge a good friend presented me with recently, and I NEVER back down from a challenge! (well, nearly never!)
Every day through October I will be pondering and revealing my 5 favorite horror and monster movies from 1985 right up to 2016. When I was told I get to pick FIVE movies per year I initially thought this would be a fairly comfortable task. I'm one of those people who likes lots of movies but I only truly LOVE a select few. That did NOT make things any easier. This has been incredibly difficult, and there have been so many years where I could have happily selected 10+ films.
Until you attempt something like this you simply don't realize just how many horror movies you have a passion for in different ways!
I'll keep my reasons for selecting each movie brief, simply because I have to produce this every day for a month. The challenge starts with 1985, when I was 9 years old, and that's pretty much exactly when I moved on from cartoons and family movies and began exploring the good stuff! Going back 31 years turned out to be the PERFECT place for me to start a journey into my movie watching past, and that made taking on this challenge a fascinating and rewarding experience.
I WANT feedback, and I would love to read your choices if you feel like getting involved.
Today we have reached 1992 …
Another quality tale from the mind of Clive Barker, this time introducing us to a terrifying and unique movie slasher who is very much a sympathetic and tragic character. Fear not though, there is just enough gore and blood to keep most horror fiends relatively happy, and Tony Todd delivers a performance you don't easily forget.
Question time … Is there a movie out there that YOU genuinely like and admire, but everyone else you know seems to think it's a bag of crap? And I'm not talking about guilty pleasures here, I mean a film that you TRULY believe is a well made little masterpiece. Mine is Alien 3. I LOVE it! And that love just increases with each passing year and viewing. I do understand the obvious reasons why many found it a painful disappointment (the early character deaths), but the sheer amount of hate it gets still surprises me.
"Your mother ate my dog!" … One legendary line that sums up this perfectly crazy and gruesome classic from Peter Jackson. The relentless pace of the story will make your head spin once the blood starts to flow, and this gory insanity doesn't stop until it reaches a climax that has to be seen to be believed!
Coppola's Dracula is a very rare example of a movie that I rate highly simply because of the visuals. It's SPECTACULAR to look at, and it was ALL achieved without the use of optical or computer generated effects! The acting is piss poor at times, and Keanu attempts to ruin the entire thing by himself, but for some strange reason it doesn't really matter here. Like classic horror movies of old, the wooden acting and laughable accents almost add to the charm of the piece. Gary Oldman on the other hand isn't capable of delivering a bad performance, and when you give him the opportunity to really cut loose, as he does here, the end result is more than enough to carry the entire film without help anyway.
If movies like Child's Play and Puppet Master are your thing, then you might have seen Demonic Toys, and you MIGHT have liked it just as much as I did. I'm not going to lie, this isn't exactly high quality horror, but the toy designs, puppeteering and effects work is admirable, and the story has some creepy cool moments to enjoy.
Support Halloween Love
If an item was discussed in this article that you intend on buying or renting, you can help support Halloween Love and its writers by purchasing through our links:
(Not seeing any relevant products? Start your search on Amazon through us.)