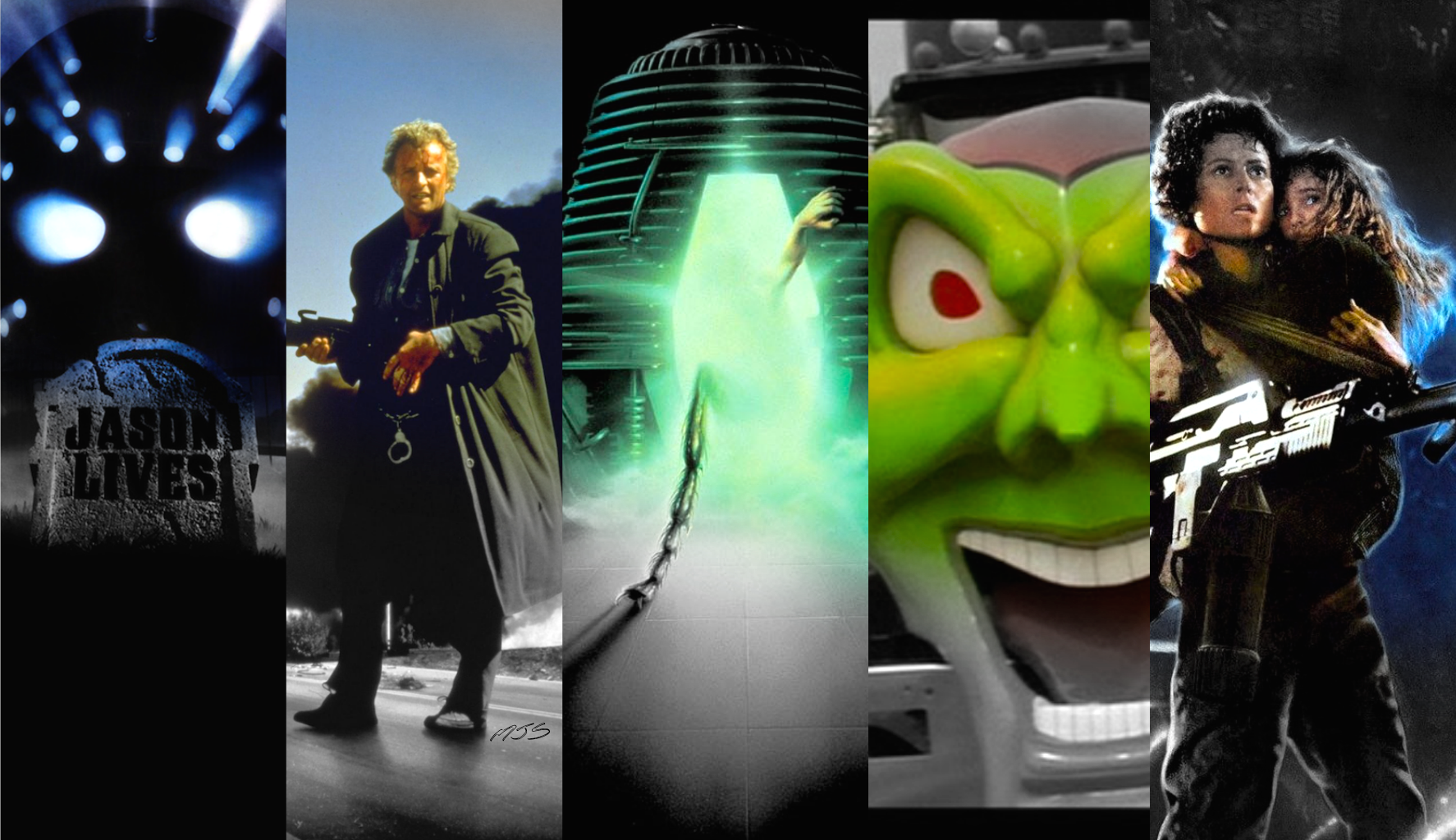 31 days. 31 years. 5 movies per year!
That's the challenge a good friend presented me with recently, and I NEVER back down from a challenge! (well, nearly never!)
Every day through October I will be pondering and revealing my 5 favorite horror and monster movies from 1985 right up to 2016. When I was told I get to pick FIVE movies per year I initially thought this would be a fairly comfortable task. I'm one of those people who likes lots of movies but I only truly LOVE a select few. That did NOT make things any easier. This has been incredibly difficult, and there have been so many years where I could have happily selected 10+ films.
Until you attempt something like this you simply don't realize just how many horror movies you have a passion for in different ways!
I'll keep my reasons for selecting each movie brief, simply because I have to produce this every day for a month. The challenge starts with 1985, when I was 9 years old, and that's pretty much exactly when I moved on from cartoons and family movies and began exploring the good stuff! Going back 31 years turned out to be the PERFECT place for me to start a journey into my movie watching past, and that made taking on this challenge a fascinating and rewarding experience.
I WANT feedback, and I would love to read your choices if you feel like getting involved.
Today we teleport into the year 1986 …
Jim Cameron's epic sequel to Alien was probably my favorite film for several years back in the day, and it remains a near flawless example of how to pace and structure a movie to deliver maximum excitement and action. I have no idea how many times I've watched it … but it's a LOT!
Friday The 13th Part 6: Jason Lives.
Arguably the best Friday movie made thus far. Production values seemed to have improved, Jason returned as the rotting zombie we all know and love, and the whole thing just had a vein of energy running through it that temporarily boosted the franchise. Jason Lives is a tame horror movie when it comes to blood and gore, but the package as a whole is wonderfully entertaining and still looks good all these years later.
What can I say, I REALLY like it! I'm not going to pretend it's a good movie, and I certainly wouldn't be surprised if everyone who reads this thought "WTF!" … but Maximum Overdrive is pure VHS era gold to me. Brings back a lot of good memories.
I believe THIS to be Cronenberg's masterpiece. His body horror Mona Lisa! I adore nearly all of his movies, but The Fly was the first I experienced, and I remember it genuinely disturbed me. Jeff Goldblum is magnificent from start to finish, and combined with the incredible practical effects and make-up, his performance is up there with the likes of Hopkins as Hannibal, in my humble opinion.
My dad loved watching The Hitcher when it arrived on home video, and along with the Mad Max movies it was a film that we always enjoyed experiencing together. It was quality time with him, and we really bonded during our late evening movie watching sessions. Nostalgia aside, The Hitcher is a tension-filled triumph that I often find myself feverishly recommending to people who haven't seen it. Rutger Hauer is IMMENSE in this.
Support Halloween Love
If an item was discussed in this article that you intend on buying or renting, you can help support Halloween Love and its writers by purchasing through our links:
(Not seeing any relevant products? Start your search on Amazon through us.)