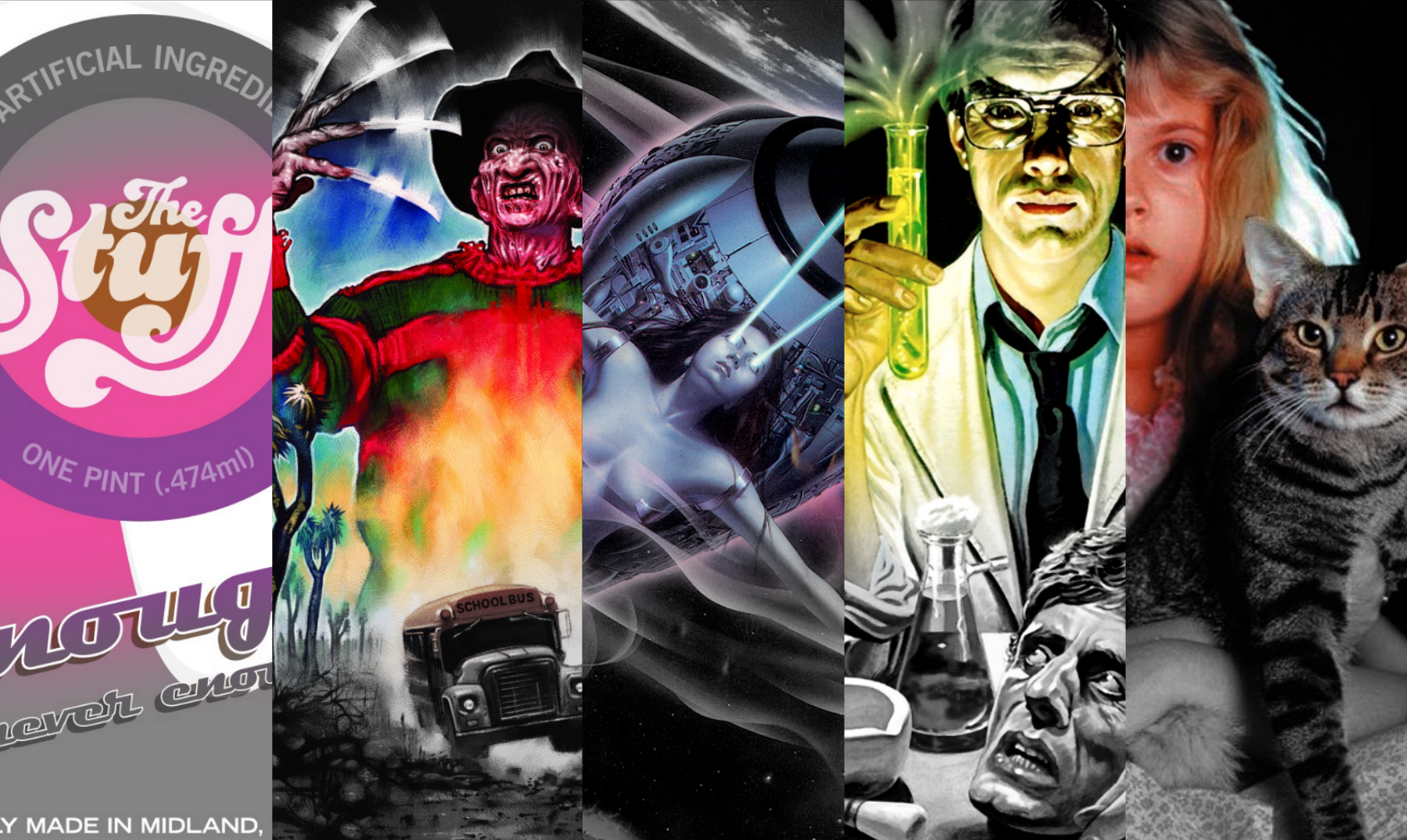 31 days, 31 years, and 5 movies per year … That's the challenge a good friend presented me with recently, and I NEVER back down from a challenge! (well, sometimes I do if I can't be bothered!)
Every day through October I will be pondering and revealing my 5 favorite horror and monster movies from 1985 right up to 2016. When I was told I get to pick FIVE movies per year I initially thought this would be a fairly comfortable task. I'm one of those people who LIKES lots of movies, but I only truly LOVE a select few, but that didn't make things any easier. This has been incredibly difficult, and the 80s and early 90s especially featured years where I could have happily selected 10+ films.
I'll keep my reasons for selecting each movie brief, simply because I have to produce this every day for a month, but what's been fascinating for me personally is noticing how so many of the early years choices come down to linking movies to good memories and little moments in time. The challenge starts with 1985, when I was 9 years old, and that's pretty much exactly when I moved on from cartoons and family movies and started exploring the good stuff! Going back 31 years turned out to be the perfect place for me to start, and that's really what made me decide to take this challenge and run with it.
I'd love everyone who reads this to ponder their own choices for each year, and I'd love to get feedback.
Did I miss a movie you worship … Tell me!
You think my choices are lame … Tell me!
Want to tell me your five choices each day … Please do! List them below or post them on our facebook page.
Now it's time to travel back to 1985 …
A wonderfully bizarre VHS era classic. I vividly remember the poster pinned to the wall of every rental store I visited with my dad back in the day, and we must have paid to take it home with us at least three or four times. The Stuff was a huge part of my introduction to horror, and it generates warm fuzzy nostalgia every time I revisit it.
A Nightmare on Elm Street 2: Freddy's Revenge.
This was the FIRST horror movie I ever owned on VHS, and as such I tend to see past any faults it might have and just LOVE the damn thing! My Freddy obsession started right here, and that tape got played countless times until it snapped during a tragic rewind disaster several years later.
A challenging movie that I learned to love over time. I'm not even sure why I like it as much as I do? Maybe because it FEELS very British? Maybe because it plays out like an episode of Doctor Who with nudity? I just don't know. The always awesome Steve Railsback stars alongside a very strong experienced cast, and if you can get past the weirdness that threatens to engulf the movie at times, there is a rewarding experience to be had here.
An energetic and wonderfully twisted little masterpiece. Re-Animator is truly an 80s classic, with Jeffrey Combs delivering a performance that deserves every drop of praise it got and continues to get.
I THINK this was my first ever anthology film, and I clearly remember begging my Dad to rent it for me simply because I really liked cats! All three of the individual stories within the movie contain memorable moments, but it's the final chapter featuring Drew Barrymore that terrified me the most as a child. That troll really was an evil little fucker, and he made me fear my bedroom every night for about a week after watching this.
Support Halloween Love
If an item was discussed in this article that you intend on buying or renting, you can help support Halloween Love and its writers by purchasing through our links:
(Not seeing any relevant products? Start your search on Amazon through us.)