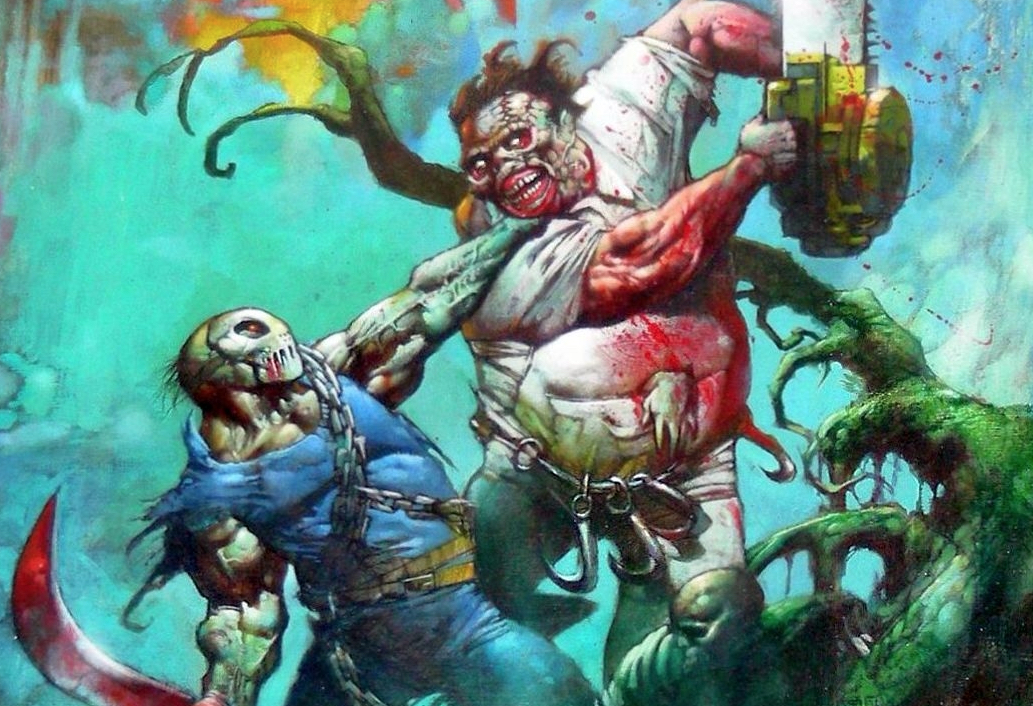 Over the years several Comic book companies have cautiously entered the realm of the Horror Icons. Freddy, Jason, Ash, Michael Myers, Leatherface, Pinhead, all have seen print with varying degrees of success.
Chaos comics released a handful of Halloween books that connected to the universe created in the movies and were actually pretty damn good. In 2005 Avatar Press came out all guns blazing and gave us brand new comics based on; Friday The 13th, A Nightmare On Elm Street and The Texas Chainsaw Massacre. Even Jason X got a run further down the line. Wildstorm Productions together with Dynamite Entertainment unleashed 'Freddy vs. Jason vs. Ash' in 2007 to positive reviews, but after the dust settled my personal favourite Horror comic of this type still remains a three issue mini-series from 1995 which goes by the name of Jason vs. Leatherface!
Published by the now defunct Topps Comics the mini-series brought together two of the most popular silent killers in Cinema, and by silent I mean they don't talk, crack jokes or play with their victims … They just kill. A challenging task, but author and comic writer Nancy A. Collins delivers a fascinating look at both of the hulking murderers without changing what they are and who they are.
The story can be loosely connected to certain movies but it mostly exists in its own Universe. Everything is familiar but with a refreshing pinch of originality and energy. The artwork by Jeff Butler & Steve Montano is clean, crisp and does justice to the characters, especially Jason who looks fantastic.
As a Brit I MUST also give a special mention to the covers by living legend Simon Bisley. I grew up worshipping his art in 2000ad and here he has basically painted a masterpiece for each issue! They are exceptional … If I could own just one piece of original comic book cover art it would be his Jason from issue 3.
I made contact with Nancy recently to see if she could give me a little insight into the creation of the series and was delighted to hear back from her a few days later. Here is what she had to say …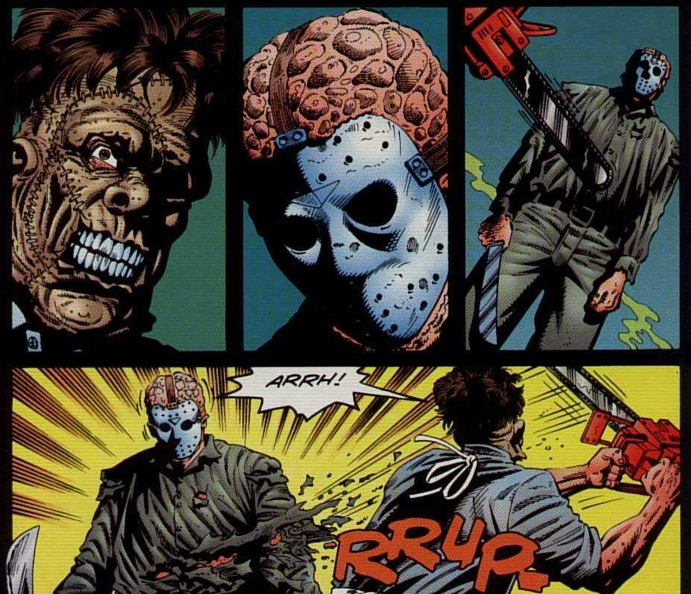 Halloween Love: How did you get involved with writing the 'Jason Vs Leatherface' comic book mini-series?
NC: "Back in the early 1990s there were plans for a Jason vs. Freddy movie, to be immediately followed by a Jason vs. Leatherface movie. (Of course, none of this exactly went as planned.) New Line wanted to test the water for such a team-up by releasing a comic book. At the time I was friendly with New Line's Senior Executive VP of Licensing and Marketing, Dave Imhoff. Dave had liked a novelette I'd written for a Nightmare on Elm Street/Freddy Kruger tie-in anthology, and recommended me to Jim Salicrup who was the Editor-in-Chief and Associate Publisher of Topps Comics. As it turns out, Jim was also a friend of mine, and had no problems with Dave's suggestion. I was just coming off two years of writing Swamp Thing for Vertigo, and I had fun working on the mini-series, the script for which was 100% my creation and had nothing to do with any screenplay that might have been floating around."
HL: When you entered the project were you a fan of the more popular "Horror-icon" characters such as Jason and Freddy?
NC: "I've been a fan of horror films and literature from a very young age and grew up watching everything from old Universal and AIP to Hammer and Amicus films. I enjoyed series such as Texas Chainsaw Massacre, Nightmare on Elm Street and Hellraiser, but I wouldn't exactly call myself a "fan" of the characters. And, to be frank, my tastes ran more toward Michael Myers/Halloween than Jason/Friday the 13th. I loved the first two Texas Chainsaw Massacre movies, though. That was my real inspiration for writing the comics. I actually wanted to write a Saw story more than anything else."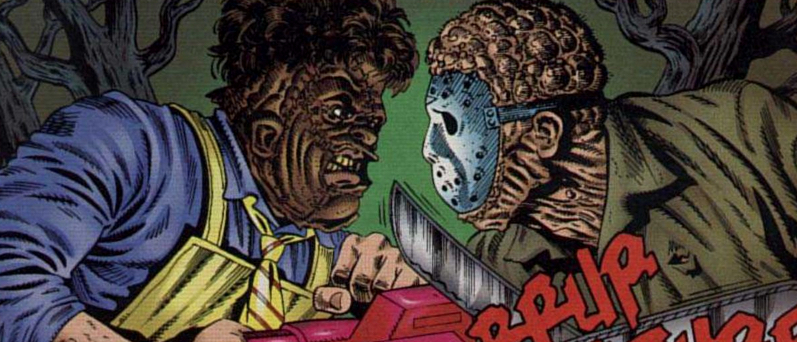 HL: Did someone or something put you on the creative/writing path or did you find your way there on your own?
NC: "I've always been a writer. According to my parents, I was 'writing' stories when I was 3, even though I didn't learn to read or write until I was 5. After writing for fanzines during my teens and early 20s, I eventually lucked into a mentoring relationship with a professional writer, who helped me take my raw talent and make it salable. I've been working in the vineyards ever since."
HL: Do you have a favourite Horror movie? … Or at least a favourite 'type' of Horror?
NC: "If I had to pick a favourite horror movie it would be a toss up between Robert Wise's The Haunting, Guillermo Del Toro's The Devil's Backbone and Alejandro Jodorowsky's Santa Sangre. All are films that have stayed with me and informed my understanding of character, storytelling, and atmosphere, and how they relate to what we call 'horror'. As for favorite genre/type of horror film, I will have to say it's the haunted house/ghost story, if for no other reason than there is a great deal of variety within the genre. Haunted house movies can go from moody & 'quiet' like The Haunting (1963), The Uninvited and The Others, to balls-to-the-wall scarefests like The Evil Dead, Hausu and The Grudge, and even comedy-horror like Ghostbusters, Beetlejuice and the House series."
HL: Finally, If you, Nancy A. Collins could spend some time talking with any fictional character from Movies, Comics, Books and TV … Who would it be?

NC: "I'd love to kick back, relax and listen to music with Dr. Walter Bishop from Fringe. He's my kind of mad scientist."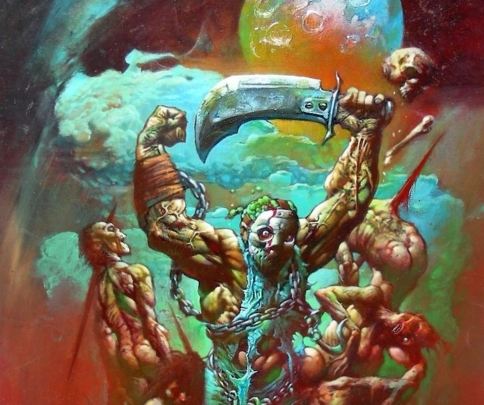 On behalf of myself and everyone here at Halloween love I'd like to say a huge thank you To Nancy for taking the time to answer my questions and allowing me to share them here.
To sum up, if you haven't read this comic book series and you have a passion for the characters then seek it out. You get brutal kills, humour, subtle tragedy and of course, Jason VS Leatherface!
Support Halloween Love
If an item was discussed in this article that you intend on buying or renting, you can help support Halloween Love and its writers by purchasing through our links:
(Not seeing any relevant products? Start your search on Amazon through us.)