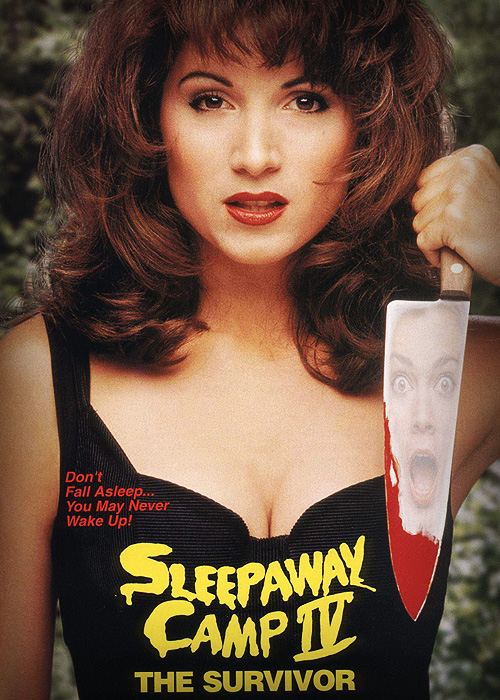 Whenever the sun comes back out to play and the weather starts to warm up, the Sleepaway Camp franchise once again becomes a hot topic of discussion in the horror community – it is, after all, the ultimate summer slasher series.
This summer is particularly exciting for fans of the franchise, because Scream Factory is releasing the original film on Blu-ray for the very first time on May 27th, a Collector's Edition offering that is loaded with special features and adorned – in true Scream Factory fashion – with a beautiful new piece of cover art.
While we all anxiously await the arrival of that must-own release, today we whet your appetite for those gory summer camp shenanigans by looking back on five Sleepaway Camp sequels that were planned but never quite happened.
To date, there have been four official installments in the franchise, and there would've been many more, if these proposed films had their way!
SLEEPAWAY CAMP 4: THE SURVIVOR
The most infamous of all the unmade Sleepaway Camp sequels is without question The Survivor, which was to be the fourth installment in the series. Centering on a survivor of the original Sleepaway Camp named Allison Kramer, The Survivor entered production in October of 1992 and a full 30-minutes of the film was shot, before the production company went bankrupt. That spelled the end of the entire production, and it wasn't until 10 years later that the footage was released to the public.
2002 saw the release of Anchor Bay's Sleepaway Camp Survival Kit DVD box set, which included a special fourth disc, containing the rough footage that was shot for The Survivor. In 2012, that footage was cleaned up and flashbacks from the previous films were added to it, along with newly recorded narration and visual effects. The idea was to essentially paint a picture of what the fourth installment was going to be like, and the pseudo-Sleepaway Camp 4: The Survivor was independently released on DVD, currently available through Amazon's burn-on-demand program.
So I guess you could consider this one a sequel that eventually did end up happening… even though it technically didn't!
SLEEPAWAY CAMP: ANGEL OF DEATH
After writing Sleepaway Camp 2: Unhappy Campers and Sleepaway Camp 3: Teenage Wasteland, Fritz Gordon came up with the idea of continuing the franchise with a fourth installment subtitled Angel of Death, a reference to the nickname Angela is given in the first sequel. Though not much is known about the idea, it's been described as a fusion of Friday the 13th and The Breakfast Club, with Angela becoming a high school teacher, and heading a detention full of troublemakers. I think you can figure out where the story was to go from there!
Gordon apparently wrote a treatment for the film, though that's as far as the project got.
SLEEPAWAY CAMP: SUMMER STALK
In 1989, even before The Survivor entered production, Double Helix Films planned a fourth installment in the series in the form of Summer Stalk, a play on words in reference to the fact that the film was to take place at a summer stock theater, built on the site of the demolished Camp Arawak. In an interesting twist, the theater plans a musical production of Angela's life, with Angela herself (played by Felissa Rose) auditioning for the role of Angela – only, we don't at first know that Angela is really Angela, since she's believed to be dead.
"One of the fun parts to the story was that a religious cult had grown up around the legend of Angela and they were trying to halt the production of the play which they felt was sacrilegious to her memory," Sleepaway Camp 2 & 3 director Michael A. Simpson told SleepawayCampFilms.com, about the project. "These nut jobs were among those who believed Angela was dead so when the killings start we aren't sure who is doing the murders. Is it these religious kooks or Angela being her bad little transsexual psychopathic self again?"
Simpson continued: "I wanted to show this story mainly through the eyes of the woman who thinks she is Angela. She's been in and out of mental hospitals and has lost touch with reality. She really thinks she is Angela but is she? I felt a great way to twist this Angela character into someone sympathetic was to have her haunted by her apparent victims. You could have these zombie-like dead characters from the first three movies popping up at the most importune moments, singing and dancing. I thought the musical numbers should be surreal, like a demented version of Rocky Horror."
The plan was for the film to end with a battle between Felissa Rose's Angela and Pamela Springsteen's, the two Angelas engaging in a fight to the death. "It would make the ultimate Sleepaway Camp film," Simpson said. "It would be talked about for decades."
Indeed it would. Unfortunately, it never happened.
SLEEPAWAY CAMP: BERSERK
More recently, Michael Simpson wrote a script for a sequel titled Sleepaway Camp: Berserk, which expanded the storyline laid out in the first three films, while at the same time providing more of a backstory about the character of Angela.
The script opens with a 40-year-old Angela in prison, where she is executed via lethal injection. Camp Rolling Hills/New Horizons is turned into a wilderness camp for troubled teens, and 12 teens are bussed into the camp the day after Angela is executed. From what I gather, a supernatural element was to come into play, with either the spirit of Angela possessing one of the teens, or Angela herself coming back from the dead.
Simpson described the movie as being a straight up horror film, rather than a campy horror/comedy, and it was to incorporate storylines from all four of the official Sleepaway Camp films, tying them all together. Though Berserk could still happen someday, there has been no progress in the last few years, as far as I know.
You can read the first few pages of the script, as well as a script review, over on SleepawayCampFilms.com.
SLEEPAWAY CAMP REUNION 3D
2008 saw the release of Return to Sleepaway Camp, a sequel directed by original Sleepaway Camp director Robert Hiltzik, which ignored the events of the previous sequels. Hiltzik's plan was to turn his installments of the franchise into a trilogy of their own, by following up Return to Sleepaway Camp with Sleepaway Camp Reunion 3D.
All that was really known about the film is that it would be shot in 3D and would feature the return of many familiar faces from the franchise, including Felissa Rose as Angela Baker. "It's basically about what happens when evil reunites, and that's all I'm saying about the storyline," said producer/star Tom Van Dell. The plot was apparently going to focus on survivor Mike (Van Dell) from the original film, who gets invited to a mysterious reunion at a closed mountain resort.
A press release announcing the film was sent out several years back, indicating it would enter production in 2008 and be released in 2009. Of course, both years came and went without either happening, and Sleepaway Camp Reunion to this day remains locked away in the bowels of Development Hell.
At this point, it seems much more likely that the original film will be remade, rather than the original franchise continue with any further sequels. A remake has indeed been rumored and discussed in recent years, though no plans are set in stone.
Support Halloween Love
If an item was discussed in this article that you intend on buying or renting, you can help support Halloween Love and its writers by purchasing through our links:
(Not seeing any relevant products? Start your search on Amazon through us.)
The following two tabs change content below.
If you don't get enough of me here on Halloween Love, you can also find me on Dread Central, iHorror and Shock Till You Drop. Contact me via john@halloweenlove.com.
Latest posts by John Squires (see all)