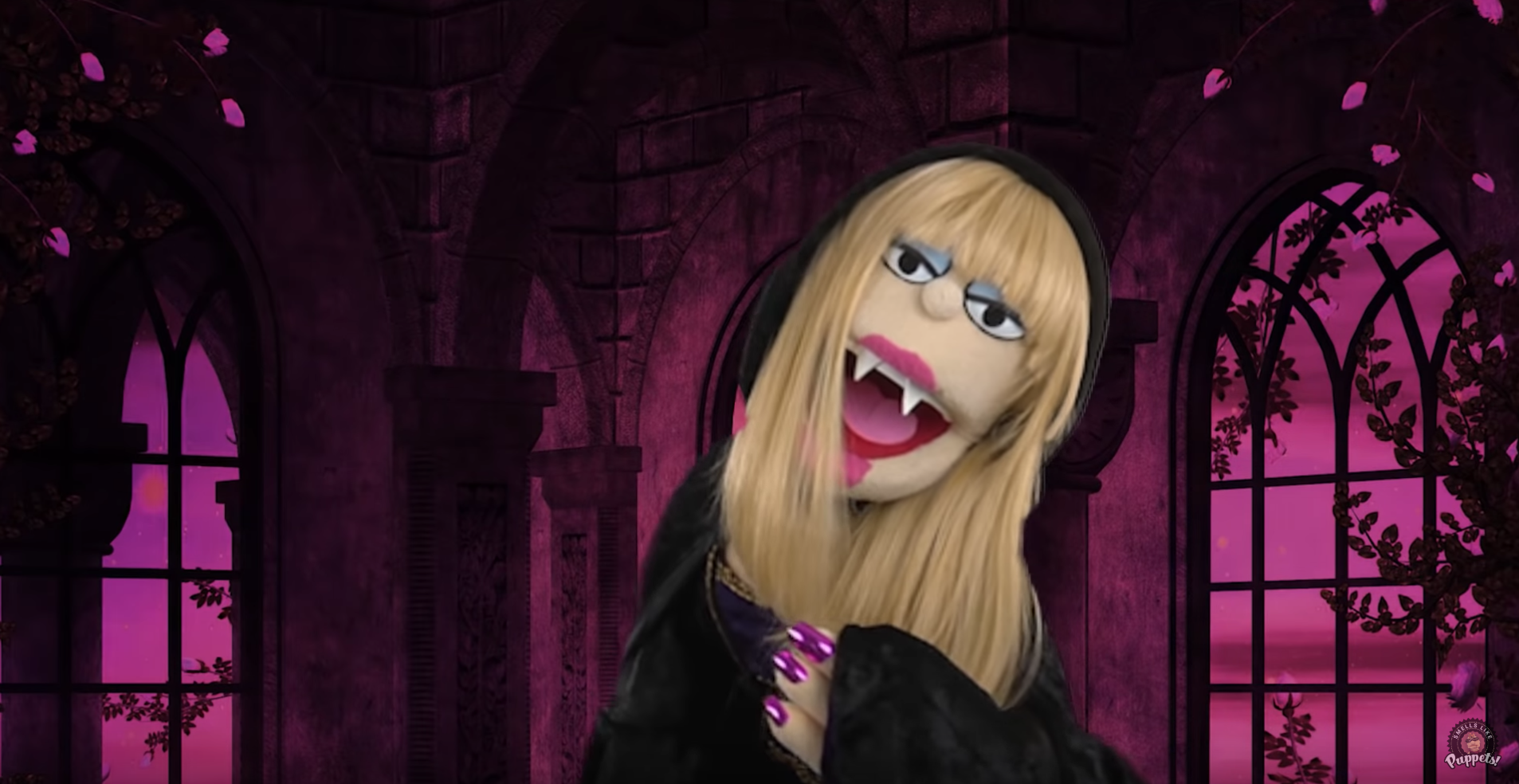 Ever wonder how creatives do what they do? Or even how some of us come up with this stuff? I am a puppeteer, but like to think of myself more as an illusionist. I like to create the illusion that the personas I create are very much their own little souls. One of the many characters I gave birth to is known as Mezmeralda Moonlight, a vampire. She's a great mix of darkness and humor. She sings, she raps, and enjoys the darkness she knows is within her. She's actually gone through a transformation this year, with a new look. Like many artists, she enjoys changing her wigs to suit her mood.
The real fun is discovering the "isms" of the character. The traits that make their personalities come alive… once you find those, sometimes the puppet just takes on a life of its own. Puppeteering on camera is hard work, but fun work. If I am shooting green-screen in my home studio, it's far easier than when I am on location and on my knees. Ok, shame on those of you that read that in a perverted fashion. When you take a puppet in the real world, you'll find yourself on your knees, stomach, and whatever other crazy positions are needed to make the puppet and the scene look good.
I once saw an interview with Frank Oz (the original Miss Piggy) who said:
"To make it look good up there, you have to be uncomfortable down here."
He wasn't kidding, trust me on this. But there is nothing better then getting the shot you want and looking at the footage and thinking, "Damn, that looks great." I always work with a monitor, so I can see what the camera sees. Most puppeteers working on camera do actually. It's always amazing to me, to this very day, how once you have a solid character, the ideas will start to flow, or pour out of you really. You get days where you feel like you need buckets to hold them all.
I recently launched my puppet dream project on YouTube, a channel called Smells Like Puppets. I felt the name was a bit edgy, and that reflects the characters you will see there. It's a work in progress, and a lot of work at that, but work that I love. I recently released a Halloween music video with Mezmeralda called, "I Don't Bite… Unless."
It's a funny, but dark take on the plight of being a vampire with a good heart, but a relentless hunger nonetheless. Not to give anything away here, but in the video you will see a Yorkshire Terrier, she does a small cameo appearance. The pup was mine, and there was no way I could have known that a few short weeks after the shoot, she would cross the rainbow bridge. She left us this past Monday. The pain is raw, but the joy of who she was is in my heart forever. In many ways, her appearance in the video was her swan song.
Just know, if you watch the video and that one scene makes you smile, then her legacy lives on.
Support Halloween Love
If an item was discussed in this article that you intend on buying or renting, you can help support Halloween Love and its writers by purchasing through our links:
(Not seeing any relevant products? Start your search on Amazon through us.)