Thrill your guests without scaring your wallet! Here's how you can host a great Halloween party without money vampires sucking out your savings. (And hey, while you're here, I've also written another article that might help you out — 21 Fun Family Activities for a Spooktacular Halloween.)
It's finally time for the spookiest night of the year! Ghosts and goblins dominate the neighborhood. Witches stir their brew on your friend's front lawn. And at least one house on the street boasts a cool projector showing werewolves moving through the house (show off!).
Scariest of all, there's not much time left to plan your Halloween party — you know, that one your friends started asking you about in July! Expectations run high! At the last minute, you need to finish the guest list, prepare your menu, choose a costume (not last year's costume), put up decorations, and decide on entertainment (is Ozzy available?).
Never fear, let me help you out. These four quick tips will help you throw a frightfully awesome Halloween party, for cheap (just like the title says… duh!). And the best part, is you won't need the leprechaun's gold to pay for it!
(Short on time? No worries, we got you. Our best, cheapest Halloween party idea is to host an escape room party.)
Step 1 — The Three Ws
No, not werewolves, witches, and warlocks (although they are all welcome). The three Ws cover the basics of party planning: who, where, and when.
You need a plan for each W. Without a plan, you end up like a teenager in Friday the 13th Part 667 — frightened, running, and ultimately, dead. Not a good ending to your party. No "winging it" allowed!
We have the tips to help bring your plan off perfectly and still have a cheap Halloween party. Keep reading to plan the greatest Halloween party ever! (And when you're done with these tips, we've got a whole set of BONUS Halloween hacks for you here.)
The WHO — Keep Your Guest List Reasonable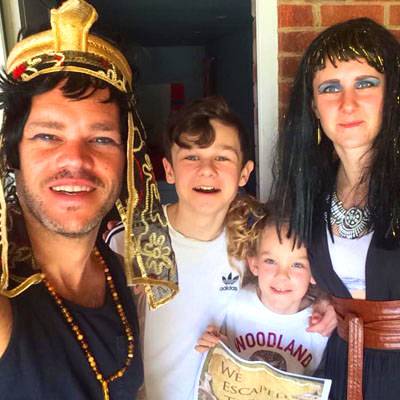 If you invite them, they will come. They will probably come without food and drinks, meaning you need enough food for your entire list (more on that later). Besides, do you really want Paul and Patti to show up again in their Pilgrim costumes?
With larger groups, you may struggle to spend time with all of your guests. The next day you'll wonder if the witch was Michelle or Monica and if you actually knew the Zombie that you saw across the room.
Smaller groups allow you to interact meaningfully with all of your guests. You'll have a great party with people you genuinely enjoy without tunneling into the bank vault for a "loan." A word to the wise, those "loans" can be expensive.
The WHERE — Someplace Cheap (Free is Cheap!), Accessible, and Entertaining
You don't want to have to cover all of your furniture with sheets to protect against food and makeup stains (although, done right, sheets on the furniture create an excellent vibe!). Perhaps you don't want to freak out your neurotic cat with a house full of strangers. Or maybe you don't have room for all of your guests.
You need a venue, and preferably not one that requires you to invite more guests. That rules out your parent's backyard, your sister's four-car garage, and your spouse's parent's warehouse.
You can find many places for free or cheap. Have your party outdoors at a local green space. Book a low-cost community center or conference room at a library. Some restaurants will provide you with a room if you order enough food, but beware of cost if you choose this option.
Finally, perhaps you can co-host with someone on your guest list. They provide the house, and you provide the guests, food, and entertainment. Co-hosting can add to the fun by creating a joint project.
The WHEN — Be Creative (And Avoid Halloween Night)
Before you plan a party for Halloween night, take a look at your guest list. Do your friends have little goblins or grandgoblins? Do they live in neighborhoods with huge Halloween Trick or Treat celebrations? Do they disappear into the woods to perform ritual sacrifice every October 31st?
Scheduling a party on Halloween evening can scare away guests. You may wish to host the party the weekend before or after. If haunted houses can run from September to November, surely your party can take place on October 24 or November 2.
Having the party before Halloween allows everyone to begin their spooky celebrations a little early and adds to the anticipation. Having it after Halloween allows everyone to bring leftover candy for snacks, a win-win!
You Don't Have to Be Kanye West to Throw a Great Party
Ok, so you may not be flying all of your friends to Universal Studios for Fright Nights (although if you are, count me in, friend). Your party doesn't have to land you on Lifestyles of The Rich and Famous to be a whopping success!
You will have a great party if you bring together good friends, have some decent food, and exciting entertainment. Don't stress out! Enjoy it!
Step 2 — Haunting Your House
The Blair Witch Project proved that great terror can come from a low budget. You can do the same thing, without having to run through the woods in the middle of the night!
First, check out your local Dollar Store. They offer incredible decorations for minimal cost. Best of all, you can trash all of the decorations at the end of the night. You can decorate for your party at a tenth of the cost of your local costume and party supply store.
From there, you can easily DIY a great setup with the old stuff stashed around your house.
Creatively Spread Your Junk Around the House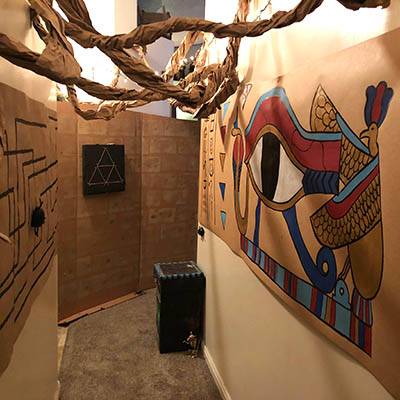 Before going to the Dollar Store, look around to see what you can repurpose for decorations. The more you find in your attic and your spouse's closet, the less you have to buy.
Check out Etsy and Pinterest for inspiration. You may be able to DIY an idea for little or no cost. Some particularly fun, and cheap Halloween decoration ideas include:
Hanging paper bats.
Placing old sheets over furniture for that abandoned house look — extra points if you decorate the sheets to give them a dusty or bloody look.
Sit dolls in chairs and on shelves for a spooky "you're being watched" look (do you have one that looks like Chucky?).
Hang old photos crooked on the wall. You can even add cobwebs to give the house an old, disheveled feel.
The possibilities are endless. Once you have your props, hit up the web for inspiration. You'll have a blast!
Design an Eye-Popping Centerpiece for the Main Room
You want to have as much fun as your friends. While you can turn the living room into a full-scale haunted house, you may not have the time or energy for such a large project.
You simply need to focus their attention on one part of the room. Put 80% of your decorating efforts into a display that will pop out their eyes and strike terror into their hearts. With a great centerpiece, you don't need to worry about elaborately decorating every wall and hallway.
You still want to put some mayhem in other spots. But if the centerpiece shines, the majority of your work is done.
Set the Mood with Lighting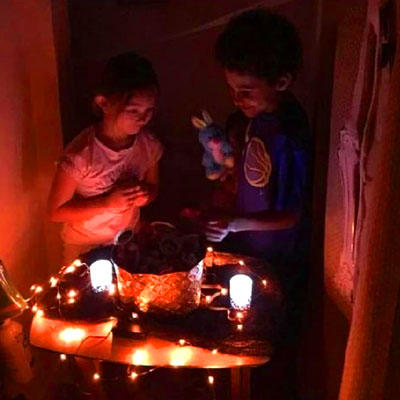 Bright lights and Halloween parties don't mix. Darker lighting and colored lights provide an eerie feel to your space. Save the bright lights for the kitchen. Strategically place lights around the house to enhance your decorations. (Want REALLY cheap Halloween decorations, just turn all the lights off!)
Make use of old candles, placing them on shelves and tables. Grab some colored bulbs to cast dim light onto scary props. Block out all external light by covering all the windows.
Mood lighting will help hide some of the flaws in your DIY decor (if you're like us, you will have a few flaws). Experiment with lighting to produce the desired effect, especially around your centerpiece.
Break Out the Halloween Playlist
Break out the Vincent Price lyrics from "Thriller." Play "Monster Mash" multiple times. Grab the theme music from old horror movies, like Nightmare on Elm Street or Halloween! Spine-chilling music will make your party a scream!
Spotify offers several great playlists. Use one of theirs or pick out songs for your own creepy list. The right music will give your decor the proper feel and give your guests a great Halloween vibe.
STEP 3 — Frighteningly Fun Food
Cooking has to be the scariest part of Halloween parties. If you feel like you're going where no party host has gone before, you're not. We have a few tips to help ease the food crunch without sacrificing your wallet.
Prepare Your Guests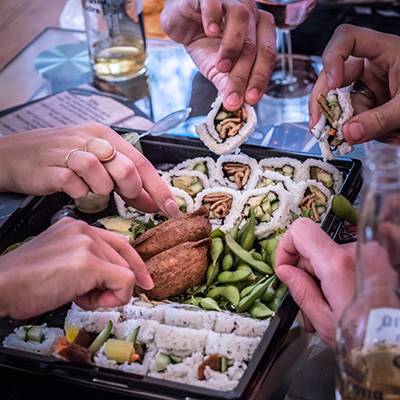 Nowhere in the Halloween Party Rule Book does it say you need a five-course meal. If your party is an afternoon or later evening event, you can reasonably assume that most of your guests already ate meals. The rest ignore your warnings at their own peril.
Set out your plans in the invitation. Let them know that snacks will be provided, whether you are providing drinks (and what type), and what other items guests are invited to bring. Also, warn anyone showing up empty-handed that the beast in the basement will be on hand to devour them.
Simple Changes to "Regular" Foods Gives Your Party a Halloween Feel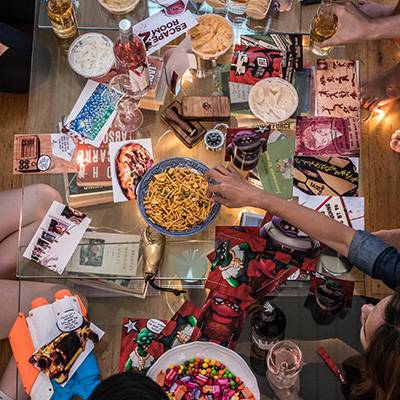 Pinterest is wonderful. But the cakes and decorations there require hours of prep and skills you don't have. Making quick and easy changes to typical party food makes Halloween fun! Try some of these ideas:
Use a knife to cut bloody eyes and noses into slider buns.
Cook curly fries and stick them in jars of ketchup to create a bloody effect.
Stick celery into a peeled clementine for an edible pumpkin.
Use peppercorn to give your pigs in a blanket eyes.
Cut faces out of cheese to create a scary jack-o'-lantern cheeseburger.
This is just the tip of the mummy's finger. Consult the Wizard that is Google for even more easy and cheap Halloween party foods.
Get Help from Your Talented Friends
Remember, you're not in this alone! Invite some friends with cooking skills to help prepare the food. Decide what you want ahead of time so that you can buy the ingredients. You will have fun making the decorations while you hang out.
Better still, have a snack competition. The guest with the best design and the best taste wins!
Step 4 — Let's Get This Party Started
It's a Halloween party, not a cocktail party. You need something fun to do! No, not bobbing for apples, that went out with bell-bottoms and mullets. Never fear (unless the zombies approach) we have several options for your guests.
The top pick — a printable escape room! Make your guests escape the mummy's tomb to earn their way into the kitchen!
A Fun, Cheap Game Makes the Party
You don't need to crack open your piggy bank to set your party apart from the rest. You just need a cheap game, a killer theme, and a group of people willing to have some fun! So a DIY escape room kit fits the bill perfectly. With it, you can set up a thrilling escape room at home, all for the price of snacks.
No other party asks you to escape an Egyptian tomb, or avoid a horde of zombies before dessert. Plus, you can set up the escape room in less than 30 minutes. You download it and print it — it's that easy.
One escape room covers your entire party, whether you have six people or sixty. Print as many copies as you like to ensure all of your friends have a blast. Divide your guests into groups of six and compete to see who escapes first!
Nothing says low-stress like a DIY escape room. You can play the same escape room at adult parties and kids' parties. You can recycle it as many times as you like!
Not Ready for an Escape Room — Try Some Traditional Halloween Games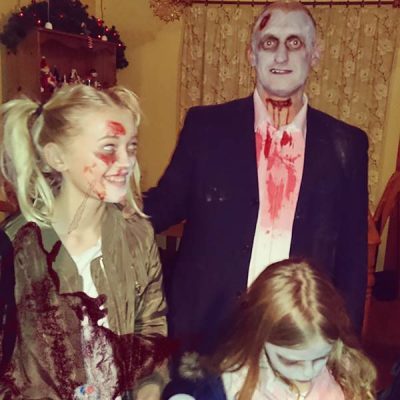 With a good group of friends, almost any game is fun. Try one of these popular games:
Have a costume contest. In the invitation set for the theme (if you want one) and the rules. If you give everyone time to prepare, expect some terrifyingly great costumes!
Try a pumpkin-carving contest. For fun, make the contestants use something other than a knife. Announce a theme or let them freestyle it.
Play musical ghosts. Imagine musical chairs, but each player has a sheet covering their head. Eye holes optional. Make sure people are standing close by to prevent ghosts from colliding with walls.
The Mummy Race! Wrap each other in bandages and see who gets to the end of the yard first! For more fun, make everyone "run" with their hands out like a mummy. Or tie two people together with bandages for a mummified "sack race."
Ok — How Do I Organize a Halloween Escape Room Game?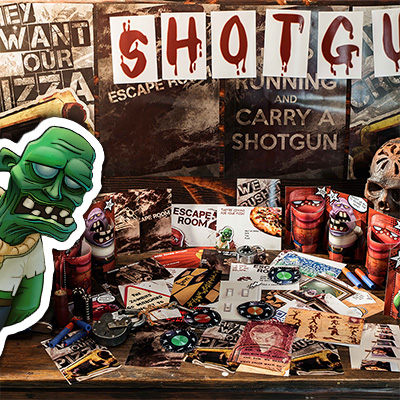 Trust me, it's super simple, and super fun! Plus, even though you're the one setting up the game, you can participate too. Yep, setup is totally spoiler free.
First, choose a game (this may be the hardest part). Then print out a copy of the game for every team of 4-6 people at your Halloween party.
Second, give each group their own game space. Try to put them far enough apart to prevent cheating (but close enough so that they can hear each other's cries of despair!). Use the printable posters included in each pack to spice up your centerpiece.
Hide the puzzle pieces around the room or simply dump them on a table. Then yell "GO!"
Have the teams race against each other. The winner has bragging rights for a year and the first shot at the dessert. Then enjoy everyone trading war stories from their escape.
That's All, Folks!
The planning is done. The centerpiece is up. The music is on. The guests arrive shortly. Now, go out and enjoy yourself!
But be prepared, your friends will expect another Halloween escape room party next year!
Wow, did you make it all the way to the end? Good for you! If you enjoyed this article, you may like our other one — 9 Haunting Hacks to Make Your Halloween Easy.
Support Halloween Love
If an item was discussed in this article that you intend on buying or renting, you can help support Halloween Love and its writers by purchasing through our links:
(Not seeing any relevant products? Start your search on Amazon through us.)