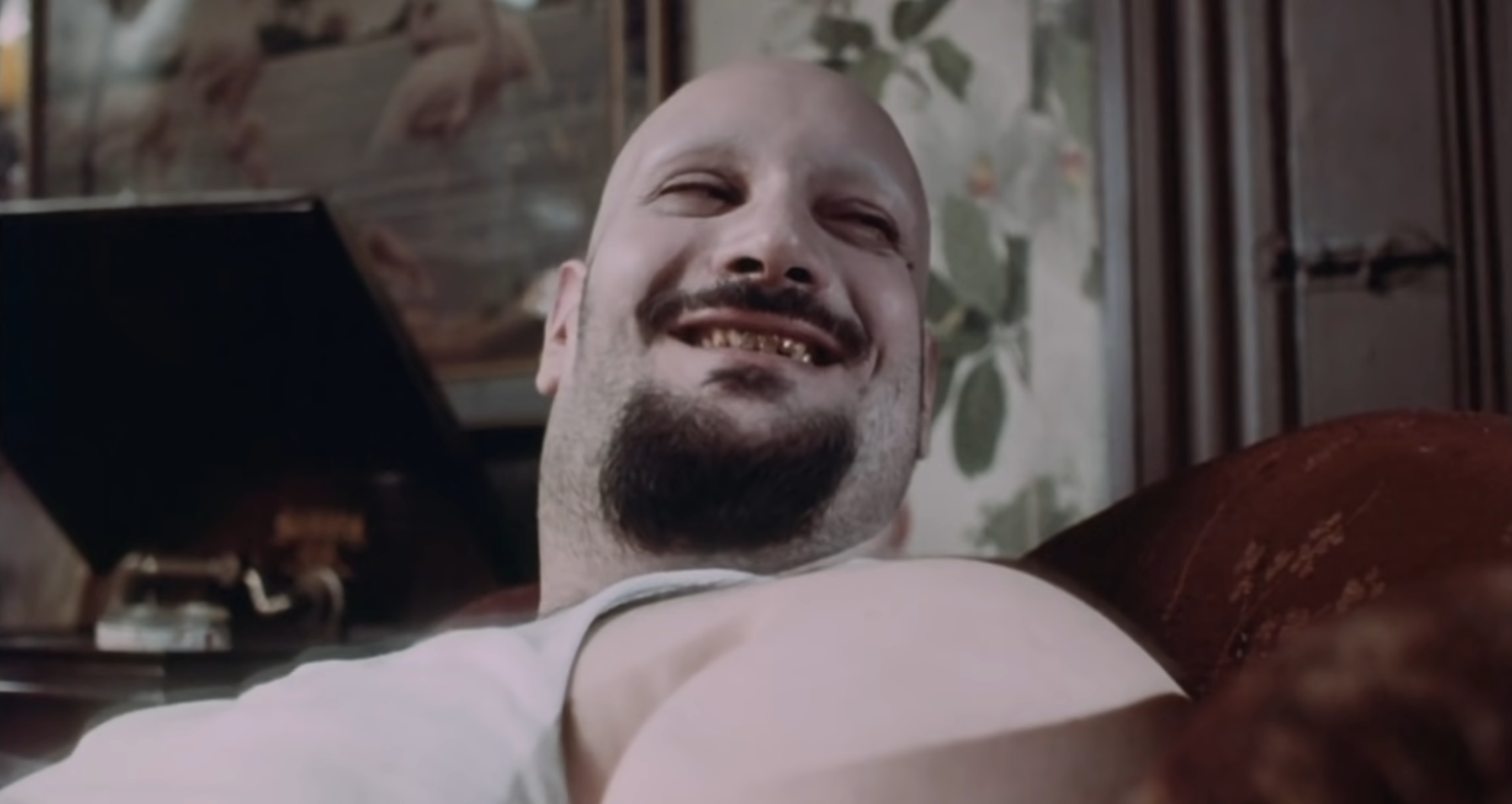 Rondo Hatton (1894-1946) — an actor whose facial and bodily features were distorted by a condition called acromegaly — was tastelessly touted in the 1940s as the only movie monster who didn't need makeup. He typically played characters with names like The Creeper, Moloch the Brute, and Mario the Monster Man. Three decades later, Los Angeles-born actor Michael Berryman (1948- ) embarked upon a strikingly similar screen career. Berryman was born with a rare condition called hypohidrotic ectodermal dysplasia (HED), which gave him an unusual and highly memorable appearance — hairless and oddly proportioned, almost like something from an EC comic book brought to life.
As with Hatton before him, Berryman found himself typecast as monsters, psychopaths, and thugs starting in the mid-1970s, though he seemed considerably more at ease with his creepy reputation than the melancholy Hatton had been. Then there's the case of Richard Kiel (1939-2014), who like Hatton was afflicted with acromegaly. He, too, was often cast as inarticulate henchmen and lumbering beasts due to his large frame and deep voice. Kiel seems to have made peace with that fact over the course of a long and prosperous career.
We must also consider the cases of Tor Johnson (1902-1971) and Ted Cassidy (1932-1979). Though neither suffered from any disfiguring medical conditions that I know of, both were pigeonholed as menacing henchmen and misshapen monsters because of their unusual size and abnormal appearance. Greta Johnson, Tor's wife, disapproved of the unflattering way her loving husband was depicted in films, according to Rudolph Grey's book Nightmare of Ecstasy: The Life and Art of Edward D. Wood, Jr. (1992). Cassidy, meanwhile, was extremely bitter about his lot in life and resented his Hollywood experiences until his early death.
I offer these examples as a prelude to the short, sad saga of Alphonso DeNoble (1946-1978). This New Jersey actor made three movies, all of them horror, and was presumably cast due to his attention-grabbing appearance rather than strictly his talent. DeNoble was morbidly obese with an improbably round physique. His eerily pale skin and bald head further distinguished him as an oddity, and he was predictably given ghoulish onscreen roles before he died by his own hand at the age of only 31.
Alphonso Louis DeNoble was born in Paterson, New Jersey, on December 20, 1946. One of the most populous cities in the state, Paterson is also unfortunately known for its high crime, high unemployment rate, and sluggish economy. In 2016, the website 24/7 Wall St. named it the third worst place to live in America. Alphonso seems to have been the only child of Louis DeNoble and Angelina Garofalo DeNoble, who died in 1966 and 1969 respectively.
DeNoble's IMDb entry states that the actor's day job was working as a bouncer at a Paterson gay bar. I can neither confirm nor deny this. The same bio says that Alphonso would supplement his income by dressing up as a priest and hanging around cemeteries, hoping to elicit donations from elderly widows. Again, this could all be speculation. What is known is that, in September 1968, DeNoble's neighbors George and Emma Wiech died in a gruesome murder-suicide and that DeNoble was the one who reported the couple's unexplained disappearance to the landlord and to police after knocking on their door and getting no response.
Chronologically, but just barely, the first of Alphonso's movies to reach theaters was Joel M. Reed's notorious, sex-saturated, gore-drenched The Incredible Torture Show. Despite a lavish and ambitious marketing campaign, Torture Show bombed badly when it was first released in early November 1976. It only found an audience in the 1980s, when Troma rereleased it under the title Bloodsucking Freaks and marketed it as a cult film. Under its new name, the movie was a video store mainstay for years and still maintains a following to this day.
Compared to the rest of this decadent, deliberately gross film, Alphonso DeNoble's scene in Bloodsucking Freaks is comparatively gentle, though it is chilling in its implications. Reed's movie revolves around Sardu (Seamus O'Brien), a sadistic theatrical impresario who delights in torturing and killing women onstage under the guise of "art," while letting the audience believe it's all an act. His victims are unlucky young women who have been kidnapped from various New York locations by Sardu's grotesque army of underlings. Since these avant garde shows don't exactly do great box office, how does Sardu afford his rent in Soho or pay his staff? Well, he simply sells some of the women to wealthy foreign businessmen.
Billed only as "Alphonso" (was he embarrassed to use his full name?), DeNoble pops up at about the 20-minute mark in the film. His unnamed character wears a flashy, gangster-like suit and affects a vaguely foreign-sounding accent. Alphonso and Sardu sit down for a friendly meeting in a dimly-lit room filled with trinkets from around the world — masks, figurines, etc. Sardu scrawls some figure down on a piece of paper, and Alphonso gladly hands him a briefcase filled with $1 million in cash. Our businessman is apparently acting only as the representative of a wealthy benefactor named Henry from "the Middle East." No specific country is named.
Grinning smugly, Alphonso tells Sardu that these kidnapped women "have done much to maintain peace in my area of the world." We then see that Sardu has an entire Shipping Department of women in cardboard boxes. One blonde woman pops up from her confinement like a jack-in-the-box, only to be beaten down instantly by Sardu's dwarf sidekcick Ralphus (Louie De Jesus). The dwarf slaps a FRAGILE sticker on the box, and the scene ends with some playful music by composer Michael Sahl.
Alphonso's next film was easily his most memorable — Alfred Sole's religious-themed thriller Alice, Sweet Alice aka Communion aka The Mask Murders aka Holy Terror. Released just weeks after The Incredible Torture Show, this is a highly eccentric film centering around troubled young Alice (Paula Sheppard) who lives with her divorced mother (Linda Miller) and who may be committing a series of murders, including that of her own sister Karen (Brooke Shields). But since the killer wears a mask and raincoat, who's to say that it's definitely Alice?
Sole shot his berserk little movie in Paterson and went looking for local talent to fill the supporting roles. Again, the IMDb alleges that Alphonso DeNoble was not a professional actor at the time but rather a gay bar bouncer whom Sole "persuaded" to be in the movie. I can't pinpoint exactly which movie was shot first, Bloodsucking or Alice, but Alphonso somehow had two movies debut in the same month! Was he excited? Did he think more roles were on the way?
However he got there, Alphonso cuts quite a figure in Alice, Sweet Alice. The newly-minted actor portrays the family's flamboyantly obscene landlord, appropriately named Mr. Alphonso. His everyday uniform consists of a stretched-out wife-beater T-shirt and a pair of badly-stained khakis. Unlike in Bloodsucking Freaks, in which he sported a semicircle of dark hair and Elvis-like sideburns, Alphonso has a completely shaved pate in Alice, Sweet Alice. His eyebrows are even AWOL this time! (Shades of Michael Berryman or Uncle Fester.) He does still have a mustache and goatee, giving him a somewhat devilish appearance.
Mr. Alphonso dwells in — and never leaves — a filthy, cluttered apartment with his many pet cats, whom he dotes upon. When we first meet him, only about eight minutes into the film, he is feeding his fish and listening to an ancient record of "Can't Help Lovin' Dat Man" on his equally ancient Sonora phonograph. The character's perversity is confirmed when he actually eats cat food straight out of the can. Alfred Sole wants us to know in no uncertain terms that this guy is bad news. It worked. In The Los Angeles Times, critic Linda Gross described the actor as "lecherous" and "whalelike." In The Miami Herald, Bill Cosford called him "one of the most repulsive creatures in modern screen history."
As disgusting as this character is on his own, he's worse whenever he interacts with other human beings. When Alice walks by his door, for instance, Mr. Alphonso tries to lure her inside his lair like some kind of witch or troll from a fairy tale. Affecting a cough and a pitiable tone of voice, he says he wants Alice to go to the store for him. The sullen girl just calls him "fatso" and moves on. We sense that she has narrowly avoided something truly awful.
Later, after Karen's funeral, Alice reluctantly delivers an extra cake to Mr. Alphonso's door, flanked by other children. Alice and the landlord exchange some tense dialogue, with Alice calling Mr. Alphonso "fatty" and proclaiming proudly that she isn't afraid of him. For his part, Mr. Alphonso offers mock sympathy about the sister's death, making sure to point out that Karen was so much prettier than Alice. After this brief "conversation," if one can call it that, the landlord continues to stare at Alice through a hole in the door, with director Sole making it look as though we're seeing Alice through a rifle scope.
The landlord's most notorious scene arrives about 10 minutes after that. As always, he is in his apartment, listening to his tinny phonograph. Seated on his dilapidated easy chair and idly fanning himself, he looks like a debauched sultan. Instead of sliding the rent check under Mr. Alphonso's door, Alice unwisely decides to enter his dwelling out of some morbid curiosity. The two characters again exchange threats and insults in a manner not unlike Patty McCormack and Henry Jones in The Bad Seed, with each one claiming the ability to ruin the other. Alice, as always, remains showily defiant.
But then, when Alice crumples up the rent check, the scene takes a nauseating turn. Mr. Alphonso rises from his chair, begins stroking and petting Alice, and backs the now-frightened girl against the door. Her only means of escape is to take one of Mr. Alphonso's beloved kittens by the neck and throw it down on the floor. As Alice runs away, the landlord screams after her that she killed his cat and that he'll have revenge. A few scenes later, when a masked killer (presumed but not proven to be Alice) commits another stabbing, Mr. Alphonso stops fanning himself long enough to investigate briefly without intervening.
Alfred Sole then keeps Alphonso DeNoble offscreen until the film is nearly over. As the film nears its climax, Alice again sneaks into the landlord's apartment to put a jar of cockroaches on him while he sleeps. The girl tells her mother she was just dropping in to say hello, which the oblivious mother thinks was a "nice" thing to do. Apparently, the mom thinks of the landlord as a sad shut-in and not a dangerous predator. When the snoring landlord wakes from his nap, he is indeed surprised by the cockroaches but even more surprised when he is stabbed in the gut by the masked killer. He is last seen expiring in his apartment as "Three Little Fishies" plays on the soundtrack.
For his final film, Alphonso DeNoble reteamed with writer-director Joel M. Reed for the misbegotten Night of the Zombies, a sci-fi/horror mishmash with a World War II angle. The film may have been released as early as 1979 under the original title Gamma 693, but it is usually listed as a 1981 film. Over the years, it's been called Zombie War Games, The Chilling, Sister of Death, and even Night of the Zombies II. Under any name, the movie is best remembered for supplying actor Jamie Gillis (1943-2010) with one of his few non-porno roles. Reed filmed this movie in New York and Germany and even flew some of his cast members to Munich, possibly even Alphonso, for the production. Adult superstar Gillis plays a CIA agent (!) who goes searching for some missing WWII soldiers who have been kept "alive" for decades via an experimental nerve gas. (Reed later covered vaguely similar terrain with his book, Outrage: Hitler Didn't Die.)
Alphonso's lone scene occurs a half hour into the film. The actor, spherical as ever and gamely attempting a German accent ("You verk for ze company?"), portrays the owner of a Munich camera shop. This is as close as a normal human being as he ever played onscreen. He's balding, though not completely bald, and he's clean-shaven apart from his catfish-like mustache. He now also wears thick glasses with dark, heavy frames. For once, he wears very average-looking clothes: a white dress shirt, black necktie, black slacks. The scene is simple. Gillis wants Alphonso to cough up some information. Alphonso balks. Gillis twists his wrist. Alphonso reluctantly talks. ("All right! All right!") That's it. His brief movie career was over.
Alphonso's acting career was not limited to these three movies, however. He also played the role of Mr. Kolenkhov, an eccentric Russian ballet instructor, in a Lampliters Community Theater production of George S. Kaufman and Moss Hart's You Can't Take it with You. The Lampliters performed their show at Saddlebrook High School and took up an entire page in the 1978 yearbook, though Alphonso's last name is misspelled "DeNobel." In any event, the role must have been a welcome change of pace. He looks happy in a cast photo.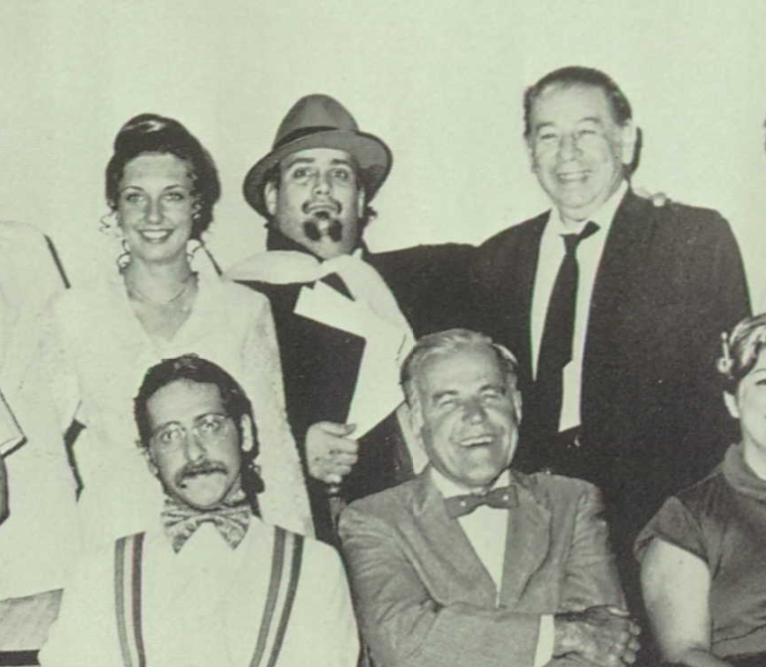 Little is known of the actor's personal life. New Jersey marriage records show that DeNoble married a woman named I.H. Chang in December 1972. In a 2013 edition of the podcast Without Your Head, Reed confirmed the existence of Alphonso's wife. "He was married to such a beautiful girl," Reed said. "He would never eat on the set, and then [cameraman] Ron Dorfman said he would sneak to his car and would stuff [himself] with food." Reed also alleged that DeNoble killed himself in shame after getting stuck in a New Jersey turnstile and having to be rescued. According to Reed, the story made the papers and DeNoble was so embarrassed that he killed himself. I cannot confirm any part of this story other than the fact that the actor died in November 1978.
A modest obituary in a Paterson, NJ paper called the Morning News pinpoints the exact date of Alphonso DeNoble's death as Friday, November 17, 1978. He is said to have died at Saddle Brook General Hospital. Giving no cause of death, the article states that the actor lived in Paterson, NJ for the first 24 years of his life, then moved just slightly east to Elmwood Park for the remaining seven years. The only surviving relatives mentioned in the obit are DeNoble's aunts and uncles. If he was still married by 1978, the article skips over it. Alphonso's funeral arrangements were handled by the still-existent Patrick J. Conte Funeral Home in Elmwood Park. DeNoble's infamous acting career is only obliquely referenced: "He was an as [sic] actor for Alfred Sole Productions of Paterson."
What are we to make of Alphonso DeNoble's life, career, and death? Was he exploited? Maybe a little. And if any of Reed's stories are true, Alphonso had some severe issues with food, eating, and body image. Even if he had lived past 1978, it's probable that he would have experienced some health problems due to his size. His cinematic legacy is relatively minor, but those three films of his are still out there to be viewed and puzzled over by new generations of viewers. With just his few minutes of screen time, Alfonso managed to make a lasting impression, and I think that's worthy of at least a little respect.
Support Halloween Love
If an item was discussed in this article that you intend on buying or renting, you can help support Halloween Love and its writers by purchasing through our links:
(Not seeing any relevant products? Start your search on Amazon through us.)