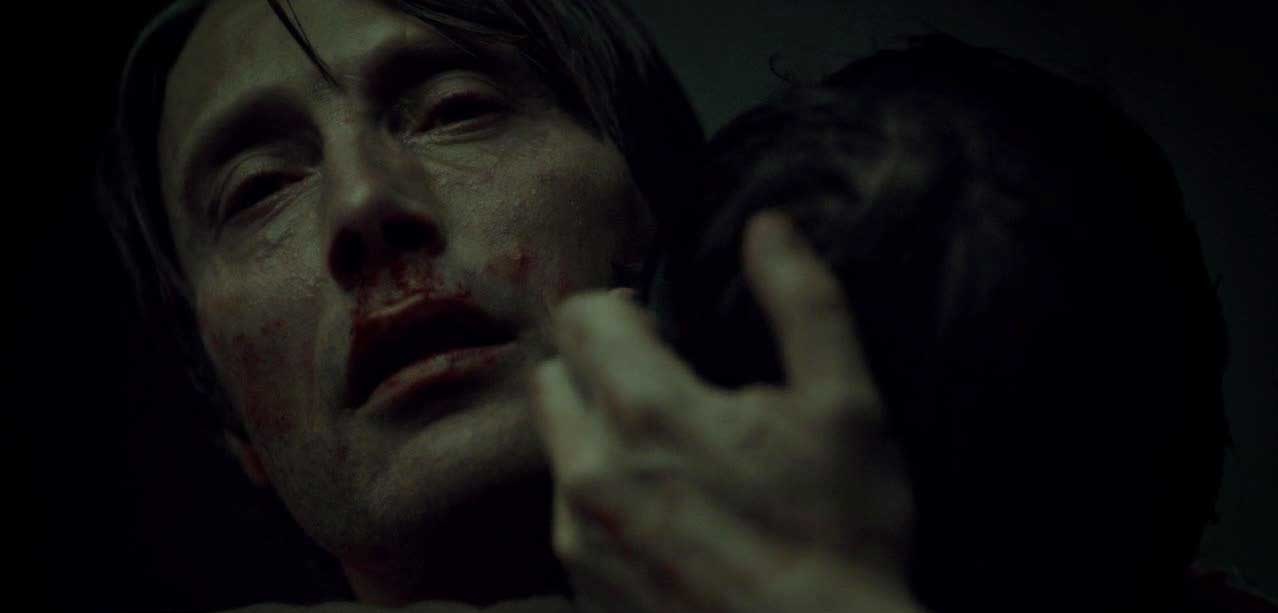 When NBC announced back in June that they had cancelled Hannibal, I was one of the many fans who was incredibly bummed out by the news. It's not that I was surprised, as the writing had been on the wall for some time, but it's always sad when a show doesn't get the chance to end on its own accord. Despite the circumstances, however, Hannibal is one show that inarguably ended at the perfect time.
Feeling more like a series finale than the season finale it was originally intended to be, this past weekend's final episode of Hannibal was a mic drop of fittingly brutal proportions. The final moments saw Hannibal, Will Graham, and Francis Dolarhyde engaging in a bloody battle to the death on the edge of a cliff, and rather than leaving us hanging on that cliff, the episode literally pushed us right off it.
More than anything, the story in NBC's episodic adaptation of Thomas Harris' enduring work was centered on the relationship between Hannibal Lecter and Will Graham, and that moment on the cliff is one that we had been slowly advancing toward since the memorable series premiere back in 2013. After joining forces to kill Dolarhyde, Will and Hannibal embraced, the two leaping to their deaths in unison.
As reflected in the final scene, where we saw Bedelia serving up her own leg on a silver platter, the episode was all about the characters embracing their inevitable fates, and it's hard to imagine a more perfect or fitting conclusion to the past two years of storytelling. The lives of Hannibal and Will were inextricably linked from the moment they locked eyes, both destined to end in precisely the way that they did.
The location of the double suicide, if you wish to call it that, also couldn't have been more perfect. All Hannibal wanted was to live the rest of his days out, alongside Will, on that very piece of land, and he was completely heartbroken when Will betrayed the friendship last season. But Hannibal finally got what he wanted in the end, and Will's story came to a conclusion as he knew it was inevitably bound to.
I don't think it's out of line to call Hannibal a tale of tragic romance, as the relationship between Lecter and Graham bordered on love. Though one was 'the bad guy' and the other 'the good guy,' the lines between were blurred to the point that not even Will was ever sure which side of the fence he was on, and the most fascinating thing about the series was the magnetic admiration shared by good and evil.
Like all great love stories, neither man could live without the other, and their conjoined destiny calls to mind classic couples like Romeo & Juliet, Bonnie & Clyde, and Thelma & Louise. Though Will tried to bury his feelings for Hannibal down deep, in a desperate attempt to convince himself he didn't have the same lust for carnage, he ultimately resigned himself to the fate of both being and being with Hannibal.
Spanning the course of three seasons, Hannibal's core story had a discernible beginning, middle, and end, almost as if Bryan Fuller never intended for the series to go past this point. Of course, the Season 3 finale likely would've been completely unwritten had NBC ordered a fourth season, but as it stands right now, I honestly think continuing the show would only serve to expand a story that is already finished.
There are worse things than a show like Hannibal going out at the peak of its brilliance, and with such a wholly satisfying final season finale, I can honestly say that I don't need or even want more. It's hard to type that, given the inherent human greed that somewhat compels me to demand NBC bring the show back, but if you're asking me, their cancellation of this brilliant slice of horror was a blessing in disguise.
The best things in life are fleeting, and Hannibal will forever go down in history as one of the best things to ever happen to fans of the source material. Bryan Fuller's brilliant vision quite frankly elevated the horror genre to high art on a weekly basis, and the complete picture he painted over the course of these past two years is one of the most stunningly beautiful works of art the genre has ever known.
Hannibal was small screen perfection from beginning to end, and we were all lucky to have had it in our lives for as long as we did. So don't be greedy, my friends. Be grateful. Too much of a good thing often robs a good thing of being good. And with Hannibal, we were fed the absolute perfect serving of greatness.
I'm full, and I'm satisfied.
Support Halloween Love
If an item was discussed in this article that you intend on buying or renting, you can help support Halloween Love and its writers by purchasing through our links:
(Not seeing any relevant products? Start your search on Amazon through us.)