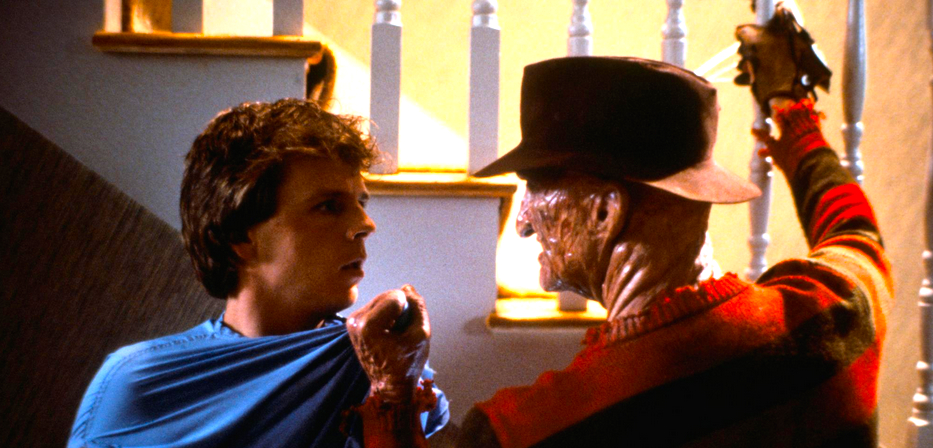 What was the first horror movie you ever owned?
In my case it was a brand new, mint condition copy of A Nightmare on Elm Street Part 2, in a large VHS rental box that had been purchased by my parents from a mail order company. If memory serves it was Christmas 1986, I was 11 years old and my love of horror had reached the point of no return.
At that age I remember finding the original Elm Street almost too frightening and dark. Friday The 13th movies were my preference but Freddy as a character became a bit of an obsession due to the emergence of cool merchandise like board games and plastic gloves. I basically liked the character more than the movie, so when I saw the UK poster art for Freddy's Revenge, that featured him front and centre and didn't try to hide him in shadows I just got even more excited. An order was placed, and on December 25th that year I unwrapped my very own copy.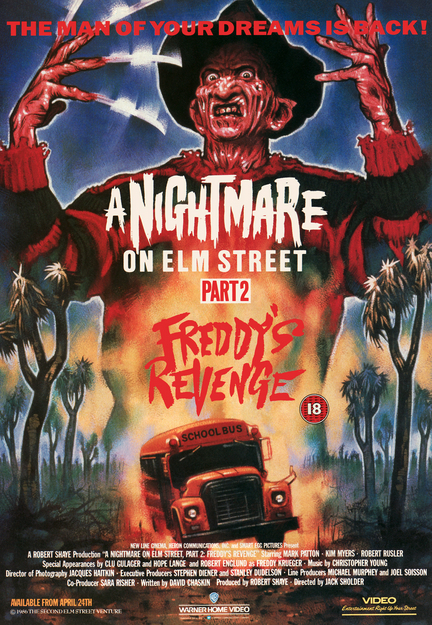 As I said above, my young self foolishly didn't think much of the original and I believe I had only watched it once with my father so I went into Part 2 without any expectations … I just wanted to see Freddy being scary and looking cool. The opening scene on the school bus got things off to a perfect start and by the time it was finished I was thrilled. I must have watched that tape 30-40 times in the years that followed.
I've always believed that what makes Part 2 a special movie is the strength of the main characters … they aren't written in a predictable way and I remember being impressed by that even as a kid. Jesse and Ron could have easily had a typical 'Jock V Nerd' confrontational relationship but it's far more layered than that. Yes, liberties were taken regarding Freddy and his abilities but DAMN, he was frightening in this film. He really messes with Jesse and to have a genuinely terrifying Krueger is something that we quickly lost in the movies that followed.
When the Elm Street documentary Never Sleep Again was released, certain suspicions that many people had about just how 'gay' the movie was trying to be were confirmed by screenwriter David Chaskin. This brought Freddy's Revenge back into the spotlight and has made it one of the most talked about horror movies in recent years. Did I pick up on this in my youth?, no. It was the 80s, a lot of movies from that era had a similar vibe, as a young teen it was just a really good horror movie to me … As I got a bit older, yeah of course, certain scenes made you pause and wonder but it didn't change my passion for the movie as a whole, I had been raised to treat everyone in the same way, live and let live, so analyzing how gay or straight the movie was or wasn't never entered my head as being important. What was important to me was the quality of the film making and the story it told …
When you want to cut through all the myths and stories surrounding Freddy's Revenge there really is only one man you need to talk to, and that is of course Mark Patton. I recently had the chance to throw a few questions Mark's way and his consistently refreshing honesty is always fascinating to read …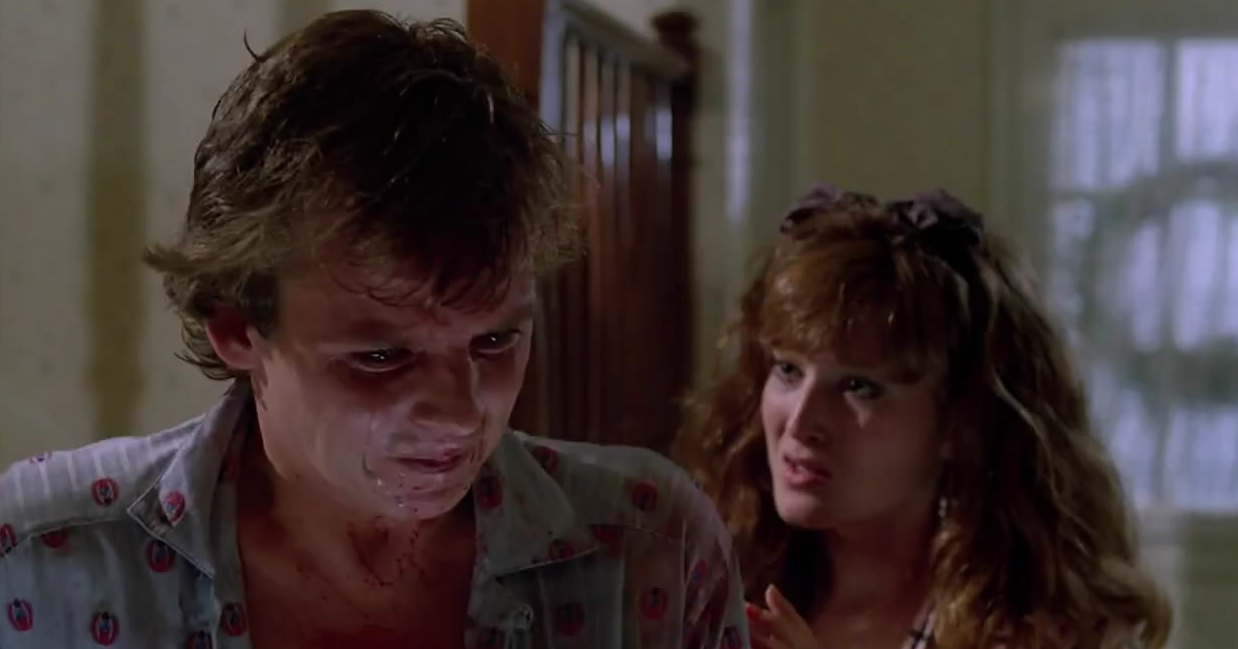 Halloween Love: First of all can you tell me what age you were when you developed an interest in acting, and did you have a supportive environment around you to help that ambition grow?
"My interest in acting and the theater was developed in High School. Particularly by a very good teacher named Mildred Fulton at North Kansas City HS in Kansas City, Missouri. This of course, is where I was born and raised. I moved to New York City at the age of 17 to pursue a professional career. I began my career making commercials, these led to legitimate theater auditions. My first break through on a national level was the Broadway production of Come Back to the 5 and Dime, Jimmy Dean, Jimmy Dean. The play was directed by Robert Altman. Mr Altman went on to direct the film with the same cast … Cher, Kathy Bates, Karen Black, Sandy Dennis and Me. This led me to my first trip to Los Angeles …"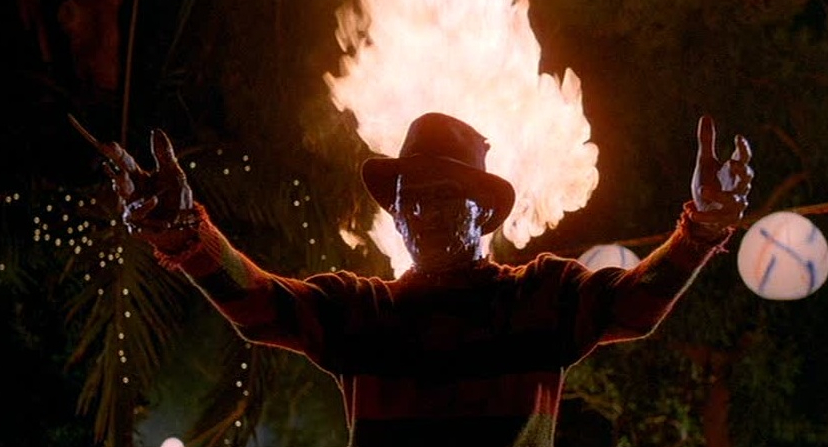 HL: So much has been said recently about Freddy's Revenge and the gay content, what are your thoughts on everything now?
"I am a huge believer in the film A Nightmare on Elm Street 2. I have always believed that it is a well constructed and well acted film. As far as the series goes, I believe some of the most iconic moments from the entire series are contained in Part 2 … "You are all my children now", Freddy's overall look, the soundtrack, cinematography … and also, if I do not sound too vain, the performances of the principal players. As for the gay aspect of the film, it is quite obvious to a person who has ever been exposed to gay people. David Chaskin is now on record as saying he created Jesse as a gay character, of course he denied this for 30 years and was not open and honest about it until he was confronted."
HL: Were you nervous about this?
"No, I was happy to finally bring this into the open. David regularly blamed me for ruining NOES2 … This conversation is ongoing and David and I will meet face to face for the first time in 30 years at the POP SHOCK Convention Reunion in Fort Lauderdale, Feb 2015. I believe that will be an amazing conversation."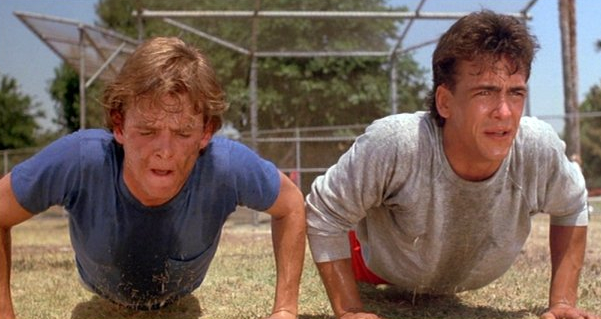 HL: I've always thought the friendship between Jesse and Ron is one of the most watchable and interesting that I've seen in a horror movie, was it a rewarding part of the movie to work on?
"I have known Robert Rusler since he was 16, so I had some knowledge of him before the film and we have continued to be friends. Robert was the first person hired for NOES2 and had a lot to do with me being chosen … I do believe that many people brought their own fantasy to that relationship. It was unusual in the fact that I was playing the victim (a role usually played by women in horror films). I think we were believable as friends. For a deeper take on the relationship you can take a look at 'Jesse's Lost Journal' a book I wrote about NOES2, it is the back story and explains many gaps in the script and brings Jesse into 2013."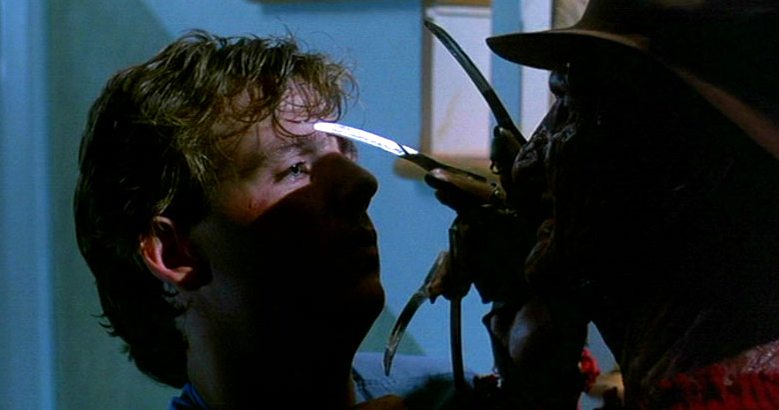 HL: When you watched Freddy's Revenge in a complete form for the first time how did you feel about the end result, and how do you feel looking back at it now?

"To be honest with you I was very nervous about the gay aspect of the film and how it would affect my career. I had just played a gay part and I did not want to be type cast. I was gay myself and this was something that needed to be well hidden in the 1980s. Robert Englund is often quoted as saying I was an 'out' actor … this was not true and not possible at that time. I do in fact resent Robert for saying this and intend on correcting him in Florida. Looking back I am very proud of it (NOES2), and it has offered me a tremendous opportunity to travel the world and speak to people about issues that are important to me … Bullying, homophobia in Hollywood, The Trevor Project … plus I have had so much fun and meet friends and fans all over the world."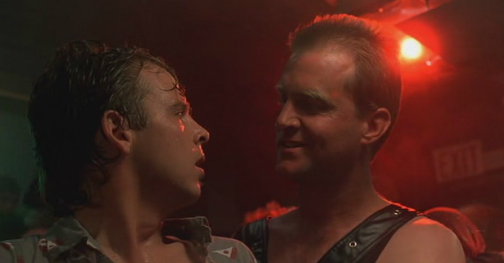 HL: Can you tell me about your experience filming for 'Never Sleep Again' … It sounds like it opened up a new chapter in your life.
"I loved Never Sleep Again, but I do feel they treated NOES2 as a joke … a prolonged Blow Job joke … Now, NSA was produced, in part, by Heather Langenkamp and she is very pro Wes Cravens vision and had a bias toward films 1, 3 and 4. I think there is more to be said about NOES2 so I am shooting a documentary called 'There is No Jesse' about the more serious aspects of the film and how people responded to it. I hope you all get a chance to see the film, I think it will make a wonderful addition to the Nightmare collection."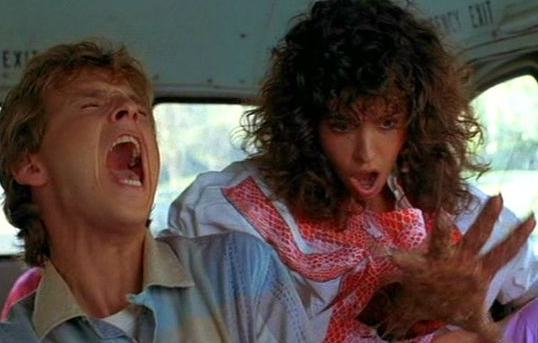 HL: Finally, if a young gay actor contacted you and told you they were nervous about stepping into the potential spotlight a career like this can bring what would be the main advice you would impart on them?
"Be Brave, Be Yourself and do what is best for you … as that is what everyone else will be doing"
"That advice was given to me by Cher a long time ago and it is true. Show business is not a nice friendly place, yes it is fun, but it is also very competitive, cut throat and can be quite mean. Many people will do anything to succeed as the rewards are huge. Fame is a funny thing and much like being a drug addict, once you have it, it lasts forever. You may stop but you are still an addict, or famous, to complete the metaphor … you never lose it, trust me on that one. Most people fantasize about being famous without realizing what it entails. If you are thick skinned but can retain your venerability for work then LA might be the place for you. Acting is a calling, like being a priest … you just need to do it, and let's face it some people are just born to be stars, it is a Karma I think. Right now I would not change a thing except I would have saved more money and I honestly wish I had not stopped when I did, as I was about to break through. But I did the best I could at the time and I am at peace with that now."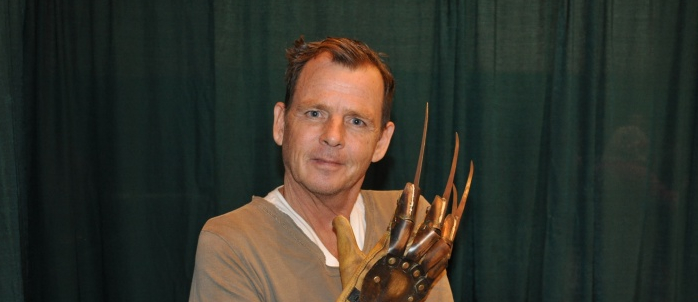 ---
On behalf of myself and everyone here at Halloween Love I want to say thank you to Mark for taking some time to be involved. For ALL his latest news, event appearances and much more just head over to his official site, or give him a follow on facebook.
Support Halloween Love
If an item was discussed in this article that you intend on buying or renting, you can help support Halloween Love and its writers by purchasing through our links:
(Not seeing any relevant products? Start your search on Amazon through us.)