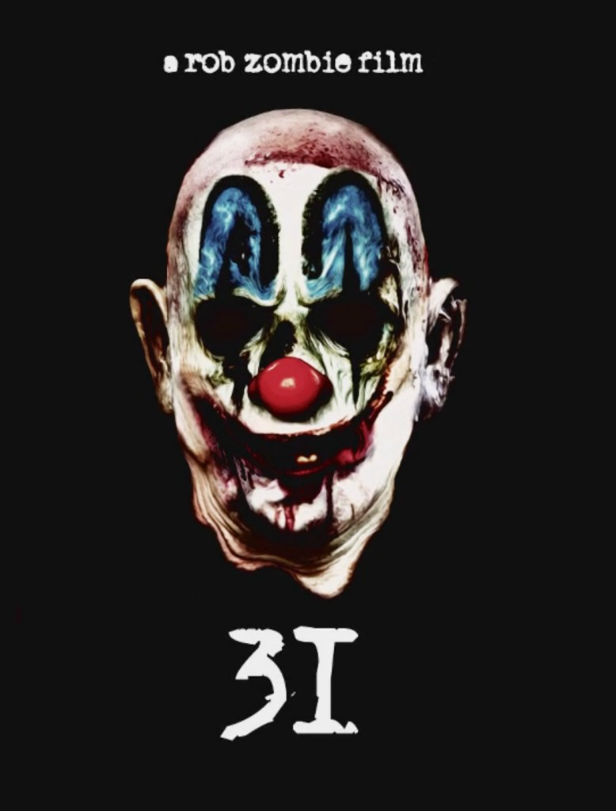 A couple weeks back, Rob Zombie announced that he's working on a new horror film called 31, which was teased with an early piece of promo art (left).
All we really know about the film, at this point in time, is the title, and horror fans have naturally spent the past couple weeks speculating on what it'll be about, using the art as the main clue.
Some of the most popular speculations are that 31 will somehow be connected to either the Halloween franchise or The Devil's Rejects, both of which prominently feature clown imagery.
In Halloween, which Zombie remade back in 2007, young Michael Myers wears a clown mask when he kills his sister and in The Devil's Rejects, Captain Spaulding is of course a killer clown, oftentimes wearing face paint that doesn't look all that different from 31's teaser art.
Adding to the belief that 31 is connected to the Halloween franchise is that the reveal of the project came shortly after we learned that Halloween 3D is back on track, a sequel to Zombie's Halloween 2 that has been in the works for quite a few years now. As far as The Devil's Rejects is concerned, Zombie had a few months back stated that the horror film he was working on next was going to appeal to fans of that film, adding further fuel to that particular fire.
So, what the hell is 31? Is it really Halloween 3D, disguised at the moment by a false title? Or is it a spin-off film about Captain Spaulding, who was seemingly killed off in The Devil's Rejects? In my personal opinion, it's neither. And if you're asking me, 31 seems to quite clearly be Zombie's chance at Halloween redemption.
Allow me to explain what I mean.
I've always felt that Rob Zombie is at his best, as a filmmaker, when he's writing and directing material that's entirely his own. A true artist, Zombie is not the kind of filmmaker who should be remaking the art that other people have made in the past, as he's got plenty of unique and original ideas of his own.
After turning down remake offers left and right in the wake of House of 1000 Corpses and The Devil's Rejects, Zombie finally gave in and remade Halloween, which seemed to go against everything he believed in, as both a hardcore horror fan and a filmmaker. Zombie had in the years prior to directing Halloween spoken outwardly against remakes, remarking on a few occasions that it's completely pointless for one filmmaker to remake the masterpiece of another.
And yet, there he found himself, behind the camera of a modern day upgrade of John Carpenter's holiday horror masterpiece.
Though I'm a huge fan of Zombie's previous films, and found a whole lot to like about The Lords of Salem, I never much cared for his remake of Halloween or the sequel that followed, and I've always felt that while he did his best with both films, the project was simply never one he should've been involved in. Again, Zombie is at his absolute best when he's creating his own art, and I always got the sense that he knew deep down he never should've ventured into Haddonfield, and was probably lured into directing the two films by the appeal of being a part of a franchise he loves so dearly.
Reflecting back on the experience, I can't help but feel that Zombie regrets spending so much time making studio films that restricted his creativity, and the way I see it, 31 is his chance to make a Halloween movie that's entirely his own, which is what he should've been doing all along. And when I say Halloween movie, I mean in terms of the holiday, not the franchise.
The title of Zombie's next film is an obvious reference to the 31st day of October, which is of course Halloween – a favorite holiday of his. Though I won't claim to have any idea what the film is about, I can only assume that 31 is Zombie's attempt to bring a brand new Halloween horror classic into the world, one that will be enjoyed for years to come alongside films like John Carpenter's Halloween and Trick 'r Treat.
With Michael Myers in the rear-view, Zombie is now free to make his own movies again, and 31 seems to be his chance to remind horror fans that he can make one hell of a horror flick, while at the same time essentially taking back his career. The fact that the film is going to be centered around the holiday of Halloween is likely Zombie's attempt to effectively erase his Halloween films from our memory, and his own, and replace those memories with the badass ORIGINAL Halloween horror film that he has long seemed destined to make.
But that's just my two cents, and it's of course entirely possible that I'm totally off base here. Feel free to comment below with your own thoughts on 31, as I'd love to get some discussion going about it!
Support Halloween Love
If an item was discussed in this article that you intend on buying or renting, you can help support Halloween Love and its writers by purchasing through our links:
(Not seeing any relevant products? Start your search on Amazon through us.)