UPDATE — Pre-order the New Friday the 13th Blu-ray Box Set Now!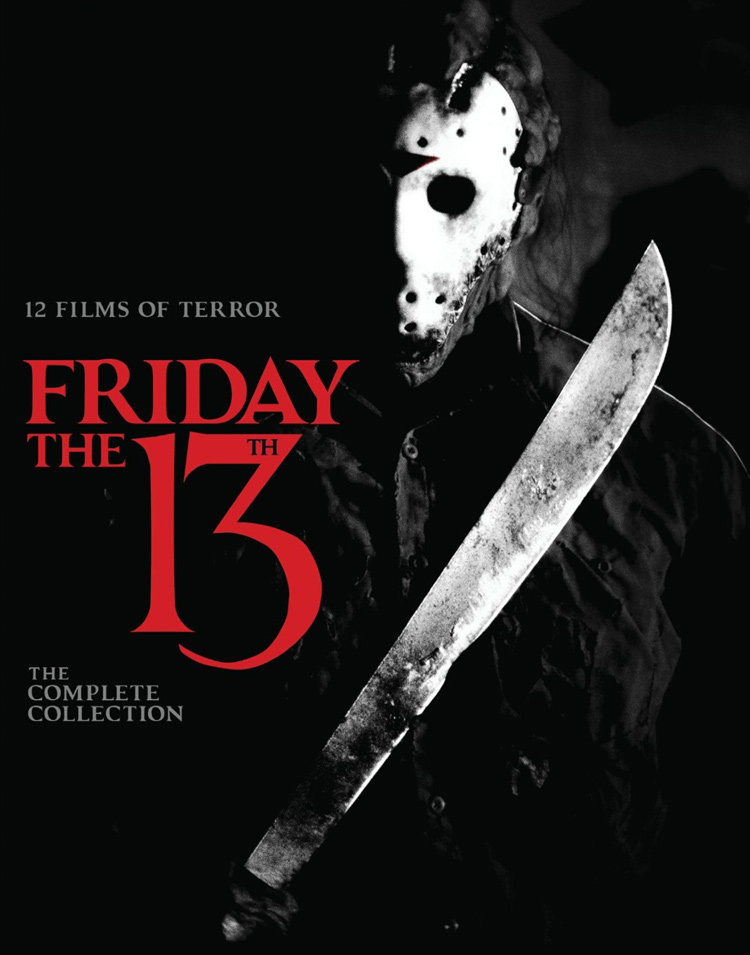 Appropriately so, 2013 is chock-full of goodness for us hardcore Friday the 13th fans.
Looks like we just might see pre-production for a new Friday film as soon as this year.
I'm also counting down the days to the release of the insanely in-depth and exhaustive documentary, Crystal Lake Memories.
And last, but certainly not least, it was just officially announced, the entire Friday the 13th franchise, that's every Jason film ever made to date, is being released together in a Blu-ray box set on Friday, September 13th, 2013! That includes parts IV – X which have never been previously released on Blu-ray. Read the full press release below…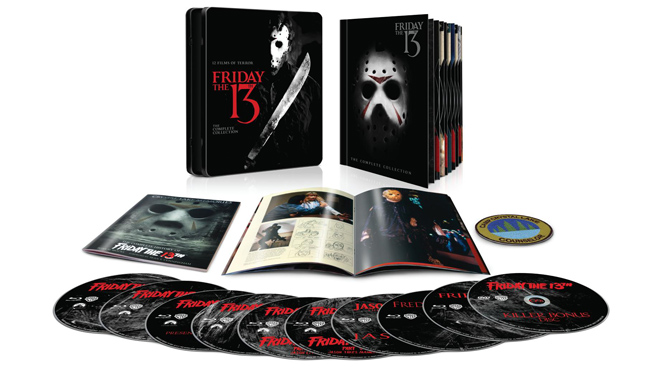 Friday the 13th: The Complete Collection Press Release
First shared on BWWMoviesWorld.
"On September 13th, Warner Bros. Home Entertainment will provide plenty of blood-curdling thrills when Friday The 13th: The Complete Collection debuts on Blu-ray. For the first time, all twelve Friday the 13th films will be packaged together, (with seven of them making Blu-ray debuts) as a result of a strategic distribution alliance between Paramount and Warner announced last fall, granting Warner exclusive video distribution rights to over 600 Paramount titles. The set also includes a Friday The 13th Killer Extras Bonus DVD.

This intense 'slasher' series is one of the longest-running and most successful horror franchises in film history, surpassing the domestic theatrical box-office grosses of such legendary series as A Nightmare on Elm Street, Halloween and The Texas Chainsaw Massacre. The film that turned psycho killer Jason Voorhees and his infamous hockey mask into a pop culture icon has also bested the horror competition as the #1 home entertainment seller, with total sales of $119.7M to date.

The 10-disc collection ($129.95 SRP) includes the twelve films on nine Blu-ray discs, as well as a killer DVD bonus disc full of special features on the making of the famous franchise. The must-own set will be presented in a collectible tin case with 11 hours of previously released special features and a 40-page soft cover book. The book is excerpted from Crystal Lake Memories: The Complete History of Friday The 13th, a fan-favorite volume that's viewed as the ultimate memoir of the series, and highlights some of the 200 interviews, 600 photos, storyboards, concept art and more. Also included is a brand new, official Camp Crystal Lake embroidered Counselor Patch.

Friday The 13th: The Complete Collection also includes digital versions of all 12 films with UltraViolet, allowing viewers to download and instantly stream the films to a wide range of devices from computers and compatible tablets to smartphones, game consoles, Internet-connected TVs and Blu-ray players.

One of the most frightening franchises in film history, Friday The 13th focuses primarily on the character of Jason Voorhees, who drowned as a young child at Camp Crystal Lake due to the inattentiveness of camp counselors. Many years later, the camp becomes the scene of a number of murders – all of which are either committed or motivated by the avenging Jason, who forever lurks at Crystal Lake with his finely-honed machete.

Films in The Collection include:
· Disc 1 – Friday the 13th (1980)
· Disc 2 – Friday the 13th Part 2 (1981)
· Disc 3 – Friday the 13th Part 3 in 3D (1982)
· Disc 4 – Friday the 13th: The Final Chapter (1984) NEW TO BLU-RAY
· Disc 5 – Friday the 13th Part V: A New Beginning (1985) / Friday the 13th Part VI: Jason Lives (1986) NEW TO BLU-RAY
· Disc 6 – Friday the 13th Part VII: The New Blood (1988) / Friday the 13th Part VIII: Jason Takes Manhattan (1989) NEW TO BLU- RAY
· Disc 7 – Jason Goes to Hell: The Final Friday (1993) / Jason X (2002) NEW TO BLU-RAY
· Disc 8 – Freddy vs. Jason (2003)
· Disc 9 – Friday the 13th (2009) (Theatrical Version and "Killer Cut" Extended Version)
· Disc 10 – Killer Bonus DVD Disc

Friday The 13th: The Complete Collection (BD)
Street Date: September 13, 2013
Order Due Date: August 9, 2013
Rating: R
Pricing: $129.95 SRP
Cat. #: 1000408970

About Warner Home Video:
With operations in 90 international territories, Warner Home Video, a division of Warner Bros. Home Entertainment Inc., commands the largest home entertainment distribution infrastructure in the global video marketplace. Warner Home Video's film library is the largest of any studio, offering top quality new and vintage titles from the repertoires of Warner Bros. Pictures, Turner Entertainment, Castle Rock Entertainment, HBO Video and New Line Cinema.

About Warner Bros. Home Entertainment Inc.
Warner Bros. Home Entertainment (WBHE) brings together Warner Bros. Entertainment's home video, digital distribution and interactive entertainment businesses in order to maximize current and next-generation distribution scenarios. An industry leader since its inception, WBHE oversees the global distribution of content through packaged goods (Blu-ray Disc and DVD) and digital media in the form of electronic sell-through and video-on-demand via cable, satellite, online and mobile channels, and is a significant developer and publisher for console and online video game titles worldwide. WBHE distributes its product through third party retail partners and licensees, as well as directly to consumers through WBShop.com and WB Ultra.

**About UltraViolet
UltraViolet allows you to collect, watch and share movies and TV shows in a whole new way. Available with the purchase of specially marked Blu-ray discs, DVDs and Digital Downloads, UltraViolet lets you create a digital collection of movies and TV shows. Services such as Flixster and VUDU allow you to instantly stream and download UltraViolet content across a wide range of devices including computers and compatible tablets, smartphones, game consoles, Internet-connected TVs and Blu-ray players. Restrictions and limitations apply. Go to ultraviolet.flixster.com/info for details. For more information on compatible devices go to www.wb.com/ultravioletdevices."
Support Halloween Love
If an item was discussed in this article that you intend on buying or renting, you can help support Halloween Love and its writers by purchasing through our links:
(Not seeing any relevant products? Start your search on Amazon through us.)