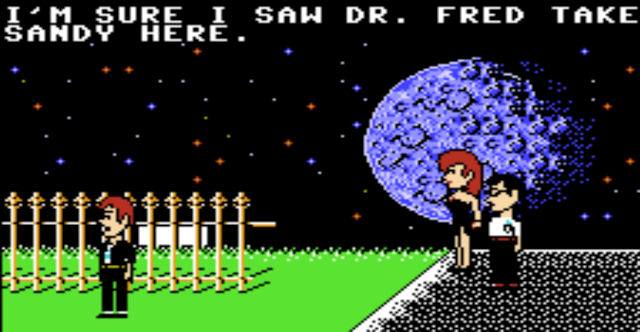 If you just want something to quickly delve into to help you get into the Halloween season or you love games and you love Halloween, these 5 browser based games are all superb fun and definitely worth a try.
My tip? You shouldn't leave it until Halloween to play these games, they're great all year round.
Attack of the Funky Disco Zombies
Attack of the Funky Disco Zombies is a side scrolling action, adventure and puzzle solving game in which ghosts, zombies and various other creatures are out to celebrate your character's demise. Through jumping, shooting and dancing, you need to evade each and pass through each stage.
The idea is to progress through each level by adhering to the objectives which aren't necessarily explained fully at the start. As a result you will need to search and explore as you work out how to advance. For example, you need to exterminate the zombies by using a shotgun, which you retrieve from a locked cabinet after procuring the key, but not before you discover the whereabouts of the ammo.
The game features some creepy music and graphics, which are appealing enough to look at, however some of the sounds effects are a little annoying, which is the only real complaint. There's no story to it but, it certainly passes the time and is great for a quick play. Attack of the Funky Disco Zombies was created by costume retailer Jokers' Masquerade, which probably explains why there's an element of dressing up especially when it comes to the level in which you dance with the devil in a nightclub full of zombies…
Yummy-Yummy Monster Shooter
You won't find a much more simple gaming experience than this. You could probably play it without even reading the instructions. Yummy-Yummy Monster Shooter is a family friendly shooter game that is based on Zibbo's popular Bubble Shooter. The aim is to clear the board of monster faces by grouping them together in clusters of three or more, before they reach the red line. With every five shots a new layer is added, so you really have to think about where you are placing new monsters when the wall is getting low.
The music is amusing. For some reason it reminds me of Toejam & Earl on the Sega Mega Drive. A good thing about this flash game is that it doesn't require much thought, so you can simply play. No story, no dialogue no characters to remember. Just play instantly.
Although the game is very easy to play, on occasion it can be really taxing, so you'll need to persevere when you get stuck. There are 10 achievements to collect and 6 levels to complete.
Lab of the Dead
Lab of the Dead is a simple point and click offering in which you play as as a scientist studying zombies in an attempt to better understand the undead. You efforts are a bid to overcome the flesh-eaters in the ongoing zombie apocalypse. The objective is to amass research points as you study your zombie specimens by feeding, observing and even attacking your groaning sample.
Game play progresses as you experiment with the tools that you have at hand. For example, what happens when you feed a zombie a chunk of meat compared to an apple? What happens when you shoot it in the knee cap compared to the face? How does it react if you hand it a stick. How about a loaded weapon?
Lab of the Dead features superb voice work, nice graphics and a gameplay that is quick and easy to pick up. You get 12 different types of zombie to experiment on, over 60 weapons, food and objects to play with and 40 achievements to attain in the progress, which are logged if you have a Newgrounds profile.
Although it does feel somewhat repetitive after a while, the story as it advances will keep you interested until the end. Definitely worth a play.
Maniac Mansion
Maniac Mansion began life as a Commodore 64 game first released in 1987 and was later unveiled on the Nintendo Entertainment System with a little more colour and a few tweaks. Today the legacy of this critically acclaimed piece of gaming lives on online.
This engrossing adventure game is set in a spooky house and is inhabited by mummified remains, tentacles that enjoy a nice chat and an all-round creepy family with a sinister scientist in the lab. The aim is to solve puzzles using the point and click system. You alternate between three different characters as you play. On the start screen you select two from a list. The third is the protagonist Dave who you play with by default. The idea is that you are enlisting the other two to help rescue Dave's girlfriend, who has been kidnapped.
This game is absolutely epic! I used to have it on the NES and I think it is amazing. The graphics are obviously antiquated compared to anything that's made today, even browser based flash games, but this was way ahead of its time upon release. The music is amazing. The story is great. There's loads of hidden Easter eggs and side missions that you can play with a different combination of characters. This game is perfect for Halloween.
Vampire Slayer
Vampire Slayer is a beautifully made flash game that tells the tale of a chap in a hotel room whose wife has gone missing. You need to find her. The story is told retroactively as each stage is recounted by the protagonist.
There's some cool features like heading into a house that has been plunged into darkness and having only matches to provide light. As the match burns the amount of light provided slowly begins to diminish. You get to explore, shoot things and of course, slay vampires. A perfect Halloween themed game!
There's only a couple of downsides that I can find with Vampire Slayer. One of which is that you have to be precise when clicking on things such as door handles otherwise you could miss them. Also, if you don't like reading give this one a wide berth. All dialogue between the characters is written word rather than voice-over.
Please do try all of the games and tell me which is your favourite. I'd love to hear.
Support Halloween Love
If an item was discussed in this article that you intend on buying or renting, you can help support Halloween Love and its writers by purchasing through our links:
(Not seeing any relevant products? Start your search on Amazon through us.)